INTERVIEW OF THE WEEK: AUSTIN FORKNER
This last weekend in Phoenix, Austin Forker put his Pro Circuit KX250F on the podium for the first time.
Hailing from a small farming town in Missouri, Austin Forkner has been heralded as the next big thing in motocross. And in his rookie outdoor season, he definitely didn't disappoint. The 17 year old took two moto wins, and 6 podium finishes, which earned him the "2016 Rookie of the year" award. Although many expected his to come out swinging in 2017 Supercross, and dominate racing, that hasn't quite happened–however, Austin has not taken his first podium. Many believe Forkner will take his first Supercross win soon. We caught up with Austin shortly after the lights went off at the Phoenix Supercross.
By Jim Kimball
Austin, congratulations on taking your first podium in Supercross; tell us about it.
Thank you, here I just tried to focus on riding fast, but also trying to be mistake free. After Shane and Justin got by me I just tried to stay with them, and watch what they were doing. I'm pretty happy with taking third tonight, and just want to keep building off of it.
Overall, how are you feeling about your Supercross season so far?
Umm, okay I guess. The first one was not very good after I crashed, and at the second one, I was sick, so I did not really have much drive for round two. But last weekend was pretty good. I wish I could have gotten through the first couple of laps better and would have been able to get a podium, but I'm getting there. We had a bike change last week so that helped me. I think we will be better and I have improved since the first race and hopefully I will keep improving.
I know that you had couple races at the Monster Cup, but I am sure that was a lot different then what you are doing right now.  
Yeah, the Supercross tracks have been very different. The Monster Energy Cup was only really a mellowed out Supercross track anyway, because amateurs got to ride on it. They could not make it super gnarly, and I mean these guys have been in the class for a lot longer than me too, so It is kind of tough to just come in and battle with them immediately.
I FEEL SOME OF THESE GUYS HAVE RIDDEN ME HARDER THAN THEY HAVE WITH SOME OF THE OTHER GUYS IN THE CLASS. IT'S PROBABLY JUST BECAUSE I AM THE ROOKIE AND THEY DO NOT WANT TO GET BEAT BY ME. I MEAN I DON'T REALLY THINK THAT THEY WANT TO GET BEAT BY ANYBODY, BUT I FEEL LIKE SOMETIMES IT SEEMS LIKE THEY HAVE RIDDEN ME PRETTY HARD.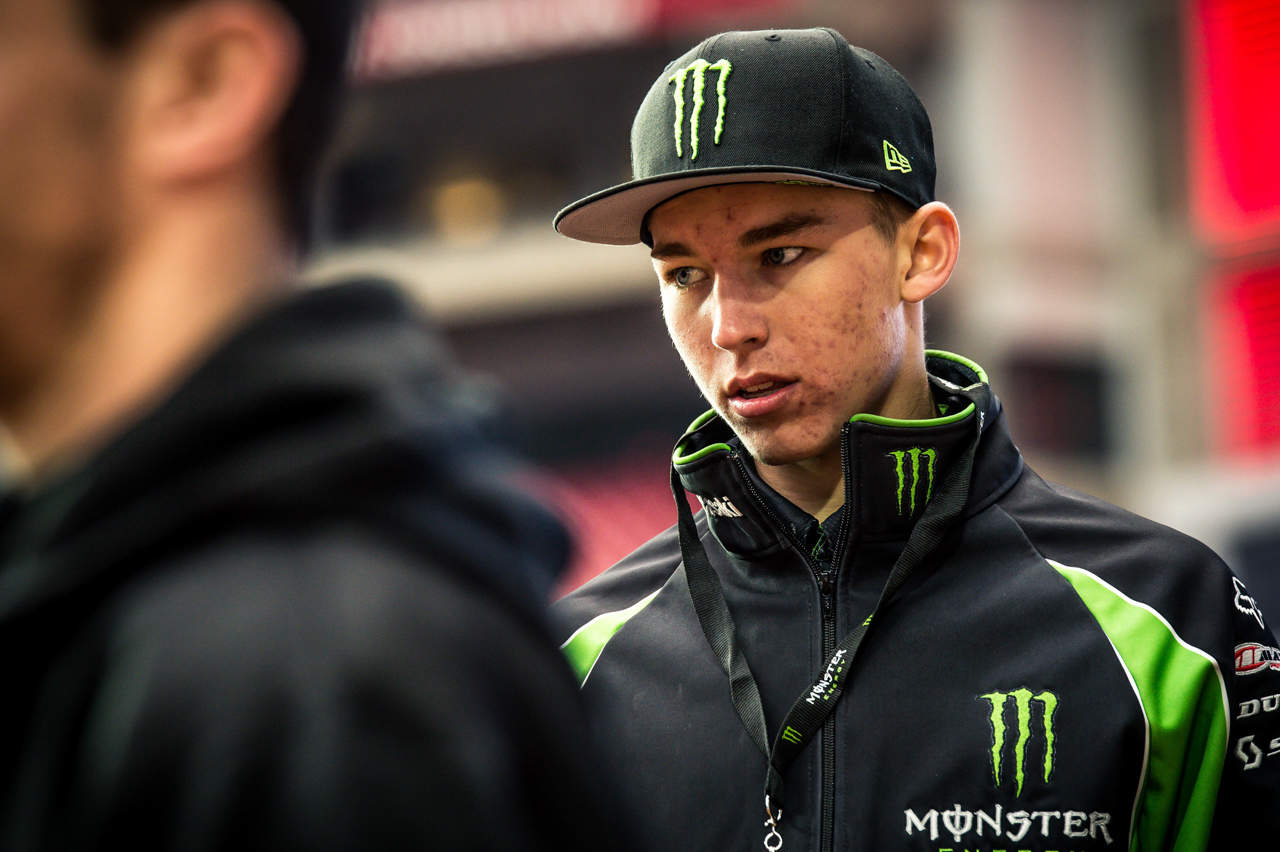 Austin is the new guy on the circuit that is expected to win races. 
You are the new young phenom in racing, and get a lot of press. Do you think that some of the older guys you are racing against feel threatened by you?
Yeah, I think it is the case. I feel some of these guys have ridden me harder than they have with some of the other guys in the class. It's probably just because I am the rookie and they do not want to get beat by me. I mean I don't really think that they want to get beat by anybody, but I feel like sometimes it seems like they have ridden me pretty hard. You kind of have to ride like that in Supercross a little bit, but sometimes I feel like they are just trying to intimidate me.
Was it always the case where you were going to race the West coast series, or did that kind of come up late?  
Yeah, I knew that I was going to race West. Well, that was the plan pretty much all along, but I pretty much knew that I was going to race that by mid-December or so. But, as you likely know Mitch did not really show all the cards until like a couple of weeks before, but I had a pretty good idea.
Austin got a taste of victory during his rookie year at the Ironman outdoor National. He is looking to do the same in his rookie year of Supercross. 
Have you been riding at the Kawasaki test track with your teammates like Justin Hill?
Yeah, I mean whenever they are dry enough, but the past couple of weeks they have not been. I was only there the first couple of weeks, but last week basically everything was wet. Last week was better than the week before. The week before, I think I only rode one or two days, so yeah, it was kind of tough to ride. I have ridden with Justin at the test track, but really we pretty much do our own thing. But if he is at the test track the same day when I am at the test track, we will just do a ride together then. But basically he is not at the same public track that I go to.
What has been the biggest adjustment to racing Supercross?
Maybe, that it is just pretty hard to make up time on somebody, or anything like that. A lot of us are all at the same speed, and the tracks can be a bit one-lined so it's just hard to move towards the front if you get a poor start.

Lets warp up with this question, Austin; you can win a race by the end of the series right?
Yes, I mean I am fit, and I feel like I have the speed. I need to get a good start, relax and ride my own race.