MXA INTERVIEW OF THE WEEK: BRENT PRESNELL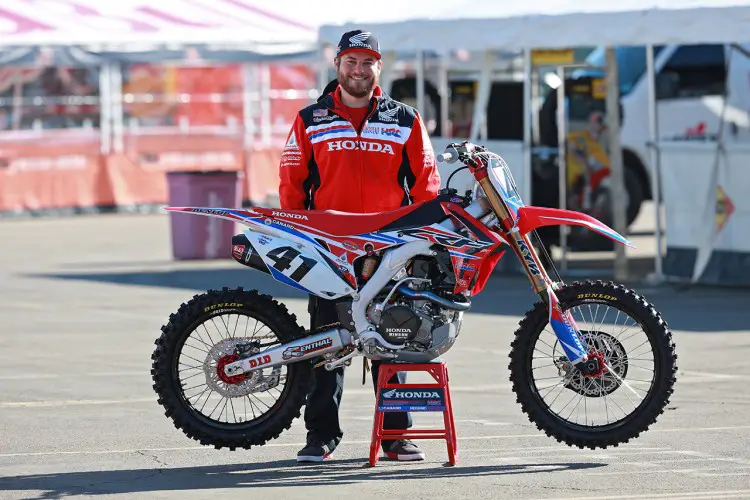 By John Basher

Behind every great racer is an equally excellent mechanic. Friendships, especially in racing circles, are formed out of necessity. That's not entirely true for HRC Honda mechanic Brent Presnell and his rider, Trey Canard. Believe it or not, the dynamic duo are from Oklahoma. They raced at the same familiar stomping grounds and became friends. Since then the two have been inseparable.
Instead of focusing on the star rider–after all, Canard set the fastest lap time in practice at Anaheim 1 and won a heat race–we wanted to talk to his mechanic. You might be surprised to hear what Brent has to say about wrenching for Trey, working at Honda, and the career he left behind in order to help his friend.


Trey Canard (above) and Brent Presnell have gone through a lot together. They're back for another year of racing at the highest level.
When did you start working for Trey? I started in 2004 as Trey's mechanic. We grew up racing together in Oklahoma. Everyone knew who the Canards were where we lived. They owned Elk City Kawasaki and Suzuki. They had a box van, and Trey's dad, Roy, always had random parts that I needed. I actually raced his older brother, Aaron. We became friends, and our families would go to dinner together after racing. Then I quit racing and went to Oklahoma State University. It's Cowboy country, and by the way, they were and still are way better than the Sooners. You can go ahead and document that [laughter]. Well, Trey needed some help with wrenching after his dad passed away. I met up with Trey's mom and brother in Stillwater one time, and they took me to dinner. I told them that I could help Trey during the summer when I was off from school. I started it as a summer job and I've been doing it ever since. At college I was studying Mechanical Engineering, and I dropped out to become a race mechanic. It was the dumbest thing I've ever done [laughter]. I wouldn't trade my career for anything, but looking back now I realize it was a stupid move on my part. Fortunately it has been really great working with Trey.
I'm sure there have been many ups and downs working with Trey. People ask me what the most difficult thing is about working with Trey. It's the emotional roller coaster that I go on. We've had the highest of highs and the lowest of lows.
What changes have been made to the race bike? The bike is very similar to last year. We fine-tuned some areas in setup and made big improvements, but those have been the result of small changes. Trey is super comfortable and we're confident in the machine.
HRC has taken an increased interest in being involved with the team. What changes have you noticed with the program since they stepped up? The biggest thing is the joint effort between what's going on here at Honda and abroad. Before there was the HRC team and then the American Honda team. There was communication, but not how things are now. The programs have come together for a mass global effort. The lines of communication are open between every Honda racing effort. Sharing information has been hugely beneficial. Having access to their knowledge is unbelievable. When we're out testing we are talking to the engineer that designed the motorcycle.
How was your experience in Japan when Trey raced the final Japanese National last fall? It was amazing! We had a lot of fun. I loved my time in Japan. Everyone was very friendly, and the country is very clean. It was easy for us to enjoy it, because we always had Honda's engineers guiding us. I would be very intimidated to travel to Japan on my own and try to figure things out. The food was amazing. We didn't eat anything too crazy. There was some beef tongue on the menu, and that got a little too extreme. I didn't mind the meat cooked, but eating it raw made me feel like I was making out with a cow. You could still see taste buds on it! I wasn't into that.
"LOOKING BACK AT MONSTER CUP, HE LAUNCHED THE BIKE INTO THE MANAGER'S TOWER. HE GOT BACK ON IT AND SET THE FASTEST LAP TIME OF THE NIGHT. THE BIKE WAS COMPLETELY TWISTED. I DON'T KNOW HOW IT'S POSSIBLE FOR TREY TO BE SO PARTICULAR ABOUT SOMETHING AND THEN NOT LET IT EFFECT HIS SPEED."
Is Trey picky about anything on the bike? He's very sensitive to the handlebars and lever angles. No matter what he'll hop on the bike and check things out. He moves things around. Everything else doesn't bother him. Ironically enough, he will cartwheel the bike for 50 feet, and everything gets twisted and mangled. Then he will get up and still go just as fast with the bars and levers messed up. Looking back at Monster Cup, he launched the bike into the manager's tower. He got back on it and set the fastest lap time of the night. The bike was completely twisted. I don't know how it's possible for Trey to be so particular about something and then not let it effect his speed.

After all these years you must get the handlebar/lever setup pretty close. Do you ever get them spot-on for Trey? I do. Once he rides the bike for the first time and is happy where everything is, then I'll mark everything. Then when I rebuild the bike I'll put the bars and levers back where they were before. I even have a handlebar measuring tool so that the bars are in the same spot. There are times Trey will hop on the bike and tell me it's spot on, and the next week he will tell me that he needs to move something. That's when I argue with him [laughter].
What is the coolest part about the factory Honda CRF450? It always goes back to the footpegs for me. I don't know why. The footpegs are some of the coolest parts about any bike. The whole bike itself is unreal. I enjoy working on every part of it.
Factory bikes make tons of horsepower. What kind of powerband does Trey prefer? He's gotten to the point now where he wants all the power we can give him. The only thing is that he wants to the delivery to be smooth. Our bike produces serious power, but it's very smooth and rideable. If he can't ride the bike then it's useless. During Trey's first few seasons in the 450 class we were always detuning the engine. Now he wants full power, although we move the power curves around a little bit to make it easy for him to hang on.
What about Trey's suspension preferences? Once he has a good general setup we're pretty well dialed. We might go a few clicks here or there throughout race day, but for the most part he doesn't deviate very much. The same thing goes with tires. We don't swap out tires all day long. Trey likes to know how the bike is going to react, so once he knows that then he'll adapt to the bike.