INTERVIEW OF THE WEEK: COLE SEELY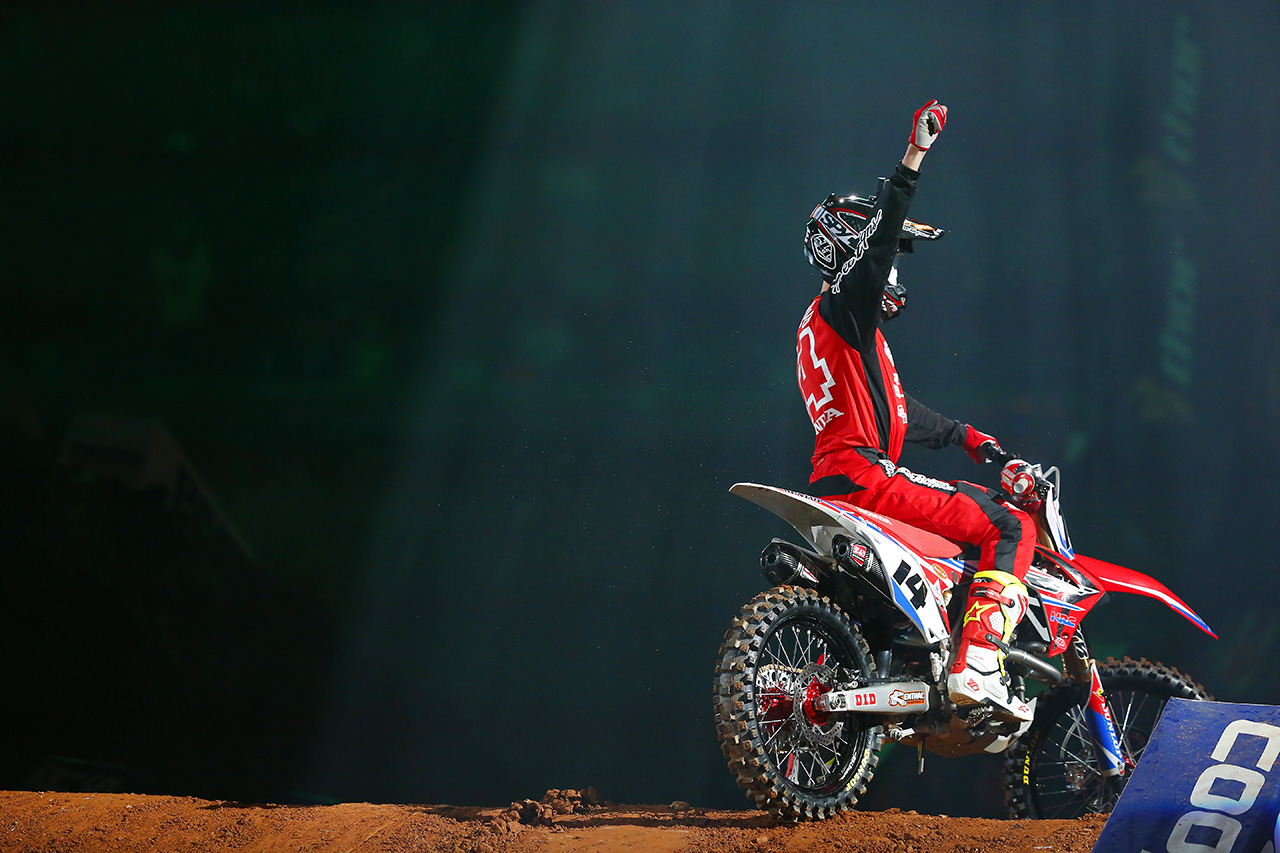 With the 2017 Supercross series quickly approaching, the focus is on the major players, like Ken Roczen, Ryan Dungey, Eli Tomac. There's buzz Cooper Webb moving up to the 450 class, Marvin Musquin's confidence after a prosperous offseason, Chad Reed's resurgence, and the switch to new teams for several riders. Then there's Cole Seely, the quiet SoCal native who has proven that he's a threat for Supercross wins. Entering his third 450 season, Seely has the capabilities necessary to consistently run inside the top five. Add in an all-new bike in the 2017 Honda CRF450, a new contract with Honda and a championship contender teammate in Ken Roczen, and it could be an interesting year for Cole. We caught up with him to discuss the '17 CRF450, teaming up with Ken Roczen, and much more.
By Jim Kimball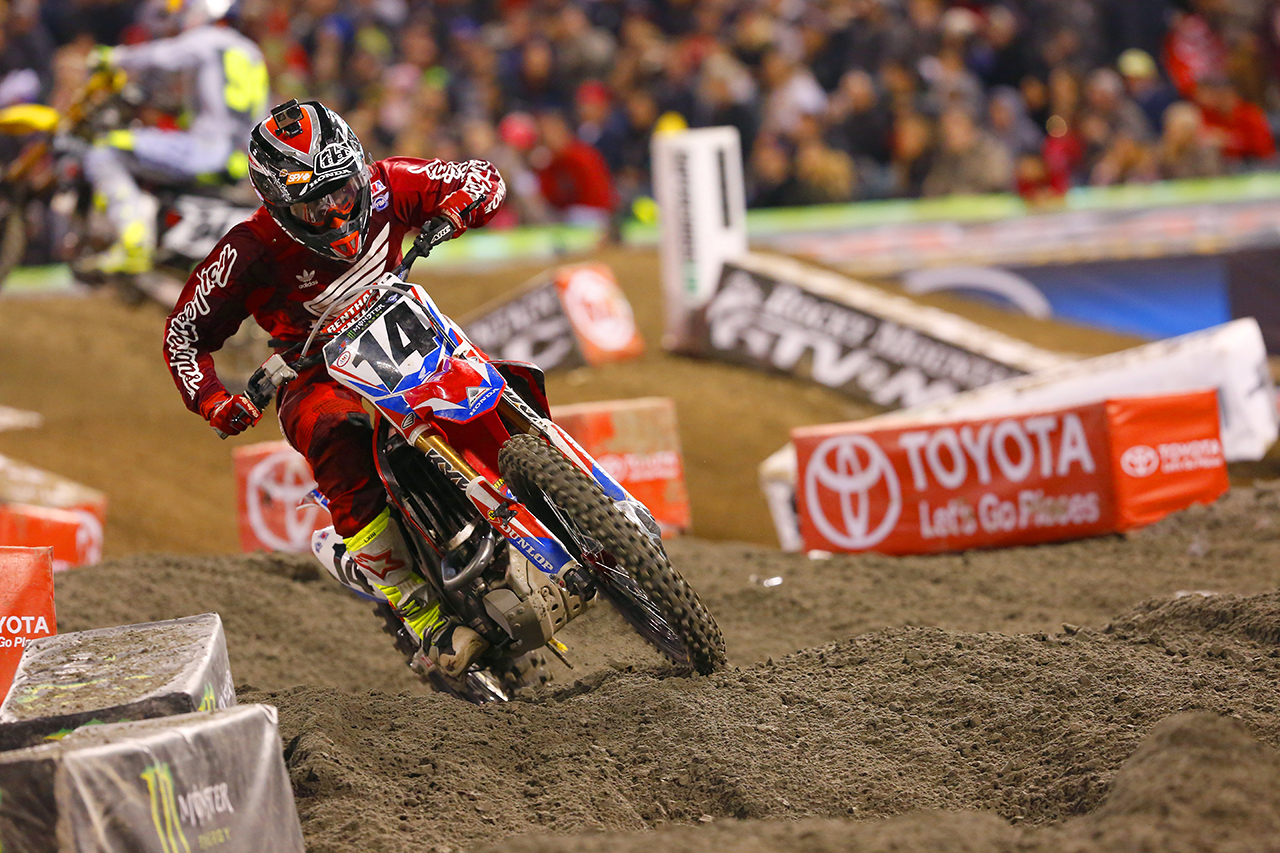 Cole, let's rewind a bit and talk about the 450 Nationals this summer. You were showing solid speed before getting injured.
Yeah, I had just switched up my training program a little bit and was working really hard during the weeks between races. Motocross is a big part of my job and something that I take really seriously, so I wanted to up my program to compensate for the lack of speed that I had in the past years. I had been putting in a ton of work and things were going really well. Even with the injury, it is still nice to know that it has given me confidence in my program and a direction I think to work on. This year I can apply those things that I learned and know that my training program is working and keep putting in that work.
What aspects of your program does Jeff Ward help with?
Jeff has helped me in every aspect of my racing, from bike set up to line choices. He writes my program for me during the week as far as riding–whether I ride long motos, sprint work, or whatever it is going to be. He oversees all of that. Jeff is with me every single day when I am riding. He knows me very well as a rider and a person, so when we go to a race he can help me. Jeff has been through so much. He has so much knowledge for every aspect of the sport, so it is definitely a huge advantage having him by my side. I plan on working with him for a long time to come. The first time I met Jeff I think I was 12 or 13, and racing the 80 class. We go back over ten years now, so it is really awesome to extend that relationship for as long as we have. We live down the street from each other now. He drives over to my house and we go to the track. We have a pretty cool relationship.
"WHO ELSE GETS TO TEST A FACTORY HONDA AND HELP DEVELOP A NEW BIKE? IT IS PRETTY AWESOME TO BE IN THAT POSITION."
Is the 2017 Honda CRF450 is good as it's hyped up to be?
The new bike has been awesome. We have it in a really good position right now. In the past couple of weeks we have gotten some really good settings and broken some ground on trying some new stuff. It has been a really fun process just learning the bike through and through, figuring out what direction to go with suspension and engine settings. It is all new to us, so it has been a pretty cool experience. I have been very involved in all of it, so I think this is a really cool thing to be a part of. Who else gets to test a factory Honda and help develop a new bike? It is pretty awesome to be in that position.
How are you and new teammate Ken Roczen getting along?
We have spent a handful of days at the test track together. He kind of has his own program and I have mine, so there has not been a whole lot of working together just yet. We have only been teammates for a couple of months now, but we get along great. It is cool to have him and his mechanic on board now and have his whole program with us. They are a cool group of people and it is a good fit for us and all of that, so it is going to be a fun couple of years for me.
You were teammates with Trey Canard for a few years. Did you develop a close relationship with him while he was at Honda?
Trey and I spent a ton of time together. We were really good friends even before I had signed with Honda. Being teammates just helped with our relationship. We are really good buddies and we still will be, just on two different teams. Kenny is awesome and it is going to be fun sharing the rig with him and being around him for the next couple of years. I have been really blessed pretty much my whole career with having really cool teammates, and good guys that I actually would hang out with if we were not on the same team. Honda is like a big family to me, so it has been good.
You ultimately signed with HRC Honda for 2017, but you were pursued by several other factory teams. What led to your decision to remain at Honda?
I had been approached by a few different teams before I had made my final decision to sign with Honda again. Honestly, it was never really a thought to go anywhere else. I am really happy with where I am at. I fit in really well with the people I work with. I like working with everyone, from the team manager to the mechanics and suspension guys to the media people. I didn't want to change that. I never considered going anywhere else, because it is such an awesome program that I have going on. Honda is home to me. It is like family here, so I do not see myself going anywhere else any time soon. When the decision came to re-sign with them, it was a pretty easy deal.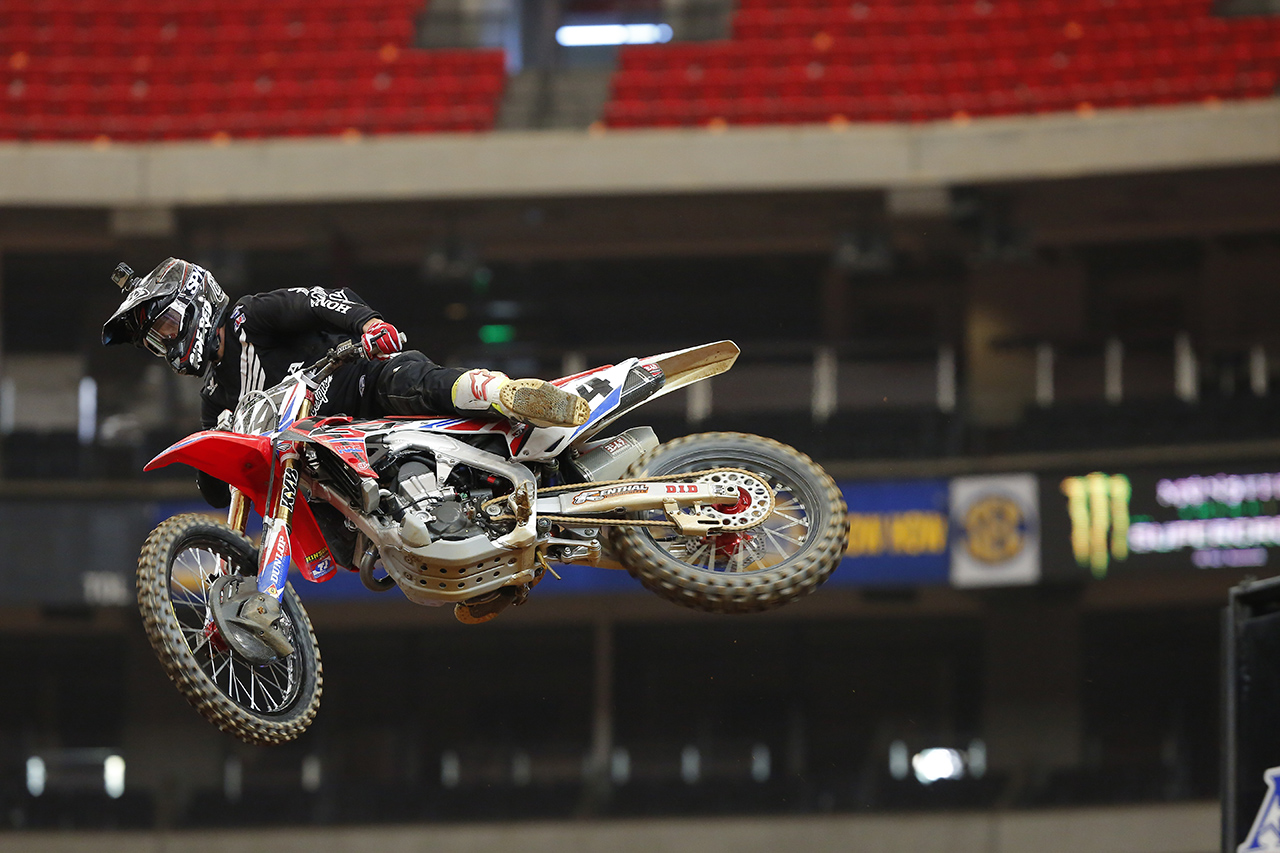 Getting approached by several teams in a year when other riders are still struggling to find a deal has to flatter you.
Yes, for sure. It is definitely a blessing to get multiple offers when guys are getting none. It is a tough sport, but I have put in a lot of work and definitely worked towards trying to be the best. I would like to think that I deserve it. I am going to keep doing what I am doing and pushing myself every day at being the best. It just shows that people recognize it. Seeing that your hard work is paying off is definitely a cool feeling.
Is the 2017 Honda CRF450 far and away better than your 2016 race bike?
It is definitely better. Still, the 2016 setup was awesome. I really liked my bike. I was actually kind of worried at first before I had even rode the 2017, because I was so comfortable on the '16. I did not want to get away from what I was racing. Fortunately, the 2017 has maintained all of those good characteristics, and Honda added even more. I think the bike corners phenomenally. It is really, really good in the turns. It maintains good traction, as well as tracking through the turns. The rear end follows very well with the front end, and there's also increased power, especially with the stock setup.  The 2017 has quite a bit more power and I think a lot of people are really going to like it. I find myself carrying a higher gear. That makes riding easier. Whenever you can make things easier you can go faster, which results in a good feeling and confidence.
Will your race bike use an electric starter?
Yes. We have been running the electric start since I started testing on the 2017 model. As far as I know we are keeping the electric starter on the race bike. It is something that I am pretty happy about.
"NOW THAT I'VE RIDDEN THE BIKE, I THINK THE 2017 IS AN ALL-AROUND BETTER BIKE. ANYBODY THAT CAN RIDE THE BIKES BACK-TO-BACK WILL NOTICE THE DIFFERENCE. AT THE SAME TIME, THE BIKE STILL FEELS LIKE A HONDA."
So you were worried that Honda might have taken a step backward with the CRF450 before it came out for 2017?
Well, I really liked my 2016 setup. Now that I've ridden the bike, I think the 2017 is an all-around better bike. Anybody that can ride the bikes back-to-back will notice the difference. At the same time, the bike still feels like a Honda. It still has the same ergonomics. The fit and finish of everything on the bike is very top of the line, as you'd expect from Honda. It is a well-tuned machine. I think anybody that gets to ride one is going to be happy.
Have you noticed more globalization of Honda, as far as sharing information, now that HRC is involved in all aspects?
As far as I know it is, but when I signed with Honda is when the communication picked up. I do not really know the difference or what it was like beforehand. As long as I have been a part of the team, the communication has been huge. Regularly we have somebody from HRC Japan or some part of that side of the world over here with us testing, trying different components and different settings. It is good to have another option, I would say. Sometimes they come up with a suggestion or part to help develop a better race bike. Like I said, I did not know what it was like before I came on board.
What was it like racing in Japan a few months ago? 
I had never been out of North America before. I have been to Mexico and Canada, but never overseas. It was a really cool first experience to go over there and spend some time with my big bosses over in Japan. It was definitely cool and they treated us very well. It was a fun experience.
Air fork versus spring fork seems to be a hot topic these days. The 2017 Honda CRF450 in stock form comes with Showa spring forks. Are you returning to spring, or continuing with air forks?
On our race bike the suspension set up is staying pretty much the same. Aside from having to build a new shock body, the suspension is the same. We've had so much success with the KYB air forks. The ones that we run aren't what come on production bikes. It is a very foolproof system and suspension setup, so we are staying with it. As far as the average rider goes, I think going back to the spring fork on the production bike is definitely a huge plus. It is so easy, whereas the air fork is a little harder to set up. Every time I had a stock production bike as my personal bike I always put the conventional spring fork back on it. That's because it was so much easier to fine-tune for everyday riding. The typical weekend warrior guy will definitely appreciate having the spring fork back on the bike.
Would you welcome the proposal of Feld Motor Sports increasing the Supercross schedule beyond the 17 rounds that are currently on the slate?
I have heard rumors here and there, although it's nothing very credible. I've heard more Supercross races, less Nationals, and maybe a few international Supercross rounds in the next few years to come. As far as a rider, I think it is cool. It definitely shows that our sport is growing and gaining interest worldwide, so it is pretty awesome to be a part of. If we were to do that, my only concern would be traveling. Where are we going to ride and practice? Where are we going to train? Where are we going to stay? That is just from a racer's perspective. You also have to take into account the team managers figuring out how the bikes are going to get there [to the races], how the team members are going to get there.  That just seems like a whole other headache. I am sure we will get some assistance and all of that, but like I said, it is definitely cool to see our sport growing.
"I THINK THE BIGGEST KEY TO THAT IS WHAT RYAN HAS DONE, AND IT'S RYAN DUNGEY WHO I AM TALKING ABOUT, IS HIS CONSISTENCY. IT IS PRETTY CRAZY TO THINK HOW MANY TIMES HE HAS LANDED ON THE PODIUM AND HOW CONSISTENT HE IS RACE TO RACE AND SEASON TO SEASON."
There have been a lot of younger 250 guys moving up to the 450 class the past few years, but it has still been difficult for anyone not named Ryan to win the Supercross Championship. Why is that?
I think the biggest key to that is what Ryan has done, and it's Ryan Dungey who I am talking about, is his consistency. It is pretty crazy to think how many times he has landed on the podium and how consistent he is race to race and season to season. I think that is exactly why he is who he is, and it makes him Ryan Dungey.  That is definitely something we are all chasing and we are all working for. There is so much talent in the class now that on any given night somebody new could win a race. It's a matter of being consistent, and that is what makes the 450 class so much harder. You are dealing with twice the amount of racing and twice the amount of talented riders. It is super hard and definitely a good accomplishment when you can finish in the top three or top five on a race weekend. Consistency is what wins titles nowadays, and that is what Ryan Dungey has going for him.

Does the 450 suit you better than the 250?
Yes, I think just naturally I have always rode the bike with kind of a low RPM. I respect the power that [the 450] has and know that it is a completely different machine from the 250. That really helps me. It makes riding easier and is part of my style. I think the 450 suits me better, and that has made the transition a lot easier.
What are your chances of winning the 2017 Supercross title?
I have always been the guy in the shadows, but that is fine by me. I don't mind being under the radar. I just do my own thing. I think people can kind of forget about me before every season, but then by the time the season rolls around I remind them who I am and why I am on factory Honda. As long as the important people know, that is all that really matters.
What are you focusing on heading into Anaheim 1?
Right now, I am kind of in the middle of my preseason testing and training. This is the time of the year when I make my biggest gains and build up most of my speed and strength. I will probably start to taper down halfway through December and just make sure that I am recovered and rested by the time Anaheim rolls around. A huge part of it–equally as important as the training part–is getting enough rest. At Anaheim 1 I want to come out of there decently. If I am in the top five then that is a good night for sure. The first round is nerve racking. It is important to make it through and score solid points. Last year I was fortunate enough to land on the podium, so obviously I would be happy with that again. As long as I am putting in the work there is no reason why we cannot be at the very top of the class and battle for wins and the title by the end of the season.