INTERVIEW OF THE WEEK: GAVIN FAITH
Fort Dodge, Iowa's Gavin Faith has been a bit of a journeyman racer over the years, racing in Australia, Germany, and the United States. Faith was able to catch the attention of Arenacross powerhouse team Babbitt's Kawasaki prior to the 2016 season, and team owner Eddie Babbitt signed Faith to a deal. It was a great match, as Faith won his first Arenacross title over teammates Chris Blose and Jacob Hayes.
Heading into 2017, Gavin is aiming for a second Arenacross title and join an esteemed group of past Arenacross Champions. We caught up with the friendly 24 year old recently to talk about what he's been up to, and what he expects for 2017.
By Jim Kimball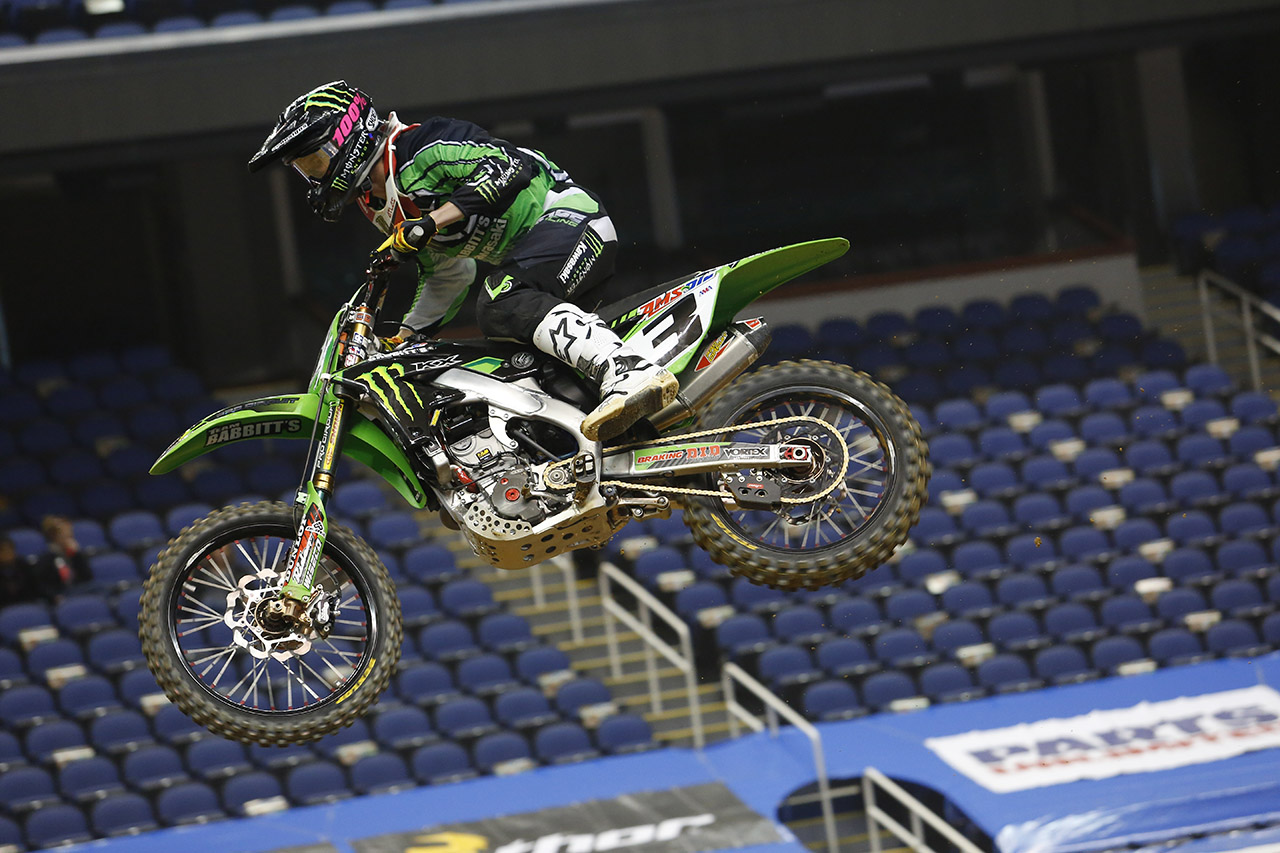 Gavin, please go back to the beginning of your Arenacross racing, which was in 2015. How did you end up at Babbitt's Kawasaki?
I rode for Husqvarna. I had a pretty good year, got a lot of podiums, and took third in the championship. I guess that was just enough to get a Babbitt's ride for the next year. Denny Bartz, the team manager, called and asked if I was interested. Things kind of just went from there. I feel like Babbitt's has the best setup at the races, and their bikes are very, very good. I never rode a Kawasaki before that, but I heard a lot of good things about them, so I was really excited to be able to get on the bike. Right away the engine and suspension felt great. Even though I didn't have much time to prepare for the 2016 series I was not really worried. I was pretty stoked with the way the bike worked, and actually how the whole team worked together. Denny Bartz is really on top of his stuff, and all of the mechanics were good. The team worked really well together, so it made it super easy going to the races.
You've raced on several different brands in the past. What was it like adapting to the Kawasaki?
I came off a Honda from racing in Australia right before getting on the Kawasaki KX450F. I actually got hurt right before joining the Babbitt's team, so I only had about three days on the new Kawasaki before the first round. I actually ended up winning the first round! So I adapted really quickly to it. I feel like going from a Honda to a Kawasaki was a little better than going the other way. I converted over to the Kawasaki really easily, and I am not really a picky rider by any means. The suspension that was on there was set up how Jacob Hayes's suspension was. It was pretty close and I was pretty happy with it. Switching motorcycle brands has been somewhat easy for the most part. I just roll with it and ride.
What's your game plan for 2017?
Well, in 2016 the team sent a guy to the first three rounds to work with suspension, which helped a lot. It worked pretty well last year, so we are going to go into this year with the same mentality. As with last season, I actually got hurt again this year. I broke my collarbone, so I will be coming in a little bit behind the eight ball again this year. I feel pretty confident. I have just got to stay in shape and hopefully will be ready for round one.
Recently there has been a lot of focus on Australian Supercross racing, but you've been racing Down Under for quite some time.
I won the series a couple of times, back in 2012 and 2014, riding a Honda. Last year I was racing the series, but got hurt pretty badly. This past season in 2016 I raced again, and ended up second overall. I actually came a lot closer than I thought. I came within three points of winning the championship. It was pretty good, but it was just not enough to take the championship, so the loss is my own fault.
Justin Brayton is from Iowa, just like you. Do you know him very well?
Actually, he is from the exact same town as me. He lives maybe five to ten minutes away. I have known him my whole life pretty much. I did not know him very well, but then I spent quite a bit of time with him in Australia. That was cool. We got to know each other a little bit and spent some time together, so it was pretty cool. His mechanic is also one of my buddies from Iowa, too, so we had three Iowa boys in Australia.
What was it like having your teammates being your main competitors in Arenacross?
Obviously, at times in the truck there is a little bit of tension, especially when it got down to the last few rounds and we were all going for the championship. I was kind of surprised that at the last couple of rounds one rider specifically treated me like I was not his teammate. It was kind of a bit of a shock to me, but I handled it well and I went on to ride smart and was able to take the championship, which was a big blessing for me. Especially when you are running for a championship and you are in the lead, you have to really be watching out for anybody and anything. It got pretty intense there towards the last few races, but all in all it was pretty well. At the end of the day we got a championship, so I was stoked with it.
There was some pretty aggressive bar-banging at the Las Vegas finale. Can you explain how the weekend went for you?
It is like that just about every weekend. Arenacross is really tight racing and there is not much room on the track, so usually it is action packed. At times, whether it is your teammate or not, you have to make a bump to get around someone and pass them. It gets interesting when you put 16 guys on just over a 20-second lap time track.
It's not hard to decipher that the teammate you are talking about is Chris Blose, who is no longer on the Babbitt's Kawasaki team.
Yeah, it got a little aggressive towards the end of the championship with my teammate Blose. We were tied for points with a couple of rounds to go, so it was pretty intense, but there are no hard feelings. There is a lot of money on the line, and it is a pretty prestigious series. At the Las Vegas finale I knew I had to get third or fourth to win the championship. Honestly, I just rode around in second because I knew Blose was in front of me and he could not win the championship with me right behind him. I settled in and just rode a smart race. If it were down to a one-point difference, it would have been a little bit different story. In this situation I was just trying to be smart and do what I had to do to win the championship.
You mentioned that you were injured recently. What happened?
Unfortunately, I got hurt racing a Supercross in Germany a while ago. It was during the last race of the whole trip, so it was kind of unfortunate. I did the same last year when I got injured shortly before the Arenacross opener, so you know it obviously worked by winning the championship. I am excited. I rode the Kawasaki all last year. It is a little bit of a different bike this year, but from racing the Kawasaki last year I have a whole season on the bike and now it is my second season with the Babbitt's Monster Kawasaki. I am not quite as nervous about it this year as I was last year. Last year I only had three days on the bike, and was actually debating whether to go or not. I ended up going, and then I won the first round.
What is going to be the key to winning the 2017 Arenacross Championship?
Basically, I think just staying out of trouble and being there the whole season will do wonders. I feel like my speed has been good, and the biggest thing is just getting out front and putting myself in a good position to where I can't let others get in the way.