INTERVIEW OF THE WEEK: GAVIN FAITH

Click on images to enlarge
Gavin Faith and Justin Brayton are two of the best racers to ever come out of Iowa, although they have taken different paths in achieving success. Brayton got his feet wet in the Pro ranks by racing Arenacross. Now he's a regular top-ten finisher in the 450 Supercross series. Faith, on the other hand, kicked off his Pro career in 2012 as part of the 250 West series. He transitioned to the Amsoil Arenacross series in 2015 and finished third overall. During the offseason Faith moved to the Babbitt's Kawasaki, alongside Chris Blose and Jacob Hayes.
Thus far 2016 has been a prosperous season for Gavin. He led the point standings heading into the "Race to the Championship." For the final five races Arenacross has reset the points, meaning that Faith's substantial points lead was erased. He'll start the final push to the championship with an ever-so-slight points advantage. I decided to give Gavin a ring and talk about his Arenacross season, training with Ricky Carmichael, and if he has aspirations to return to Supercross. Below the interview is a gallery of images that were taken of Gavin at Carmichael's Farm. 
By John Basher
Why do you believe in Ricky Carmichael's training program? It is obviously proven to work. Ricky a legend in the sport. He has won a lot of titles, and he knows how to win. That's why I believe in the program they have set in place. Having Ricky and Jeannie on the track, as well as my trainer, Clint, is a really good deal.
When I was at the Carmichael Farm a few weeks ago I noticed that Jeannie was pushing you in Supercross. She pulled out the cones to block the main line, and told you to cut your corners tighter. Lo and behold, Jeannie was right. [Laughter] She challenges me. Between Jeannie and Ricky, they have an eye for that sort of thing. During that exercise we were working on staying low in the bowl corners, which is good for Arenacross because it tightens up the corners. The bowl corners are a lot tighter in Arenacross than Supercross, so it helps. Jeannie is always there to keep me accountable and challenge me in every way possible. It's definitely a good program.
Joey Savatgy is also training on a full-time basis at Carmichael's. Were you and Joey friends beforehand? We've been friends for a long time now. Joey, Clint and I have been good friends for a while now. We're both new to the Carmichael Farm. We went over there about a year ago, and it has been going well. I've been enjoying things here.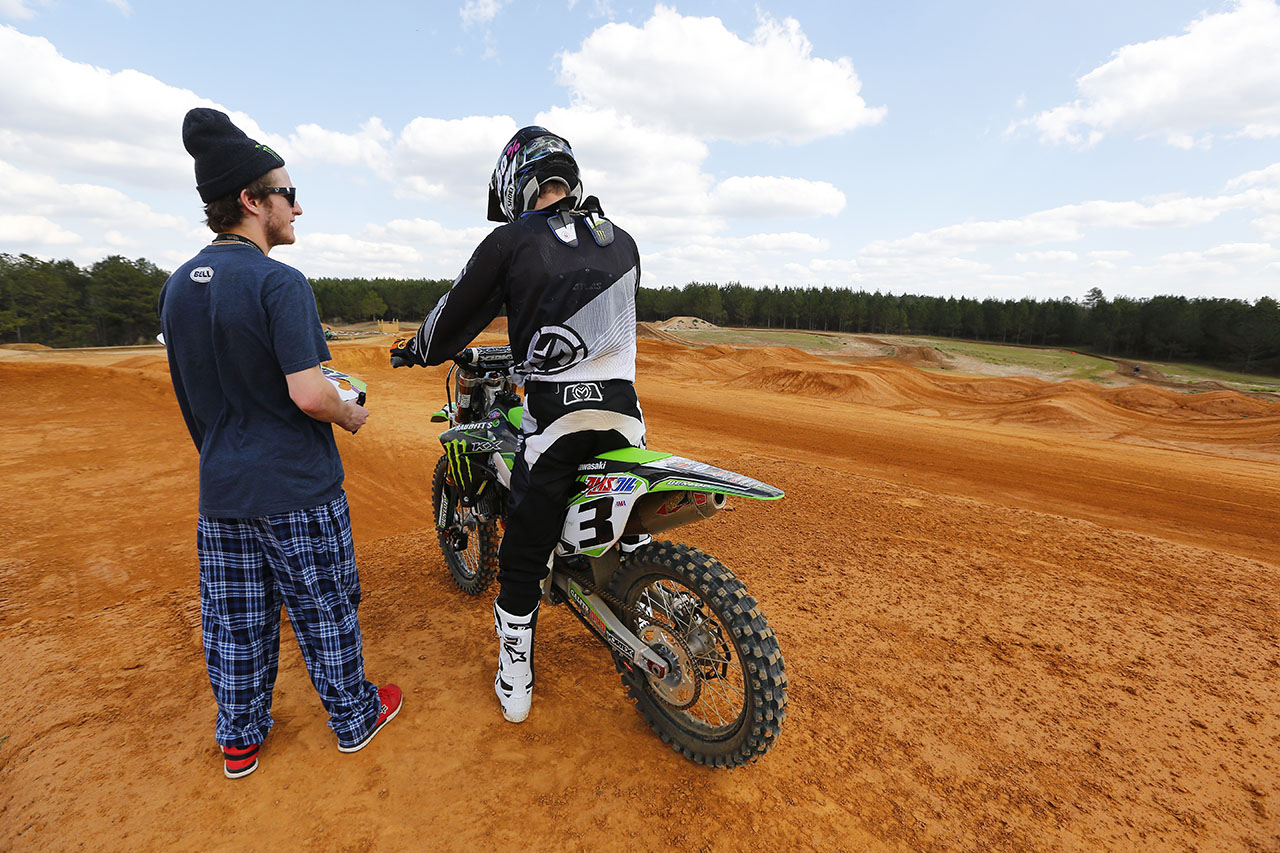 Joey Savatgy (left) and Gavin help each other out and push one another. The two have been training together for a long time. 
What was the biggest adjustment for you in the weeks following Ricky's training regiment? When I first came down to Georgia I was at Millsaps Training Facility for a while. Then I made the transition to the Carmichael Farm. Joey, Clint and I have been working together for a long time now. We had a pretty good program going, and we decided to all stick together and go to the Farm. Now we're continuing our relationship, and being with Ricky and Jeannie is a good package.
You had a huge crash at the AUS-X Open back in November. Now, only four months later, you're at the top in Arenacross. How were you able to rebound so quickly from several major injuries? The crash was pretty crazy. It was an unfortunate deal, because it was a mechanical problem with the bike at the worst possible time. It was a bad crash, but I got kind of lucky, because it could have been a lot worse. I broke my collarbone, a few vertebrae, some ribs, separated my shoulder and got a concussion. It took me a little while for my shoulder and collarbone to heal up. I came into the first round of the Arenacross series with three days on the bike. I was rusty, but I was able to get the win. Since then I've been trying to build on things and get better every weekend.
With six main event wins this year and the standout at this time in the series, now the points are reset and your big lead is washed away. Last year you were trailing in the standings, so having the points reset in 2015 worked to your advantage. Now you're on the other side of the equation. I knew it was going to happen. At the beginning of the year I thought that it was going to work towards my advantage. Now I'm the points leader, and having the points reset isn't as big of advantage for me as it is for Kyle Regal, who struggled in the beginning half of the season. From the beginning I was just trying to knock off as many race wins and overalls as I could. I feel that carrying momentum into the final rounds is what the advantage is. I'm feeling good on the bike. I have confidence, and in some ways having the momentum and confidence is just as good as the points lead.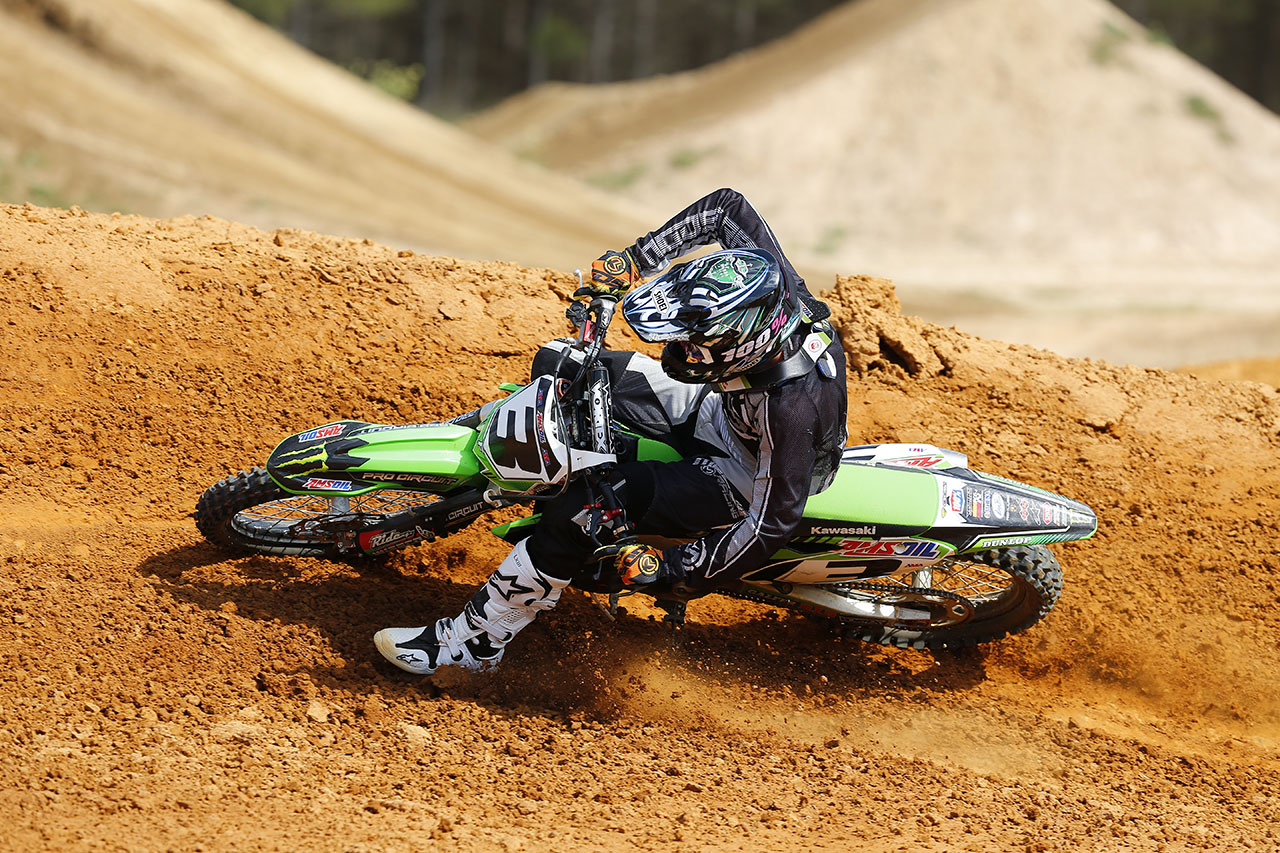 Now that the points are reset, do you change your approach to racing your competitors? Everyone will be out for blood now that the points mean something. There's a lot more on the line with the championship coming up. I'm going to take the same approach as I did at the beginning of the season. My plan is to give it my best, try to get good starts and put myself in a good position. If I have to get aggressive and go for it a little bit more, then that's what I'll do. Probably the best thing for me is to attack every race with the same approach I have been. Things are working.
What are you doing with the slight break before the Race for the Championship kicks off the first weekend of April in Ontario, California, this weekend? I'm training hard at the Farm and preparing for the last few rounds. It's nice to have a few weekends off to work on my base, which I lose a little bit as the season goes on. I am also relaxing a bit and freshening up so that I'm 100 percent ready for the final push.
Between Carmichael, Clint, Joey and yourself, who is the best racquetball player? I'll go ahead and say that I would take the racquetball championship. I have the title as of right now. We're all actually pretty good. We have a fun time. We also ride bicycles a lot. Throughout the season we switch up cardio between mountain biking, road biking and racquetball. Being on the bicycle gets a little boring sometimes, so it's nice to switch things up.
In 2013 you finished fifth overall in the 250 East Supercross final standings. Do you have aspirations of returning to Supercross? Maybe I will one day, if I had the opportunity to get a ride and go back to Supercross. Right now I'm focused on doing Arenacross and trying to be successful. I'll see where that takes me.
What is so appealing to you about Arenacross? Everything is a bit more relaxed in the pits. Things aren't quite as serious as Supercross, but obviously we all want to win. For me, not being on a factory team in Supercross and doing my own deal the last year I raced, I was tired of spending my own money riding Supercross. I had an opportunity to go to Arenacross and actually make a little bit of money. That's the main reason I went to Arenacross. At the same time, I race dirt bikes for a living, and when you're racing for free then it is more of a hobby than a career. I do feel like the Amsoil Arenacross series is a good series. There is a great group of people at the races, and I have a lot of fun with it.
Good luck the rest of the season. Thanks for the time, Gavin. No problem. Thanks for the interview. I really appreciate it.
GAVIN FAITH PHOTO GALLERY