INTERVIEW OF THE WEEK: JEREMY MARTIN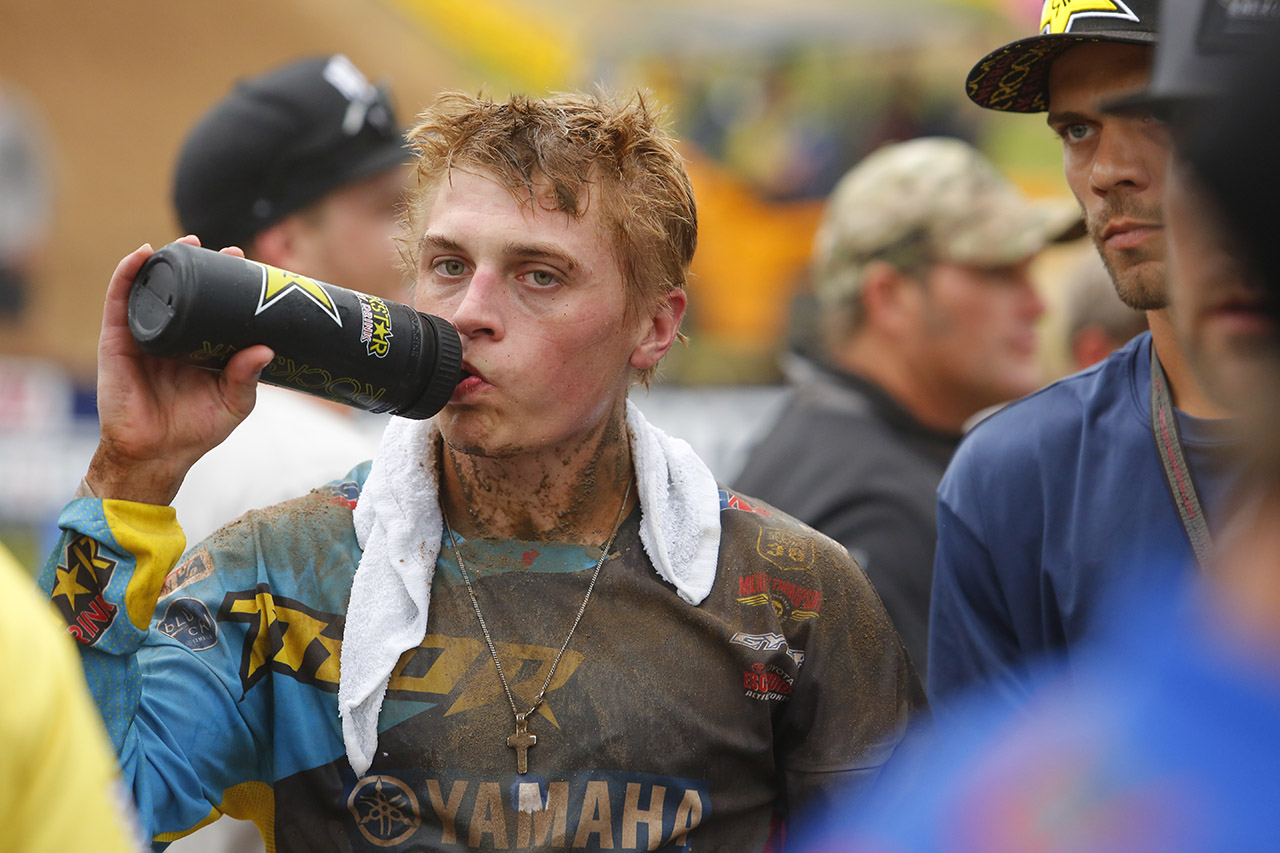 The 2016 AMA 250 National series hasn't gone to plan for Star Racing YamaLube Yamaha's Jeremy Martin. Until this past weekend in Millville, the two-time defending champ had yet to take an overall win. Millville became his statement race this past weekend. Jeremy went 2-1 for the overall at his home race.
In spite of it all, Martin is 38 points back of Cooper Webb for the 250 title. Jeremy has his work cut out, but with several rounds remaining, he's still in the mix. We caught up with Martin to get his thoughts on his first win, and ask him about his rumored health issues after Saturday's press conference.
By Jim Kimball
What was the reason for Jeremy Martin's sluggish start in the 250 National? No one really knows except for Martin, and he's not talking. Photo by Brian Converse
Jeremy, congratulations on capturing your first overall win of the series. Has it felt like a long time coming?
Thank you. It's a great feeling for sure. The track is basically my backyard, and it reminds me of that Flo Rida song, "Welcome to my house." It was really nice to get the win. Everyone expected me to, and if I didn't win here then it wouldn't have looked very good! I know that Cooper [Webb] was really gunning for the win. He got the best of me here last year, and in the first moto he was on fire. I was especially pumped to get my first overall of the season here.
How does this year's level of competition compare to previous years?
I think it's definitely tough this year. Everyone is stepping it up for sure. Then again, that is the way it seems every year. The Pro Circuit bikes are getting better, our bikes are getting better, and really all the teams are stepping up. I enjoy a challenge, because challenges make me better. Hopefully I can figure out how to get better quickly to dominate the last races this year.
"EVERYONE HAS READ THE STUFF AND FORMULATED THEIR OWN OPINIONS [ABOUT MARTIN'S HEALTH ISSUES], SO I'D JUST LIKE TO LEAVE IT AT THAT."
There seems to be a lot of speculation about your health, but you have never directly commented about it. Is there something serious going on with you, like the Epstein Barr virus?
Everyone has read the stuff and formulated their own opinions, so I'd just like to leave it at that.
Obviously Cooper Webb wants to win the 250 outdoor title–the only championship he hasn't won in the 250 class. You'd be in esteemed company if you won your third straight outdoor title. Both of you have a lot on the line.
It's very important for me to take this championship. I am pretty disappointed that it has taken me so long in the series to get a win. I've been getting pretty comfortable, and feel like things are finally driving in the right direction. The first half of the season has been a struggle for me, and quite frankly I am ticked off about it. Maybe that sounds harsh, but I am tired of losing! I really want to win. This is my job, and what I love to do. I don't wake up every Saturday morning just to get beaten. I am the two-time Champ and I want to win! That is where my heart is. There's no better feeling than crossing the finish line in first and doing a big old fist pump. It's very rewarding for not only me, but for the people in my tight circle. When I win it makes them happy, and it's just an all around big positive.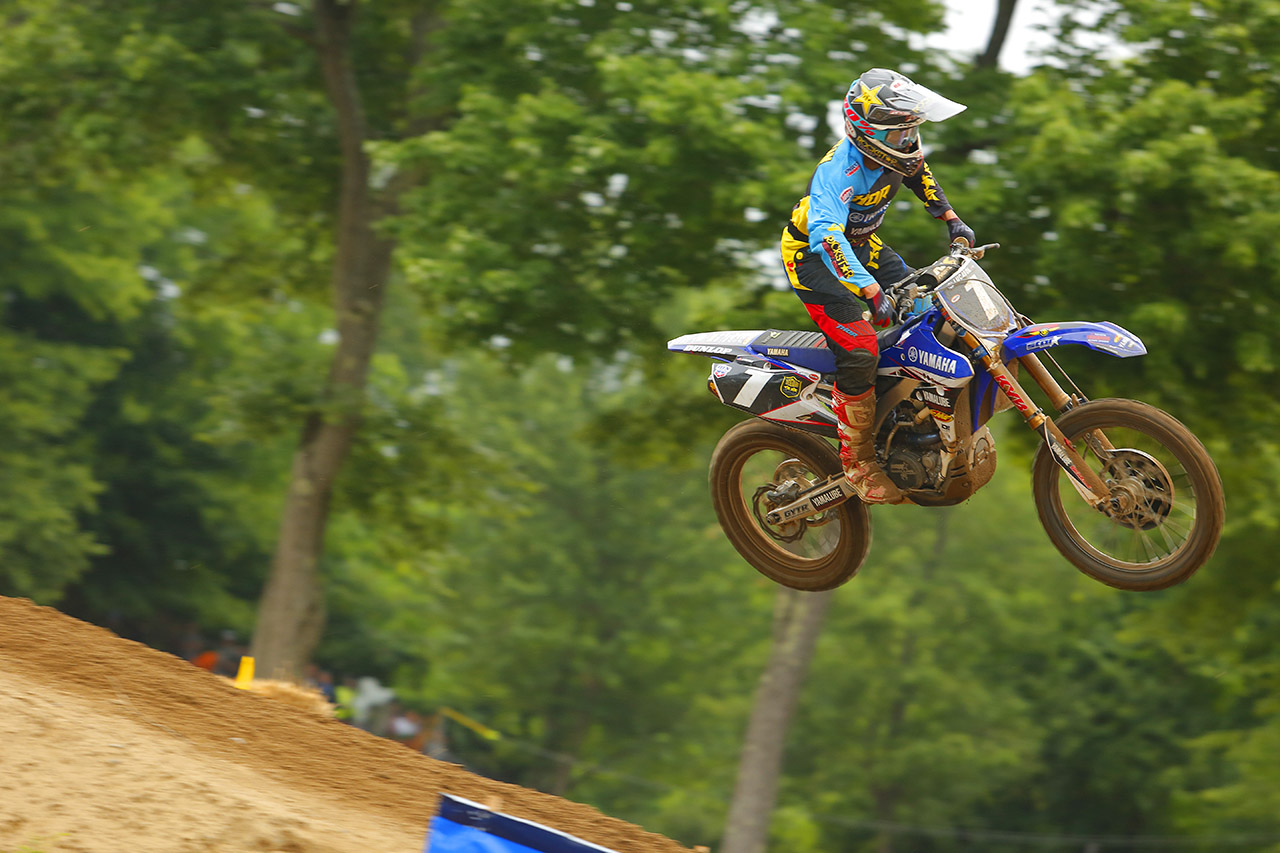 At 38 points adrift of the leader, it's not out of the question for Jeremy Martin to get on a late-season streak and close the gap; however, it will take a major gaffe on Cooper Webb's part.
On the podium today you mentioned how much you could hear the fans yelling. Of course you'd like to get the holeshot in both motos and walk way with the win, but do you enjoy the close battles like you had in the first moto at Millville?
I enjoy competition. In the first moto I was struggling with some bike setup issues, and we were all so close. In spite of not feeling 100 percent comfortable with the bike, I was still trying my best. Every time I tried to make charges I would go backwards, so I had to smooth out and just go a bit slower. I really had to pick my spots as far as going fast to try to catch Cooper and Alex [Martin]. Getting back to your question, the three of us were like a freight train. We were all battling so hard, and all right there for 30 minutes. It was like a yoyo effect, where one of us would inch out and then the other would inch in. We were going back and forth so much. From the fans' standpoint, that is what you want to see when you come to a race.
"I THINK THAT WHEN YOU HAVE GUYS LIKE MYSELF AND COOPER THAT HAVE WON A COUPLE PAST CHAMPIONSHIPS, THINGS GET ELEVATED. IT BRINGS UP TEAM MORALE, AND ALSO BRINGS A CERTAIN HUNGER TO THE TEAM IN THAT THEY ALWAYS WANT TO WIN."
That freight train usually consists of Cooper, Alex, and yourself. You're all on the same team.
The Yamaha is a good bike, and the team is definitely competitive. I think that when you have guys like myself and Cooper that have won a couple past championships, things get elevated. It brings up team morale, and also brings a certain hunger to the team in that they always want to win. It pushes everyone.
After Washougal there is a little break in the schedule. What are you going to do?
We have been going hard, and will continue to do so after Washougal. I want to work on getting the bike better, and getting the body better. I'm looking forward to it, and I think that all the riders are, too. I think that those looking most forward to the break are the media guys who get a well deserved break.