INTERVIEW OF THE WEEK: KYLE REGAL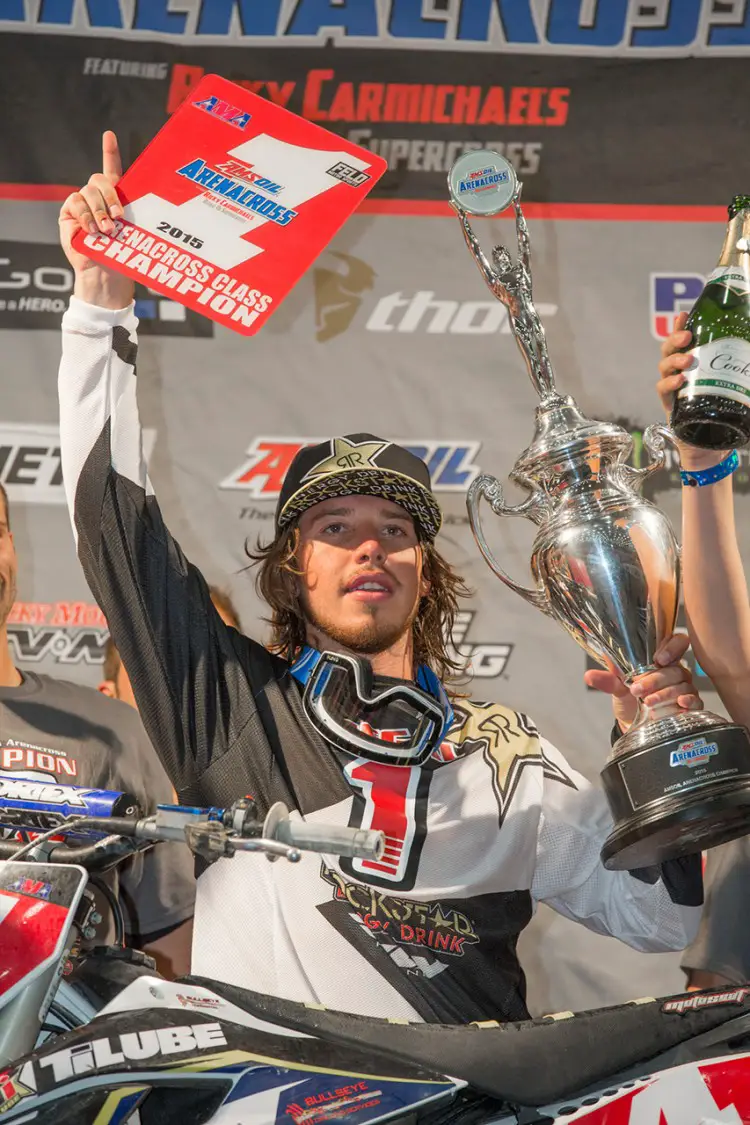 Kyle Regal captured the 2015 Amsoil Arenacross title after a barn-burner in Las Vegas last May.
By John Basher
Kyle Regal has made his presence known in racing circles around the U.S., notably when he scored two podiums in the 2010 AMA 450 Nationals and teamed up with James Stewart the following year in Supercross. However, injuries always seemed to set Regal back from achieving superstardom. After attaining modest success, Kyle seemed to fade into obscurity. However, some much needed goading by a long-time friend pushed Regal back into racing. The Amsoil Arenacross series was Kyle's target, and he used speed and smarts to complete the entire 2014 season. His effort earned him fourth overall. In 2015 he climbed the ranks, won several mains, and captured the Amsoil Arenacross title.
With the 2016 Amsoil Arenacross series on the brink–the racing kicks off this weekend in Cincinnati–I caught up with Kyle to talk about his past, find out what it was like being teammates with James Stewart, and to learn more about the t-bone seen 'round the world.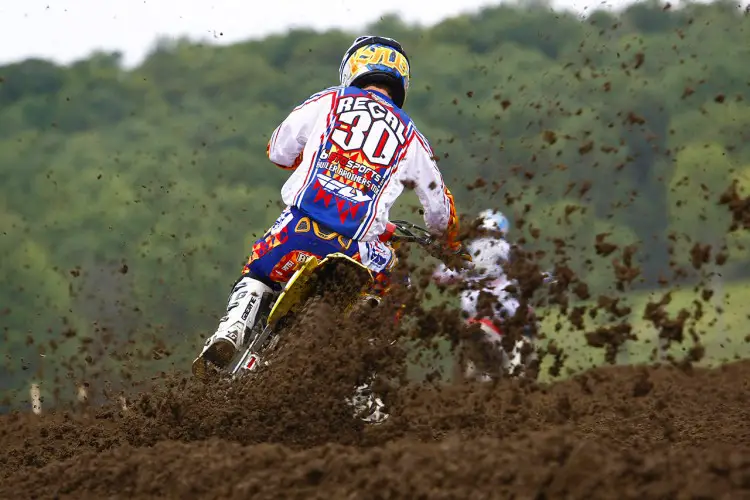 Regal cuts a line through the Unadilla loam back in 2011.
If my math is correct, you've only ever competed in four 250 professional races; two in Supercross and two Nationals. Why? Honestly, I felt like I rode the 450 better. At that time I was privateer as well, so the 450 made more sense in terms of a budget. It was more expensive for me to run the right kind of program that I needed on a 250 with being a privateer. Everything was coming out of my pocket, and traveling to the races isn't cheap. I didn't have to invest as much money into my practice and race bike as I did in a 250 program. I also felt more competitive in the 450 class. The difference between a privateer 450 and a factory 450 isn't as big of a gap as in the 250 class.
You have all the talent and speed in the world, yet you came into the Pro ranks with your back against the wall because you didn't get a 250 ride. How is any kid able to make a successful transition without receiving 250 support? I don't know. That was the tough part for me. I jumped the gun a little bit by going to the Pro ranks out of a Sprinter van [note: Regal opted to turn Pro during the 2009 Nationals and skip Loretta Lynn's]. I just felt like it was my time and I didn't want to wait. I had set a date that I wanted to race professionally, and that was Freestone in 2009. The track was only an hour and a half away from my house and I felt ready to race. I did pretty well. I crashed in the first turn and broke my visor off, but came all of the way back to 14th. I liked racing a 250, but I didn't have the opportunity to race on a top-level bike. That's why I almost immediately jumped up to the 450 class.
In 2010 you had a great season, finishing on the podium twice in the 450 Nationals. What was it about that year that stands out? I had a really good bike. There were seven motos where I didn't score points, but I finished ninth overall in the series. As soon as I would podium, it seemed like the next race I would crash out. At Washougal I qualified for the program but crashed in practice and couldn't race the motos. If things had worked out a bit differently then I could have finished top five overall. It was due to a lack of experience. When you get a podium out of the back of a Sprinter then it's a big achievement, but I was living in the moment. At the same time, I was 18 years old. I couldn't comprehend what was going on [laughter].
What was it like being teammates with James Stewart while you were with San Manuel Yamaha? I learned a lot from him, because I had the opportunity to go to Florida and ride at his place. After a week or two there I crashed and got hurt. Then the team went away, although I was supposed to have a deal to do a few outdoor races for San Manuel Yamaha. I didn't have anything going, despite making the podium the previous year. I wasn't even lining up to the gate. At the same time, I had signed a Supercross-only deal with San Manuel Yamaha, plus several outdoors. I felt like I had some decent results in Supercross, although I really didn't have any Supercross experience. There I was on a factory 450 program, teammates with James Stewart, and lining up to the gate at Anaheim 1. Considering all of the things going on and my lack of experience I did relatively well. I looked at it as my rookie Supercross season.
In 2012 you raced the Daytona Supercross on a Honda CRF450 after returning from a broken femur, but the following weekend and throughout the remainder of the Supercross series you raced on a Kawasaki KX450F. Why? I was going to do a full 450 privateer Supercross program out of the back of a Sprinter van. I had a deal lined up with Merge Racing for the 2012 Supercross series. The bike was really good, but I dislocated my hip and broke my femur two weeks before Anaheim 1. I did a whole bunch of rehab, got ready, and decided to race Daytona. I loaded my stuff up in a truck, drove straight through the night, and pulled up to the gate at Daytona before the race. It was pouring down rain. I qualified pretty well and finished 13th in the main. Afterward Kenny Watson from Hart & Huntington came up to me about needing a rider. He saw that I had driven to the race in my truck and wanted to know what my plans were for the rest of the Supercross series. I was taking it weekend by weekend. The following race was Indianapolis, and I wasn't too excited to pit out of the back of my truck in Indianapolis where there was going to be snow. After Daytona I drove back to Texas, and Hart & Huntington flew me out to California a day later to try out the bike. From there I raced Indianapolis and the remaining Supercross rounds. I wasn't doing that well, but I didn't practice well during the week. It wasn't the best situation, but I made the most of it.
Why did you make the transition to Arenacross? I sat down with a longtime friend, Zak Mashburn, and he told me to give my career one last push. He told me to get two bikes, build one up as a race bike, and give it my all. I had never finished a complete series since the 2010 AMA 450 Nationals, and he wanted me finish every single Arenacross. That became my goal. I wanted to score points at every single race and learn. I ended up finishing fourth in the 2014 Amsoil Arenacross series and won one main event. My bike was pretty good. The biggest problem was that I set my race bike up for Supercross and not Arenacross. Once I figured things out I began to do better. Doing well in Arenacross gave me the motivation to race again and do better than I had in 2014.
What are the big differences in bike setup for Arenacross in comparison to Supercross? Most people would look at Arenacross as Supercross, only with shorter lap times. I'm pretty light on the rear end, but you have to run a softer shock setting because you're coming straight out of a corner and into the whoops. You don't have the speed going into the whoops like you do in Supercross. In Arenacross the goal is to pick up speed while going through the whoops. There's only so much space in Arenacross. I run a softer shock setting, while the forks are pretty close to what I'd prefer in Supercross.
The Arenacross format is unusual in that the point standings are reset in the latter stages of the series, and then there is a so-called "Race to the Championship" similar to NASCAR. Do you like that format? I honestly don't like it. I know going into the series that it's going to happen, so I can't get mad when the points are reset. I believe they made that rule for when [Tyler] Bowers was winning every weekend and winning the series by 200 points. I don't think that would be the case anymore. Last year when the points were reset I had a 20-point lead. If I would have missed one main event then I would have lost 16 points. One thing happens and there goes the points lead. A lot of things can happen. I don't like the format simply because it levels out the field again. It gives me the sensation of wondering what we raced the first half of the series for.
Take me through the Las Vegas finale in May when you won the title. That whole day was crazy to me. There was stuff that happened even before the final race. If you want to go back and talk more about the last question you asked, then I should mention about how Arenacross has a random drawing to invert the gate selections following the first main event. There are three briefcases. One has a zero, another an eight, and the final one a 16. If the zero is picked then the gate pick for the final main is determined by the finishing order in the first main event of the night. If an eight is picked, then the gate picks are halfway inverted. That means if you won the first main event then you get the eighth gate pick, or the last gate on the front row. If the briefcase with the number 16 is in it, then the gate picks are completely inverted. This has been a factor the entire series.
It's an intriguing concept. It's a bit dangerous, because you're putting guys who are slower than others at the front of the gate. Some of the guys might not even be mentally prepared to be up front, yet they're being forced to start at the front of the field. Yet when it came down to the last round they decided not to do the briefcase selection. I was mad that they didn't have it, because every time the gate had gotten inverted and the fastest guys started in the back row I won. I could come through the pack pretty quickly, so having the field inverted for the start was an advantage for me. All of a sudden they pull this circus show in Vegas and tell us that they're not doing it for the final round. I wanted a simple explanation why they got rid of it. Did they think it wasn't right to invert the field? There was a championship on the line and we were tied in points. It wasn't fair to me. So I was already heated up about that.
Regal (4) and Jacob Hayes (2) came into Las Vegas tied in points. 

In the first main event of the evening you finished second to Jacob Hayes. In the first main event I was passing [Chris] Blose for the lead, but he got squirrely in the whoops, smoked his bike and went over the bars. I crashed and lost my clutch and front brake. I picked up my bike and charged to the front. The corners on that track in Vegas were unreal. They were like sand berms and you could drift all the way around them. I slowly started reeling him [Jacob Hayes] in, and I got sideways on the last lap through the whoops. It kicked me to the inside of the final corner and I showed him a wheel in order to get the point across that I was right there. I wanted him to know that I was ready for the second race, and that it would come down to whoever was faster. I was feeling good.
JACOB HAYES VS. KYLE REGAL: THE FINALE
Then sparks really started flying in the final main. I knew that I needed to win. For some reason we both picked stupid gates in the final main. I still don't know why we did. Gared Steinke, who is now my teammate, recently told me that he couldn't understand why we left the inside gate open. He took the gate and got the holeshot. Hayes and I were third and fourth off the start. We were coming through the tunnel and all of a sudden I got smoked on the left side. I was getting elbowed into the wall, and I look up to see a whole lot of green. I thought, 'Okay, here we go.' I'm a pretty big dude, and I wasn't going to let anyone do that to me. When I hit into the wall I bounced off and swung back to the left. Then I hit the whoops really well, so I didn't figure he would be close enough to cut inside of me through the left-hand corner. I was completely committed to the finish line jump and had no idea that [Hayes cutting inside] was coming [note: watch the video above to see the full extent of the Regal/Hayes incident]. I hit the ground, my arms were extended, and he ran my hand over. I looked up and saw his bike start smoking, but at that time I didn't know what was going on. I got going as fast as I could, because there was a championship to win. I couldn't believe Hayes did that to me. So I start going, and I see him getting closer and closer to me. He was rolling the jumps, and I went to pass him but he tried to take me out again! It was crazy to me. Once I got around him things started coming together for me. I realized I was going to win the title. Then I came around him again and he was rolling the finish line in front of me. He was throwing his hands up and having a tantrum, which I had no idea what he was doing at the time. If he would have rolled the jump a little bit slower then I would have landed on him. It was so wrong on so many different levels. Then he ghost-rode his bike onto the side of the track. When he was walking across the track I had to slow down and roll the whoops. After the race I was pumped up, but when I came off the track I went to the official and asked if they were going to do something about what Hayes had done. After seeing how Chad Reed had gotten black flagged in Supercross [for running Trey Canard off the track at Anaheim 2], I figured something would happen. Instead nothing happened to him. There were no penalties or anything handed down from Arenacross or the AMA. Apparently from now on you can ghost ride your bike in the middle of a race, throw your helmet, and still get full points for the event. If you took his points away from the event then he wouldn't have finished second overall in the series. He doesn't get the bonuses. I don't want to talk bad about them, but I don't feel they handled it the right way. With all of the video angles they had, you can't say it wasn't unintentional. If I was a foot in front of where I was [in the corner before the finish line] then he probably would have broken my leg.
Coming into the 2016 season, have you put all the drama from Las Vegas in your rearview mirror? Yes. I won the series and he finished second, so there is this big rivalry getting built up. At the end of the day we're racing, and your character reflects on the track with how you race. I didn't race anyone dirty last year, and I don't plan on doing that this year. People don't win championships by riding like that, but lots of championships have been lost that way. If he [Jacob Hayes] wants to race that way again then he'll finish second again. I'm going to continue racing the way I race and be ready for when the points get reset later on in the season.
What round are you most looking forward to racing? There are a couple that stand out. I really like Colorado Springs. I see this year we're doing three nights of racing there, which I think is completely crazy. We're professionals, but you gotta up the pay or something [laughter]. It'll be three crazy nights at one venue. I am really looking forward to that round. Last year I went snowboarding after, and I plan on doing that again. I live in California now, so the Ontario round should be pretty cool. I'm also looking forward to Vegas. Las Vegas is always fun, especially when you're going for a championship. It makes it that much more intense.
How is the team shaping up for 2016? Everything is going good so far. Bobby Hewitt built a new program this year, and I've been really pumped on it so far. It's with OTSFF. Do you know the Yamaha team in Canada? Matt Goerke rode for them last year. OTSFF is doing an effort here in the U.S. now. The team manager is going to be Junior Jackson, and he's running the whole program. I'll be teamed up with the "Stank Dog," Gared Steinke. I'll also be teamed up with Kyle Bitterman. It's a super great team. The bike is amazing this year. I loved my bike last year, and it has only gotten better. When they told me it was nine pounds lighter I asked them how it was even possible to drop more weight. Coming from the manufacturer nine pounds lighter is crazy, and the bike is stupid fast. The bike won't be the problem. I just need to make sure I'm 100-percent every weekend so that I can fight for wins.
Thanks for your time, Kyle, and good luck in Cincinnati this weekend. Thanks, John.
For more information, please visit www.arenacross.com.