INTERVIEW OF THE WEEK: MAX NAGL
Max Nagl hangs out on a boat during a flyaway race excursion in Argentina. 
Fans celebrate champions, and deservedly so; however, what about the other guys? Ricky Carmichael torched the competition for ten years, snagging titles away from Kevin Windham. The same throttling happened the better part of a decade in Grand Prix racing, where Tony Cairoli toppled the competition. Germany's Max Nagl has the misfortune of racing in the Cairoli era. The best Nagl has done in the series standings is second. Injuries have held the quiet 29 year old back from reaching his ultimate goal–winning the MXGP crown.
MXA's interview extraordinaire, Jim Kimball, caught up with Nagl recently to discuss the 2016 MXGP series, flyaway races, the new young blood in the 450 class, and whether Max can finally win the coveted title in 2017.
By Jim Kimball
Photos by Massimo Zanzani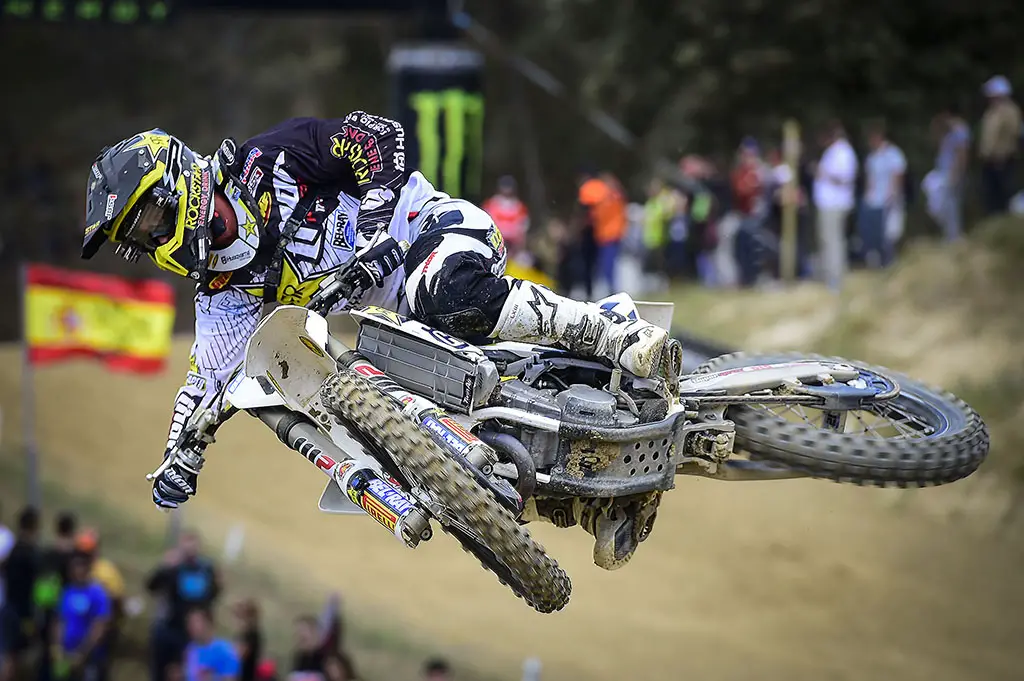 Nagl finished third overall in the overall standings this season.
Max, would you rate your 2016 season a success?
Yes, although it started a bit difficult in the beginning of the year. I did not find the perfect setup for the bike, and I was struggling a little bit. We did a lot of testing, and then with every race we improved the bike. I also improved my riding, and we got better and better. I had six or seven podiums and GP wins this year, so actually it is got going quite better. I finished third in the Championship. [Romain] Febvre was fourth, but only 16 points behind me going the final in Glen Helen. I really needed to push to get the third place.
Even though you were out of the championship picture by Glen Helen, finishing third overall in the series was still worth it?
Of course. Top three is always much better, and that was also the goal of the team and myself to finish top three this year in the World Championship. If we could finish third, then we would be happy. We accomplished that.
"WE GOT THE 2016 BRAND NEW BIKE. NOTHING FROM THE LAST YEAR'S BIKE FIT ON THE NEW MODEL–NOT EVEN THE GEARING. WE HAD TO START FROM ZERO, AND THAT IS WHY WE COULD NOT TAKE ANY INFORMATION FROM LAST YEAR TO THIS BIKE."
Why did you struggle so much early in the year with bike setup?
We got the 2016 brand new bike. Nothing from the last year's bike fit on the new model–not even the gearing. We had to start from zero, and that is why we could not take any information from last year to this bike. That's difficult when you make the setup in the winter. In the winter the conditions where we go in Europe are so much different, because it is really cold and a lot of rain. Those conditions require more traction. Then you come to the GP's and it is something very different. Sometimes the bike does not work well, and then we need to try something new between races. That is just how it goes. We continued to improve the bike race after race.
Do you have access to any of the information that the Rockstar Energy Husqvarna U.S. team learns during testing?
Not really from the rider standpoint. I do not have any information from Jason Anderson or Chris Pourcel, but internally the race team technicians shared information. When I was in California before the Glen Helen GP I was riding Pourcel's bike, and it was much different to our bike. So, I think that they can share some bike information, but they don't share every piece of information. That makes sense, because they are completely different race bikes that use different fuel. There are things that we can use and things that we cannot. There are different engine configurations and things like that, but of course they try to share information to improve on both sides.
You chose to re-sign with Husqvarna for 2017. Was there ever a thought of shopping around for another deal?
No, I took a look at the offer, and for me there was actually no discussion to leave the team. It is a great team. We are still quite small compared to the other factory teams, so less people is what makes it a bit easier, you know? With less people, there are fewer problems. For next year we will grow, because we will get three riders, so then of course there will be more people on the team. The team is organized so well and the setup is really professional and everything is organized. I love the bike, too. For me, there was no discussion to go somewhere else.
"I WAS ABLE TO SPEND TWO WEEKS IN THE U.S. AND TRAIN AND SEE A BIT OF THE LIFESTYLE. IT IS A NICE COUNTRY. WHEN YOU GO TO INDONESIA, THAILAND, AND SOME OF THOSE OTHER PLACES, IT IS NOT FUN. YOU GO THERE TO DO YOUR JOB, AND THEN YOU TRY TO GET HOME AS FAST AS POSSIBLE."
Is the MXGP series moving in the right direction?
I think they try really hard. It does not always work out because of the TV presentation, with the percent of the TV shows. It is still really, really low in Europe with our sport. For example, for all of my friends it is almost impossible to see motocross on television, because it is just not coming on anywhere. I think that racing in the U.S. is very popular. It shows up on TV everywhere. That's not the case in Europe, and especially not in Germany. It does look like they are trying hard, and the tracks are getting better now. The new track in Switzerland this year was very good. For myself, I think it's getting better, but still has a ways to go. I do like how they had the two USGP's back to back, in Charlotte and Glen Helen. I was able to spend two weeks in the U.S. and train and see a bit of the lifestyle. It is nice country. When you go to Indonesia, Thailand, and some of those other places, it is not fun. You go there to do your job, and then you try to get home as fast as possible again. Nobody really enjoys those trips, but it is part of our championship. We need to be everywhere.
The Rockstar Energy Husqvarna flyaway pit race setup is bare bones, and reasonably so. It costs a pretty penny to transport tools, equipment and bikes to Asia, South America and North America.
You appear to excel on any track, whether it be hard pack or sand. That's crucial to placing well in the MXGP Championship.
If you want to race MXGP up front, you need to be able to race all conditions. For example, I grew up in a place where there were only hard tracks, and no sand. When I was 16, I moved to Belgium, where there were only sand tracks. I started to learn how to ride sand. I still had the feeing from the hard pack tracks and that always helped me a lot. Now I am doing that all the time. I go training in the sand, and also on hard pack tracks. We have so many different kinds of dirt in the series. If you want to race up front you need to be good everywhere.
What's going on with the recent transition from veterans controlling the 450 GP series to the new young blood in Romain Febvre and Tim Gajser?
The young guys are bringing really high speeds to the class. In the past, there was a big difference between the 250 and 450 class. When the kids moved up from the 250 to the big class, they were struggling the first few years with the bikes. Now there is no longer a big difference. The 250 is not that much slower than the MXGP bikes. When these kids jump to the 450 it is not like a big change. They are growing really fast and used to the speeds. That is also because of the age limit we have in the 250 Championship, with them turning 23 and having to move up. So many kids have to move up to the MXGP class, so there are less and less good riders in MX2 (250).
"IT IS LIKE A BIG PUZZLE. YOU NEED EVERY PIECE TO GET TO BE WORLD CHAMPIONSHIP. IF YOU JUST MISS ONE PIECE, LIKE NOT BEING CONSISTENT, GETTING BAD STARTS OR GETTING INJURED, YOU WILL NOT WIN THE TITLE. I CAN'T SEEM TO STAY HEALTHY."
How can you finally win the MXGP title in 2017?
I need to be consistent and have no injuries. For example, last year I was leading the World Championship to the halfway point by more than 30 points, and then got injured because somebody rode over my legs. It was not even my fault. You also need luck, you know? It is like a big puzzle. You need every piece to get to be World Champion. If you just miss one piece, like not being consistent, getting bad starts or getting injured, you will not win the title. I can't seem to stay healthy.
Explain how the whole ordeal happened with you breaking your leg in the 2015 championship.
It was at my own GP in Germany, where I was really motivated to do well. I was leading the championship, so I really wanted to go for it, but then I made a little mistake. I crashed, and it was nothing serious. Yet some rider ran over my leg and my season was finished. There is nothing I could do. Like I said, you need every piece of the puzzle if you want to win the title.