INTERVIEW OF THE WEEK: TIM GAJSER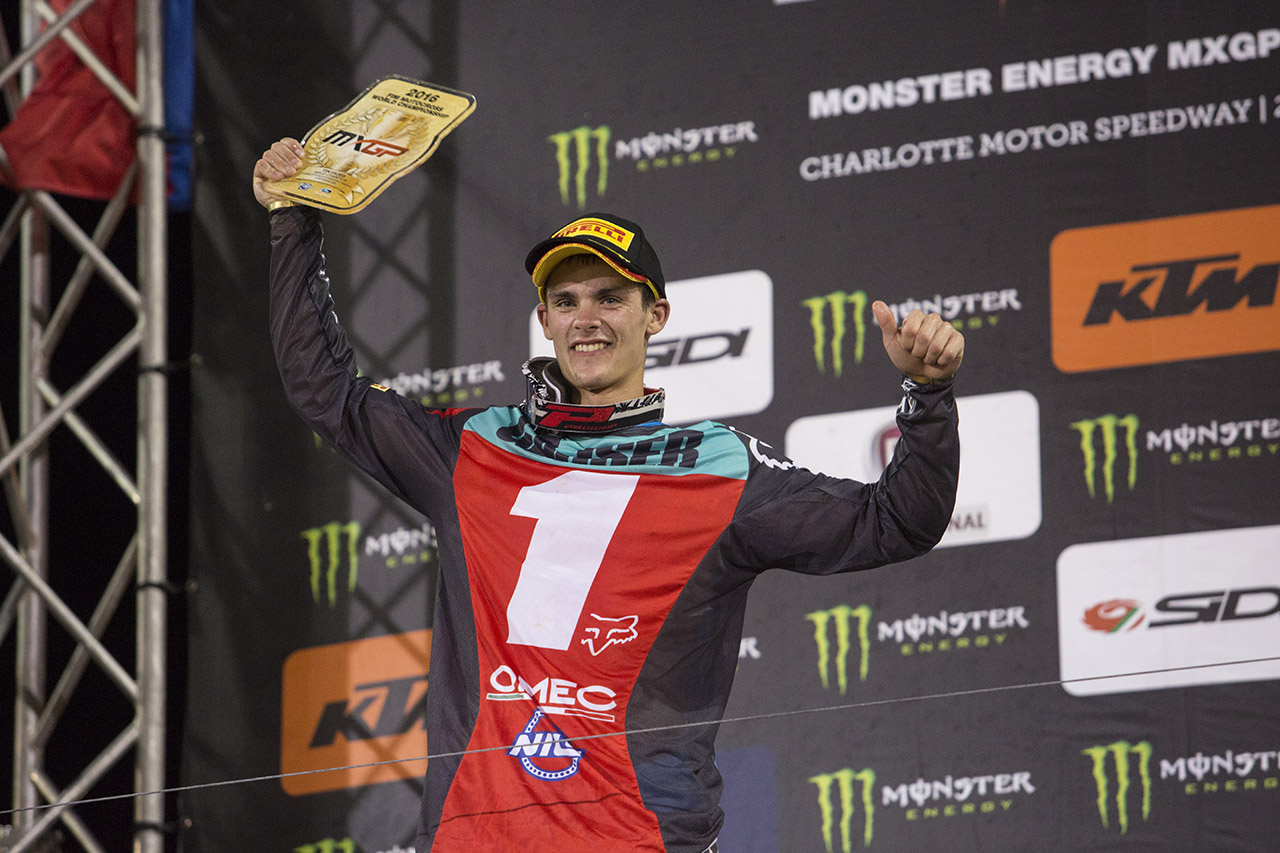 Two-time World Champion Tim Gajser is coming to America, folks, but we'll have to wait a little longer than expected. The Slovenian sensation crashed at this past weekend's SMX Rider's Cup in Germany and re-aggravated an injured shoulder. He will no longer be competing at the Monster Energy Cup this weekend. Instead, Gajser will take much needed time off in preparation for his 450 World Championship defense in 2017. The big news, of course, is that Jeffrey Herlings will be racing the 450 class next season. We sat down with Gajser to discuss Herlings, racing the established veterans, his goals, and much more.
By Jim Kimball
Tim Gajser has the speed and style to do well in U.S. Supercross.
Tim, let's begin with your decision to move up to the 450 class after winning the 250 World Title in 2015. Why didn't you try and defend your 250 title?
Last year, when I won the title, that was the key that made me want to move up. We set the goal that when we were the champions in MX2 that we would switch to MXGP. This happened really early– actually in only my second 250 season–so this year we were focusing on MXGP.  Already after Glen Helen in 2015 I went back home and did the Motocross des Nations on the 450, and started extensive testing on the 450. I got to the point of feeling really good on the bike. The 450 suits me better than the 250. I really like it, because the powerful engine works for me. As I said, in the end the decision was made because I won the 250 title.
What were your goals coming into your 450 rookie season?
I did not want to put any pressure on myself. I knew that I had the speed. I also knew that I had a really good winter of training, and that I was well prepared. For sure I was looking to do well, but I did not expect that I could be the 450 World Champion in my first season. It was a little surprise for everyone.
It seems like you are kind of the rider that primarily focuses on the goal in front of you, rather than looking way down the road.
I think that is really important, and you have to be focusing on the season you are racing in, not where you eventually want to be. It is really long, and if you are thinking too much about the future during the season, that hurts you. For sure you have to think about the future at times, but you really have to be focused as well on each race. I think it is really important to be 100 percent in touch with what you are doing.
"THEY SAID THAT I WAS STUPID TO MOVE UP, AND I SHOULD STAY ONE OR TWO MORE YEARS IN MX2. IT MADE ME SO ANGRY AND ALSO VERY MOTIVATED. I WANTED TO PROVE TO EVERYONE THAT THEY WERE WRONG. I THINK I DID THAT."
After you won the first GP of 2016 you must have been on cloud nine. How were you feeling?
When I won in Qatar it was just a big surprise for everyone. Nobody was really expecting me to come to the first round and just dominate by winning both races. There were rumors before the 2016 season when I went on social media and saw what people were saying. They said that I was stupid to move up, and I should stay one or two more years in MX2. It made me so angry and also very motivated. I wanted to prove to everyone that they were wrong. I think I did that.
Aside from Eli Tomac (3) at the two USGPs, Tim Gajser (243) had consistently been the top 450 MXGP rider in 2016.
Is your Gariboldi Honda basically a HRC factory Honda?
I have a HRC contract, so I have full factory bike. The difference is that I am under the Gariboldi Racing team name. I have all the support that [Evgeny] Bobyrshev and [Gautier] Paulin had with the Japanese HRC guys.
What's it like working with the HRC Japanese engineers?
The Japanese are really nice and professional. Actually, I think they have the same engine in the U.S. as what we ride, so it's not such a big difference in machinery. It's more dependent on the rider–which handlebar he wants and things like that.  We have many different chassis' and stuff like that, but overall the engine and the power is the same.
"FOR SURE IN THE BEGINNING THE OLD LEGENDS DID NOT WANT TO BELIEVE THAT I WAS IN FRONT OF THEM. I SHOWED THAT I IMPROVED, AND THAT I WAS ABLE TO RIDE WITH AND BEAT THEM. I THINK I FEEL RESPECT FROM THEM, AND THAT THEY STARTED TO RESPECT ME."
Is there any resentment from the veteran 450 riders in the MXGP series? After all, you're the new kid on the block and basically blew the doors off everyone.
No, I do not think like that. I really feel like everybody has respect for each other. I also respect everyone that I am racing with. For sure in the beginning the old legends did not want to believe that I was in front of them. I showed that I improved, and that I was able to ride with and beat them. I think I feel respect from them, and that they started to respect me. Right now I think everything his normal. We have nice battles that are clean racing, and that is really important.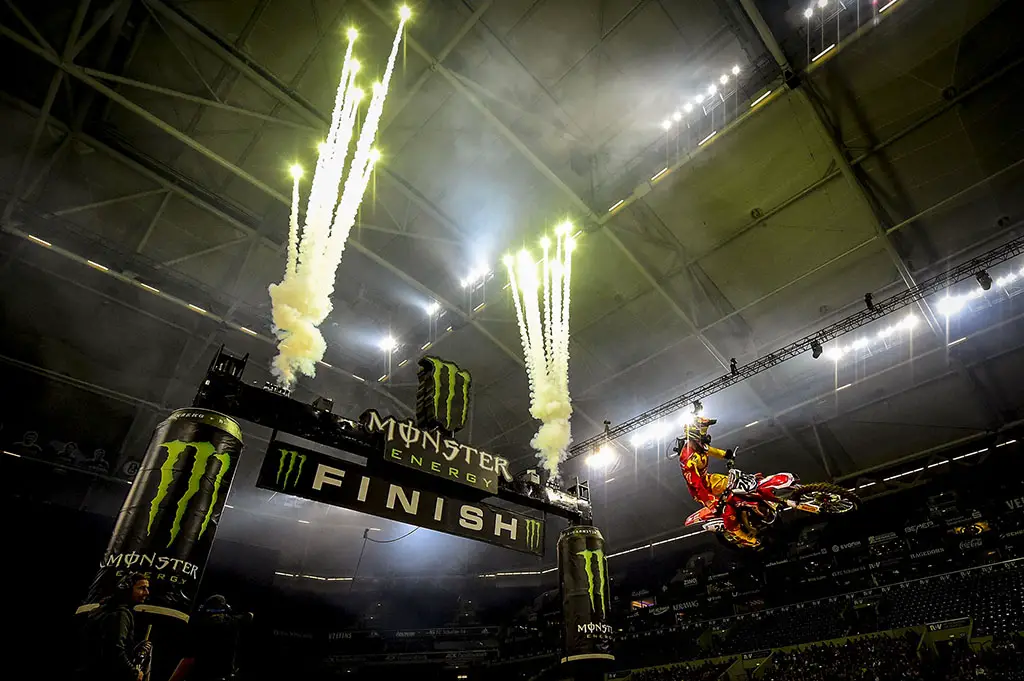 Gajser lit the candles in the first moto at the SMX Rider's Cup this past weekend, beating Ryan Dungey, Marvin Musquin, Romain Febvre, Jeffrey Herlings and others. Unfortunately, a wild crash while leading the second main ruined his evening and will sideline him for the rest of the year. Photo by Massimo Zanzani
Family is very important to you, and your dad helped you since you were an amateur. Is your dad still involved in your program?
For sure. At the races he helps a lot, and he helps me even more back home with training. When I am on the bike he is always with me. He gives me advice, even if I am two-time World Champion. I truly feel like I can improve on everything. The way I look at it is even if you are the best, it does not mean that you are perfect. Everybody has something that they can improve on. For sure, he is still helping me a lot with the riding, looking for the lines on the tracks, and everything else.
What are your thoughts about 2017? Jeffrey Herlings will finally be racing in the 450 class.
Jeffrey is coming, so it is going to be much more tougher, but I am really looking forward to it. We had nice battles in the past years in the 250 class, and now we will them in the 450 with all of the other good guys. It is just unbelievable how tough the MXGP class is and how many good guys there are. It is going to be really interesting for us to make good battles and also for the fans and for the spectators to really enjoy watching the races.
What's your next goal in racing?
It's important to have goals. I won everything I could win in Europe.  I was the 65, 85, and 125 European Champion, and then I was Junior Champion in 125 and then 250 Champion and now 450 Champion.  I did everything I set out to achieve. I am searching for a new challenge, and that's why I eventually want to come to the U.S. and race Supercross.