INTERVIEW OF THE WEEK: TONY CAIROLI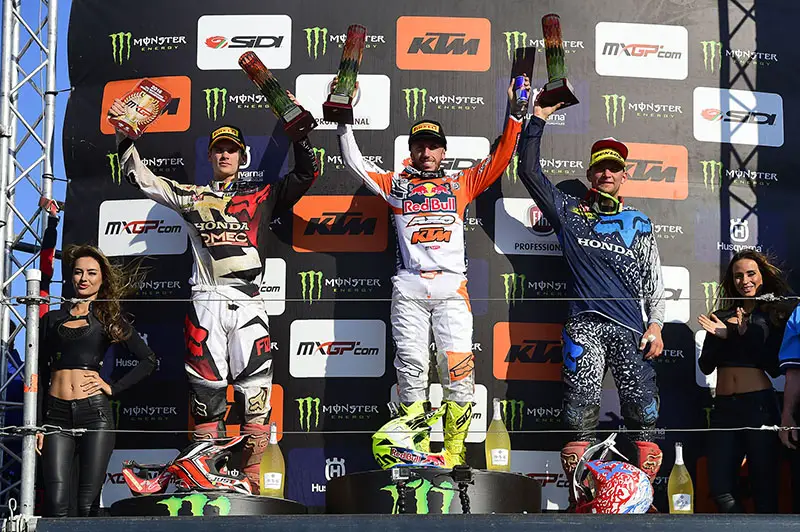 Tony Cairoli (center) showed promise in 2016, but injuries held him back. In the end, 450 rookie Tim Gajser (left) walked away with the title. 
It has been an interesting two years for Italy's Tony Cairoli. The eight-time Grand Prix Champion has long been the king of European motocross, but he ran through a buzzsaw in Romain Febvre (2015) and Tim Gajser (this year). The 31-year-old captain of the Red Bull KTM team has battled young riders, but also injury and indecision over whether to stick with his trusted KTM 350SXF or the more powerful 450SXF. Cairoli is two titles away from matching Stefan Everts for most ever, but the 2017 season looks rigorous for anyone not named Febvre, Gajser or 450 rookie Jeffrey Herlings.
MXA caught up with the Italian recently to discuss the young blood in the MXGP series, overcoming injuries, whether the GP series is heading in the right direction, and to find out if Cairoli has more in the tank. This is one of the better interviews you'll read from "King" Cairoli.
By Jim Kimball
Photos by Massimo Zanzani
Tony, for years fans have been wondering if guys like Clement Desalle, Max Nagl, or Gautier Paulin would finally wrestle away a championship from you, yet it has been the MXGP rookies Romain Febvre and Tim Gajser that have done it. Is that a tough pill to swallow?
I think it is great because they are the new kids, you know? Gajser for sure had a better season than Febvre did last year, because Tim dominated a lot. Febvre had a lot of injuries in 2016, but it was still a good championship, because it is always difficult to win a title. They are young, but those two have a lot of balance in their racing. Also, a lot of good riders were getting injured, like Desalle, Nagl, Paulin, and even myself last year and the beginning of this year.  It has been kind of sketchy at the tracks lately, and Tim and Romain are a little more wild. They're maybe not so technical riders, but they both are very good. Although they may be sketchy most of the time, when you are young like that you always ride wild. I think Tim had a great season this year, and he deserves the title for sure. I was a little up and down with injuries and stuff, so for me the season was salvaging some points. I'm going for the championship in 2017.
You were still second in the 450 series this year, in spite of all of your injuries. That's a positive.
Yeah, I am really proud of my career. Except the two years that I was injured and off the bike, I was always in the top three all those years. In the past 12 years, I have been top three in the World Championship. It is kind of crazy, but I am really happy and proud of what I did. Hopefully we can do more. For sure, second place is not really what I wanted this year, but it is still a great result despite having a lot of ups and downs.
"ONLY AFTER THE MIDDLE OF THE SEASON WAS I ABLE TO PUT IN SOME GOOD RESULTS AND WIN RACES. BEFORE THAT I WAS JUST RIDING AT MAYBE 50 PERCENT DUE TO MY INJURY. I HOPE NEXT YEAR I CAN STEP ON THAT TOP PODIUM STEP FROM THE BEGINNING, AND THEN WE WILL SEE IF THEY CAN HANDLE THE PRESSURE."
You don't seem overly discouraged about not taking the title these past two years.
No, I am not down. I have already been looking forward to next year. Hopefully we will have a better winter and training session. I'm hoping for a better program than last year with no injuries so that we can be ready for the first races. In 2016 I had to defend myself right from the first races because I was not able to train a lot from the injury.  Only after the middle of the season was I able to put in some good results and win races. Before that I was just riding at maybe 50 percent due to my injury. I hope next year I can step on that top podium step from the beginning, and then we will see if they can handle the pressure.
This year you switched back and forth between the KTM 350SXF and the 450SXF. Why were you switching?
They are actually very different bikes, and it is really important for me to understand which one is right for me. At the moment the 450 is a better bike, because the 350 is a little bit of an old project. We really did not test much the last two years with it. The 450 has grown a lot, and in a better way than it was before. The 450 is much more smooth and easier to ride now, so for me the 450 is the better bike.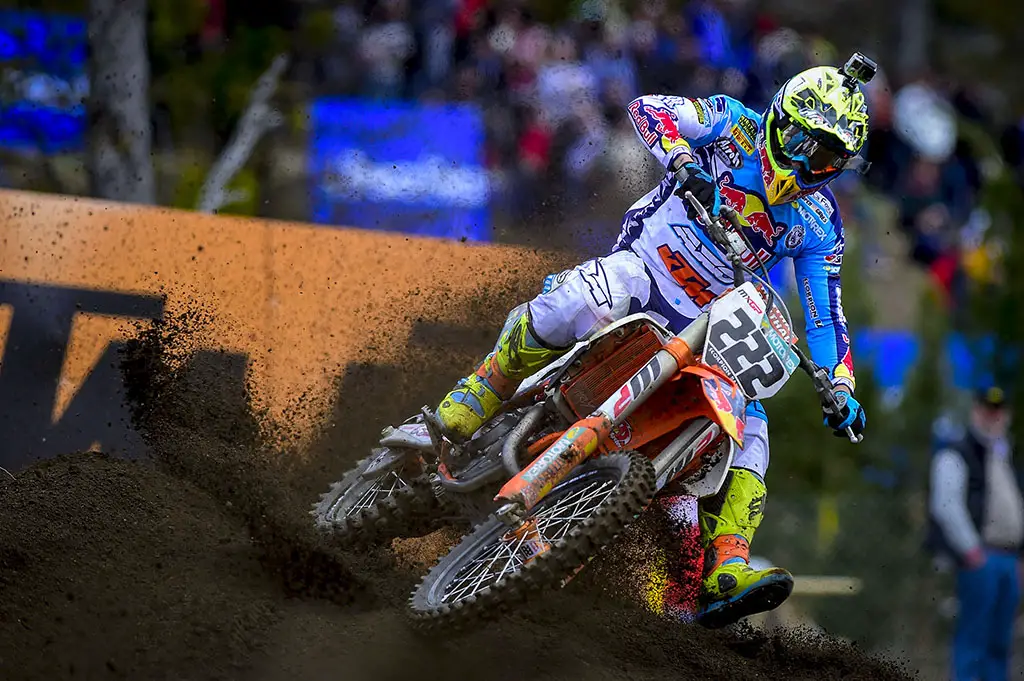 The MXGP series has changed lot from traditional European motocross tracks and facilities. Now there are flyaway races and more man-made tracks like Assen and Charlotte. Are the GP's going in the right direction?
I think it is great in one way. The tracks should be more motocross-style though, with not so many jumps, and a little less Supercross style. However, the location of these newer tracks is very important. I think it is good to have the location of our road racing tracks, because they usually have a lot of good stuff to offer. Now it is important to have the outside of the track a place where there are nicer restrooms, and restaurants at the track where people can eat.  It is a new generation of people that the promoters need to attract. They like to have comfort at the races. It is not like the old people from years ago. They just liked to stand all day around the fence. It is difficult, because that is motocross; you know, the more old style where the fans would stay hanging on the fence all day. But it is just changing in the world, and the people want more comfortable stuff.
"IN MXGP WE HAD 18 RACES THIS YEAR AND MAYBE NEXT YEAR IT WILL BE 20, SO IT IS JUST TOO MANY RACES. IT IS BETTER TO HAVE 12 OR 13 RACES ON A VERY GOOD SCHEDULE, AND A GOOD SETUP WITH A GOOD CROWD. WE ARE NOW GOING IN SOME PLACES WHERE THERE ARE 2000 SPECTATORS."
There are some riders in America that say the AMA Supercross and Nationals seasons are too long. Can you relate in the MXGP series?
I cannot believe that motocross and Supercross in America is as long as it is. I have spoken with a lot of guys at the races and I think it is very difficult to have so many races. In MXGP we had 18 races this year and maybe next year it will be 20, so it is just too many races. It is better to have 12 or 13 races on a very good schedule, and a good setup with a good crowd. We are now going in some places where there are 2000 spectators. It is better to go where motocross is famous, the people come to watch the races, and the atmosphere is better for everyone.
You recently re-signed with Red Bull KTM.  Was there ever a question of switching teams?
I love KTM. It is like a family to me. They gave me a big opportunity when Yamaha left me all those years ago.  We had a contact with Yamaha for 2010. Normally I would continue riding for them, because I brought them the World title after some years, but they just ended things. It is quite a strange story, but KTM immediately stepped in and gave us 110 percent support. We took five titles in a row with the 350, so now I think it is the time for me to plan about the future a little bit. I would like to stay with KTM and continue with the team when I stop my career. Giving my experience to other riders is also what I really would like to do.
It is very evident in talking that you have a lot of passion for KTM and the sport motocross. Wouldn't it be hard leaving everything behind?
Yeah, I love the ambiance here, and I love the people. It is like a family for me. I have known many of the KTM team members for ten years now, and it is crazy how I miss them when I am injured. It is clear that I would like to stay in this area and use my experience for people in the future. At the moment I am thinking for at least another two years to be on top in my class and to be World Champion again. That is what my next two year program will be at the moment, and after that we will see.
"OVER THE NEXT YEAR OR TWO I WILL TRAIN AS I HAVE NEVER TRAINED BEFORE, AND TRY TO PUT MYSELF IN BETTER SHAPE. I CAN RACE WITH THESE NEWER KIDS. IT IS CLEAR THAT I HAVE THE SPEED TO STAY THERE."
How do you think Jeffrey Herlings will do in the 450 class next year? 
For sure he will do very good because he is such a big talent. He has already won three 250 World Championships, but MXGP will be different. It is an entirely different class. It is tougher, and the 450 bike is not a 250. When you make a little mistake with the 450, you are on the ground, and you are on the ground very hard. It will be interesting to see him on a 450. We will see what he can do in the near future.
You're now the veteran in the class, and even though you've won eight World titles, you're not the clear favorite anymore. What do you have left in the tank?
I still have something in my pocket that I can take to the next level. I was never riding over my limits in my entire career, so I think I have something extra. I can improve in some places. Over the next year or two I will train as I have never trained before, and try to put myself in better shape. I can race with these newer kids. It is clear that I have the speed to stay there. I have just missed some critical training with the injuries, and maybe lost some motivation with my results a little too much. I think next year will be a good year.