INTERVIEW OF THE WEEK: TREY CANARD
Trey Canard is looking forward to a fresh start with Red Bull KTM in 2017. Heck, he even gets along with his new teammates in Ryan Dungey and Marvin Musquin.
It's hard not to lump in Trey Canard with Justin Barcia and Eli Tomac. They all won races and championships while competing for the Geico Honda 250 team. All three also went on to race for Factory Honda in the 450 class. Many expected the trio to excel in the premiere class. While they have won 450 races, not a single one has yet to win a 450 title. However, all have done well and made money. Trey Canard is the only rider out of the three to change teams, moving from HRC Honda to Red Bull KTM. As he continues getting used to his new KTM 450SXF, we tracked down Oklahoma native Trey Canard to hear how the transition from red to orange has been going.
By Jim Kimball
Photos by Red Bull Content Pool
Trey Canard (41) made his KTM debut at the Red Bull Straight Rhythm in Pomona last month, going head-to-head against Ryan Dungey. The next time Canard will line up to the gate is at Anaheim 1. 
Before we discuss the switch to KTM, please talk about your injury this summer?
Yeah, it was really frustrating for me. The crash was not even my fault, so that made it a little more difficult to swallow. Of course, any type of crash is not ever good! This one was probably one of the worst ones that I have had, and I felt really strongly about making sure that I was healthy. I had a pretty bad concussion, and this is just not something you want to mess with, so I wanted to make sure that I did everything right.
You were off the Honda for a while, but could you still notice a difference between the Honda CR450 and the KTM 450SXF?
I have had this question asked quite a bit. I am always going to give the same answer. I was not really able to ride for about two months, because of the concussion I had. Being that I had not ridden a bike in a while, it was kind of difficult to compare the two bikes back to back. There are so many differences with the KTM, as far as the WP air fork, steel frame, and everything else. It's just a completely different feel, but I have really enjoyed the bike. It is extremely stable and turns really well. The power is one of the best things about the bike. It has been a good transition.
"ONE THING THAT I HAVE REALLY ENJOYED HERE AT KTM IS THAT EVERYONE IS SO INTO RACING. IT REALLY SEEMS TO BE A PASSION FOR EVERYONE HERE, AND I THINK THAT THIS IS ONE OF THE REASONS THAT THE PRODUCT IS SO GOOD."
The KTM 450SXF has done very well in MXA's 450 Shootouts recently. Is the KTM a great production bike?
I have not really ridden stock dirt bikes for quite a while. One thing that is kind of tough for the manufacturers is the production rule, because you cannot really make huge advancements in developing race bikes. Honda did a great job as far as trying to accommodate our needs, and generally all the manufacturers do a great job. I do believe that KTM does very well because they put the money into making the factory edition. They are able to do things like that, while some of the Japanese brands are not quite willing to do it.  One thing that I have really enjoyed here at KTM is that everyone is so into racing. It really seems to be a passion for everyone here, and I think that this is one of the reasons that the product is so good right now.
KTM seems to be extremely focused on winning races in America.
It is cool because this has been their priority for years. Don't get me wrong, all of the other brands are extremely passionate, and they all have great people working for them. It is just a difference that I have seen that KTM makes race motorcycles, and that is their sole purpose. The leaders of the company are so into racing. They know about the testing that needs to be done and everything that is going on.
Much has changed since this photo of (from left) Canard, Ken Roczen, Ryan Dungey and Eli Tomac shot off the line at Anaheim in 2015. Three of the four riders are on new teams for 2017, while KTM's tried-and-true Dungey welcomes new recruit Canard.
How has it been working with Roger DeCoster?
One thing about Roger is the group of people he is surrounded with. He has built a big team over the years, and they have all stuck together. They have evolved and grown with each other, and so that is one thing that he really brings to the table. This is beside all of his experiences as rider and racer. His career speaks for itself. It has been good for me to work with everyone, and just to see really how much it is a team. I was nervous the first day that I went to the track to ride with Ryan [Dungey] and Marvin [Musquin]. After talking with them and being around their mechanics, the experience has been amazing. They are competitors, but they were all so welcoming. It was a really neat experience, so I think it is a great place for me to be now, and I am happy to be there.
It seems like you, Ryan, and Marvin have similar personalities.
I think you are right. It is neat for me, because there is a tremendous amount of respect. Everyone here treats each other with respect, and it makes for a really cool environment. It is competitive and all that, but I just get the feeling that everyone is pretty much here for each other. That feeling will probably be different when we are actually racing, but I get a really good sense of what it has been so far.
You are selling your Oklahoma home. Does that mean you are relocating to Florida and working with Aldon Baker?
Well, Aldon has the KTM contract to take on the riders, and I found that might be the direction that it was going to go. With the people that I surround myself with, I feel really good about what I am doing. I am selling my property, but it has more to do with me personally than anything else. It is a massive stress to basically run a small business on the side. At the Baker's Factory all the guys have to do is just show up! They ride and they do not have to worry about anything else. More than anything I just want to create an environment for myself that is along those lines, rather than getting pulled in a bunch of different directions. I have dealt with that most of my career. I want to give it a go without that added bit of stress. I am not 100 percent sure of where I will be getting prepared for Supercross and racing the first two months, but I always spend the winter time away anyway. I will be in California getting ready for Supercross, and also Florida a little bit in the winter and a little bit in the spring. I am going to go to Timmy's [Ferry's] place and get some good riding in there.
Was it difficult leaving HRC Honda after all those years?
Yes, absolutely. I mean, things change, and things take a different course. They wanted to go in a different direction, and in turn I had to make choices. To get a public 'Thank you' and an award from them was a huge honor. To see that level of respect and gratitude from them was awesome; not just the guys here at American Honda, but the guys at Honda Japan and HRC. It was so cool to know that a lot of them are still cheering for me.
"OBVIOUSLY MY RESULTS WERE NOT WHAT THEY NEEDED TO BE, AND IN MARCH THEY [HONDA] TOLD ME, 'HEY, WE ARE NOT GOING TO BE ABLE TO HIRE YOU UNLESS YOU WANT TO BE A TEST RIDER.' FROM THAT POINT FORWARD I WAS SEARCHING FOR OPTIONS."
Since the beginning of the year people have speculated that you were going to Kawasaki or going to KTM. Did you sign your deal back in early 2016?
It was nothing like how people thought. Some people come up with pretty crazy ideas at times. Honestly, in January we were talking renegotiations and moving into a new deal with Honda. Obviously my results were not what they needed to be, and in March they told me, "Hey, we are not going to be able to hire you unless you want to be a test rider." From that point forward I was searching for options. I was most focused on my riding and racing, but I still needed to think about my future. Around the end of Supercross and beginning of motocross I walked up to Ian Harrison at KTM and told him that I didn't have a deal for next year. I didn't thinking anything would come of it, because they already had two good guys. I was just happy to have that initial conversation back then. It was really cool to have that opportunity to continue talking with them when they already had two guys that were doing really well.
As you said your Supercross results were not what you wanted. What was going on?
There were several things. I had a really big crash at the beginning of the year, and then in one of earlier rounds I got landed on. I started off the year really badly. It is hard to catch up once you have had to take time off. I was struggling with the bike at that point and my starts were never there, which was almost impossible to come from behind. It was a tough year for me. I have learned a lot from it and I am happy for this chance to kind of restart.
Why is it harder to win in the 450 class?
There are way more variables, you know? It's not just that, either. For me there has been many set backs and things that have made it difficult. To begin with, you are dealing with the longevity of the season. In Supercross you have 17 races in 18 weeks, and it is kind of ridiculous when you think about it. I had to learn how to deal with that and show up ready to win each week. The guys that are older know a little bit more of how to deal with that. They also have been a lot better about setting up their bikes a certain way. Also, some guys have been on really good bikes and some guys have been on really bad bikes. That played a lot into the mix. There is a reason that the veterans have won it, because they have the experience and knowledge. This year will be a fun year. There will be a lot of good guys on the line. It seems like everyone is going to be on good bikes.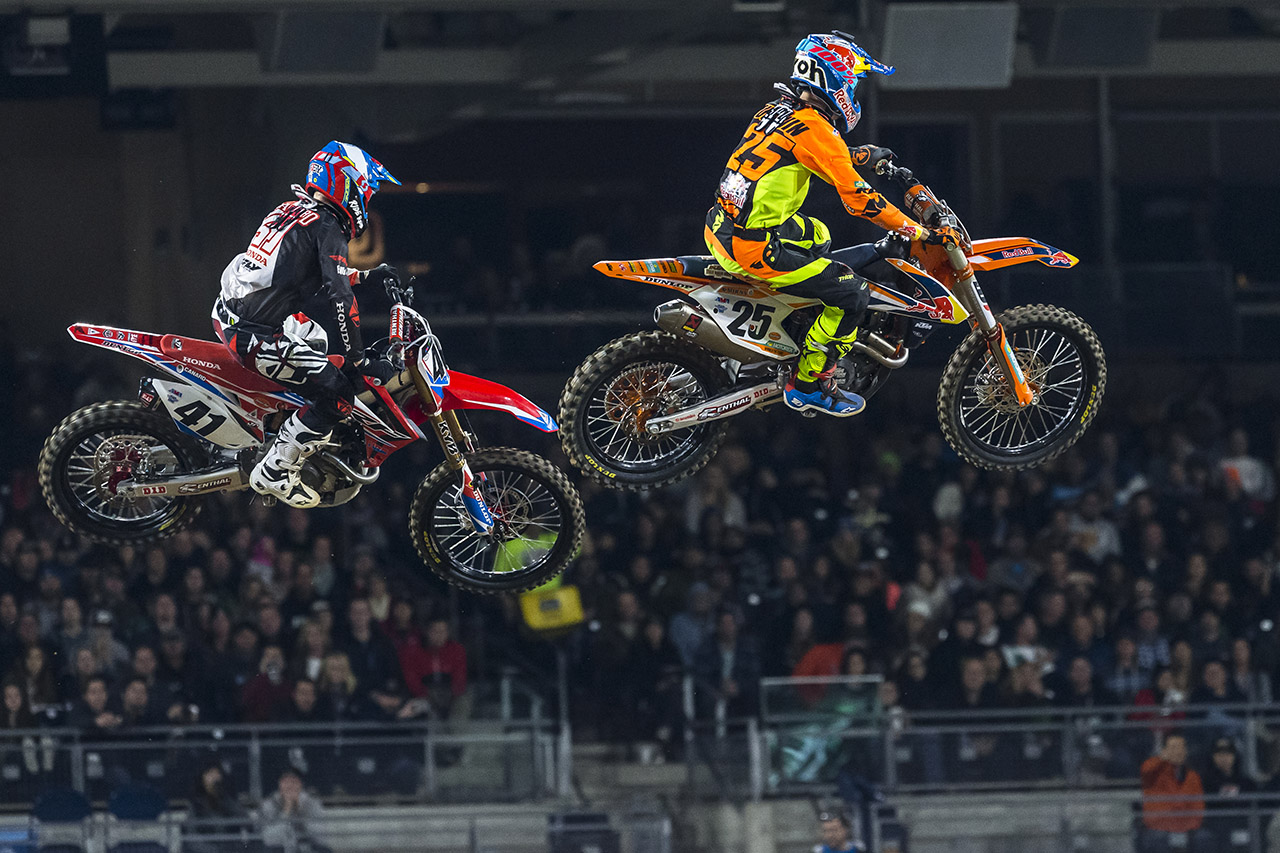 Little did anyone know that Canard signed with KTM for the 2017 well before the Nationals were over. This photo of Trey and Marvin Musquin was a prelude to what is currently going on between the new teammates at Aldon Baker's training facility this offseason.
There has been lots of talk about expanding the Supercross series by adding races. What do you think about that idea?
I think it is bad news. If anything, they should cut a couple races and space it out a little more. It is difficult on the riders. Also, you have to think about everyone else involved, as far as the people building the tracks and traveling with the AMA, the media, the mechanics and everyone. It is a lot of time that you have to manage, and 15 weeks in a row without a week off is a little extreme. If they were to add more they are going to have take out some Nationals. I bet neither promoter wants to give races. Everything needs to start with both promoters working together. This is probably not going to happen, but I do not think it is a good idea. It just seems like they are going for quantity over quality.

"I THINK THAT WE NEED KEVIN WINDHAM OR SOMEONE LIKE HIM THAT IS RESPECTED THAT THE RIDERS CAN GO TO IF THEY HAVE CONCERNS. THEN HE CAN GO TO THE PROMOTERS AND CONSULT WITH THEM BEFORE THE RIDERS EVER GET TO THE TRACK." 
Is a riders union idea any good?
I do not think a union is a good idea. You are asking for more trouble than you really want. I do think that you need someone to go to the promoters and be able to talk with them on improvements. At this point, there is not much listening that is happening. Stuff gets passed over, and it is run as a show and not a race. I think that we need Kevin Windham or someone like him that is respected that the riders can go to if they have concerns. Then he can go to the promotors and consult with them before the riders ever get to the track. Those are my thoughts about it. I am definitely passionate about safety and taking care of the future of the sport. I'm not running everyone into the ground. At the end of the day, I am happy to race, so I cannot complain too much. However, you have to look out for the riders at some point. You get to the end of every Supercross series and there are five guys out with serious injuries. That should tell you something.
What is your game plan at this point until Anaheim?
I am just trying not to over-do it and kill myself. I really just want to have a slow build this year. In years past I made the mistake of trying to push in the offseason. You make mistakes that way, so I am trying to get to know the bike and know the team and enjoy all of it and work hard, too. I will not be racing until Supercross, but just doing the standard photo shoots and training. I will spend the holidays with the family, and that's about it.