MXA INTERVIEW OF THE WEEK: WESTON PEICK
Click on images to enlarge
Weston was on a run to a podium. All he needs was some good starts.
When longtime privateer hero Weston Peick finally got a full time factory ride with the JGR Toyota Yamaha Team in 2015, he quickly rewarded his employers with a Supercross podium–his first podium inside the stadiums. It was his strong determination and perseverance that got him to that point. He was often called "the people's champ." While his first year at JGR earned him many accolades, year two was somewhat a struggle, starting off with his two-race suspension for getting tangled up with Vince Friese. But it wasn't just Peick struggling, his teammate Justin Barcia was also having issues getting comfortable on the 2016 YZ450. With a last minute team switch from Yamaha to Suzuki for 2017, Weston Peick looked better at the start of the season. Then during practice at the Phoenix Supercross round Weston crashed hard. We say down with him to get hs take on the switch to Suzuki, Vince Freise and his injury.

By Jim Kimball
WESTON, WITH THE TEAM SWITCH TO SUZUKI, WHAT IS YOUR TAKE ON HOW IT IS GOING AT JGR? So far the change has been good. It was a pretty last minute change from Yamaha to Suzuki for JGR. I think with the change, it brought some new stuff, and some good changes to JGR. I am happy with the bike, and they are doing an awesome job on getting the bike ready to go for the season.
YOUR FIRST YEAR WITH JGR WAS IN 2015, AND IN SUPERCROSS YOU GOT YOUR FIRST PODIUM AND JUSTIN BARCIA WON SOME 450 NATIONALS. BUT YOU BOTH STRUGGLED IN 2016. 2015 was my first year on a factory bike, and we had a really good set up for the bike. It was working well for me then, but going into 2016, we made quite a few changes to the bike and I think we went backwards in the beginning of the season, and it bit us in the butt  for 2016. Eventually in the end, we figured out what we did wrong. Obviously that is how '16 went; it was kind of a learning stage.
THE YAMAHA YZ450F HAS A BAD REPUTATION FOR ITS HANDLING, WHAT IS YOUR TAKE ON THAT? I believe that it is just a rider preference situation. It all just comes down to setup. If you can get a good setup on a bike, then the bike is perfectly fine, but you can also get caught chasing your tail with the bike trying to find the best setting for it. That is true withh every bike. All bikes are pretty similar, but some bikes are harder than others to setup, and to adapt to.
YOU RACED RM-Z450s AS A PRIVATEER AND AS A FILL-IN FOR RCH, HOW DIFFERENT IS YOUR NEW JGR SUZUKI? I have raced all three bikes, and have had three pretty different experiences with the suspension on them, and all three bikes have had different engine packages. But overall, the bike has the same feeling and handling regardless of what you throw at it. Which is good, because you always know what you are going to get with it. You can actually have a mediocre setting and the bike is still good. With JGR there are more things that we can do and change to make it better than the previous years. So I think at JGR we are ahead of the game on certain things.
AREN'T YOU SAYING THAT THE BIKE HAS REMAINED THE SAME OVER THE YEARS. DOES THAT MEAN IT NEEDS MORE DEVELOPMENT? Everybody says that the RM-Z450 has not been redeveloped in years, but at the same time, there is no reason to change something that is good. Lot of manufacturers constantly change their stuff, and it ends up being worse. Suzuki changed stuff in 2012, but not big changes, but every change was a good change. That is why the bike handles so well.
Weston is no stranger to the Suzuki RM-Z450. He rode it as a privateer and with RCH Suzuki and now JGR. Through that time the bike virtually hasn't changed. 
WHEN THE PLAN AT JGR TO SWITCH BRANDS AT THE LAST-MINUTE CAME UP, DID THEY ASK YOUR OPINION? They asked all the riders "What do you think about going to Suzuki?" And Suzuki was the option that everybody wanted to go with. I think it is all good; everybody on the team talked about it before we made the decision.
IT IS KIND OF A SHAME THAT HE NEVER SEEMS TO GET TALKED TO OR PENALIZED. HE WILL TAKE THOSE SHOTS, AND ANTAGONIZE YOU, BUT HE NEVER HAS TO PAY THE PRICE.
THE SUZUKI IS A TOTALLY NEW BIKE FOR THE JGR TEAM, IS JGRMX STILL TRYING OUT NEW PARTS? Everything is so new that we are still developing parts, making parts, changing things, and trying stuff. I would say that on an every other week basis there is something new to try, something to develop, or something we want to change. Something always comes up. There is room for improvement, but as it is sits right now, the bike is good.
HAS THE CHANGE FROM 20 LAPS TO 20-MINUTES AFFECTED YOU? EACH RACE HAS TURNED OUT TO BE SEVERAL LAPS LONGER THAN LAST YEAR. It is noticeable. In San Diego, we did 24 laps. If you are pushing hard and hit that 20-lap mark, you still have 4 laps to go which is a big game changer for some riders. If you are not in shape, you will start falling off here. It is an interesting change, but I think it is still going to end up being 20 to 21 laps in most cases, which is not much off from what it used to be.
DO JGRMX AND RCH TRADE MUCH INFORMATION ABOUT THE RM-Z450S? To my knowledge there is no involvement between the two of us. I know if we really need help with something or if we need a part or something that we do not have, that is available, but when it comes down to a race parts, there is nothing being shared at all.
Hopefully we will see Weston heal up fast after his bad crash in Phoenix and be back for the AMA Nationals. 
THE SUPERCROSS PACK HAS BROKEN INTO TWO GROUPS, WITH DUNGEY AND ROCZEN (BEFORE HIS CRASH) OUT FRONTAND A SECOND GROUP FROM 4TH OR 8TH CHASING. DO YOU SEE IT THAT WAY? I don't really see it that way. I am just trying to get to the front as fast as I can. I have had some good results this year and I had been showing some good speed. The guys that are in front of me are fast dudes and they put in probably just as much work as I do, so I think the only thing they have on me right now is that they are getting really good starts and I am getting semi-decent starts. I think if I could step up my start game and I would keep bettering myself.
WE NEED TO BRING UP VINCE FRIESE YOU HAD MORE RUN-INS WITH HIM THIS YEAR & OF COURSE HE HAD HIS INCIDENT WITH JASON ANDERSON. He is one of those riders that is just fast enough to be in the way, and be an issue if you are lapping him, or if you are racing him in a heat race that only is a couple laps long. He is always in the way. I got into it with him at A1 because I was trying to pass him, and he was cross jumping me. It is just the same old thing from the same old rider. He will never change. It is kind of a shame that he never seems to get talked to or penalized. He will take those shots, and antagonize you, but he never has to pay the price. That is the situation and we all have to deal with him.
WHAT HAPPENED IN YOUR PHOENIX CRASH; WAS IT MENTAL ERROR OR A TRACK ISSUE? My crash was kind of a long story. I did press day before the event where I did 30-plus laps on press day and the track was perfectly fine then. Obviously, it was a little bit dry, so we all expected them to put some water down, but when we showed up for track walk on Saturday, they had completely submerged the track under water. It was a complete disaster—full of mud. So, I went out for that first practice, and just rode the first lap. I just did the generic line on the first lap and then on the second lap I started jumping a few things and on the third lap I came around and I went to hit the normal line that I did on press day, which was inside the single, double, triple. And as I was taking off the face of the triple, it was still a little bit muddy between the transitions, but I thought I was cocky enough to be able to do it. But right as I came up the face of the lip, I lost traction and from there, it was just into a full endo into the face of the third lip. I bailed off my bike pretty much and that was it from there.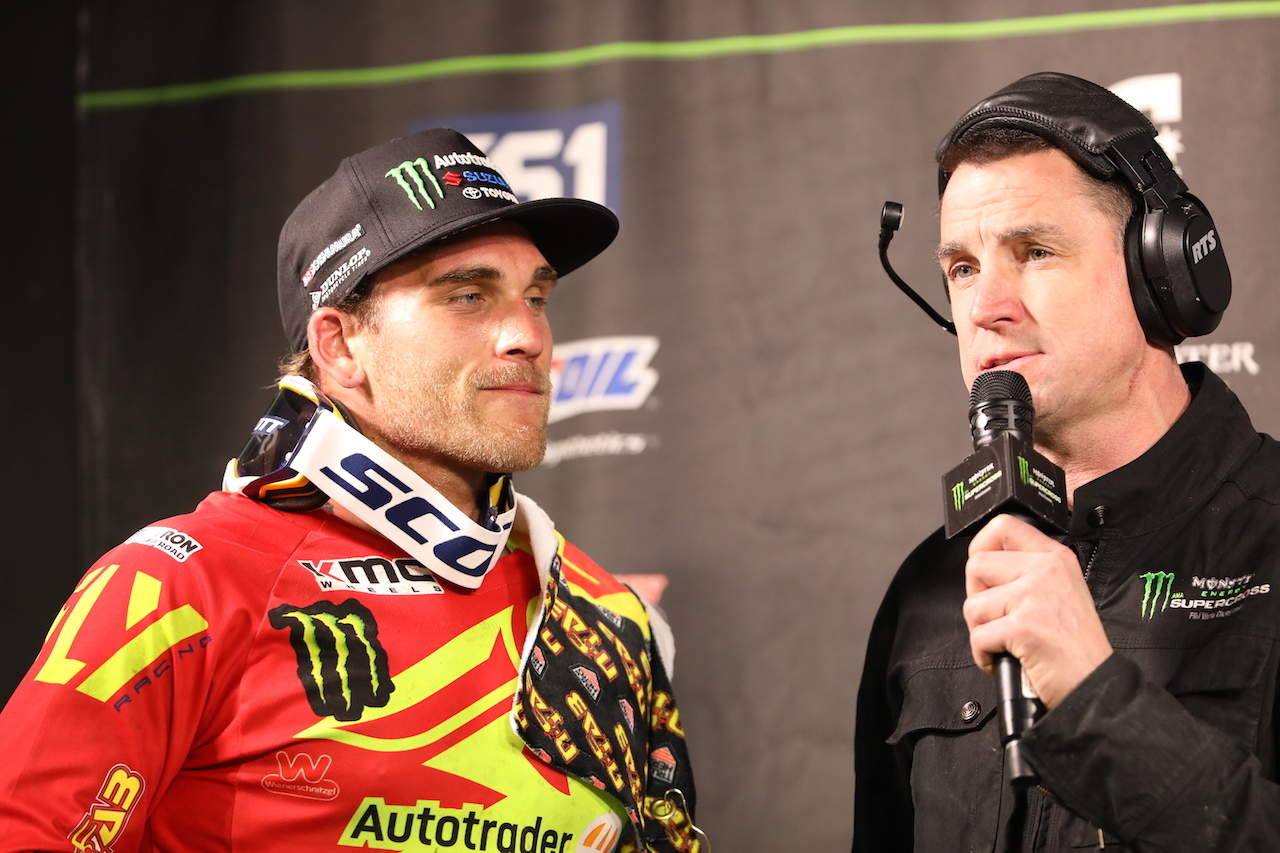 PHOENIX HAS A ROOF ON THE STADIUM, WHY WAS IT SO MUDDY? I sometimes don't get the track crew or what they think they are doing. It just comes down to the same thing—they're not out there racing, so they do not know what it is really like. They do whatever they want, but we are the ones out there racing. I guess I can't blame anybody but myself. I am the one that rides the dirt bike. But, it was not ideal conditions considering it has a roof over it and how much water they put down. It completely flooded the entire place, but it is what it is, and you can't really do much about it.
BUT EVERYONE PRAISED THEM DURING THE RAINY CALIFORNIA ROUNDS. Yes, the first two rounds were exceptional. They did a killer job with the amount of rain we had in California. But it was frustrating going into the fourth round where we've got the closed stadium, and  they want to make the track into a mud pit.
SOMETIMES A BREAK FROM RACING IS GOOD FOR THE SOUL, LIKE LAST YEAR FOR RYAN DUNGEY. IT GAVE HIM TIME TO ENJOY LIFE, BUT WE DON'T THINK THIS IS THE CASE WITH YOU? There is nothing good with it at all. It is just a bummer. I only got to do three races and I definitely showed some speed. I was getting better each week. There is nothing I can do about it, besides stay positive, keep my head up and move on.
DO YOU HAVE A ROUGH TIMELINE ON YOUR RETURN? With my injury, I have pins holding it together. I will get the pins out in two months. Once I get the pins out, I can start on physical therapy and then I can kind of put more of an estimated time on when I will be able to get back on the bike. But, until I get the pins out, the best I can say is that I'll get the pins out in two months—from there on I can make a decision on when I think I will be ready to come back.
IT MIGHT NOT BE UNTIL THE AMA NATIONALS START? Yes, unfortunately. It is one of the injuries where you should not rush it. I want to let it heal, but I am not going to take too much extra precautionary time. It is my wrist and throttle hand, so everything definitely has to be 100% before I put myself in a position to reinjure it.