INTERVIEW WITH DENNIS STAPLETON, A TRUE PRIVATEER
ÿ
ÿ
ÿ
Who is Dennis Stapleton? To many spectators at the Nationals he's just a three-digit rider trying to make the main events race in and race out. However, to us he's much more than that. Sure, he hauls the mail on a motorcycle, but the northern Californian has charisma, style, and a great personality. That's why several months ago we asked Dennis to throw a leg over our test bikes and be a photo rider for quite a few of the new steeds. He even nabbed the January 2006 cover photo riding the KX450F. We sat down with Stapleton in between photo shoots and put him in front of a tape recorder instead of a camera. Here's what he had to say.
ÿ
Age: 25
Residence: Capitola, CA
Years Racing: 13 Years
Class: 250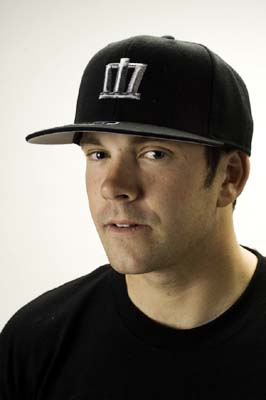 ÿ
This is your first interview ever. Why haven't you done any interviews in the past?
A lot of northern California riders aren't that popular and they don't get the same amount of play that southern California riders do.
ÿ
Why?
Everyone that's important is in southern California, except for Works Connection apparently. Everyone is down south because of all the tracks, the weather, and this is where the industry is.
ÿ
Why didn't you move to southern California at a younger age and get some much-needed exposure?
If I had paid rent then there's no way that I would have been able to ride. My parents are very supportive of my racing so they help me out and they live in northern California.
ÿ
For those that don't know you, can you please provide an entire background of your racing career?
I started racing in 1992 in the 80 Beginner class at Los Banos. Every year after that I moved up a class and by 1995 I was riding Expert. I had to ride 125's at an early age because 80's were just too expensive to race. I went to Loretta's and did some other amateur events like that. In 1996 I rode a YZ125 and had quite a few bike problems, so that was kind of tough. Then in 2000 I turned pro and got to ride a few Nationals and made a main event. Then in 2001 I made 11 Nationals out of the 12 and had a good time. Ever since then I've been doing a lot of testing for Honda and racing some Nationals.
ÿ
What has been your best result thus far in the pro ranks?
I finished 18th in the first moto at the Colorado National this past year.
ÿ
You are the ultimate privateer, driving to races by yourself and sometimes living out of your van. What is a typical day like for you?
I try and work four hours every morning to make enough money to pay for practicing and entries into the races on weekends. I also mountain bike with my friends and practice motocross three days a week.
ÿ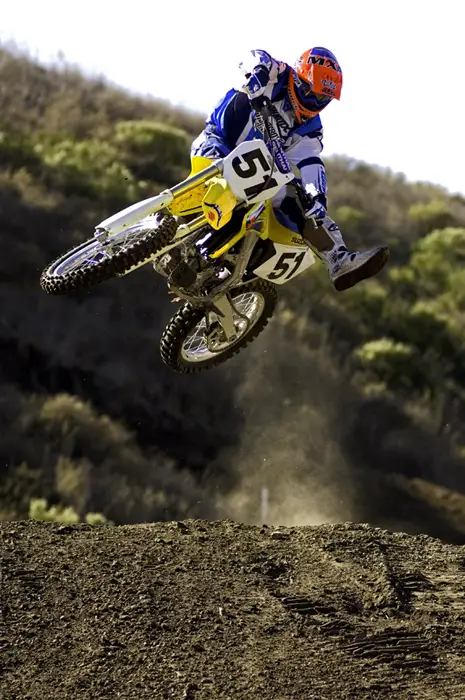 What do you think about the treatment that privateers receive?
It's pretty horrible. My goal was always to earn enough points racing so that I could park in the pro pits on Saturday. Yet this last season I earned enough points but they [the AMA] still wouldn't let me park in the pro pits. Being a privateer pretty much means nothing to them, because even if you earn enough points they won't let you park in the pits. So I had to walk my wheels four miles to Dunlop to get my tires changed.
ÿ
What about any other treatment?
The AMA doesn't even look at you if you're driving a white van. If you're in a van you're automatically going to park along the fence because you don't have money.
ÿ
In your spare time you're doing a lot of photos for us. First off, thank you very much! What do you think of riding new bikes and getting photos taken of you?
It's a lot of fun. I get to go out and meet a lot of important people. I got help from Kawasaki from doing the photos with you guys and meeting the right people. It's definitely a good opportunity to meet people that you otherwise never would.
ÿ
How did the whole deal with Kawasaki come about?
I talked to a guy named Jamie Williams. He's a District Manager at Kawasaki and I talked to him about help. He and Jason Smigel (Team Green Off-Road Supervisor) put together a deal for me. They did a deal through All-American Santa Cruz and they help me out. I get a couple of bikes through the shop and a little bit of parts. It's definitely better than not getting anything at all.
ÿ
Since you've tested quite a few of the 2006 bikes that we've received, what has been your favorite?
I really like the Kawasaki 250F and it's my favorite 250F, but I'd have to say that the YZ450F was a really good bike. I grew up riding Yamaha's so I've always been comfortable on that. Every bike has a good feature though for 2006.
ÿ
Where will we find you racing in 2006?
I'll be doing the WORCS series, racing in five Nationals, and also doing a lot of local races.
ÿ
Why should you receive more support to attend more big races?
I feel that a lot of privateers get overlooked. It's a lot more work than people think. I drove down from my hometown up north just to get parts for my bike because a lot of people don't have them. There are a lot of privateers like me that deserve help too. As for me, I always show up to the races that I say I'm going to. I drive solo to all of the races I go to across the country and it's hard, but I'm trying to accomplish my dream of being a pro racer. I'm also clean-cut and I always put in the best effort that I can.
ÿ
Who helps you out in your racing endeavors?
Fly, Mada, Works Connection, IMS, CTi, Cytomax, MB1, Scott, Rock Oil, Twin Air, Yoshimura, Wiseco, Factory Effex, Applied, Gold's Gym Santa Cruz, Dunlop, All-American Santa Cruz, Hinson, and 180 Decals. Bob Lepesh and Mike Inglis help me pay for entries and other stuff.ÿ
ÿ
Finally, how can people get a hold of you if they want to help support you for 2006?
They can do that through my email, which is [email protected]
ÿ
Thank you very much, Dennis.
Thank you.