INTERVIEW OF THE WEEK: COOPER WEBB & CHRIS ALLDREDGE

By Kyoshi Becker
COOPER WEBB
How did it feel to end the 250 West series on a good note before the long break? It was good. I came out of Dallas with the points lead, and I have a slight gap going into Santa Clara. I feel good with this break in Supercross. Now I'm putting in some motos at Glen Helen and getting ready for the great outdoors.
Why do you ride at Glen Helen for outdoor preparation? This is one of the tracks we race on, so I think it's good to get more time in on this track. I'm based in California for a bit, because all of the team stuff is out here. I'll be riding at tracks like Glen Helen so that I can get ready for Hangtown and Glen Helen.
Did you take any time off from riding after the 250 West took a break? I took a week off after Arlington. I let my body recover and took a bit of a vacation. I have been training since the first of October, so it was nice to get a break after six months. I'm motivated to do the outdoors.
Do you ever break your diet? I do sometimes break my diet [laughter]. I actually broke it a lot when I was on vacation, but normally I try to stick to it.
What's the one food that is hard for you to resist? I have to say that pizza is the cheater meal, because it tastes so good.
Photo: Brian Converse
You're from North Carolina, and obviously a Carolina Panthers football fan. What did you think of the Super Bowl? Oh man, the Super Bowl is a sore subject for me. I thought the Panthers played awful. They choked. I think they'll get redemption next year. It was cool to see Payton [Manning] win, but it was bad to see the Panthers lose. You have to root for the home state team.
Do you think you have an extra responsibility to win the title for North Carolina? Yeah, I want to represent for my state. I'm feeling confident and ready for the rest of the 250 West.
What changes do you make to the bike for the outdoors? We started by riding with last year's outdoor setup, but we'll make changes as we go through outdoor testing.
Are you already practicing on a 450? I'm sure that I will mess around on the 450 and test, but right now I'm riding the 250 now. Pretty soon I'll be on the 450 a lot more.
CHRIS ALLDREDGE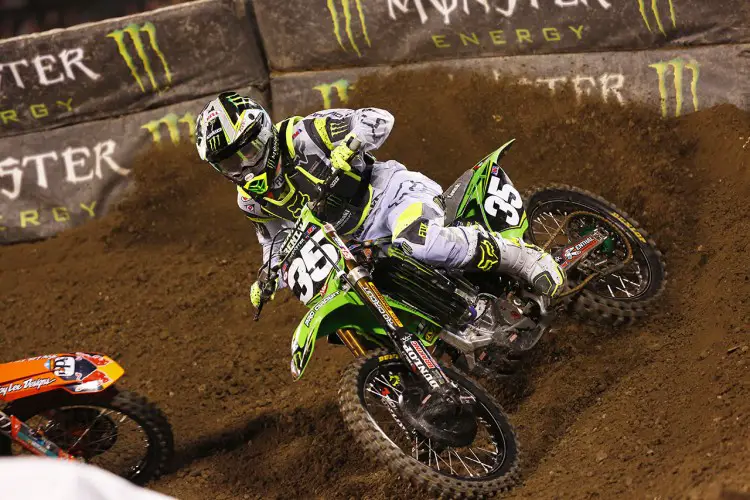 How is your season going? It's absolutely horrible. My season hasn't been going that well at all. I crashed a bunch at Anaheim 1 and didn't score any points. At the second round in San Diego I came out with a 10th, which isn't terrible, but I stalled the bike while running sixth. At Anaheim 2 I rode really badly and got 13th. Then at Oakland I wrecked on the first lap, went a lap down, and finished 20th. In Glendale I got a really good start and fought hard to end up sixth. It's not a very good result, but it's the best Supercross finish that I've ever had.
What was your opinion of the long start at Glendale? It was something cool and different. It wasn't a big ordeal for us, because you start, you hit the corner and you turn. I will say that it was cool to click fourth gear on a Supercross start straight.