IS THIS THE MOST MISUNDERSTOOD MAN IN MOTOCROSS?
By Jim Kimball
TONY, TELL US ABOUT THE EARLY DAYS OF RACING WITH YOUR BOYS MIKE AND JEFF. Back then I worked in waste management and did not make a huge income. To have two kids racing every week and spending $50.00 just to get through the gate was a lot. Then it was $20.00 an entry, and the boys were riding three to four classes at a time, so every weekend was a minimum of $400.00. So, I figured out a way to not have to pay to get into the gate, how not to pay entries and to keep the kids racing. So, I became the announcer and also wrote some of the race reports for Cycle News.
PEOPLE SAY THAT YOUR CYCLE NEWS RACE REPORTS ONLY FOCUSED ON THE ALESSi BROTHERS. It was hard to overlook Mike, who was winning three classes a day. I would write the stories and include him in those. Some people opposed that, but I always thought I kept it fair. If a guy wins three classes, he is the main story.
WHEN DID YOU REALIZE THAT THE BOYS HAD NATURAL TALENT? When Mike got into the 80 classes, I asked myself, "Wow, where are we going with this?" Later, at Mosier Valley, Mike and Ryan Villopoto were both racing in the SuperMini Class. The 125 Pro Race came right after the Super MiniRace, and just for kicks, I checked Casey Johnson's lap times and thought, "Mike is only 2 seconds off the Pros. We might have something here."
Mike Alessi had this MXA poster on his bedroom wall for years.
DID YOU ALWAYS THINK THAT ONE OF THE BOYS WOULD BE A FACTORY RIDER? No. I did not think we could get any higher than the local Pro level. If we wanted to get to the National level, I knew we were going to have to change it up. So, the first thing I did was to quit my job, which I had been at for 18 years. The second step was to sell my house, cash in my 401K and move our whole program to the high desert.
I told the boys, "We have three years to get to the Pro class. That's all the money we have." We were all in.
HOW DID THE DREAM BECOME A REALITY? We were training and riding constantly. It was morning until dark every single day for three years, but, in the end, it worked out. Mike became a factory rider at 16. He was on the podium at 16, and Jeff followed suit the year after. It all turned out fine. When you are under pressure, winning means absolutely everything. Mike won a lot of races at Loretta Lynn's, which in my opinion is more difficult than winning an outdoor National. It is humid, it is hot, and it's hard on equipment. It rains, and there are mud races. It is a variable environment. Winning at Loretta Lynn's was where our focus was. We worked really hard at it as a group and were successful with it.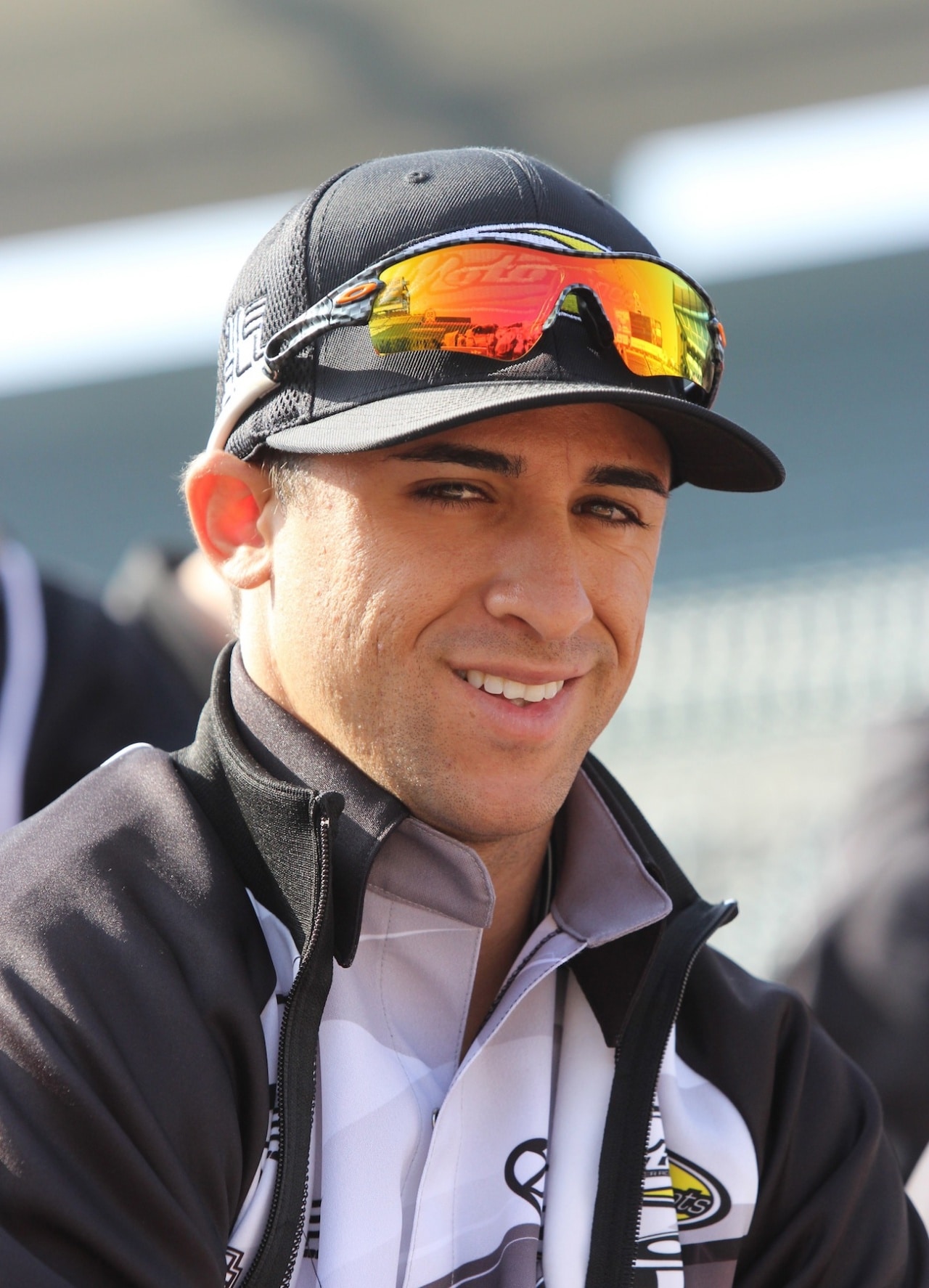 Mike Alessi.
AT THAT POINT, WHO WAS SUPPORTING YOUR EFFORT? From 2002 through 2004 we had strong support from Honda in terms of parts, bikes and technical support from the race team. I do not know many other Amateurs who were able to get to that level where you are actually communicating with the engineers to get better performance, so that was an edge for us.
In 2004 Mike was going to make his Pro debut, and that was a strong year for us. Mike won the Amateur Nationals, World Minis and a Four-Stroke National. Shortly thereafter, Mike beat Jeremy McGrath at a Salinas fairground Supercross and things exploded. All of a sudden, gear companies wanted to pay us. Almost all of the manufacturers offered Mike a Pro contract. The floodgates opened in 2004.
OBVIOUSLY, THE FACTORY RIDERS TOOK THAT AS AN INSULT, AND HEY WERE ANGRY. IT DID NOT MAKE IT EASY FOR US.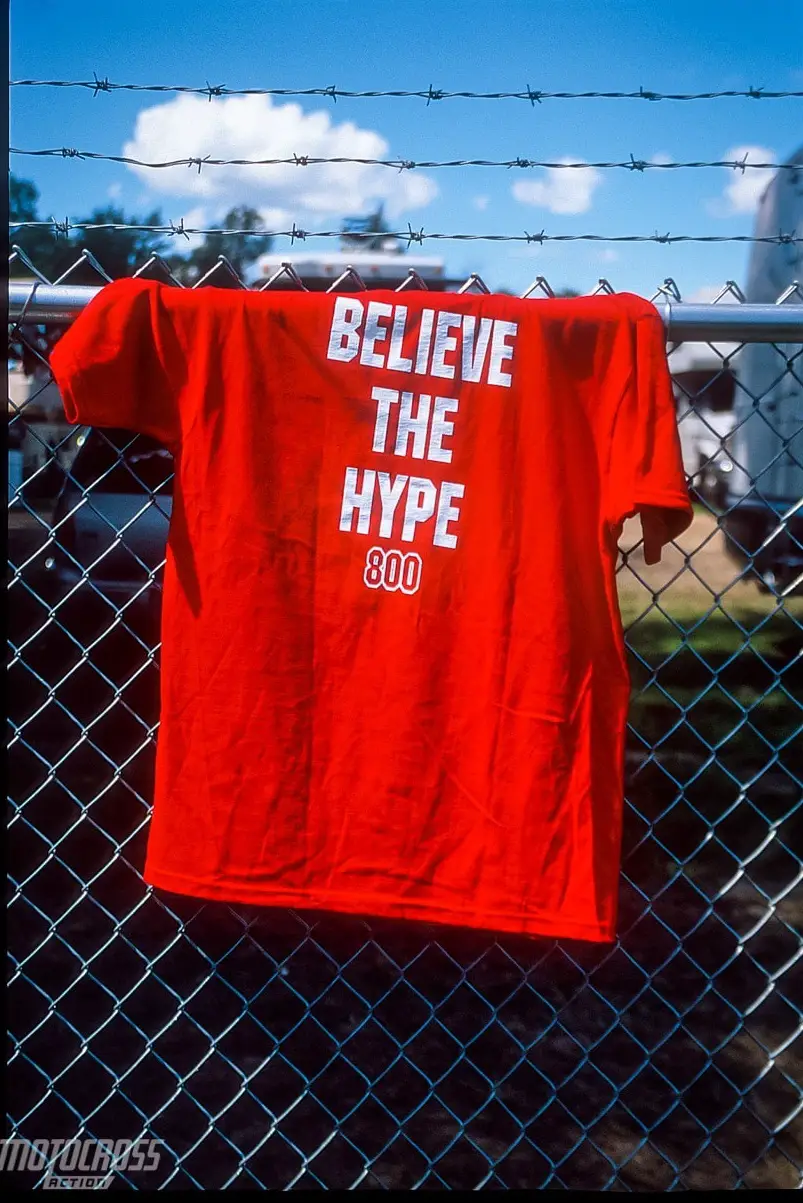 The infamous "Believe the Hype" T-shirt.
TELL US ABOUT THE "BELIEVE THE HYPE" T-SHIRT CONTROVERSY. There was a lot of talk and hype leading up to that race, as Mike had just taken down Ryan Hughes and then Jeremy McGrath in Supercross. Everybody was saying, "This guy is the next thing coming." The Pros did not want to hear about some 120-pound ninth grader coming in and thinking that he was going to race them. Trust me. The race was at Millville, and Kenny Watson said, "You guys have to do something for this race. Let's do 'Believe the Hype' shirts and put targets on them."
I said, "Okay, sounds good to me. If you think it is a good idea, we will do it." Obviously, the factory riders took that as an insult, and they were angry. It did not make it easy for us.
DID THE PROS RETALIATE AGAINST MIKE ON THE TRACK? In the first moto he got bounced around a lot. Sean Hamblin ran into him a couple of times and took him off the track. In the second moto he worked past many fast guys to about sixth place on the last lap, then the bike expired. It ended up not being a great opening race for Mike, but two weeks later he became the only 16-year-old to ever podium a 450 National.
AFTER MIKE'S PRO DEBUT, MIKE SWITCHED TO KTM. WHAT HAPPENED TO HONDA? Honda wanted Mike to debut on a 250, and they were really firm on that. When we started testing the race bike before Millville, the Honda was not working for him; it was set up for Nathan Ramsey, who was a bigger and heavier guy. The bike needed more time, and I told Honda after we rode it. We tested and tested, and finally I told Honda, "I don't think this is going to work for us. We would like to race the 450 instead. It would be awesome to get permission to ride the 450, then we are good to go." Honda basically said, "If you are going to race the 450, we are out. We are not supporting it."
WHAT HAPPENED NEXT? The choices were ride the 250 or race the 450. To me, it was smarter to debut on the bike that we knew, and the bike that we knew we were going to get results on, and we did that. Honda did not support it, and I remember telling Honda, "If you guys do not support me, I am letting you know that there are other people that are interested in Mike for next year." Honda told me, "Whatever you want to do, do it."

"I SAID, 'OKAY, SOUNDS GOOD TO ME. IF YOU THINK IT IS A
GOOD IDEA, WE WILL DO IT.'"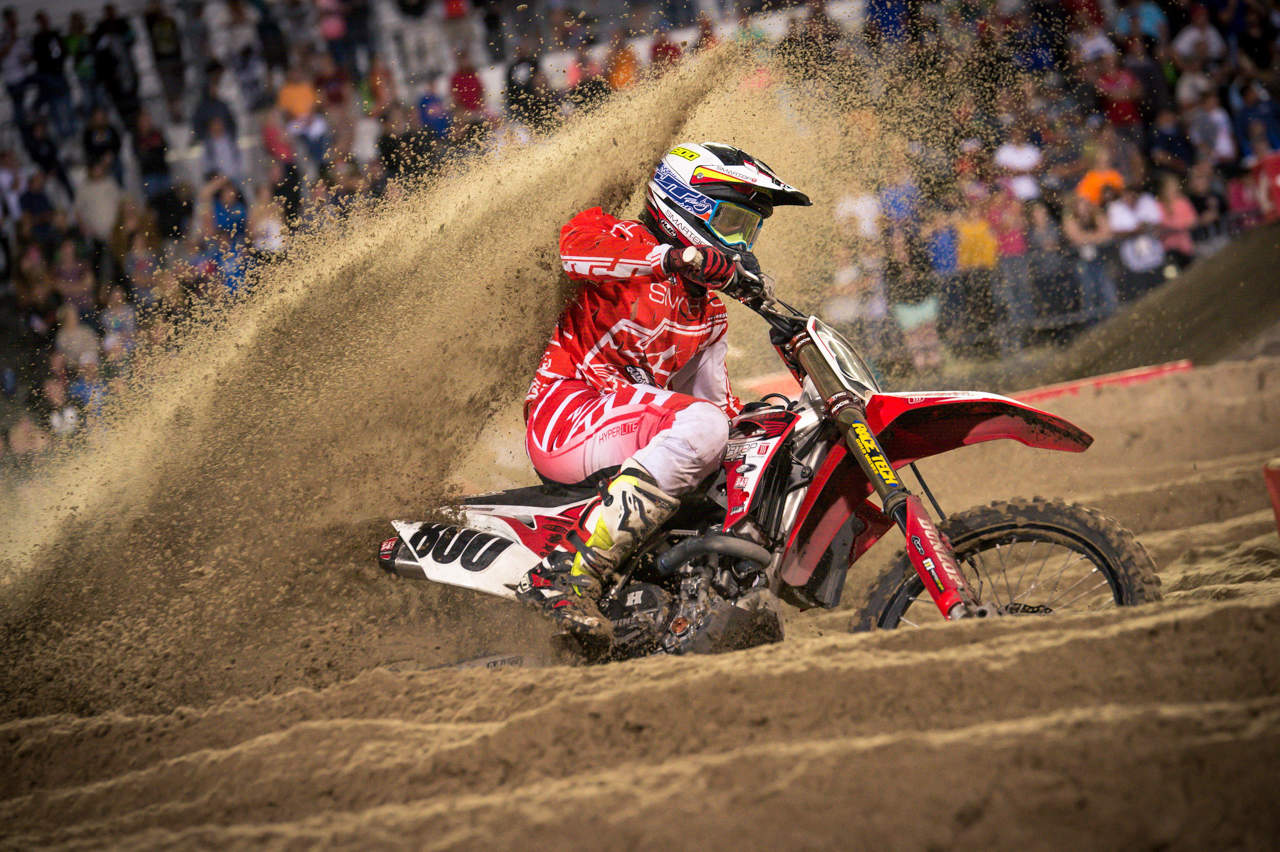 Mike Alessi on KTM.
WHAT WAS THE KTM OFFER? KTM had been talking to us quite a bit. We actually flew to Austria and rode their 250 race bike. The thing was awesome. They really wanted Mike, so they put down some numbers as a proposal. They said, "At Steel City, if you finish top 10, we will pay you this base salary. If you finish top five, base salary is this. Top three, base salary is this." And let me tell you, top three was a big number! So, Mike went to Steel City and achieved that top-three position, which then made him entitled to the A-level contract. There was no way that we could turn that down; there was no way at all!
HOW WAS THE TRANSITION FROM HONDA TO KTM? The first year at KTM Larry Brooks was the team manager, and Mike had a love for that guy like you don't know. They got along awesome, and Larry treated Mike like his own kid. At the first race for KTM, Mike was going to win the second moto, but Grant Langston just wouldn't let it happen. He took Mike out at the finish line. It was crazy for Mike to lead 99.99 percent of the race and then to get taken out at the finish line. Langston hurt his foot in the process, and Mike redeemed himself by getting the overall win the very next weekend. No one wanted this "kid" to beat them.
HOW LONG WAS MIKE IN THE 250 CLASS? He spent two years in the 250 class, and the first year he finished second, just a few points out of the championship. The very next year he led the first 10 rounds of the series. But with two rounds to go, he had a big crash and lost the championship. He ended up second again that year. Then he went straight to the 450 class. In his rookie year on a 450, and still not even 20 years old, he was second overall in the championship that year behind Langston.
HE ALMOST WON THE 450 CHAMPIONSHIP A FEW TIMES. He almost had it in 2007, and then again in 2009 when he won the first three races right out of the box. He did not just win, but at places like Freestone, he won by 40 seconds over guys like Chad Reed.
"THEY DID NOT WANT TO HEAR THAT RICKY'S WAY WASN'T RIGHT
FOR MIKE. WHEN THEY FINALLY DID LISTEN, THEY HAD A
FOUR-SECOND-A-LAP-FASTER GUY."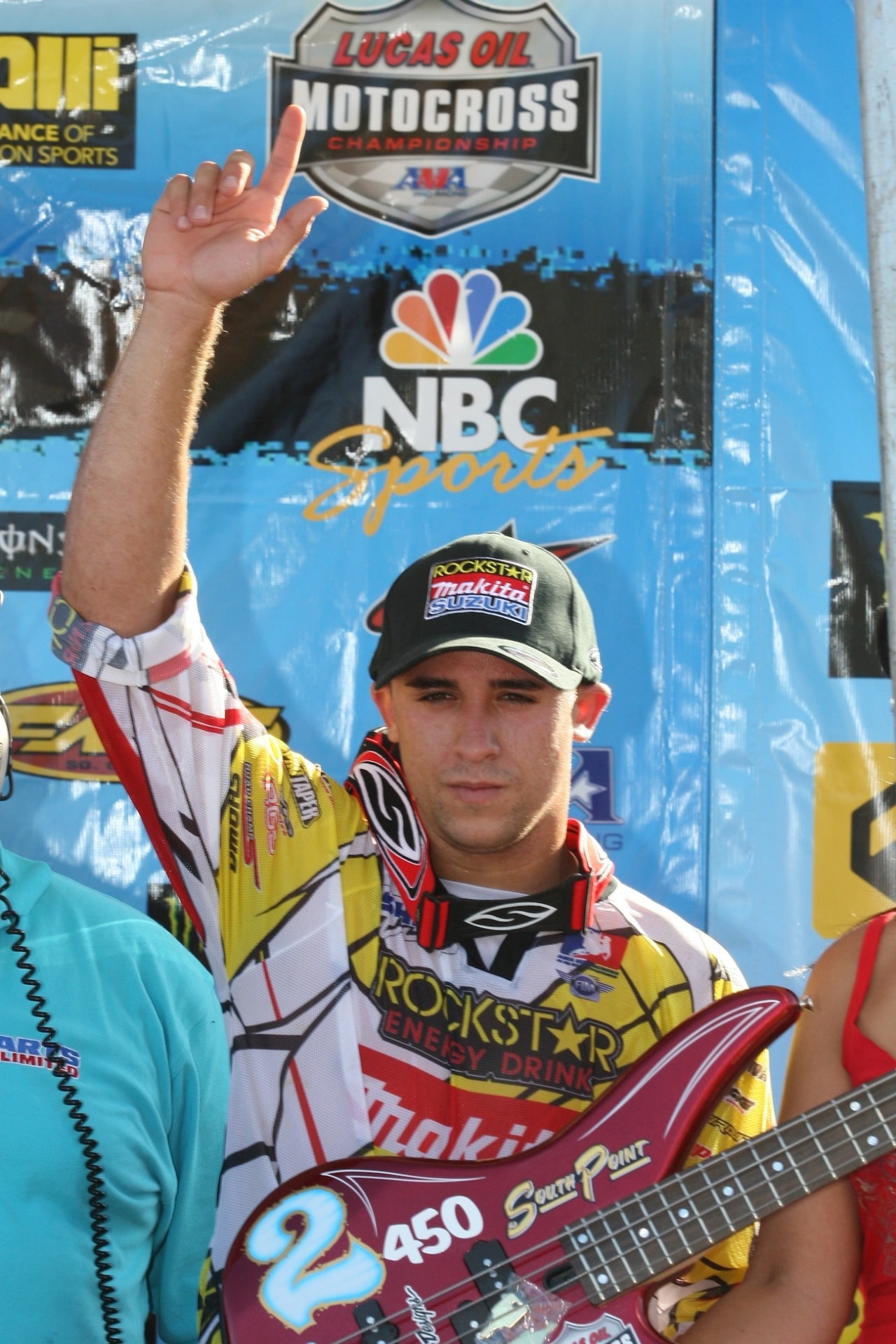 Mike Alessi. at Suzuki.
THEN YOU LEFT KTM FOR SUZUKI. HOW WAS THAT? The Suzuki program was all about Ricky Carmichael's success, so everything was, "This was what Ricky Carmichael liked. This is the setting Ricky rode. This is the bike that won championships. This is what you have to ride."
The handlebars were so low that they basically touched the gas cap, and many other things were just so outlandish. I finally told them, "Congratulations on your success, but this is a different guy. He is not Ricky Carmichael. He is not going to ride a bike set up like that. He is a finesse guy. He rides the throttle different. He rides the track different. He rides in a different part of the powerband. He shifts different, and he is different—way different." They were not going for it. They had a race-winning program, a race-winning bike and they made it strict—"This is what you ride." They did not want to hear that Ricky's way wasn't right for Mike. When they finally did listen, they had a four-second-a-lap-faster guy.
WE'VE FOCUSED ON MIKE, BUT HOW WERE THINGS WITH JEFF DURING MIKE'S RISE TO THE TOP? During Jeff's first year in Pro racing, he was truly going to become a good Supercross rider, way better than Mike. But, he broke both of his feet, and he lost a year. He had multiple surgeries. When he came back from getting that all fixed, he was at his very first 250 Supercross in 2007. I remember hearing one of the Pro Circuit mechanics ask Mitch, "Who was the fastest?" Mitch said, "Alessi, but not the one you think." Jeff rode pretty well for a couple of races, and he had good finishes here and there, but he was not as focused as Mike and did not like that level of discipline. Jeff needed to have fun. He needed to go out. He wanted to be with people. He needed that, whereas Mike was basically a caveman. Mike would wake up, do his bicycle training, gym workout, put his motos in and go to sleep. Mike was committed and dedicated to being the best.
"MIKE GOT ONE OF THE HUGEST FINES EVER IN MX SPORTS HISTORY. HE
HAD TO PAY, AND HE HAD NO INVOLVEMENT IN IT."
DID YOUR PERSONAL FAMILY LIFE SUFFER WHEN THE BOYS TURNED PRO? It suffered more in Amateurs than it did in Pros. In the Amateurs, we did not have money. We traveled everywhere by car or truck—whatever it took to get to the races. When Christmas rolled around and my wife was expecting a Christmas present, we needed that money for racing.
I am sure that we are not the only family that has gone through it. It is hard. There is always some level of friction at Amateur races. It takes the fun out of it. In Pro racing, we traveled by airplanes. Our expenses were paid, and we got a paycheck. In Pro racing, there are different stresses, because when you don't have a good race or a good moto at the factory level, you get looked at like, "What just happened? We are paying you to win and, at the very worst, you should be on the podium."
ONE OF THE BIGGEST STRESSES HAD TO BE "JEFF AND HIS LASER LIGHT" DEAL. For sure. It is unfortunate, because it had nothing to do with the team. But that is the way it got labeled. From the outside looking in, it could appear that way, but anybody who knows Jeff knows that he is the guy that is always screwing around with something. Mike, our team and myself had zero involvement in that. It was Jeff just being Jeff.
That ended up being really bad, because it looked like we were intentionally trying to disable another rider by using a laser. Of course, "It had to be the team and Tony Alessi trying to help Mike get better results." But, there was absolutely none of that, and Mike got one of the hugest fines ever in MX Sports history. He had to pay, and he had no involvement in it. Jeff could not pay; he did not have any money. So, Mike got fined and he lost his points for the day. It was just devastating. It put the hammer down on Mike, our team and myself. It was definitely one of the hardest times that I ever experienced in my life.
NOW THE MOTOCONCEPTS TEAM HAS BECOME A MODEL OF RESPECTABILITY. Thank you for saying that. I appreciate that. Our team has worked so hard over the years, and every year we have gotten a little better and a little closer to the target. With Justin Brayton's  results at the 2018 Daytona Supercross, we have legitimized ourselves as one of the strongest teams in the paddock.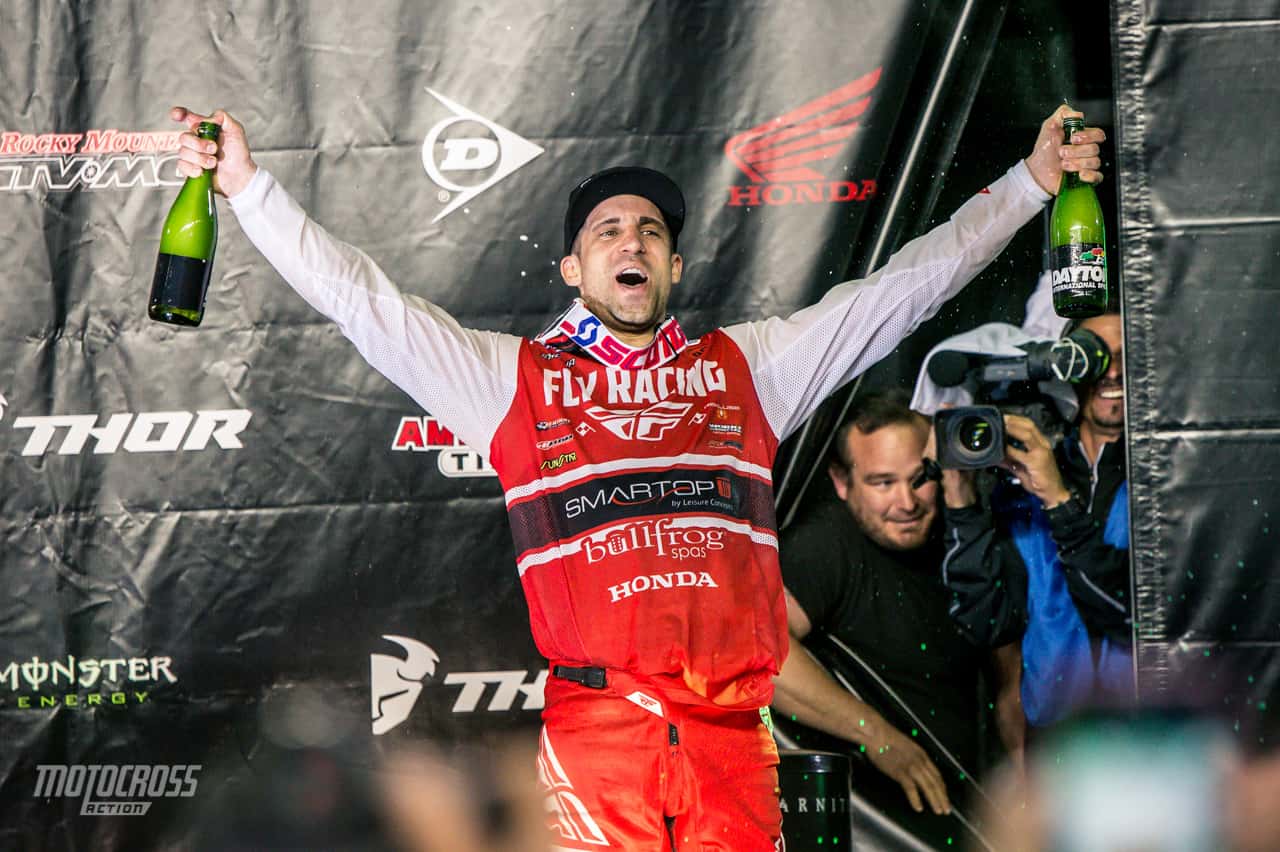 Justin Brayton at the 2018 Daytona Supercross.
JUSTIN BRAYTON SAID THAT HE WAS VERY GRATEFUL FOR YOUR EFFORT. To be honest, it comes very easy. Compared to what I had to do for Mike Alessi, which was wake up at 4 a.m., prep the track, have the bike ready, go to the gym with him, and spend 14-hour days, helping a Pro rider like Justin Brayton is easy by comparison.
HAS YOUR RELATIONSHIP WITH MIKE CHANGED NOW THAT HE'S NOT ON A TEAM RUN BY YOU? Mike is on his own, but he talks to me four or five times a week for guidance.
WHAT DOES THE FUTURE OF MOTOCONCEPTS LOOK LIKE? The goal is always to get that championship. We are getting to the level now where we could possibly land a rider that could win a championship. We are going to continue to build on the base that we have and get better. We are happy to be fifth through tenth now, but in the future we want to be first through fifth. Every week is a new hand that we are dealt, and I love playing the game.
Tony Alessi.
DID YOU SEE WHERE THE FATHER OF MIKE'S ARCHRIVAL JOSH GRANT SAID, "TONY WAS ONLY DOING THE BEST FOR HIS SONS"? I am sure that Mike Grant feels exactly the same way that I do as a father of a rider who has the potential to become a champion. You have to believe your son is the guy who is going to succeed, to win races, and believe that enough to do whatever it takes to help him. That's what a parent is supposed to do.