JACOB HAYES INTERVIEW: FROM ARENACROSS, TO SUPERCROSS, TO AUSTRALIA & BACK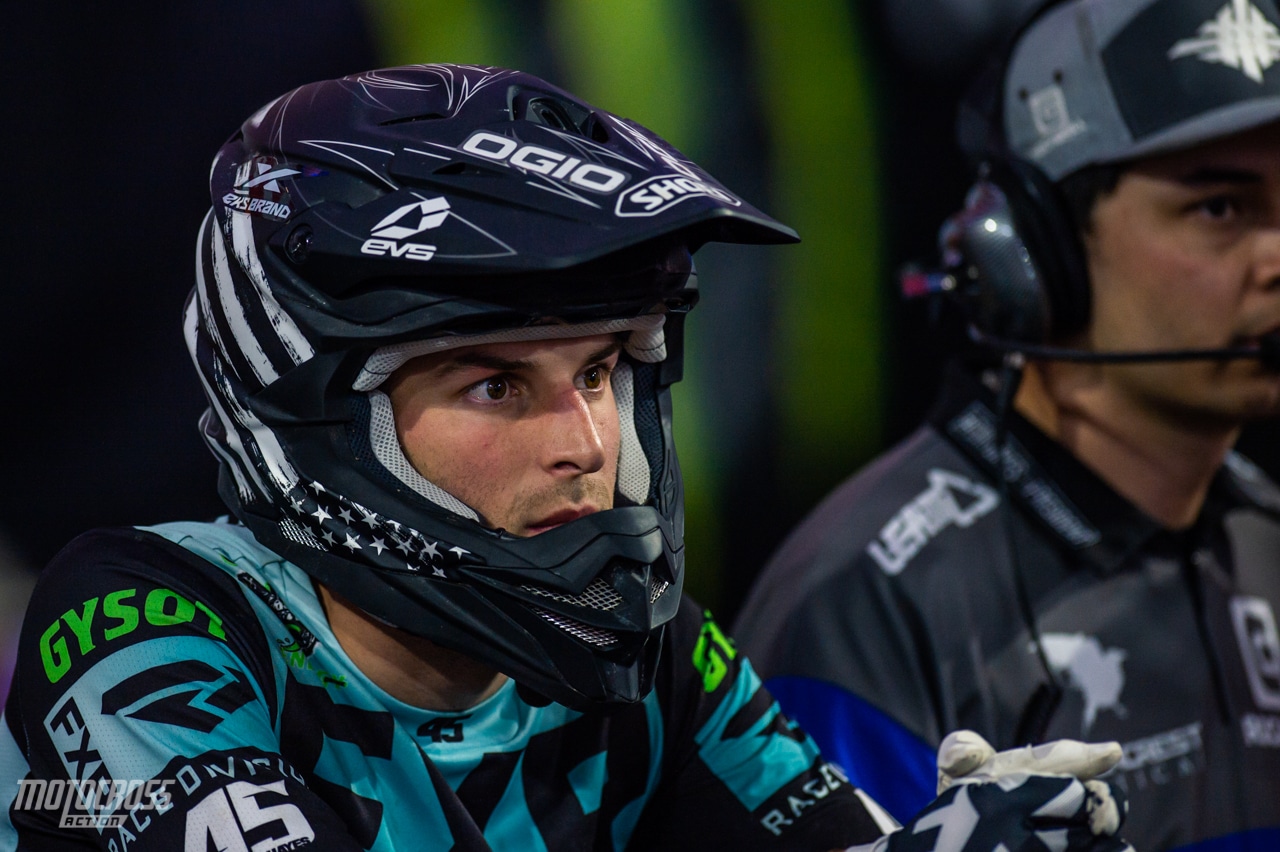 JACOB HAYES INTERVIEW: FROM ARENACROSS, TO SUPERCROSS, TO AUSTRALIA & BACK
Jacob Hayes immediately made his presence known and was a true title contender during his time with the Monster Energy Babbitts Kawasaki Arenacross team and he won the Arenacross Championship in 2018. Afterwards, the Arenacross series ended abruptly and Hayes was forced to move up or move on. Supercross was the next step and he had always wanted to make the jump, but now he was forced to without a chance to defend his Arenacross title. Jacob was signed by the Cycle Trader Rock River Yamaha team for 2019 and he quickly acclimated to the bigger stadiums and was running up front until a hand injury derailed his season. The 2020 Supercross season has been good for the North Carolina native, in spite of coming into the new year with an injury. Now with everything in the country shut down, the privateer with much potential is waiting in anticipation for things to return to normal. MXA recently tracked down the 26-year-old while he's weathering the COVID-19 storm that has affected us all.
By Jim Kimball
JACOB, HOW DO YOU FEEL ABOUT YOUR SUPERCROSS SERIES TO DATE? To start off, I went to race the Australian Supercross series at the end of 2019. It was going to be my second run at it the Australian series. I began the series with a win, and had the points lead. Then at round two, I was doing really well all day, and ended up going down. Luckily, I was still healthy after that crash. We moved into round three when I went down in the heat race really hard. I dislocated my left shoulder and broke the top of my humerus pretty badly. So, the doctors in Australia told me no riding essentially for six to eight weeks. That was November 11th when I did that, so that put me riding right around A1.
Jacob Hayes had a wild offseason coming into Anaheim 1. Not only was he going to be racing on a new bike and team, but Jacob was also coming in with a shoulder injury and he wasn't sure if he would be able to race the first round. 
WAS THAT WHEN YOU RETURNED TO THE STATES? I was really stressing. I flew home from Australia and got to work on trying to rehab it. I remember just getting home and I could not hardly even lift my arm out in front of me. There was so much swelling, and all the muscles were sore. The process was very slow. Then two weeks before Anaheim 1, I rode. I remember coming off the track, and more or less I was breaking down. I teared up a little bit because I did not think it was going to be possible to race A1 at the level we are at now as athletes.
HOW DID YOU GET FROM THAT POINT TO RACING A1? I know what I expect of myself and I talked to my inner circle. They said, "Look, I think you will regret it if you do not go for it, and it is only going to get better from riding and training each day." I made the effort to race A1, and just to even be there racing was big for me. I was not expecting anything, and that might have helped me because I just had no nerves, and no pressure. I just wanted to be out there and be safe. Then I got 11th in the main event. I was beyond happy with that. Like I said, I was not even planning on racing two weeks before that. I just started chipping away at it each day. After that I had a really good round at Phoenix at the Triple Crown. I went 6, 5, 5 for a 5th overall and felt like I really rode well. I started gelling with the Husqvarna, because when I was in Australia, I was riding a Yamaha. I returned to the states coming off an injury and getting on a new motorcycle and new team. It was a lot of changing all at once.
Jacob Hayes chasing Cameron McAdoo through the whoops at the Oakland SX.
WHEN YOU SIGNED YOUR AUSTRALIAN YAMAHA DEAL, HAD YOU ALREADY SIGNED YOUR GAS MONKEY ENERGY/AJE MOTORSORTS/HUSQVARNA CONTRACT? No, I was in talks with a couple of different teams. Tony (Eyrich, AJE founder) had reached out prior to me leaving for Australia, and we kept in contact. I want to say I was in Australia for maybe three weeks, and we signed a deal. It was a bummer because I felt like I was riding well in Australia and wanted to come back and have all that momentum from Australia. That is like my boot camp; going there riding, training and racing. Then when I get back, I am already in race mode for A1.
I KNOW YOU WANTED TO COME IN CHARGING FOR THE 2020 SUPERCROSS SERIES. It is a high-risk sport and we are trying to go out there and do our best each and every time. It was very stressful, right there leading up to A1 and even after. I had put pressure on myself just because I knew where I wanted to be. I had moved teams from Cycle Trader to the AJE Motor Sports Team, so I wanted to prove that I could do it. I wanted to be able to stick the bike up front. I knew eventually where I could be, so to do that at Phoenix at round four was incredible. The last one was San Diego, and then we were going into a pretty big break. I knew the changes that I wanted to make on the motorcycle, we just did not have time in between rounds. We have made a lot of progress on changing the suspension and getting things a little more fined tuned to the way I like them. I am really in a good place now and would love to go racing.
Jacob's best finish of the season came at round two in St. Louis when he finished 6th place. 
THE YAMAHA AND THE HUSQVARNA ARE COMPLETELY DIFFERENT. WHAT ARE YOUR THOUGHTS ON THE TWO? They are quite a bit different. Everything that I had learned about the Yamaha, you might as well just throw that out the window on the Husqvarna. Everything on the bike is different, the way you ride the bike, and the way it handles. At first, I was trying to make changes from what worked on the Yamaha and nothing was working. So, it became more or less me being open minded to changing the Husqvarna the way it needed to be changed and ride it the way it needed to be ridden. The Yamaha in my opinion was really great at tracking through the whoops. I struggled a little bit on it in corners, but I never struggled on it in the whoops. It seemed like at first on the Husqvarna, I was either going through the corners really well, and not the whoops so well or going through the whoops good and not the corners. I was trying to find a happy medium there, it took that break after round six at San Diego to really find my happy medium and get me overall happier on the track. I did some testing with Mark Johnson (Research Engineering Performance, REP) and got the suspension the way I wanted it. Like I said, we are in a good spot now, but the Husqvarna and Yamaha are definitely different motorcycles.
YOUR FORMER TEAMMATE AT ROCK RIVER YAMAHA, BRANDON HARTFRANT WENT ON TO JOIN THE FACTORY TLD/RED BULL/ KTM SQUAD FOR 2020. YOU HAD SIMILAR RESULTS; WHY ARENT YOU ON A FACTORY TEAM THIS YEAR? You know, that is a great question. I thought I was deserving of a shot as well. I am sure that initially a lot of people did not know what to think of me. I came from Arenacross, and obviously had a lot of success in Arenacross. I won a championship and I was always up-front battling, but with Supercross I was coming in as a rookie, and I was 25 years old. From my point of view, I felt like I got good starts, and I mixed it up with the front guys that had been there for years. I showed my speed several times in Supercross, so I felt like I was deserving of an opportunity, but it just really did not work out. It was just where the dominos fell. I just ended up without an opportunity which was unfortunate, but it was what it was. I had to keep my chin up and I had to come up and make another effort. I wanted to go out there and really prove that I am capable of running up there with those front guys and doing some damage.
Hayes currently sits 6th place in the 250SX West Coast point standings. 
STILL, YOU REALLY GOT YOURSELF ON THE RADAR LAST YEAR IN SUPERCROSS. Like I said, I know what I am capable of, I know what I have to offer, and am an extremely hard worker. I have been through a lot in my life and career. If ever I was given an opportunity to be on a factory program and have those resources that those teams have, I think I would be right there battling for podiums. Some people can say that is cocky, but that is just me being honest. I know what I am capable of, and I feel like that is not unrealistic for me, especially that I am able to get up there and get good starts on the motorcycle I am on now. The AJE bike is really, really good, so just kind of keep doing my thing and see where it lands.
HOW HAVE THE GUYS AT THE AJE HUSQVARNA TEAM HELPED YOU? The AJE Motor Sports guys do an amazing job. It has been a pleasure to get to know all of them and see how they go about running their program. It was a great first six rounds. I felt like we all did really well, worked together as a team and made good strides. They kept me calm in a very stressful time with it being race time, and me coming off an injury and not being 100 percent. They kept me motivated and just kept reassuring me that they knew where I belonged. When I got 100 percent, they felt that I could be there with no problems, so it was really nice. Hopefully in the future, I would like to be given an opportunity to get on a factory effort, but for now, I'll keep doing my thing.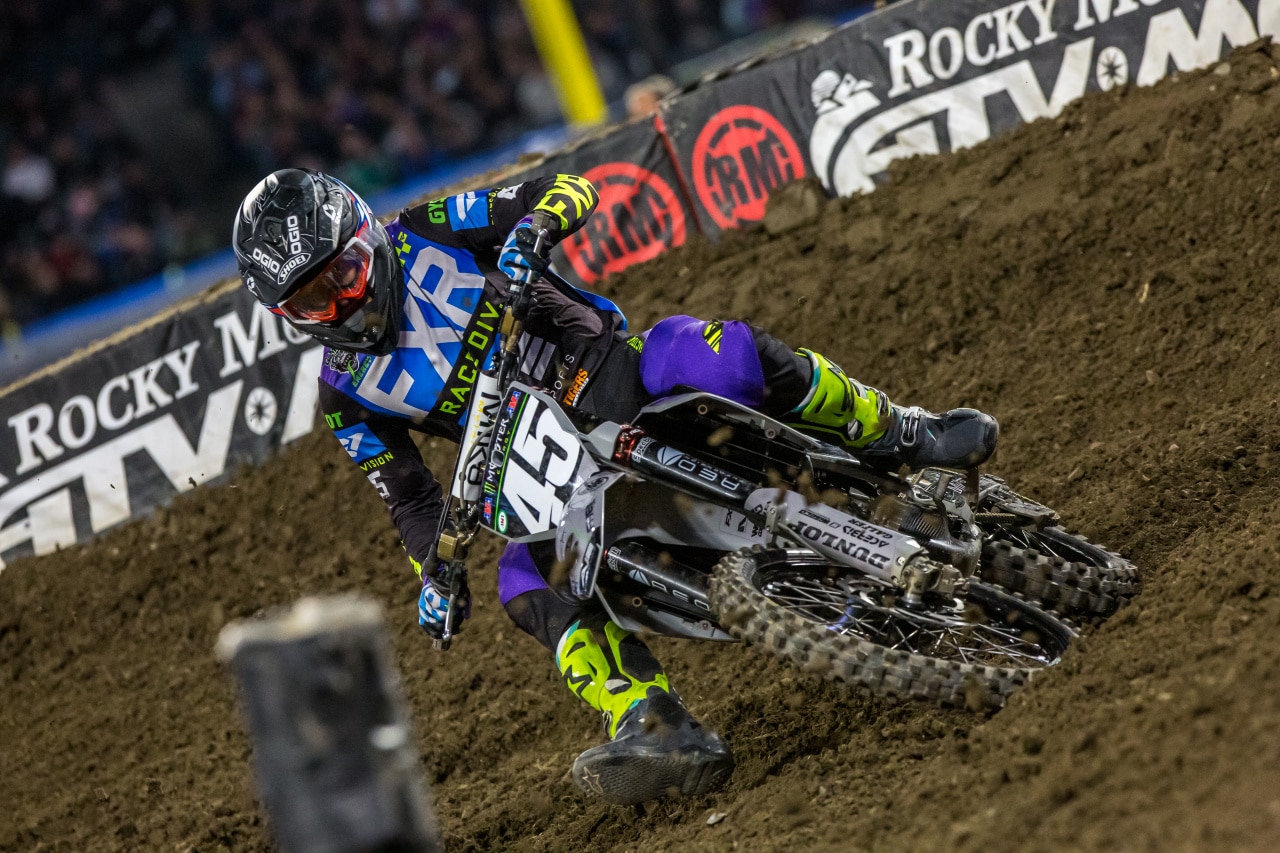 Jacob Hayes wearing the FXR Racing Helium gear.
AND THE TEAM WORKS WITH FXR RIGHT? Yes, we do! FXR has been by far the most comfortable gear I have ever worn. They made me a set of custom stuff for San Diego and I told them that I really, really appreciated the effort and the heart with what went into making it. Right now, it is my all-time favorite gear, and I have it in one of those shadow boxes. They have put a lot of effort into their product and I think it shows. They definitely put themselves on the radar of being a great gear company, and a great company just in general. They have a wide variety of products. I went to Canada to see my girlfriend and they hooked me up with a bunch of snow gear, and stuff like that and I could not believe how good their stuff was. They are coming out with limited edition stuff and when I get back on the dirt bike, I am going to be definitely sporting it.

WHAT IS IT LIKE RIGHT NOW BEING A PRIVATEER WHO IS SIDELINED DUE TO COVID-19? The way that I had it structured was based on races, and with salary and bonus money. So now if I am not racing, I am really not making money, which is unfortunate. What we as racers love to do is race and at the moment it is all out of my control, and out of everyone's control. We cannot do that at the moment. I have not been riding, just because me and the team came to an agreement that we do not really want to burn through parts, gas, etc., and putting myself at risk when we are not sure what the future holds for Supercross. This is a Supercross only team, so I don't have any arrangements for outdoors, it was strictly 250 West deal. So, we are on hold right now.
Jacob Hayes (middle) and Luke Clout (right) checking out the track together at Anaheim. 
YOU MAY NOT BE RACING SUPERCROSS AGAIN FOR A WHILE, WHAT CAN YOU DO TO EARN AN INCOME? I am available if anything comes up for outdoors. I am still in California. I am training and am doing a lot more off the bike stuff. I can't go to the gym, so just doing at home stuff. I am just trying to keep myself busy and stay in shape.
IS THERE ANYTHING GOOD ABOUT BEING SIDELINED AT THIS TIME? No, it is just like we talked about at the beginning. Everyone in the world, everyone in our sport is just in shock right now on what is actually going on. First and foremost, I want to get the world back to where it was. Everything is on hold right now. No one knows what to do. I am even scared to go to the grocery store. I would like to get back to normal life and then go racing. I don't really have an answer for you, I am sorry. I don't even know what to do myself. I am definitely asking my team and asking my inner circle "what should I do?" and no one really has a good answer right now. We are all in shock, so just take it day by day.
MANY OF THE 250 FACTORY TEAMS SIGN YOUNG GUYS RIGHT FROM THE AMATUER SCENE. YOU HAVE PROVEN YOURSELF ALREADY AS A SOLID TOP FIVE GUY; WHY DON'T THEY HIRE SOMEONE LIKE YOU? I really appreciate that. I don't think that you are off at all. Since San Diego, I made a really good push there for a couple of weeks, until all this craziness started. The amount of progress that I made just in that downtime was unbelievable. I could not imagine going racing now being as comfortable as I am. I would be breathing fire. I am ready to drop the gate. Those first six, I was just trying to come back healthy and get strong again. I was able to focus on my speed and how I was riding the bike and how the bike was handling. I would love to go racing again, so I could show what I am capable of.