FLASHBACK FRIDAY | JAMES STEWART'S BUBBLE OF TIME
Fame is a fleeting thing. It is often thrust on an athlete in the blink of an eye and can disappear just as quickly. But, for most motocross racers, the path to stardom starts when they get their first motorcycle and builds up slowly during their Amateur years. If they have the talent, support and good luck, the flower of fame blooms on them in the AMA Pro ranks. With good genes, lucky breaks and good support, the fame can last as long as 10 years before the rider is supplanted by newly minted stars. As a rule, an AMA National Champion is capable of staying famous long after he retires, but from the moment he quits until the day he dies, his fame is encapsulated in a bubble—a bubble of time. No one who was into the sport before he rose to fame cares about him, and no one who entered the sport after he retired ever saw him race. Thus, a retired racer can only maintain his fame with the fans he earned over his 10 years as an active racer. The star and his minions grow old together.
MXA wanted to go back in time with James Stewart—not to when he was a famous factory racer or after the glory faded, but to his roots.
The first time I rode a motorcycle: "The first time I rode was in my backyard in Florida. It was a scary deal! My first bike was actually a four-wheeler, but then I moved on to motocross bikes. I distinctly remember riding a 60 for the first time because it had a clutch and I was scared of it. I was 2 years old when I first twisted the throttle, but I don't remember the first time. I do remember almost running into the house because I got a little whiskey throttle."
My first big Amateur race: "I raced Loretta's, and I think that I finished 41st out of 42 people. At least I beat somebody! My dad was just happy that we made it there and I was a part of it. It was a fun experience, but some of those kids were so fast. I was 5 or 6 at the time."
My first pro race: "I raced the Anaheim Supercross when I was 16. There was a lot of hype coming into that race, but when you're younger, you don't pay so much attention to all of the talk. I went there to do one thing—to win. It was a long day, though. I had a lot of crashes and ended up second, but it was still pretty cool. I was really just nervous being in front of so many fans, and it was a different experience altogether. I raced against a bunch of riders whom I had never lined up on the same gate with, so it was something new." 
The first time I realized I could make it as a Pro: "In my last year on 80s I was doing really well, so it kind of dawned on me that I could possibly become a Pro. Then right after that I moved up to the 125 class and only made it 100 feet out of the gate at my first race before I dislocated my shoulder. The track I was racing at had the A, B and C classes all on one gate, so over 50 guys lined up next to one another. I started on the outside and got wrapped up in a pileup. I was gun shy when I came back, but then I won in Texas and at the World Minis. When I moved up and rode A at Loretta's, I realized that I could be a Pro rider." 
My first championship title: "My first title was the AMA 125 National Championship. Throughout the season I wasn't racing for the title. I was just trying to win every race I could. I started off the year with wins at Glen Helen and Hangtown, but then the season got a little rocky after that. I remember coming off the track at Millville when Chad Reed won, and I knew in my heart that he beat me straight up, but I was able to rebound from it. When I wrapped up the title at Binghamton, it was a great experience, but the feeling of winning didn't sink in until after the season was over."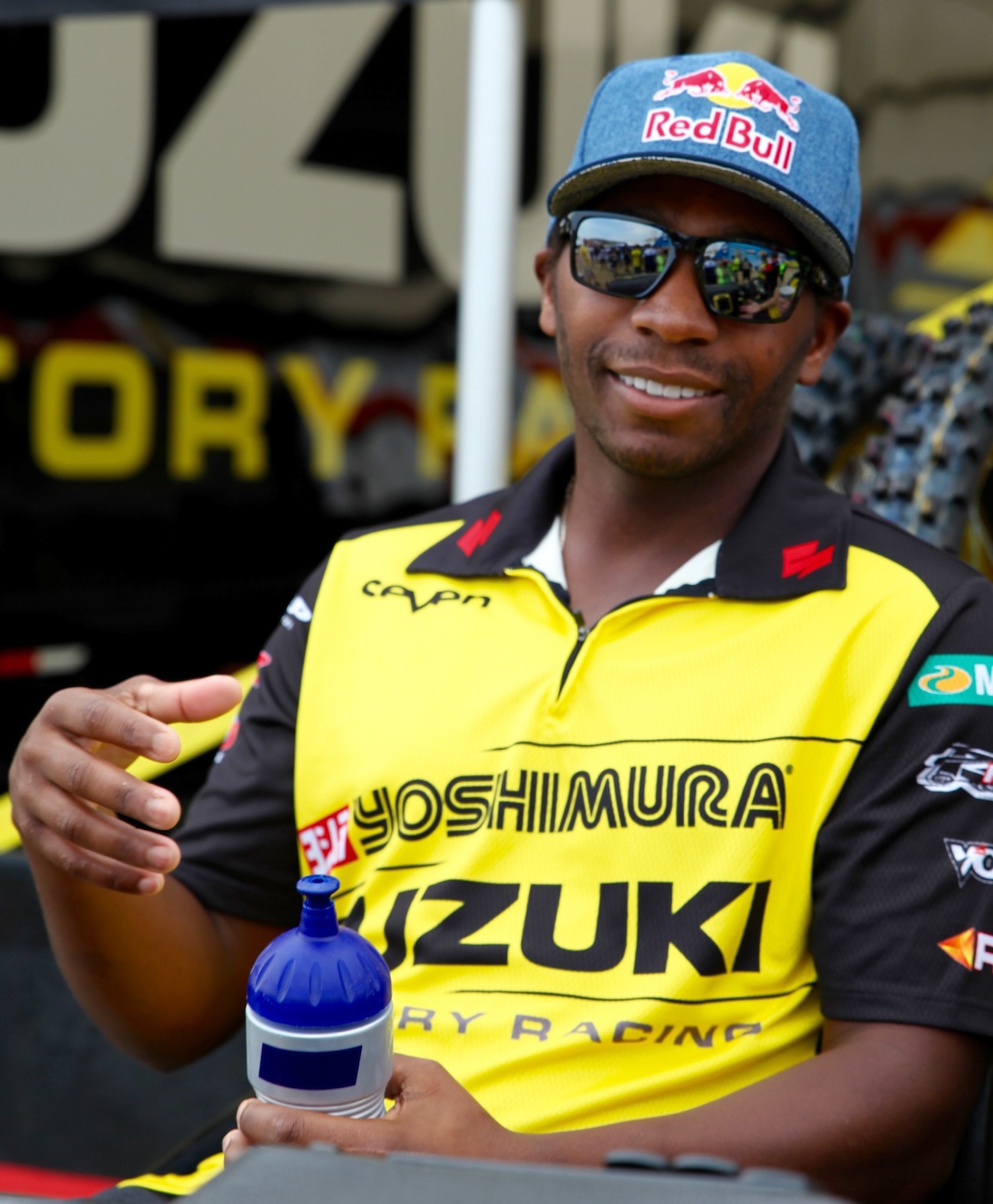 My first trick: "For a while I was actually into freestyle. In fact, I wouldn't even do practice motos or anything like that; instead, I would circle my finish-line jump and do freestyle tricks. My first trick ever was a nac-nac back when I was on 60s. There was a tabletop at Muddy Creek, and I would do nac-nacs every lap. It got to the point where I could do Superman seat-grabs and no-footed can-cans, but then I crashed one time and I quit."
The first time I met a famous person: "The first famous person I met was Mark-Paul Gosselaar. I was at Daytona to watch the Supercross when I was 14 years old, and I went out to dinner with Todd Hicks from Fox Racing. It was a big dinner with a bunch of adults, and I was bored because I was the only kid there. Then I looked across the table and saw Zach Morris from Saved by the Bell sitting there [laughter]. The funny thing is, I kept calling him Zach instead of Mark because I couldn't remember his real name. Since then, I've met a few famous people, and two of the most famous have been Michael Jordan and Tiger Woods."