JEREMY MARTIN INTERVIEW: PREPARING FOR THE RETURN OF SUPERCROSS IN SALT LAKE CITY, UTAH
JEREMY MARTIN INTERVIEW: PREPARING FOR THE RETURN OF SUPERCROSS IN SALT LAKE CITY UTAH WHILE RIDING OUTDOORS
There aren't many riders who can bounce back from a broken back like Jeremy Martin has and still battle at the front of the pack for wins. Jeremy no doubt is a fighter and his never-say-die attitude makes it enjoyable to watch him whenever he's on the track.
While MXA was out testing at Glen Helen last Thursday, we were surprised to see 250 Supercross East competitor Jeremy Martin riding on outdoors. Why would he be riding motocross just ten days away from the next round of Supercross? Jeremy was hard to track down as it seemed like he never took a break. We kept looking for opportunities to talk with the Geico Honda rider, but he didn't make it easy. Finally, when he was done riding we were able to pick his brain on 2020 Supercross resuming in Salt Lake, his opinion if motocross will be able to race this summer and more. 
By Josh Mosiman
Photos by Trevor Nelson & Brian Converse
WHILE YOUR COMPETITORS ARE PRACTICING ON SUPERCROSS, YOU'VE BEEN RIDING NONSTOP TODAY AT GLEN HELEN. WHAT'S GOING ON? I did a warm up this morning and then had to do basically two 40-minute motos. I did two days of Supercross before today. I hadn't ridden Supercross since Daytona ,so it's been two-and-a-half months off. I had to take some time off since my wrist was bothering me pretty bad during the season and since then I've just been doing motos and getting ready for outdoors since we didn't really know what was going to happen. It kind of makes sense that Supercross has to get done first before outdoors begins and now I'm out here in California waiting to go to Utah.
Jeremy Martin is gearing up for the upcoming Supercross races in Salt Lake City. Since he's competing in the 250 East division and that series has only completed four rounds so far, he will race five times during the seven rounds of racing in Salt Lake City. Click here for the full 2020 Supercross schedule for the rest of the season.-Photo by Trevor Nelson
WHAT HAS IT BEEN LIKE LIVING WITH THE UNKNOWN WHILE EVERYTHING WAS SHUT DOWN? I mean, dude, I was in the unknown for a year-and-a-half waiting for my back to heal. For me, I needed the time off. I was struggling with some stuff, I needed to get the motorcycle better, I needed to get stronger. So yeah, to me it was necessary. It sucks. Nobody wants to be out of a job or potentially get a pay cut, but unfortunately we're in this crazy time right now. I never thought I would be part of something like this. Now we're going to get back to racing.
DID YOU ORIGINALLY EXPECT SUPERCROSS TO CONTINUE? At first I was like "no way," because they just kept bringing down the number of people that were allowed in the venue. When you think about the staff and the teams that we have in the paddock, we were already way over. Kind of like halfway through the time off I was thinking, "Man, they have to finish Supercross." Because Supercross is what a lot of the sponsors want.
Jeremy has two third place finishes so far in the 250SX East Coast series. Unfortunately, a crash at the Atlanta SX gave him a 19th place in the Main Event and he lost major points in the Championship hunt.-Photo by Trevor Nelson
WHY DO YOU THINK THE SPONSORS WANT TO RACE SUPERCROSS MORE THAN MOTOCROSS?  Publicity.  I think you'd probably say the same thing. And, maybe, it's more mainstream. I don't know. To me, outdoors is like the grassroots of the sport. I mean, everybody that fell in love with a dirt bike or rides a dirt bike, the first time they rode it is at their buddies house in a field and you work your way up. Outdoors is more relatable and  the hardcore fans are more interested in outdoors.
YOU'RE RIDING OUTDOORS TODAY, ONLY 10 DAYS AWAY FROM THE NEXT ROUND OF SUPERCROSS IN SALT LAKE. DOES RIDING OUTDOORS HELP YOU FOR SUPERCROSS? Yes,  I definitely think it helps. Overall you're doing so much more riding. You get an hour of Supercross in on an average day, but on motocross you do a warm up and two 40-minute motos and you're at an hour and 30-minutes of riding. And you're doing just as many laps on a minute and 45-second outdoor track as you are almost on a 50-second Supercross track. So you're just building endurance and building muscle. It's nice to get your eyes used to the speed on motocross and then go back to Supercross.
 Some amateur riders watch as two-time 250 Outdoors National Champion Jeremy Martin navigates the Glen Helen track.-Photo by Trevor Nelson
WILL YOU STAY IN SALT LAKE CITY DURING THE ENTIRE THREE-WEEK SPAN OF RACING? Yes, I'll be there the whole time. I got a hotel 2.6 miles away from the venue. It sucks, but  we're just fortunate that we're going to be able to go racing. At the end of the day, if we have to jump through hoops to be able to go racing; wear the masks, get tested for Covid-19. I don't know if they're going to do the Q-tip up your nose or what, but at least we're going racing.
HAVE YOU RIDDEN IN SALT LAKE CITY BEFORE? No.
HAVE YOU STUDIED IT AND WATCHED VIDEOS AT ALL? Yes, it's pretty darn dry. It's kind of like the test tracks  here in SoCal or at Tomac's. But it's just another track.
SINCE YOUR FAMILY OWNS A NATIONAL TRACK, WHAT DO YOU HEAR ABOUT OUTDOORS STARTING UP AGAIN? I think they'll be able to get it. NASCAR is already open and they are starting to relax the rules and a lot of people are starting to go back to work. Hopefully we will get it going, cross your fingers. We might not be able to get all the rounds in, but we might be able to get at least half.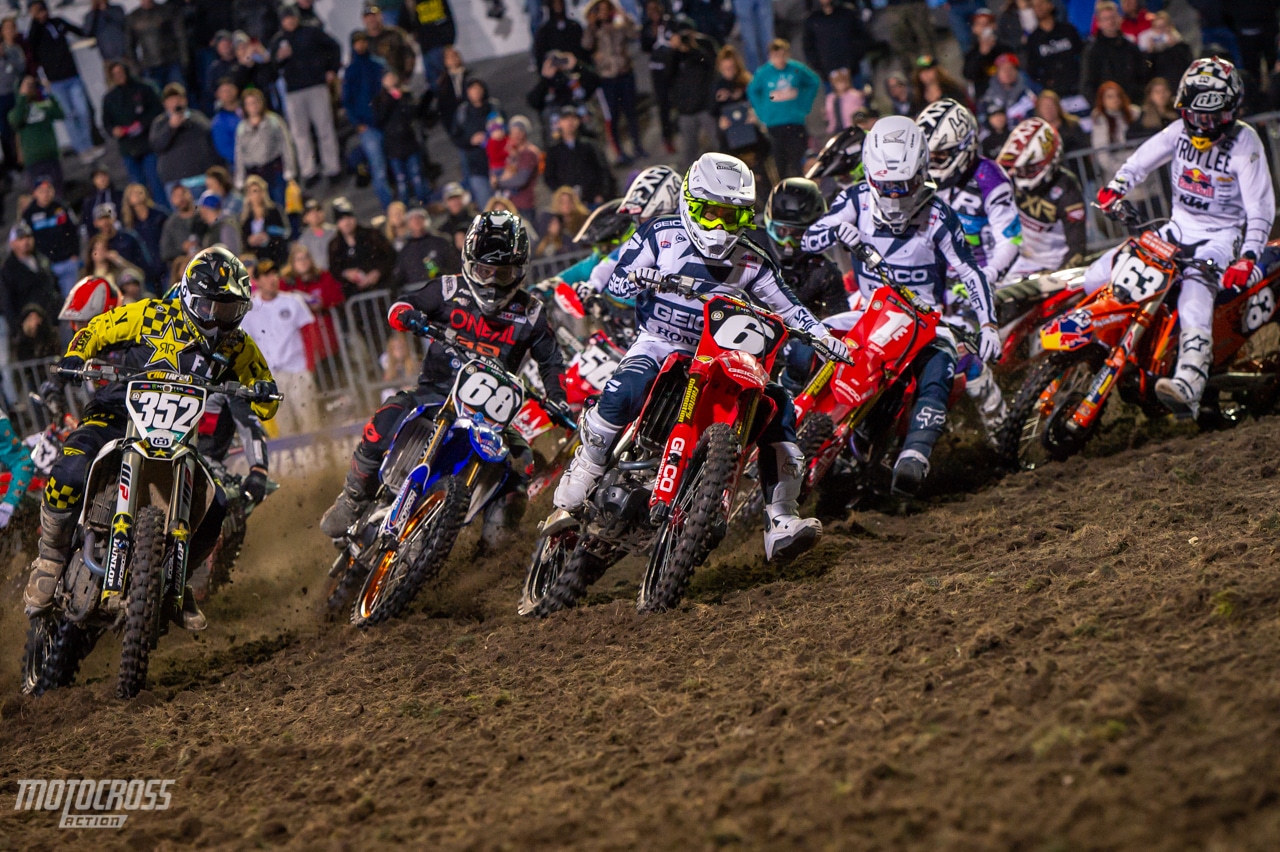 Jeremy Martin leading the pack around the first turn in Daytona. He finished third in the 250 Main Event during the last Supercross event before the coronavirus shut everything down.-Photo by Brian Converse
WHAT MOTIVATED YOU TO FIGHT BACK AND KEEP RACING AFTER BREAKING YOUR BACK? If I said that when I broke my back I wasn't scared, that would be lying. I definitely thought about if I was going to continue to do this. But my parents invested a ton of money into me and a lot of people have invested a lot into me over the years. It's one thing to be able to walk away with knowing you did everything you could, but I still feel like I have a lot left on the table. I was starting to win again when I was on the Honda before I broke my back. So I was back to the level where I was at before. To me, it's just life. It ain't easy, it'll never be easy and that's one thing I've learned throughout the whole process. Everyone is battling something. It's a blessing.

HOW COULD AN INJURY BE A BLESSING? Sometimes we get so complacent in our mindsets and who we are that sometimes we forget what's important, then when something does happen that is  gnarly,  like breaking your back, you get everything taken away from you. The ability to get up in the morning and to be able to walk. That's a big deal and a lot of us don't think about that kind of stuff. Is dirt biking a dangerous sport? Yes. But the opportunity to be able to do something that you love everyday and be your own boss, that's a big deal.