JEREMY MCGRATH, JEFF WARD, RICKY JOHNSON & BRIAN DEEGAN TO RACE AT GLEN HELEN THIS WEEKEND (PLUS REM IS RACING ON SATURDAY)

Brian Deegan.  photo by mikesracephoto.com
Press release: Legendary Glen Helen Raceway, globally recognized as the hub of West Coast motocross racing culture, will host its first Lucas Oil Off Road Racing Series event, August 7th and 8th. Nestled at the foot of the San Gabriel Mountains in Northern San Bernardino, the 256-acre facility has been the scene of numerous national and international motocross and offroad racing events over its 25 year history. For motorcycle racers, Glen Helen will still be open for riding?and the regular saturday REM race will be held.

The Glen Helen offroad truck course is on the right, the paved EVOC road course is on the left. Glen Helen's motocross, endurocross and Pro Circuit Supercross tracks are farther to the right.
In contrast to the scenic hill side setting Glen Helen provides, the unique, purpose built eight-tenths mile short course off road battlefield features a triple table top section, high banked turns and aggressive rhythm sections. While the Lucas Oil Off Road Racing Series makes it's debut at the Glen Helen facility, the event marks the return to the venue for a pair of legendary motocross champions (along other luminaries of the two-wheeled racing world).
WARD VERSUS JOHNSON AGAIN
Ricky Johnson and Jeff Ward, now competing against each other in the Pro 2 Unlimited Truck class, have faced the challenges of Glen Helen Raceway on two wheels during their impressive motocross careers.

The track crew is burying the transponder cables in the front straight across from the bleachers.
Ward, a resident of Orange County, California, spoke on the Series' return to Southern California and the Glen Helen raceway. "I spent countless hours practicing and knocking out moto after moto out at Glen Helen. I also had a chance to race a USGP there during my career and took a second. The facility has a great history. It's nice to have the opportunity to be racing at home again in front of my family and friends."
Johnson, also a Southern California native and Orange County resident, took a second place podium finish in USGP motocross competition as well. "Glen Helen has been the host of some of the greatest California Motocross events ever," he said. "I'm excited that short course off road racing is back in the region. It's a great thing for the sport."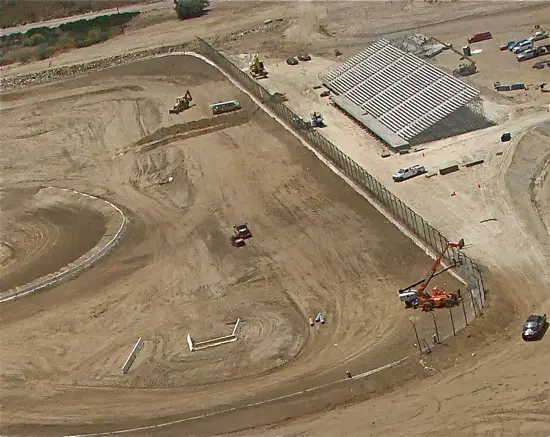 The race will be held in the evening, so the track lights still has to be put up, but the catch fencing and K-rail are almost done.

Rounds 9 &10 of the Lucas Oil Off Road Racing Series at Glen Helen Raceway, features two full evenings of electrifying two and four wheel drive short course off road racing action. For a complete schedule and more information, please visit www.LucasOilOffRoad.Com.



At a shade under a mile long, Glen Helen's Lucas Oil Off Road Series course will be put the the test this Saturday and Sunday.

GLEN HELEN RACEWAY WEEKEND RACE SCHEDULE