JEREMY McGRATH TO RACE THE WORLD VET MOTOCROSS CHAMPIONSHIP
Jeremy McGrath, who will receive the Edison Dye Lifetime Achievement Award on Saturday night at the World Vet, is also set to race the 2022 Dubya World Vet Motocross Championships in the Over-40 Pro class on Saturday and the Pasha 125 Overp5- Pr
Come watch 2022 Edison Dye Lifetime Achievement Award Recipient, Jeremy McGrath, race the 40+ Pro on Saturday (November 5th) and the Pasha Iver-50 125 Pro class on Sunday, November 6.
Jeremy was Inducted into the AMA Hall of Fame in 2010 and is still considered the King of Supercross—thnaks in no small part to his record setting 72 career wins. McGrath also transformed the sport with his masterful sportsmanship as he attracted fans by the multitudes, thus, bringing Supercross into the American mainstream. In fact, McGrath also carries the nickname, "Showtime." This nickname comes from his signature flair and style, which also created the prototype for today's freestyle motocross.
This year's Edison Dye Awards ceremony will be unlike any other! On Saturday, November 5th, Glen Helen will host a meet-and-greet from 4:30 p.m. to 5:30 p.m. The award presentation will commence at 5:30 p.m., followed by an autograph session with Jeremy McGrath (and other Edison Dye Award winners) in the Glen Helen Museum.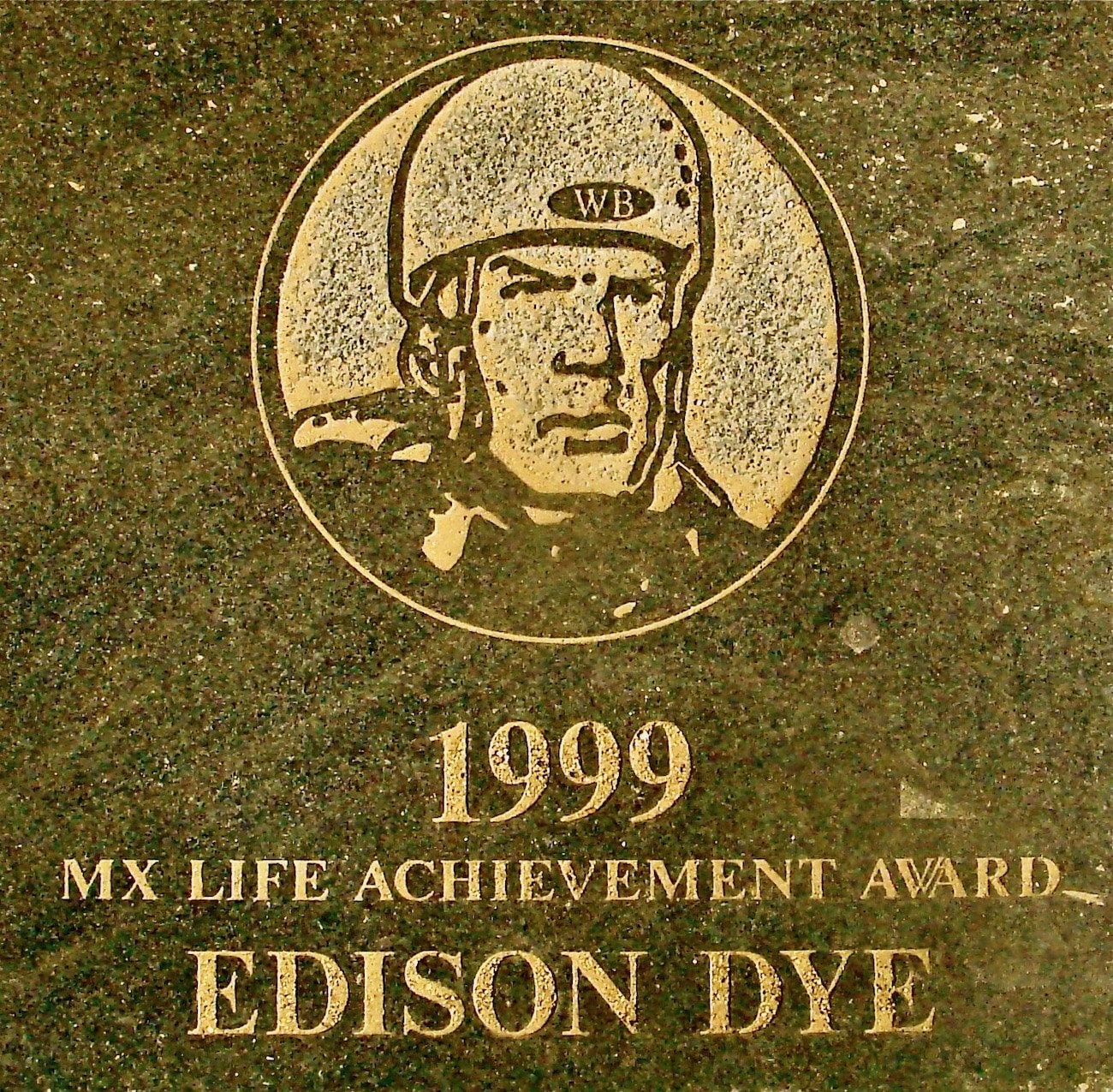 EDISON DYE LIFETIME ACHIEVEMENT AWARD WINNERS (1997-2022)
1997 …Roger DeCoster
1998 …Rick Johnson
1999 …Edison Dye
2000 …Torsten Hallman
2001 …Bruce Brown
2002 …1981 MX Des Nations Team (Chuck Sun, Danny LaPorte, Johnny O'Mara, Donnie Hansen)
2003 …Gary Jones
2004 …Jeff Ward
2005 …Stu Peters
2006 …Joel Robert
2007 …Bob Hannah
2008 …Brad Lackey
2009 …Tony DiStefano
2010 …Broc Glover
2011 …David Bailey
2012 …Marty Smith
2013 …John DeSoto
2014 …Feets Minert
2015 …Dave McCoy
2016 …Lars Larsson
2017 …Malcolm Smith
2018 …Jody Weisel
2019 …Mitch Payton
2020 …Rex Staten
2021 …Mark Blackwell
2022 …Jeremy McGrath