JERRY ROBIN INTERVIEW: PRIVATEER LIFE AND MAKE MOTOCROSS GREAT AGAIN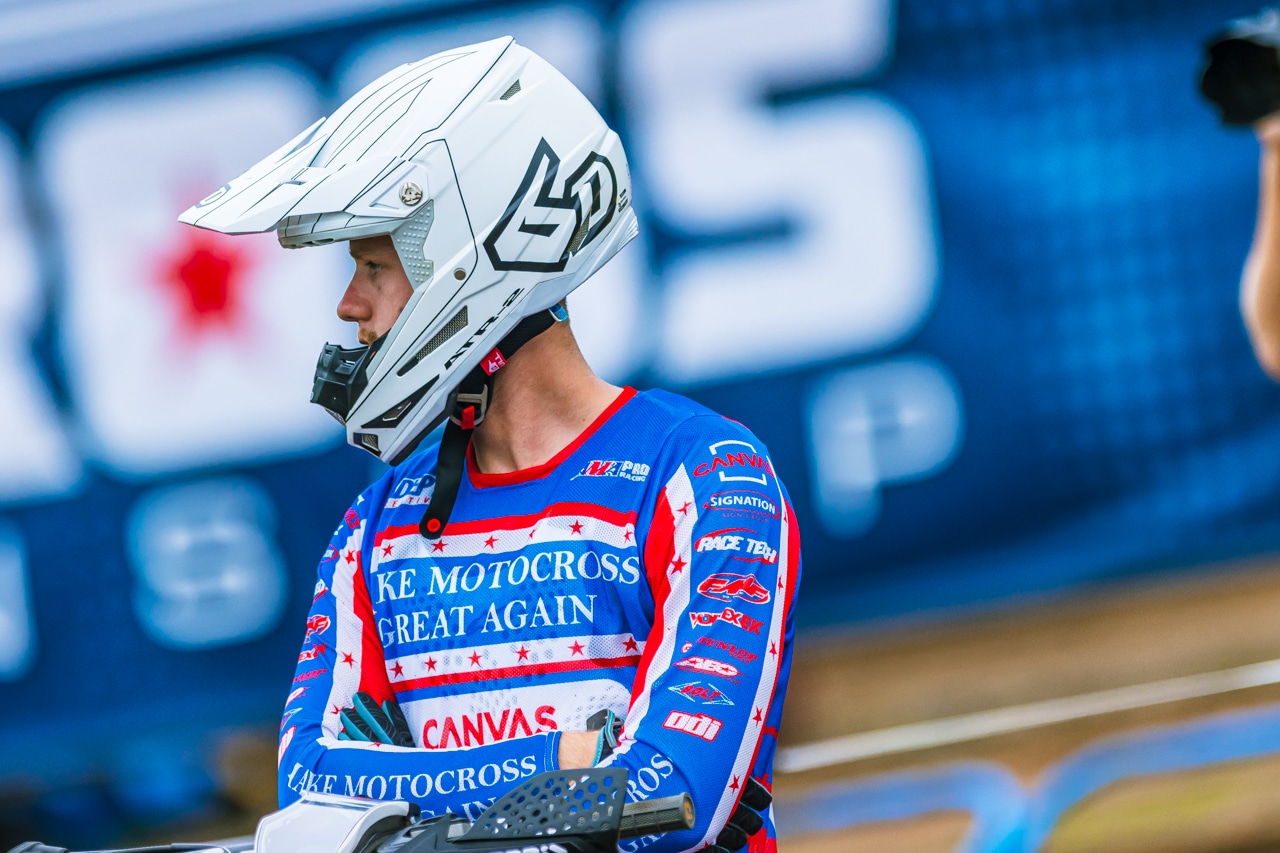 JERRY ROBIN INTERVIEW: MAKE MOTOCROSS GREAT AGAIN
With the 2020 AMA Nationals underway and the 2020 Ironman National coming up this Saturday, many gather to admire the spectacle that is motocross. For fans, everyone has a favorite factory rider but often times, it's those that make the sport what it is that do not get enough recognition. On a new path and mission, Jerry Robin seeks to prove to the top dogs that even the little guys matter. MXA caught up with Jerry Robin to talk about his hardships of being a privateer and the idea that is now a movement, "Make Motocross Great Again."
By Trevor Nelson
WHAT WOULD YOU SAY HAS BEEN THE HARDEST PART ABOUT BEING A PRIVATEER? It's the day to day grind of it all. I'm doing all of my bike work, paying for the products, and stuff like that. I mean, obviously sponsors help me out a lot, but at the end of the day it is coming out of my account and not like a team's account. It's really the financial side of things. It is definitely a hard situation, and then just going to the races, doing bike work, you just don't have the resources like a factory team does. If a motor blows up for me I am done for the weekend, maybe even the next I don't know, it depends when parts are available. But you know it's tough, but it's a good feeling when you go to the weekend and you're with the factory guys and that's the end goal, is to be ahead of the factory guys every week.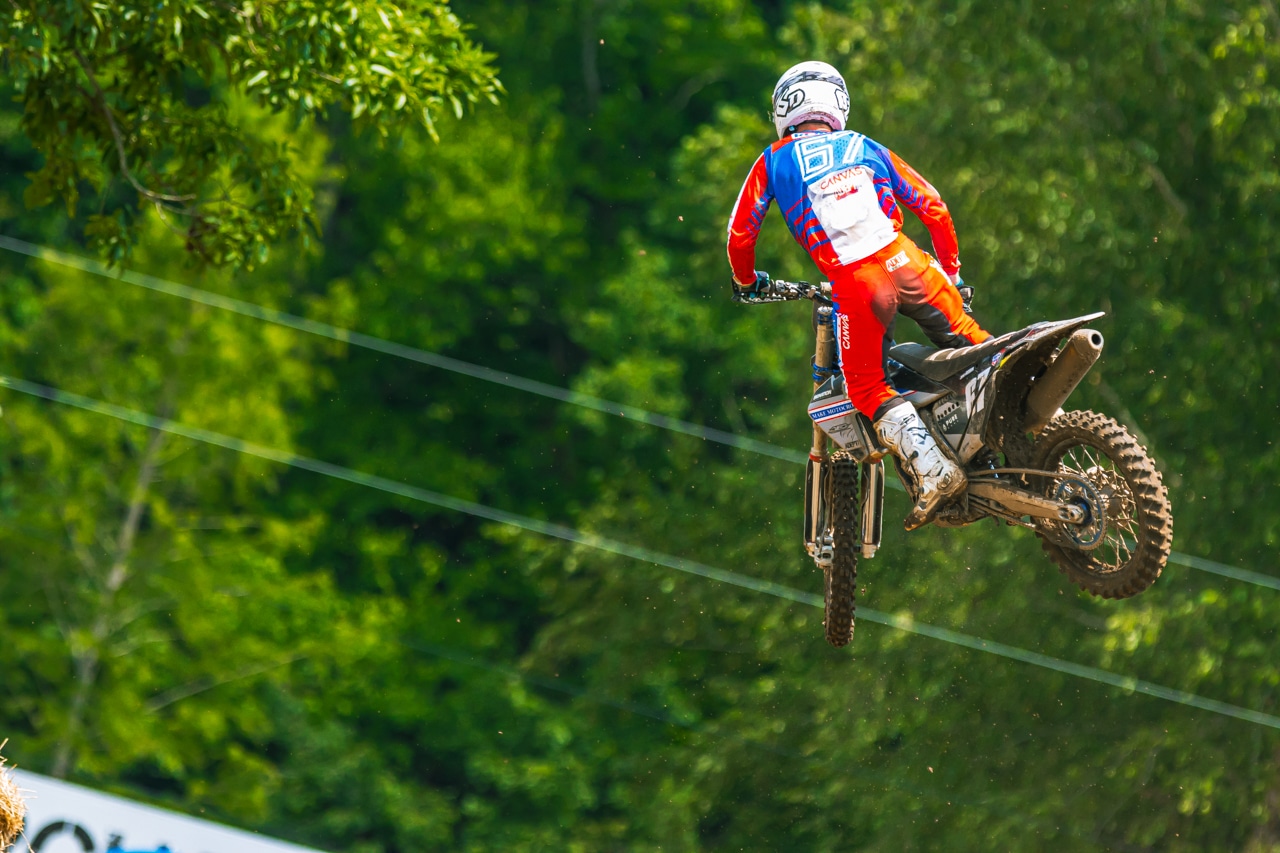 Jerry Robin flying high in the tree line. Jerry went 17-20 for 21st overall at Round 1. Unfortunately his bike blew up in the first moto at LL2 while he was running 12th place. He didn't finish the moto and he was done for the day.
HOW HAS IT BEEN TRAINING WITH DYLAN FERRANDIS? So I did about five weeks with David Vuillemin and Dylan Ferrandis. I don't really even know how it came about. I just messaged DV after Salt Lake City and he didn't even reply to me. And then I got a message from Ferrandis and he was like, "Hey dude, DV said be at Pala at 11 AM tomorrow." So it was kind of random and it took about a week before you could say he kind of liked me. We started getting along and everything was working really well.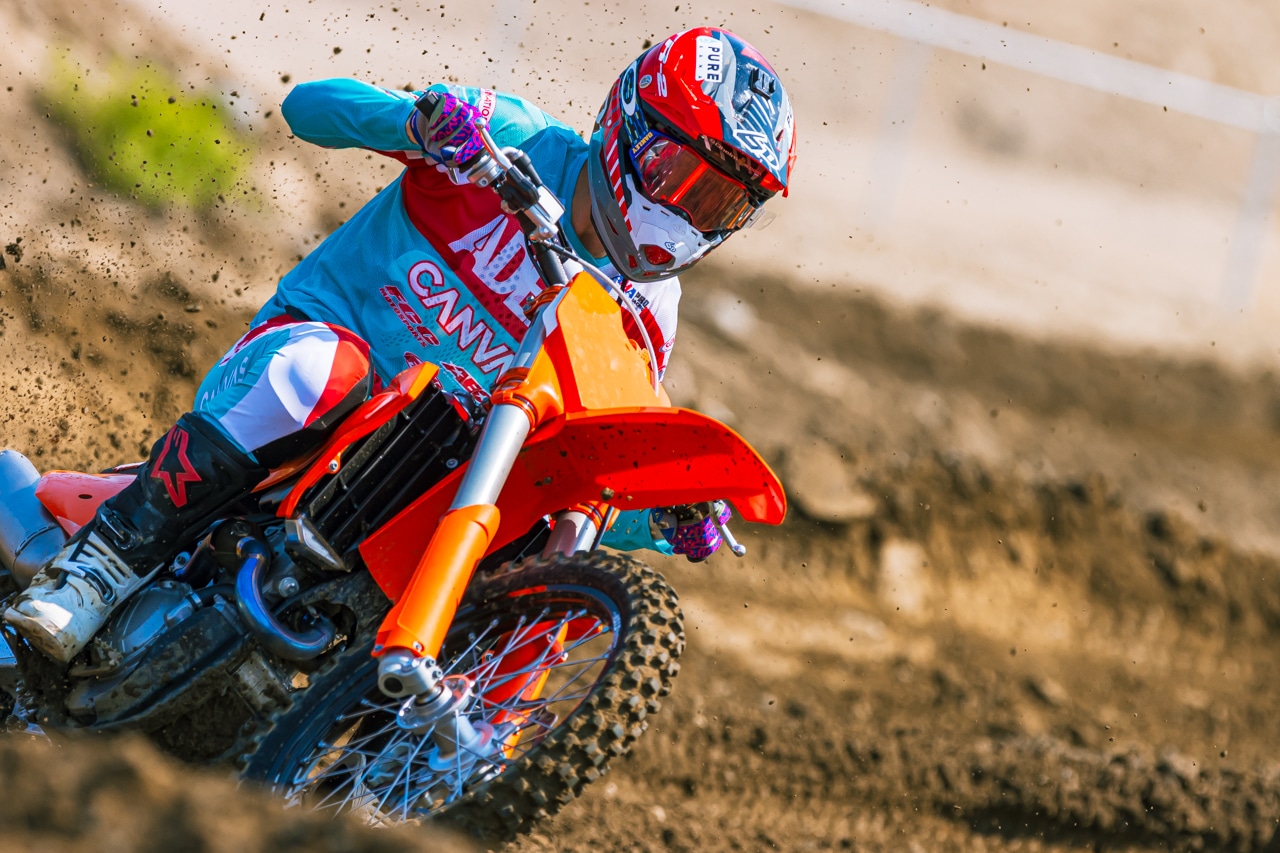 Because of a backorder on parts for his practice bike, Jerry is borrowing a bike from Kyle Greeson, one of his friends, just so he can practice this week. Jerry has had a lot of problems with bikes recently. Before the season he borrowed bikes from Michael Leib and Chris Cole to get some riding in.
WOULD YOU SAY THE EXPERIENCE WAS BENEFICIAL? I learned a lot and lost like 20 pounds from the plant-based diet I was on while working with him. I feel really good but unfortunately the first two rounds were kind of rough with weather and my bike situation was kind of weird. Now David Vuillemin is just full-fledged focused on Dylan. Those two are doing their own thing and I am back on my own now, which is fine but those 5 weeks I definitely learned a lot and Dylan kind of took me under his wing, taught me a lot and my riding excelled.
Dylan Ferrandis said, "hey dude, DV (David Vuillemin) said be at Pala at 11 AM tomorrow." So it was kind of random and it took about a week before you could say he kind of liked me.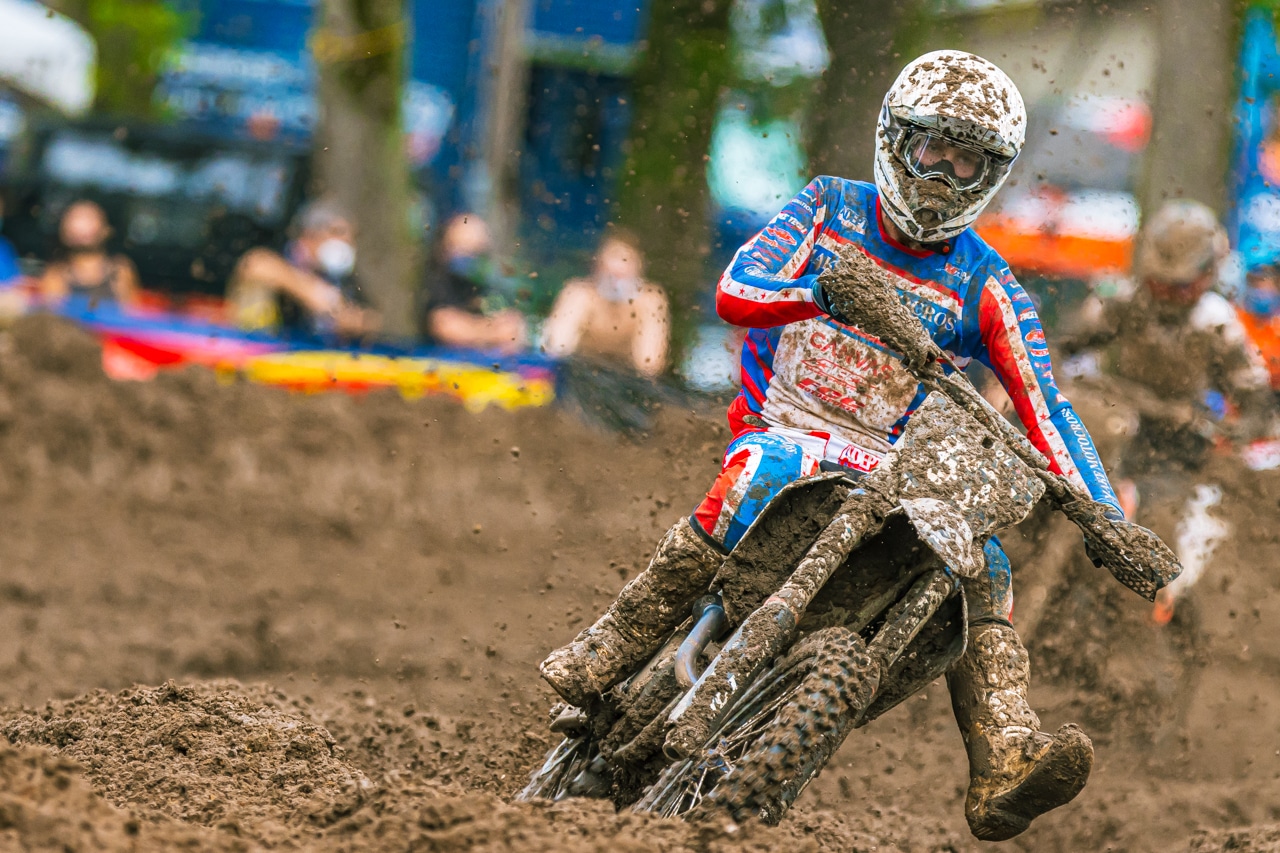 A rare sighting at the past couple rounds of Loretta Lynn's is clear goggles.
WHAT ARE SOME OF YOUR GOALS FOR THE REST OF THE SEASON? I would really like to crack the top 10 and every week be the top privateer. I would really like to get some drier weekends and put down some really good 30-minute plus 2-lap motos. Last week I went down early on and then I went from last to 12th and ended up finding myself stuck in a mud pile. It was kind of a bummer, but we're going to Ironman and it looks like it could be a wet one. Ultimately, I want to be top 15 every moto and hopefully crack into the top 10 by the end of the year. Just keep pushing forward and that's the goal.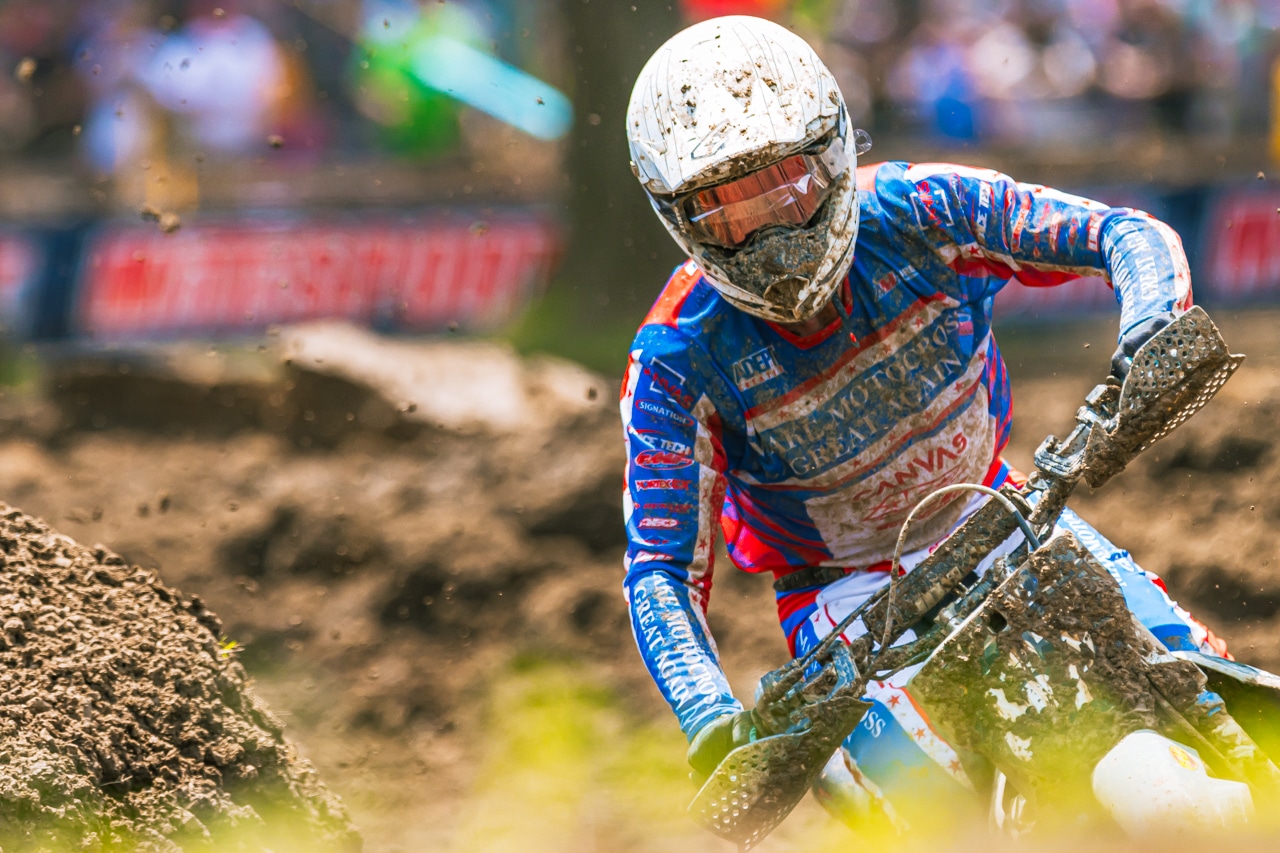 Jerry had to deal with unfortunate circumstance of a tear-off folding in half.
CAN YOU TELL US A LITTLE BIT ABOUT THE PRIVATEER MOVEMENT "MAKE MOTOCROSS GREAT AGAIN?" Make Motocross Great Again is an idea from Mike Grondahl, he's been part owners of teams, he's still deeply involved with Geico Honda. He's been with them for 15 years or something like that, going back to when it was SoBe Honda. He knows the industry inside and out and he just wants to see little privateers, the "invisible people" he calls them, the families, the mechanics, the people that really make the sport go around get the recognition they deserve. His thing is that without privateers there would be no full gates, and with no full gates, no one shows up to watch.
WHAT ARE SOME CHANGES MIKE WOULD LIKE TO SEE? He wants to see us privateers get paid more and all around he wants to make it more about the little people. Mike just wants to see something change because it's been the same for years and years and it hasn't fully worked. At the end he wants to see us get paid what we deserve, get the recognition we deserve and grow the sport from the inside out. It's cool to see someone that is so high up in the industry who wants to support the little people that make the sport.
---
MAKE MOTOCROSS GREAT PETITION:
Make Motocross Great Again is now a change.org petition directed at the AMA (American Motorcyclist Association) created by Michael Grondahl, co-founder and former CEO of Planet Fitness and extreme motocross enthusiast. Mike Grondahl's passion for motocross has played huge roles with the likes of Geico Honda and even saving the Southwick track.
The Make Motocross Great Again petition on change.org reads:
The core of motocross since its inception has been the riders themselves, who know they wouldn't even have a chance to dream about two-wheeled glory without years of financial support from their families, countless hours of practice where the threat of injury looms just as large as it does at the pro level of any contact sport, and endless help from trusted friends turning wrenches on their rides along the way.
Unfortunately, the big sponsors and mega-teams that have turned motocross into a large-scale enterprise in corporate marketing, conveniently brush their stars aside as soon as they are unable to produce solid TV numbers. Sadly, one of the most common causes of a rider's demise is a life-changing injury. 

Here's where the sport fails its most important asset — the riders themselves. Unlike every other professional entity that produces the kind of return-on-investment that motocross does, there has never been any sort of health plan, severe injury insurance, or a union to protect jobs in the sport. Injured riders are even scrutinized as severely as Olympic athletes when it comes to something as simple as pain management options. It seems most things are stacked against the riders. 
It's time for motocross riders at all levels to organize and demand the rights they have earned through their own sacrifices. Imagine being able to demand more R&D from the manufacturers. Picture yourself having real input into future bike and chassis designs. How about racing with the ease of mind that if the unthinkable happens you and your family will be covered financially? These things can all happen with a unified, unbreakable front from the very people who create those incredible TV ratings. 
The time is now, We are calling on not only riders but the invisible heroes of the sport; Moms, Dads, families, mechanics, and everyone else that makes up the lifeblood of MX.
IF YOU WOULD LIKE TO SUPPORT THE MAKE MOTOCROSS GREAT AGAIN MOVEMENT, CLICK HERE