"JETT & HUNTER DON'T MAKE MANY MISTAKES…" NATE THRASHER INTERVIEW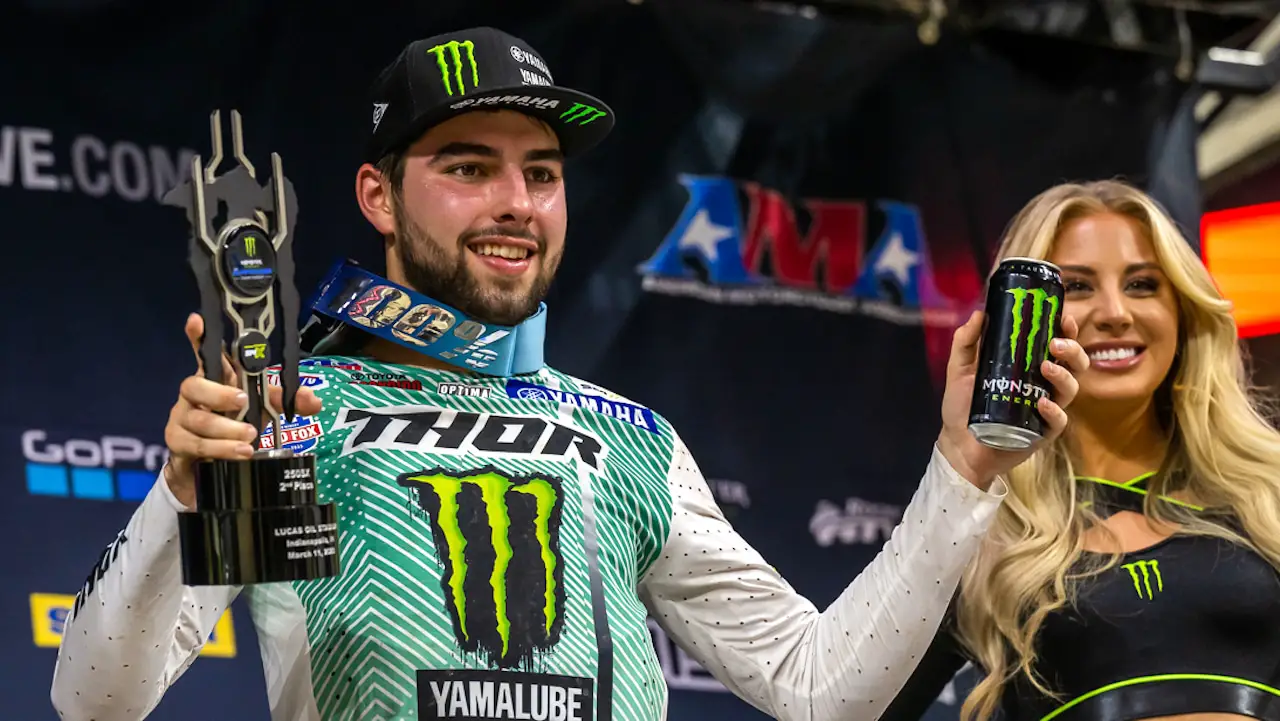 NATE THRASHER TALKS ON HIS 250SX EAST COAST BATTLES
Other than HRC Honda rider Hunter Lawrence, only Nate Thrasher has won a Main Event in the 2023 AMA East Coast 250 Supercross series. Nate won the Arlington, Texas, Triple Crown a month ago, and he almost won the Tampa Supercross as well. The 20-year-old also won two Supercross Mains back in 2021 at Atlanta 1 and Atlanta 3, during the adjusted pandemic schedule. But, up until this season, he has lacked some consistency. Third, in 250 East Championship points, Thrasher wants wins. He knows he is capable, and he knows who he needs to beat! We caught up with Monster Energy Star Racing Yamaha's Nate Thrasher as the team was packing up in Indianapolis.
By Jim Kimball
YOU HAVE WON RACES IN THE PAST, BUT THIS YEAR YOU HAVE BEEN MORE CONSISTENT, ON THE PODIUM IN THREE OUT OF FIVE RACES. IT'S A GOOD STEP FORWARD. Yes, for sure. Last year, we just did not have the speed, and coming into last year, I was dealing with some stuff injury-wise. For outdoors I was just getting back on the bike and just did not have the speed to run up front, week in and week out. I had some flashes here and there, but I would do a good heat race and a bad main. Or I would have a bad heat race and then a good main. I just wasn't on par with the guys that were winning and putting it on the box every weekend.
This is now my third year now doing it. In my rookie year, I was not even supposed to race Supercross, just race outdoors. But they threw me in last minute and just got my feet wet. I was doing good, but I was really struggling on the stadium tracks. But the Atlanta speedway was a little more comfortable. It is just because you grow up on outdoors in your amateur career. Atlanta is a lot different than Daytona. Daytona is more of an outdoor solid track, but Atlanta still has a lot of Supercross to it. It was a step in the right direction for sure, winning those two races.
Nate Thrasher's season started off rough with two crashes in the sand section at Houston, giving him 15th place.
HOW WAS LAST YEAR FOR YOU? Last year, I was riding well, and I should have podiumed a couple of times. I crashed out of a bunch of third places and some second's in there. Then, in Salt Lake, I finally put it all together and ended up winning. This year, I have felt like I have had the speed to win every weekend. Hunter is riding well, but we are right there. We are talking a tenth, half-tenth a lap. I need to be a little bit better, but we can still win races. Tonight, with a good start, I feel like if roles were switched, maybe I would have won tonight. It was a tough track, and I was already five seconds back. Once I got into second, I did everything I could but there was not much time being made up. We were just matching each other there for a while. If the roles were switched, maybe it would be different, but they weren't, so we will go to Detroit and hopefully get a better start and win.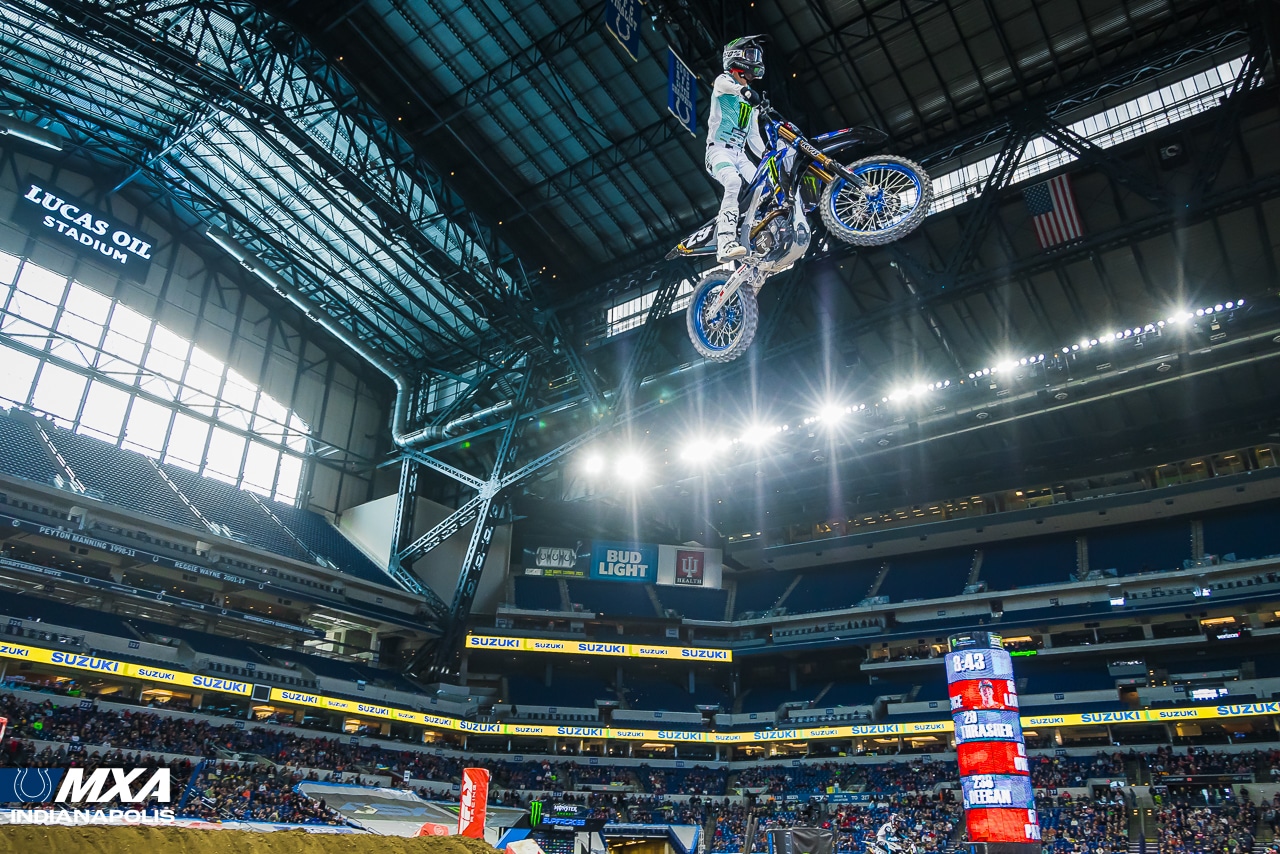 So far this season, Nate's results have been 15-2-1-10-2. His 10th at Daytona came after Hunter Lawrence took him out on the opening lap, and then he crashed all by himself later in the race, landing on a tough block. 
YOU STARTED A WAYS BACK TONIGHT. I WOULD LOVE TO SEE YOU GET THE HOLESHOT. For sure, I felt good tonight. In the heat race, after the restart, I was right behind him, just picking up where he was a little bit faster, and where he wasn't. It just comes down to getting a good start. I started at the bottom side of the top ten. I am happy that I passed my way into second, but he was still four or five seconds ahead—and it was tricky to catch up. We caught lappers so early and once you get into lappers, it is hard to make up a lot of time, especially tonight.
Normally, you hit lappers and the first guy is going to get slowed down. Tonight, they were just trying to survive, and we were too. There were a lot of blue flags out there tonight. I don't think the leader got hindered as badly as some races in the past.  
The top three riders in the 250 East Coast points chase mid-air. Hunter has a 22-point lead on Max Anstie and 32-point lead on Thrasher.
SOME OF THE MEDIA PORTRAYS A RIVALRY BETWEEN YOU AND HUNTER. IS THERE A LITTLE BIT OF BAD BLOOD? No bad blood. But it sucks what he did to me last weekend in Daytona. There is not much I could have done in that situation differently. The only thing I can be better at is getting the holeshot and being out front. I would have loved to have been up there to battle. I think I could have put on a good fight in Daytona for the win there. I was riding well and won the heat race. But it is racing, and we will be better from it. It would not have happened if I got a holeshot, so it falls back on me too.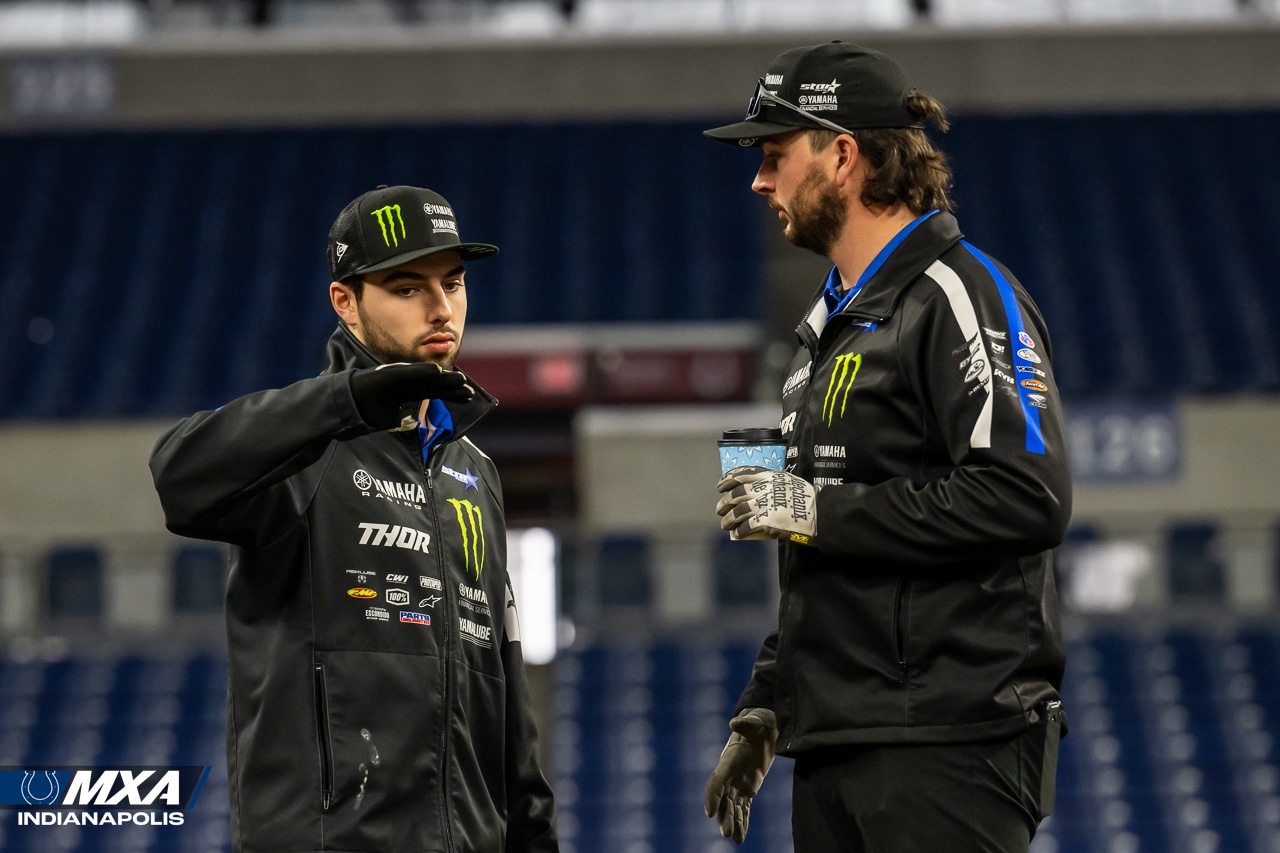 Nate and his mechanic walking the track at Indy. 
YOU'VE BEEN RIDING WITH AN INJURY TO YOUR KNEE. I HAVE TO BELIEVE IT IMPACTS YOU. I have no ACL anymore, so it is obviously not ideal. Racing-wise, it is obviously a hinder a little bit. I would not say it has changed any results for me, and during the night I think it has been fine. Practice-wise, I wish I could practice a little bit more. I am not able to ride that much during the week.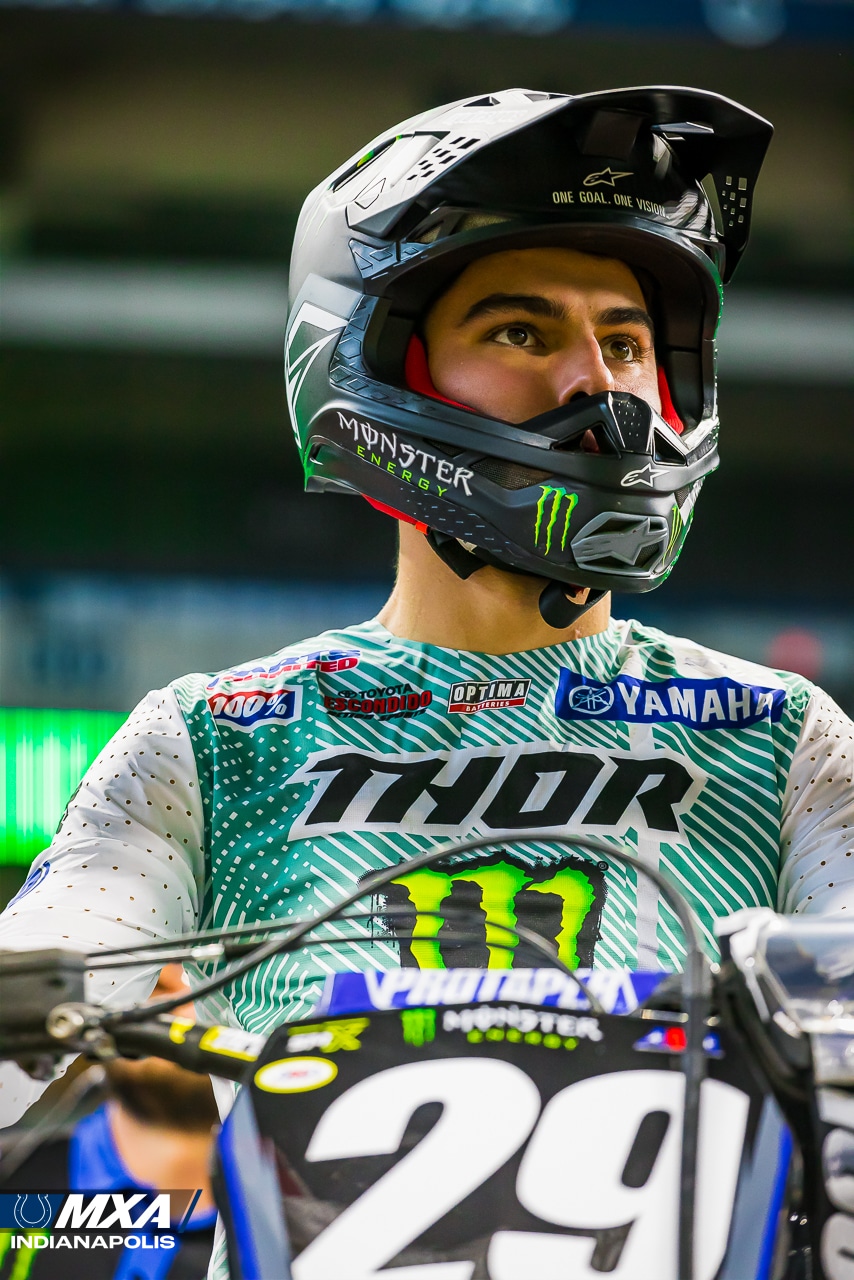 Detroit Supercross is up next, before the 250 East riders get a break and the 250 West riders line up at Seattle.
IS THERE ANYTHING BESIDES YOUR STARTING TECHNIQUE YOU NEED TO WORK ON? I think the starts are the key for me, and then in the middle of the race there. I feel like I have the opening speed faster than anybody and am the fastest guy in the first ten minutes of the race, but I need to be a little bit better at the end of the race. In Tampa, I was not riding at 100 percent there. It was literally a week after my ACL injury, and I did not have my full strength. If I was at my full strength, I would have won that handily. I was not going to lose that gap. But the body is getting more used to it, growing around it, and getting better. At Arlington, I felt like the fastest guy there all night, even in the first race which Hunter won—but I was right on him. I need to clean up the mistakes.

WHAT HAVE YOU NOTICED, RACING THIS CLOSE WITH HUNTER LAWRENCE? Hunter doesn't make many mistakes and that is one thing that I need to be a little better at. I am making too many mistakes at times. Jett and Hunter don't make many mistakes. Their riding is super solid, and they don't ever get sketchy out there. When I hang it out a little bit I am going to get a little sketchy. I think if I could back it down 5 percent and still go the same speed I go now, I feel like I would be in a lot better spot.
\