JETT LAWRENCE INTERVIEW: "I HAVE BEEN WAKING UP THINKING OF HIM WITH THE RED PLATE"
JETT LAWRENCE INTERVIEW: NEW 250 POINTS LEADER HEADING INTO THE FOX RACEWAY NATIONAL #2
Coming into Ironman, Honda's Jett Lawrence trailed 250 Championship points leader Justin Cooper by three-points. Coming out of the same race, Lawrence now leads Cooper by 11. It appeared that Cooper had nothing for Lawrence on the humid central Indiana afternoon. It was only Cooper's teammate at Monster Energy Star Racing Yamaha, Jeremy Martin that appeared to have the upper hand. However, just as Jeremy looked to be ready to make a pass on Jett, he went down. Jett Lawrence claimed a dominant 1-1 overall day and regained the red plate he held earlier in the year. The young Aussie treated his adoring fans to a great day, and it was always easy to find him on the track by the crowds cheering as he passed. On top of great racing, Jett Lawrence also donated his first place prize money to the flood struck city of Waverly, Tennessee, that resides near the Loretta Lynns Amateur Motocross facility. We caught up with a happy Jett Lawrence after the day ended for this interview here. 
Words by Jim Kimball
Photos by Honda
---
JETT, WHAT AN AWESOME DAY. YOU MUST BE ON TOP OF THE WORLD. It was a very good day and ended up going 1-1 in the qualifying and then winning both motos to take the overall race was a very good feeling obviously. And then to get the point lead back was really a great feeling.
Jett Lawrence rounds the first turn with Justin Cooper and Jeremy Martin to the inside. 
IT WAS SO HUMID TODAY. OBVIOUSLY, YOU HAVE GREAT FITNESS. You know, Johnny O'Mara puts us through the wringer with training. It is good to have someone there to really put their foot up your butt and make sure you do the work because days like this it really counts. I could have not done the work and I could have suffered today, but I put the work in, and it is good to see that it pays off on days like this.
THE BATTLE BETWEEN YOU AND JEREMY MARTIN WAS THE BEST BATTLE OF THE DAY. It was awesome. I love racing J-Mart because every time you are on the track with him, you know he is going to give 100 percent. He is the guy that motivates me every morning to go out and work my butt off to make sure that you have that edge on him. It was a shame how he had to go out today. I was really bummed. I was having a good battle in that first moto, so it sucks that he went down, but hopefully has a speedy recovery and we see him next year.
YOU HAD THE RED PLATE EARLY IN THE SEASON BUT HAVE BEEN CHASING JUSTIN COOPER FOR IT LATELY. IS IT BETTER TO BE THE CHASER OR CHASEE? I am not sure. I feel like this past week being down in points and being close makes me wake up early and go do my work. To make sure that I can take it to the weekend, do good, and try to get closer in points like I did today. This has been coming and I felt like this for a while. Ever since I lost that red plate, I have been waking up and the first thing I think of is him with the red plate and I hate it. I wake up and I go to train. It is the first thing that comes to my mind and all racers know this. We wake up and we live, breathe and eat motocross and training. I have been waking up and going straight to the gym doing my work and doing my motos because I know it will pay off one day, and I guess today was that day.
Jett Lawrence was calm, cool and collected after going 1-1 at Ironman and earning the 250 points lead. 
I COULD TELL WHERE YOU WERE ON THE TRACK JUST BY HEARING THE FANS. It is cool, but I don't think that I have anything special, really. I just act like myself, and I show affection to them because I know they would love that five or ten seconds they have with me. I know that it does not seem much for me, but I was in their shoes at some point in time and if I had a few seconds of a pro-athlete just saying hello to me, I would be pumped. So, I try to always think that and try to always give as much time as I can to my fans. It just shows off how big my support is from them. It is an awesome feeling having those guys behind you.
IT IS JUST AS YOU SAID, JETT, YOU ARE BEING YOURSELF, WHILE MANY OTHERS ARE NOT THAT WAY. I don't think many people can do it. I feel like there are some people that just like to keep to themselves. I am a quite an outgoing person and I just love having fun. The fans like that.
YOU DONATED YOUR WINNINGS FROM TODAY TO THE PEOPLE AFFECTED BY THE FLOOD IN WAVERLY, TENNESSEE.  That bonus money is going to a lot better cause than me. If it went to me, it is just going to go into my bank account, and I would probably spend it on something stupid. At least this money is going to the foundation and is going to be put to good use. I know that I probably can't help in many ways, but if this is the way I must help, I am going for sure try to help because there is a lot of people out there suffering that we do not know. We are out here having a great time racing dirt bike, so I want to make sure that those people know that I am thinking about them and praying for them.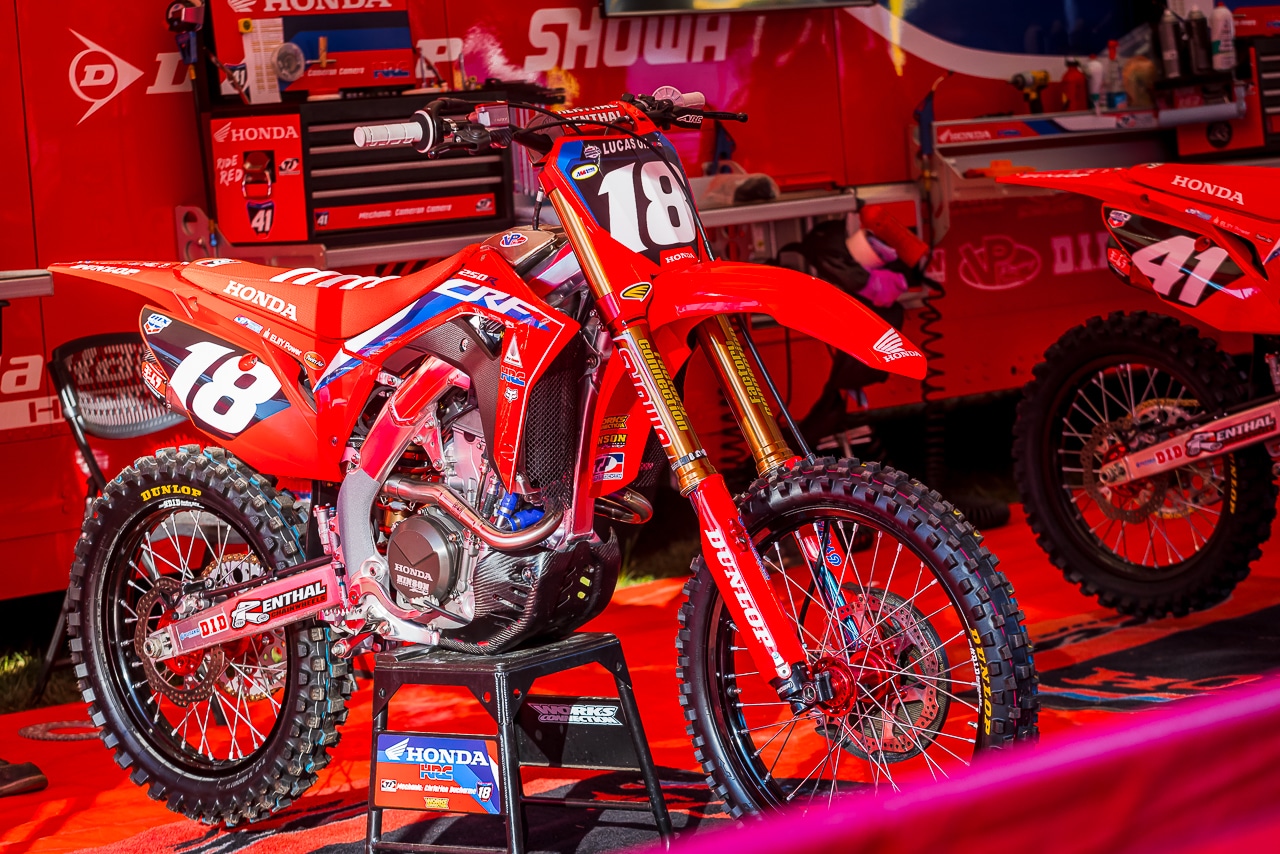 MXA recently posted our latest 'Inside the Pro's Bikes' video on Jett Lawrence's HRC Honda CRF250, click here to watch it. 
YOU HAD IT BEFORE BUT DOES THE RED PLATE CARRY ADDED PRESSURE? I have good people around me that make sure that I don't worry about it. I don't care if my number plates are red, black or white. I don't care what color they are, I am going out there and I am going to give my best and that is what I have been brought up to do and what my parents, like my father, Darren and my mom, they raised us to do. Even Hunter would say the same thing. They raised us well, and when we go to do something, we go do it 100 percent.
ANY SPECIAL PLANS FOR THESE NEXT TWO RACES? No, why would I try to fix something that is not broken? I had a good day today and I am going to probably stick with the same thing and keep working hard. I will be trying to do the same thing at these next two races.

DO YOU HAVE ANY TYPE OF LITTLE CELEBRATION AFTER SUCH A BIG DAY? My celebration will probably be going on a mountain bike ride with Johnny. That is his celebration for me, so probably no true celebration for me—straight back to work.
After Jeremy Martin went down in 250 moto 1, Jett Lawrence was able to create a sizable lead and ride on smoothly to win both motos.