JGR GETS SERIOUS WITH ITS 2018 RM-Z450 TESTING
Justin Bogle's 2018 RM-Z450. Note the whittled down head stay.
JGR is now the official Suzuki team, as all of the other Suzuki teams have closed their doors. The 450 riders will be Weston Peick and Justin Bogle.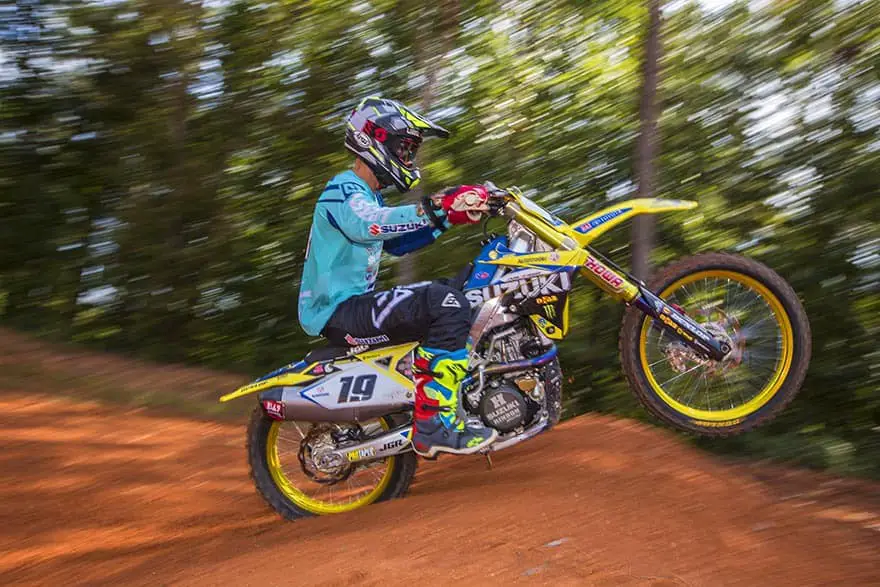 Justin Bogle getting his Suzuki primed to explode at the JGR track in North Carolina.
Justin Bogle had a breakout summer as part of the RCH Racing Suzuki squad, winning a moto at Thunder Valley, and then capturing his first 450 outdoor overall at Budds Creek. The Autotrader/Yoshimura/Suzuki Factory Racing Team is elated to welcome the Oklahoma native to the program. Here's a look at Bogle's #19 machine. You can actually buy a very close rendition of these graphics on our website (www.jgrmx.com).
Justin Bogle has spent the past two weeks testing at the top secret JGRMX facility in North Carolina. Bogle looked sharp and focused right out of the gate. Justin will spend the bulk of his time at Ricky Carmichael's GOAT Farm in Florida, while also traveling to JGRMX in North Carolina for test sessions.
The metal grate will be standard in AMA Supercross in 2018 and at the Monster Cup again.
Take a look at the metal grate behind the Risk Racing starting gate. Justin Bogle gets the perfect amount of traction during a practice start. These metal starting pads will be used for the Monster Energy Cup and beyond. JGRMX's new Supercross track was completed on Sunday, September 17th, and the riders started pounding laps the very next day. Weston Peick has basically lived at the JGRMX testing facility since.
Weston Peick practicing his starts.
The past two weeks have been busy. Suzuki Motor Corporation of America's MX Support Manager, Chris Wheeler, along with Suzuki of Japan's engine and chassis engineers, have been instrumental in helping the JGRMX team get prepared for the upcoming season. Support staff from Showa and Yoshimura have also helped out in a big way.
SUZUKI RM-Z INTO GRAPHICS: NEW DECALS FOR YOUR 'ZOOK
JGRMX Suzuki graphics kit.
Do you have a 2010-2018 Suzuki RM-Z250 or a 2008-2017 Suzuki RM-Z450, and want our 2018 race team intro graphics? We have you covered — literally. This was designed specifically for the announcement of our partnership with Suzuki Motor Corp of America, Inc. You can actually buy a very close rendition of these graphics on our website (www.jgrmx.com).