JIMMY MAC TREKS TO CANADA WITHOUT A SAFETY NET
"I didn't envy guys on the big adventure bikes or guys on dirt bikes. The DR-Z was easy to ride, sipped gas and had plenty of power even at the higher elevations. Nothing I encountered was too technical for my bike."
If you've read MXA for very long you've read about Jimmy Mac in Jody's Box. Jody isn't always kind to his old racing buddy, but Jimmy is always the nicest person you'd ever want to meet. A long time motorcycle industry insider, Jimmy worked for U.S. Suzuki, Bell Helmets, Husqvarna, JT Racing, Troy Lee Designs and was the editor of Motocross Journal, Road Bike Action, Mountain Bike Action Magazine—and was inducted into the Mountain Bike Hall of Fame in 2014. After his 40 year-career, Jimmy decided to retire a few years ago to enjoy mountain biking, traveling the country and off-road motorcycling.
A few weeks ago Jimmy Mac showed up in the pits at Glen Helen's REM races on a Suzuki DR-Z400S and said he was going to ride it on dirt roads from Oregon to Canada by himself. He came to see the MXA wrecking crew to have a few things straightened out on the DR-Z's suspension. Once his bike was fixed he rode off into the distance—When MXA didn't heard from him, Jody sent an email to Jimmy that said, "Dead or alive?"
The next day an email came from Jimmy that said, "I got lost a bunch of times. Doubled my mileage. But it was still good riding. Too many hours in the saddle, though. The DR-Z is perfect for these roads/trails. I come up on guys struggling on big Honda Africa Twins and BMWs. The suspension seems perfect. I bottomed out a couple of times today and the rear end didn't kick back. I'm by myself most of the day. It would be a lot more fun to ride with somebody. I feel good on the bike but the riding is tough on my butt."
A week later we checked in on Jimmy's website (www.jimmymacontwowheels.com) and he had posted a story of adventure. Here it is.
"I expected the route to be a lot of boring graded gravel roads. Wrong. Many miles of the Washington Backcountry Discovery Route are on primitive two-track and narrow natural-surface roads."
By Jim McIlvain
My plan for the future is to ride all or at least part of the the TransAmerica Trail next year, but what would be the best bike to undertake this adventure on?  While Husqvarna and KTM offer high-performance, dual-sport bikes, they require race-bike-level maintenance and would need expensive suspension mods to get the saddle down to a manageable height. I didn't want the weight and complexity of bikes like the BMW R 1250 GS Adventure or the KTM 1290 Super Adventure R. I needed something easy to maintain, comfortable to ride and light enough to pick it up if I tipped over. My choice ended up being a 2019 Suzuki DR-Z400S that I purchased from Chaparral Motorsports.
The TransAmerica Trail (TAT) is a big commitment, so it makes sense to try a few shakedown runs before attempting the big one. The Washington Backcountry Discovery Route seemed a logical choice to get a feel for what may be the challenges of riding the TAT. The Washington Backcountry Discovery Route is a little under 600 miles long. It starts on the Columbia River in Stevenson, Washington, and snakes its way to the secluded Canadian border crossing of Night Hawk (this busy crossing averages one car per hour). The route is broken into six days (or what I called "stages") with most stages ending near a town with food and lodging. The vast majority of the route is unpaved. My little DR-Z400S proved to be the perfect choice. It handled a slide area without breaking a sweat (a guy on a large adventure bike wouldn't attempt the crossing) and motored up a loose rocky section that I had been warned about by other riders.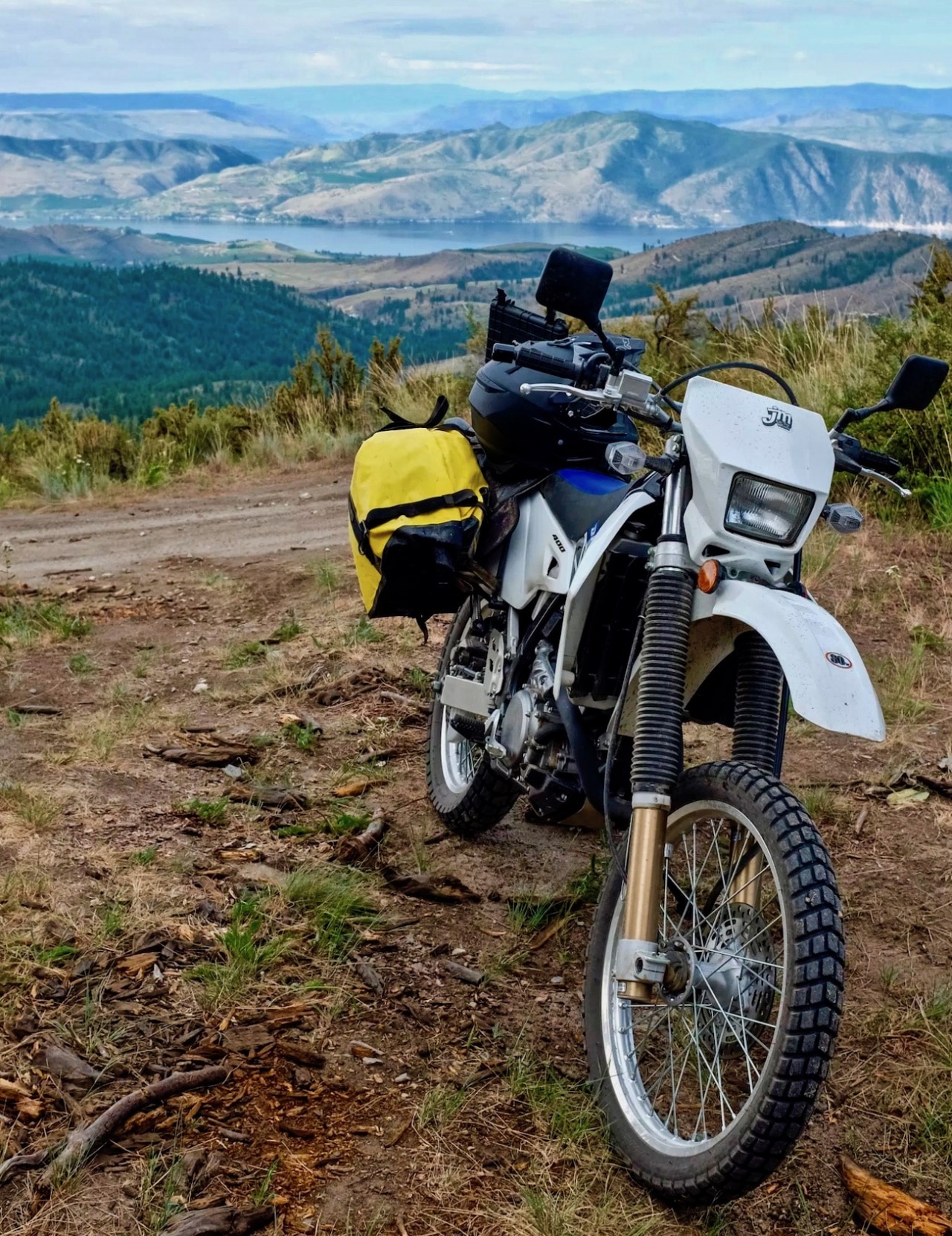 "Majestic views are common. The Washington Backcountry Discovery Route was well-routed by its creators. The object is to take your time and immerse yourself in the beauty and solitude that the route offers. Frequent stops and a comfortable pace are the way to go."
ANALOG VERSUS DIGITAL
I was determined to navigate the route with nothing more than a Butler Motorcycle Map. Big mistake. Once on the route, a number of things became clear; People love to vandalize National Forest Road signage, foliage grows over National Forest Road signs and there are hundreds of intersections that don't have any National Forest Road signs. It was common to ride up to an intersection that had three, four or five trail options, with none of them marked. Yes, I took a few wrong turns. Basic map orienteering kept me pointed in the right direction (but I got lost enough times to know that turning around and starting all over was the best plan when in doubt). To do this right, you need a route-loaded GPS to make all the correct turns. After doubling the mileage of stage 1 from taking wrong turns, it was clear a GPS would have been a welcomed addition.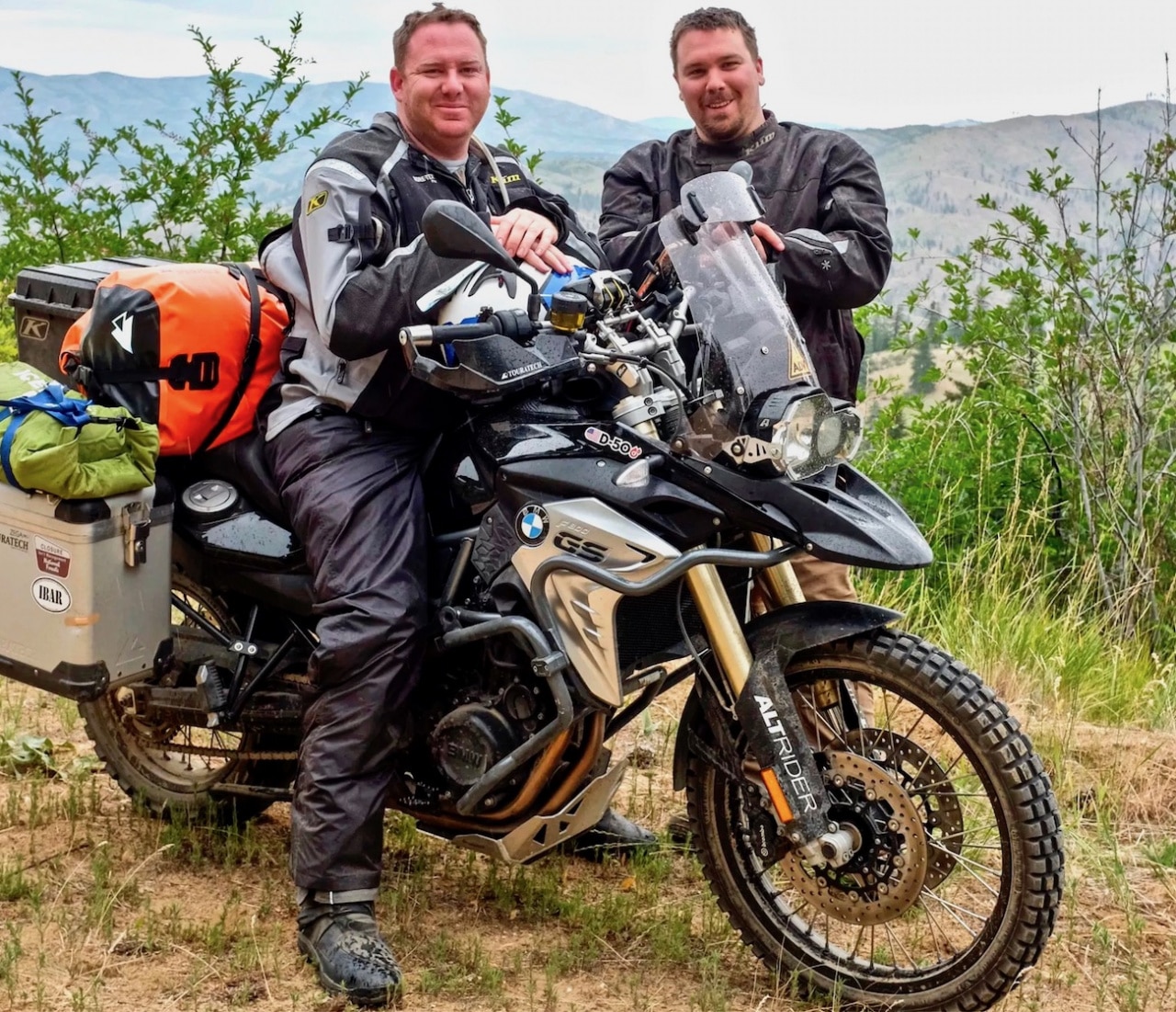 "I ran into Peter and Kendall along the way—they chose to camp along the route. These two guys helped me tremendously by leaving correct-turn clues when they got ahead of me. We rode almost a full day together. Plenty of riders camp along the route. I chose to stay in hotels and enjoy a shower at the end of long days in the saddle."
THE CAMARADERIE
The Washington Backcountry Discovery Route is something that needs to be shared. A few friends who had planned to ride with me all bailed on me, so I reluctantly ventured out alone. It was not uncommon to ride for hours without seeing soul, but there were a few times when I bumped into other riders and 4×4 drivers along the route. The riders I met were super helpful. They invited and encouraged me to ride along with them. By the way, they all had GPS units. Sharing the views, the awesome roads and not making wrong turns made the company of others a real plus.
"I carried extra fuel in my saddlebags but never needed it. The DR-Z got great gas mileage and there always seemed to be available pump gas before I ever needed to switch to reserve."
The way I attacked the Washington Backcountry Discovery Route was to haul my bike to Stevenson, Washington, leave my truck at a hotel (the awesome Carson Ridge Luxury Cabins), ride the six stages and then take a few days to ride back to Stevenson on paved roadways. The ride back was the least enjoyable part of the trip. After six days of riding almost solo, sharing the road with minivans, pickups and semi-trucks was a rude awakening. And the high winds around Ellensburg, Washington, produced the most challenging riding conditions of the adventure. If the DR-Z had a GPS, I would have considered riding the route backwards and avoiding the highways completely.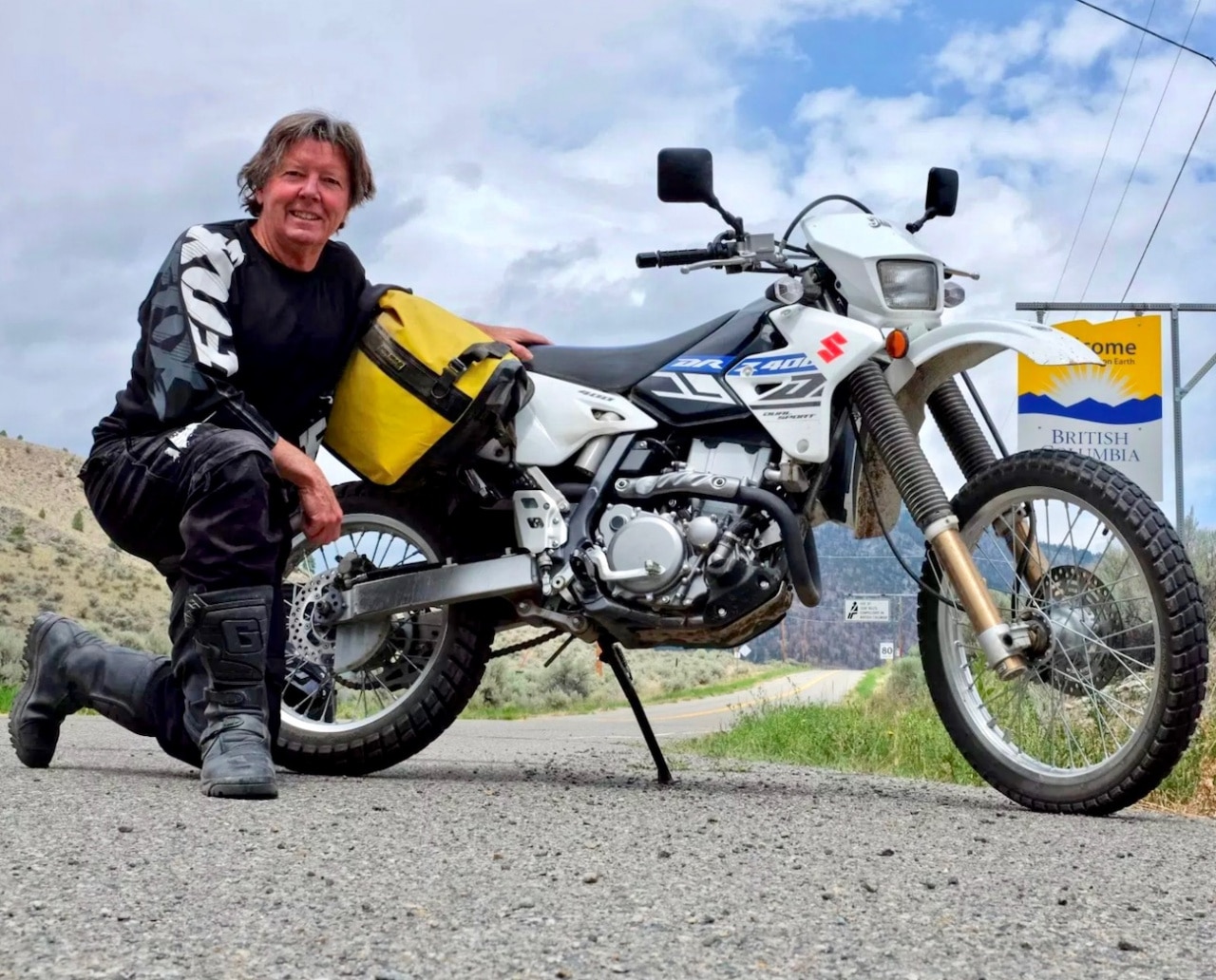 "Crossing into Canada was gratifying. The solo adventure pushed me out of my comfort zone and there is nothing wrong with that. I'm already planning my next adventure."
There are 10 Backcountry Discovery Routes (and more in development) and after completing the Washington route, I can't wait to ride a bunch more. If you enjoy getting away from the crowds and love riding off-road, I highly recommend trying the Washington Backcountry Discovery Route.
To learn more about Jimmy Mac, go to www.jimmymacontwowheels.com