MXA'S TWO-STROKE FILES: JODY WEISEL'S KTM 250SX

Click on images to enlarge
I'm not going to tell you how to build the perfect KTM 250SX two-stroke. Instead, my intention was to build the perfect KTM 250SX for me. The two aren't necessarily mutually exclusive, because what's perfect for me may not be your cup of tea. I admit to not being as fast, smart, handsome or thin as I once was, thus I don't need the bike I needed during my glory days. I'm more realistic—not just about my skill level, but about my hopes and dreams. As I worked on my 2015 KTM 250SX in the weeks leading up to the World Two-Stroke Championships, my hopes were to get it done in time, and my dream was to have a good time on it.
Before I even started, I made a list of my priorities. As a man who has tested motorcycles his whole life, I have a vast reservoir of worthless knowledge that I can draw on whenever I find myself looking for direction. Luckily, I have built full-race KTM two-strokes before, and from that learning experience I know where I went wrong in the past. I wanted to take the good, throw out the bad and build what I hoped would be the best possible bike for me.
Here is how I did it and the steps I took. You don't have to do what I did and you certainly don't have to spend this kind of money to get a great KTM 250SX two-stroke. But, I did follow all of these steps.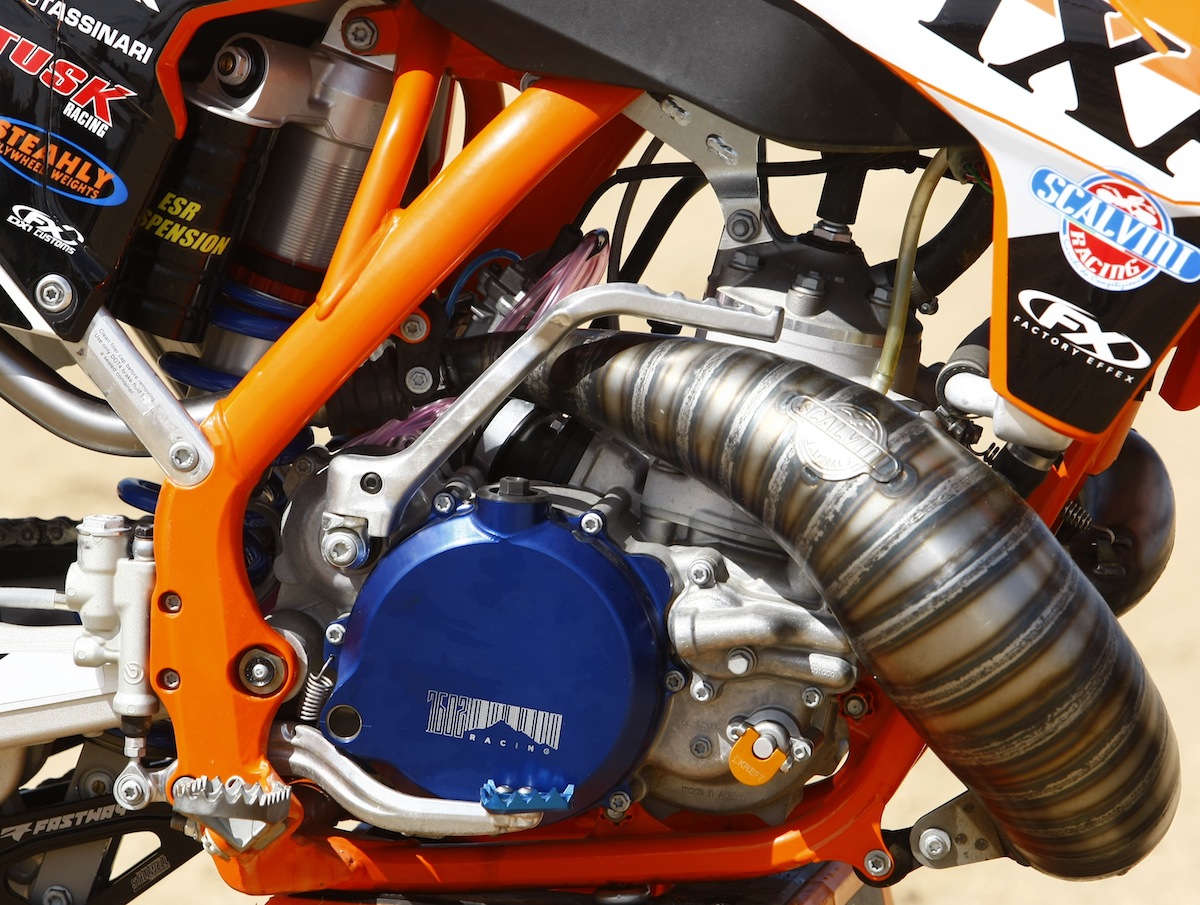 The Scalvini pipe is a work of art.
(1) Engine. I didn't want a fire-breathing dragon of an engine, so I crossed porting, head mods and exotic crank mods off my wish list. Instead, I made four significant changes to my 250SX engine. First, I replaced the stock KTM Moto Tassinari-replica reed block with a real, true-to-life Moto Tassinari reed cage. It produced better power, and it made my psyche feel good to go to the source instead of using the clone. Second, I installed a Kreft PowerDial. It allowed for instantaneous adjustments of the KTM power valve system. It let me dial in the kind of powerband I wanted with a twist of my wrist. Third, I had a choice of exhaust pipes and mufflers. I elected to go with a Scalvini system. I knew that the pipe worked well, but the big attraction was how cool its hand-rolled cones looked. It made me feel like I was 20 again…or was that 30? I even ran Scalvini's carbon fiber muffler, even though I've never had any luck with Scalvini mufflers power-wise. But, if I was in for a penny, I was in for a pound. Fourth, I ran a 9-ounce Steahly bolt-on flywheel weight. Flywheel weights don't cost any horsepower, but they mellow out the aggressive two-stroke bark to help meter out the power in a more manageable fashion. Good stuff.
Dick's Racing Taper bored our carb out to a 36mm to 39mm and added Intellajet—which is like a two-stroke supercharger on top
(2) Carb mods. I could have lived happily ever after with the stock 36mm Keihin carb, but I would have been nagged by the fact that I was leaving a lot of power on the table. I sent the stock carb to Dick Wilk at Dick's Racing and had him taper-bore it out to 39mm and install an Intelajet system. He also put a Quad Flow torque wing in the downdraft side of the carb's Venturi to increase fuel velocity. It has four balanced wings that completely eliminate turbulence in the most critical area of the intake tract. The Intelajet system is like a supercharger at high rpm, plus it comes with a dial that I get to turn. Given that the stock KTM 250SX carb is smaller than the one on the KTM 125SX, I felt compelled to get on the same terms as a Yamaha YZ250 carb-wise. And with Intelajet, I knew I would have turbo boost on hand.
Earl Shuler at ESR did the suspension setup. Unlike most suspesion tuners, earl specializes in making the forks anfd shock plush and forgiving.
(3) Forks and shock. Although I run stiffer suspension settings than my slow friends, I don't run settings anywhere as stiff as my fast friends. It's no secret that most suspension gurus are house-proud of how well their suspension damping works for AMA Pros. I don't care. He ain't me. I elected to have my forks and shock done by Earl Shuler Racing (ESR). Why? Because ESR makes the plushest KTM suspension on the planet. Earl is famous in offroad, but is unknown in motocross. His setup is so plush that AMA Pros would hate it—and to me that is a recommendation as good as gold.

(4) Shock linkage. Did you know that the KTM two-strokes are taller than the KTM four-strokes? I did, and I think that the KTM four-strokes are too tall for my 5-foot-8 stature. Did you also know that none of the purveyors of after-market shock linkages made long link arms for the 2015 KTM? At first I considered having ESR shorten my shock while they had it apart, but I nixed that idea because I wanted a bolt-on product that could be easily swapped out. That's when Daryl Ecklund told me that all of his EnduroCross buddies run the Fastway link. Not only is it longer, but it is adjustable to four different lengths (by swapping out inserts). The EnduroCross guys use it, not just because it is longer, but because it is designed to work as a glide guard for the KTM's lower shock linkage. It helps them hit rocks and logs with impunity. There are no logs where I race, but sometimes I leave the track at speed, so I could live with the EnduroCross capabilities to bring the rear end down a 1/2 inch.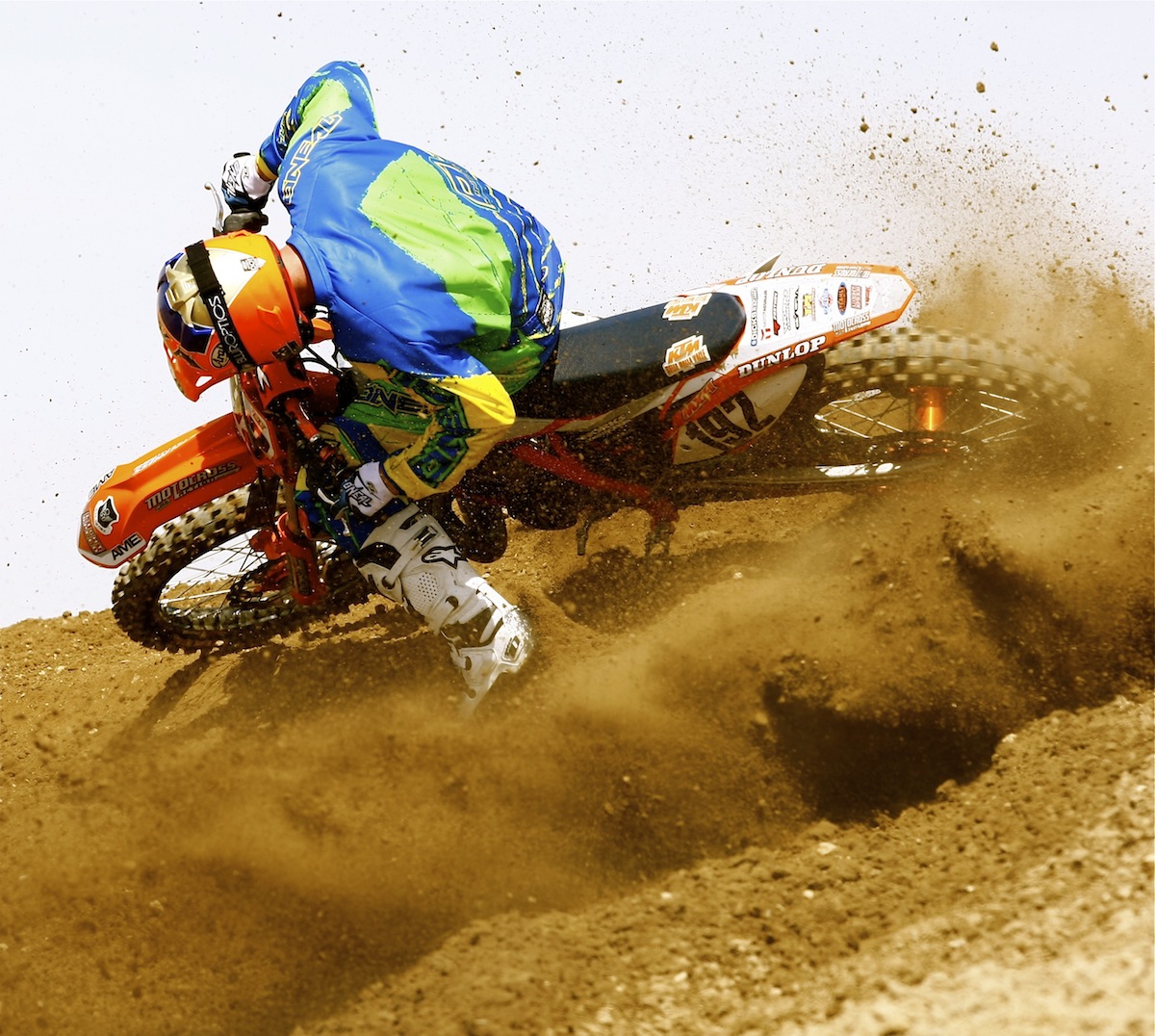 (5) Wheels. I've never been hard on wheels, except for stock Maico 490 wheels, which would unlace in one lap at Saddleback, but I have grown tired of chasing KTM spokes and sprocket bolts every weekend of my life. I have had great luck with Tusk Impact wheels. When I got my first set a couple years ago, I gave them to my AMA Pro friends to let them ride with them for several months. That way I could see what would happen—before it happened to me. Fortunately, nothing happened. The wheels were amazingly good. Best of all, a complete set of Tusk wheels retails for $550. This is the motocross wheel value of the century. They are perfect for my needs and allowed me to keep my stock KTM wheels equipped with hard track tires. I ran a Dunlop MX32 front and rear on the Tusk wheels.
NK SFS triple clamps have air shocks underthe bar mounts to provide some travel at the bars without an flex at your hands.
(6) Triple clamps. I love NK SFS triple clamps. I have a set on my KTM 350SXF that I got straight off of Ryan Dungey's works bike. The SFS triple clamps have two small air shocks that double as the handlebar mounts. They offer a 1/2 inch of suspension travel for the bars. I've been using them since October of 2013, and they have been bulletproof. Since I got my first pair, which needed spacers to sleeve down Dungey's works forks for my stock forks, NK has made two major upgrades. So, I ordered the latest set for my 250SX. Compared to my old set, the new clamps have redesigned webbing that provides more strength and progressive damping for better control. There is a learning curve to getting the correct air pressure, but once you find it, all you have to do is reset it before each race. I run 70 psi.
(7) Grips. My grip of choice is A'ME's full-waffle clamp-on grip. It has a very sweet full-waffle pattern that combines the feel of soft-compound rubber with low profile waffles.

(8) Seat foam. I didn't make any concessions for weight savings on my KTM 250SX. At 218 pounds, it is already light compared to a four-stroke. But, the Fastway shock linkage was 6 ounces heavier than the stock shock linkage, so I decided that the easiest way to get that weight back was with Think seat foam. This lightweight, space-age, NASA-derived foam saves 1 pound on a KTM seat. I put it under my old blue Selle Dalla Valle Factory Edition seat cover.
(9) Plastic. My KTM 250SX was pretty new, but it had some hard races on it. I opted to replace all of the plastic with a Cycra PowerFlow body kit. To me, this falls under the old adage that if you are going to replace a part, replace it with something that offers better performance. The PowerFlow kit includes a front fender, front number plate, rear fender and radiator wings that allow more airflow to the radiators. The Cycra design channels the air through special ducts and vents to help cool your engine. The kit is available in orange, black or white. I opted for orange and had Factory Effex make the corporate MXA two-stroke graphics. All in all, it went together with ease.
(10) Miscellaneous. I always install a 7602 Racing aluminum brake-pedal tip on my KTMs. Not only does it have more aggressive teeth and a brake snake hole, but it has three adjustable mounting positions. I much prefer to have a longer brake pedal so I can have a more tactile feel for my foot. I went for the blue brake tip to match the blue-anodized clutch cover that also came from 7602. Another part that I run on all my KTMs is a Works Connection steering stem nut. Although it comes in anodized colors, I really prefer it because it has a hole drilled in it for the fuel vent hose. Routing the fuel vent hose through the stem bolt allows it to stay twist-free, unlike KTM's mounting system. As a matter of personal preference, I run Neken Pichon bend handlebars. Neken manufactures the stock KTM handlebars and offers a wide variety of bends, including stock, in an array of cool colors. Plus, they have a very trick rubberized crossbar pad that fits into a plastic tray to keep it in place—should my face ever need to rest against it at speed. I upgraded from the stock chain guide to a TM Designworks GP chain guide. History has proven that TM Designworks chain guides are bulletproof, and it is another part that was handed down to me from Daryl Ecklund's EnduroCross and Baja buddies.
Final words. If you analyze what I did to my KTM 250SX, I made it a little faster, then I mellowed it out. I softened the front and stiffened the rear. All a matter of personal taste, but as with any KTM, the most important mods I made were to the suspension. If you get the suspension to work, you can live without all of the other stuff. Now, those are words to live by.
SUPPLIER CONTACTS
www.mototassinari.com
www.dicksracing.com
www.steahly.com
www.scalvinipipes.com
www.kreftmoto.com
www.tuskoffroad.com
www.nk-neken.com
www.amegrips.com
www.thinktechnology.com
www.cycraracing.com
www.worksconnection.com
www.tmdesignworks.com
www.factoryeffex.com
www.7602racing.com
ESR: (760) 949-0942