JODY'S 15 WAYS TO FIX PROFESSIONAL MOTOCROSS
When the 2022 AMA Pro season starts at Anaheim 1 they are going to have a few new rules. Good enough, but Jody has a few rule changes in mind that might take the sport to the next level.
BY JODY WEISEL

As a helpful fan of the AMA, a friend of the sanctioning bodies and a big supporter of bureaucrats at all levels of Pro racing, here are 15 AMA rule changes that I think need to be implemented immediately. I'm sure my buddies at the AMA will get right on it.
(1) RULE BOOK:
The AMA reserves the right to change, alter or revise any rule at any time—even if they changed, revised and altered that same rule last week. Actually, this idea doesn't make much sense since the AMA doesn't enforce any of its rules without first consulting Honda.
(2) FAMILY FRIENDLY:
Family spectator sections are alcohol-free zone in a stadium for families, but they just make it seem like less people are drunk—but we know that drunks love to pretend that they aren't drunk—which means that the Family spectator section could be filled with 78 percent drunken fools, while the rest of the stadium is 80 percent polluted. Instead, the race promoters should reserved special sections for the alcohol-soaked crowd. Jack Daniels or Budweiser would kill to sponsor it. To encourage the drunken fans to sit in this section, it will be mandatory that the drunk section fans to be allowed to throw bottles at the riders they don't like.
(3) STAR POWER:
Any TV celebrity from the Disney Channel, WB or Bravo should be automatically seeded into any race they want. This goes double for rappers, anyone that Taylor Swift wrote a song about, and Kim Kardashian. However, if any celebrity does race, throwing bottles will not be limited to the drunk section only.
What Supercross needs is a "debris on  the track" flag like NASCAR.
(4) FULL COURSE YELLOW:
The fans should get to vote at least once during a race to throw a full-course yellow flag. It will be the motocross version of NASCAR's "debris on the track" flag—in that it is just an artificial trick to ramp up TV ratings. The full-course yellow insures that if someone the fans don't like is winning (like Dylan Ferrandis), they can reset the field and start over. This is only being done for the good of the sport and in no way punishes riders who might have questioned AMA competence earlier in the day.
Sponsored riders holding cans on the podium is normal—drinking it, not so much.
(5) ENERGY DRINKS:
If a rider shows up on the podium holding an energy drink can, it has to contain the actual energy drink (instead of water). And, he must take a big gulp without making a sour-puss face before being allowed to thrust it into the TV camera shot. The FCC could get involved by filing a false advertising claims against riders who promote products that their trainers would never let them use.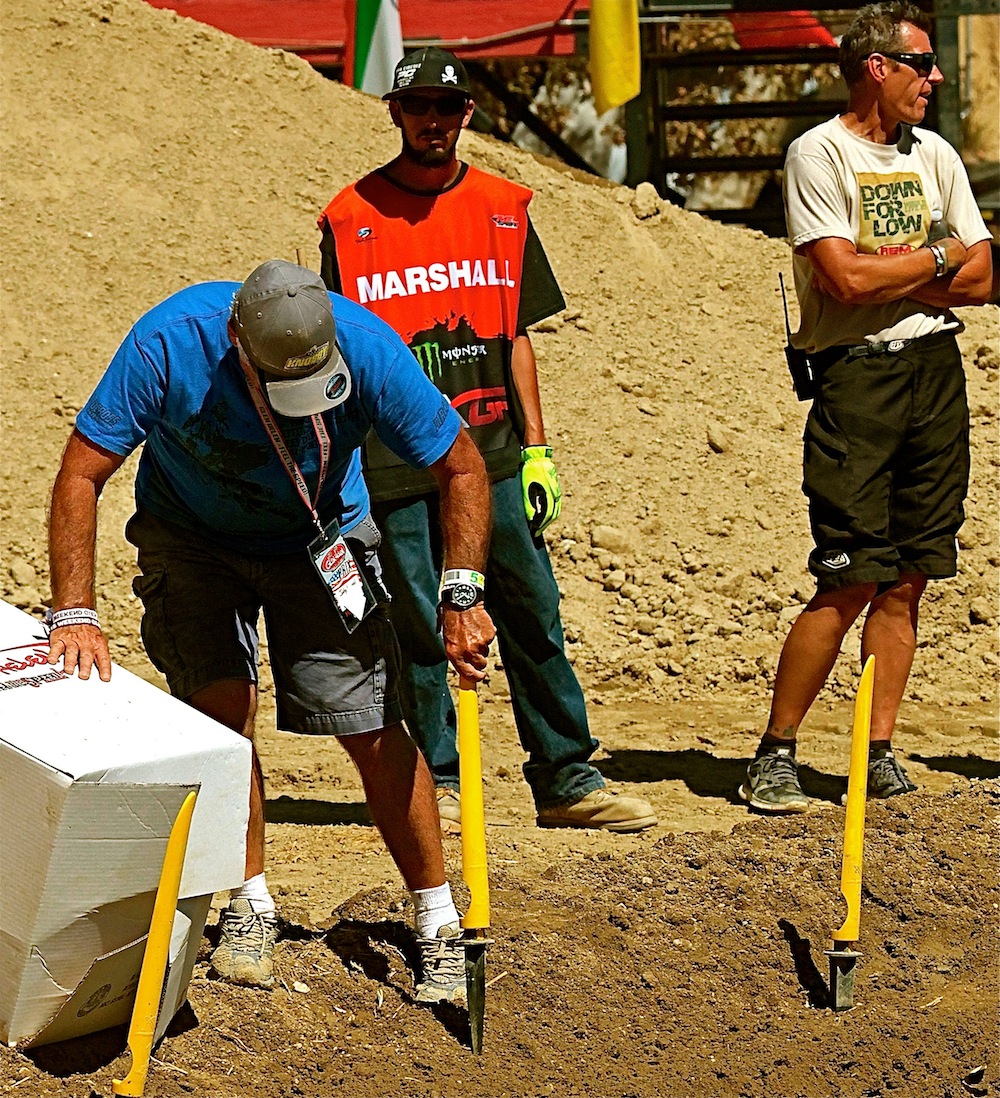 This is Jody at the Glen Helen National replacing yellow markers that the riders ignored.
(6) YELLOW MARKERS:
It's obvious that the goofy yellow track markers at the AMA Nationals don't keep the riders on the track, so, the AMA should award the rider who hits the most yellow markers with one bonus AMA point (two points if he has any of them stuck in his swingarm).

(7) GRAND MARSHALL:
Any spectator who has been involved in a drunken brawl with Josh Hansen, got punched by Tyler Bowers, had Chad Reed post an angry tweet about them, had a French guy criticize their determination or got talked into doing a back flip by Josh Hill, will be declared the "Grand Marshall" of the next event. His official duties will be to hold up enough fingers so that the girl in the leather bondage costume won't drop the 30-second board in four seconds.
If his parents had money, this rider could have afforded to go to Loretta Lynn and make it into the big show. He never got the chance, but word on the street is that there is a Bulldog on the circuit who is tearing it up. 
(8) EQUAL RIGHTS:
Since Ringling Bros and Barnum & Bailey are the owners of the Supercross series, at least one starting spot in every main event should be reserved for any chimp, ape, baboon or simian that can ride a bike. This is called "cross promotion."
Glen Helen is too big. It covers too much ground. It's too much like a real motocross track. TV wants to use less cameras. The powers-that-be want the riders to come around more often. The days of real motocross tracks are numbered.
(9) TRACK LENGTH:
Outdoor tracks should be shortened to one-minute lap times and Supercross tracks to 15 seconds. That way the sponsors, who spend cold hard cash buying repeater banner advertising, will get them seen more often. That's called "lining your pockets."
(10) FAVORITISM:
Any rider required to wear a court-ordered electronic ankle bracelet by a judge should be seeded directly into the main event. If it's for a felony, he should be allowed to start in front of the gate.
(11) DIRTY WORDS:
Any team manager who is upset with the way the sport is being run is free to call whatever AMA official he is talking to at the time "Giuseppe."
Davey and Jody agree on lots of things—take blue shirts as an example.
(12) COLOR COMMENTARY:
The TV color commentators will, at every race: A) Start every other sentence with "Back in my day." B) Mistakenly call Justin Hill "Josh Hill" at least once. C) Get Ellen DeGeneres to join them in the booth. D) Butcher the English language bad enough that their fourth grade teacher will try to have their passing grade revoked from Richard Ira Bong Elementary School. D) Have the "three keys to the race" played continuously on a loop at all 17 rounds—because they never change.
(13) PARTY IN THE PITS:
At least 15 minutes of every TV show will have a special behind-the-scenes segment with gratuitous shots of scantily-clad Monster Girls, Rockstar girls, Muscle Milk girls or any girl who is seated in the drunk section. This segment will officially be called "I Hope My Mother Isn't Watching."
Monster has cans filled with water just in case the riders on the podium are tempted to take a drink.
(14) WORKS BIKES:
Let's drop the production rule. Why? It only keeps the privateers on production bikes. It hasn't stopped the factory teams from using one-off gearboxes, creative valves angles, non-production heads and different frame geometries. In fact, let's drop the 450cc displacement limit, the weight limit, the 16-year-old rule and the drug policy—those things are holding us back. What this sport needs is a hopped-up, 15-year-old, high school dropout on 180-pound CRF690.
(15) FORMULA:
Since the sanctioning bodies have neutered the two-stroke to such great effect, they should do the same thing to the four-stroke by writing favorable rules for 1000cc diesel engines in the 450 class. I hear Volkswagen has some really good stuff available that they can't use in automobiles anymore.