JODY'S MOST UNFORGETTABLE MEN OF MOTOCROSS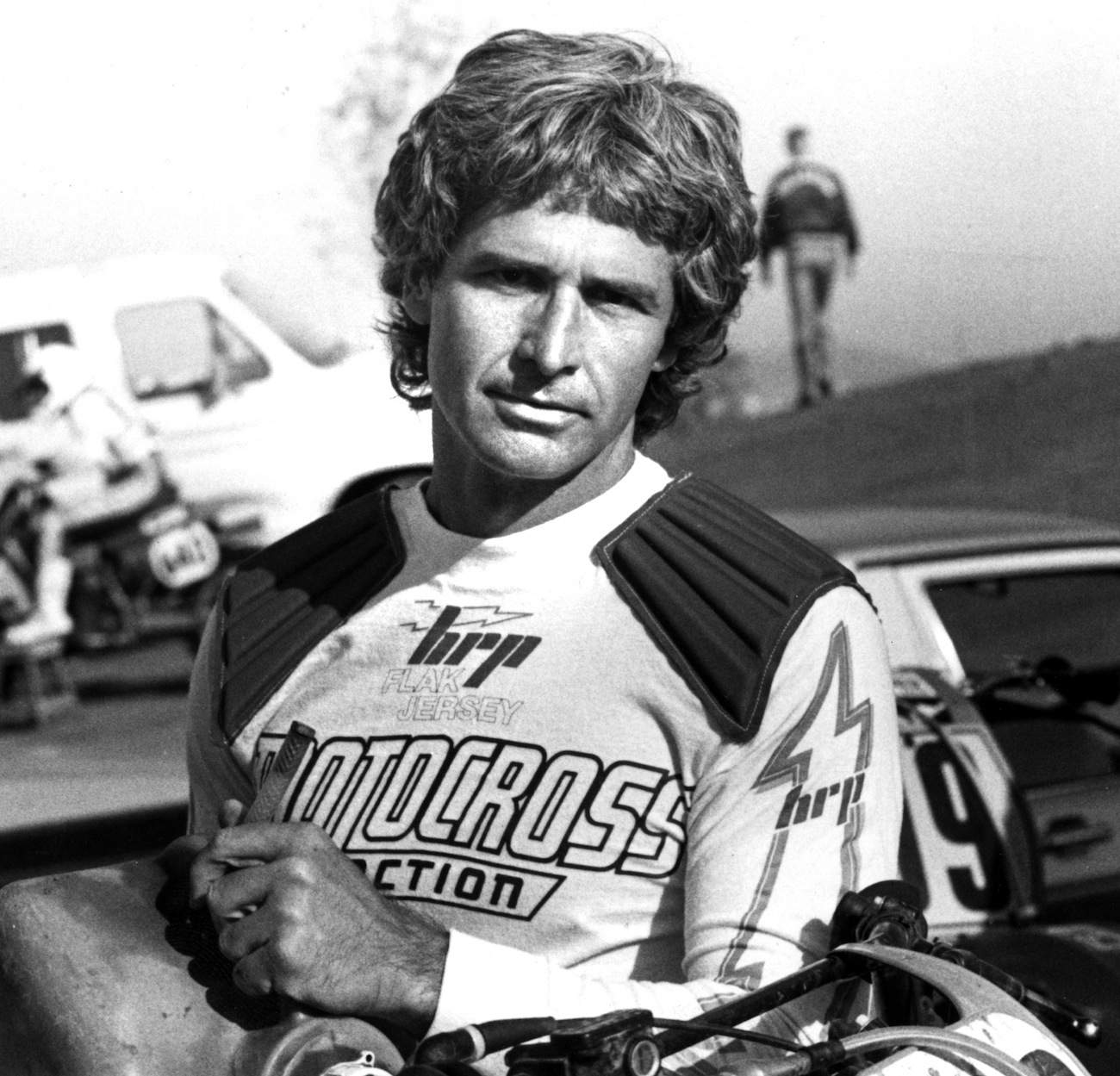 Jody at Saddleback—where he spent 5 days a week.
By Jody Weisel
Every decade of motocross, it seems, produces a handful of people that epitomize the era, time, culture and sport. During the founding years of American motocross, it was the iron men of motocross: Adolf Weil, Roger DeCoster and Ake Jonsson. In the '70s, it was the Hurricane, the Pistol from Bristol and the Jammer. In the '80s, it was the gang from the El Cajon Zone: Glover, Johnson and Lechien. The '90s brought us the paradoxical mix of party boys (Jeremy McGrath and Jeff Emig) along with the dour (Jeff Stanton and Mike LaRocco). Then came the RC era which was punctuated by total dominance.
Who knows what the future holds. And strangely, the future determines the past. Today's modern heroes aren't really bona fide icons until they stand the test of time. Those who are celebrated today might well be little more than footnotes to the next generation. How can that happen? Speed can't be captured in a bottle. Victories can't be compared across the schism of time. To be famous after the lime has dwindled from the footlights, you have to have been more than just special: you have to have been memorable.
This is personal to me (and I won't take offense if you don't get the emotional connection), but I wanted to celebrate people whose names may not pack the record books, but whose personalities, quirkiness, niceness, charm or wit made them more than memorable; it made them unforgettable. This is my story about them.
TONY DISTEFANO
A true friend takes every opportunity to make fun of you. Jody and Tony goof around a few days after Tony's career ending eye injury.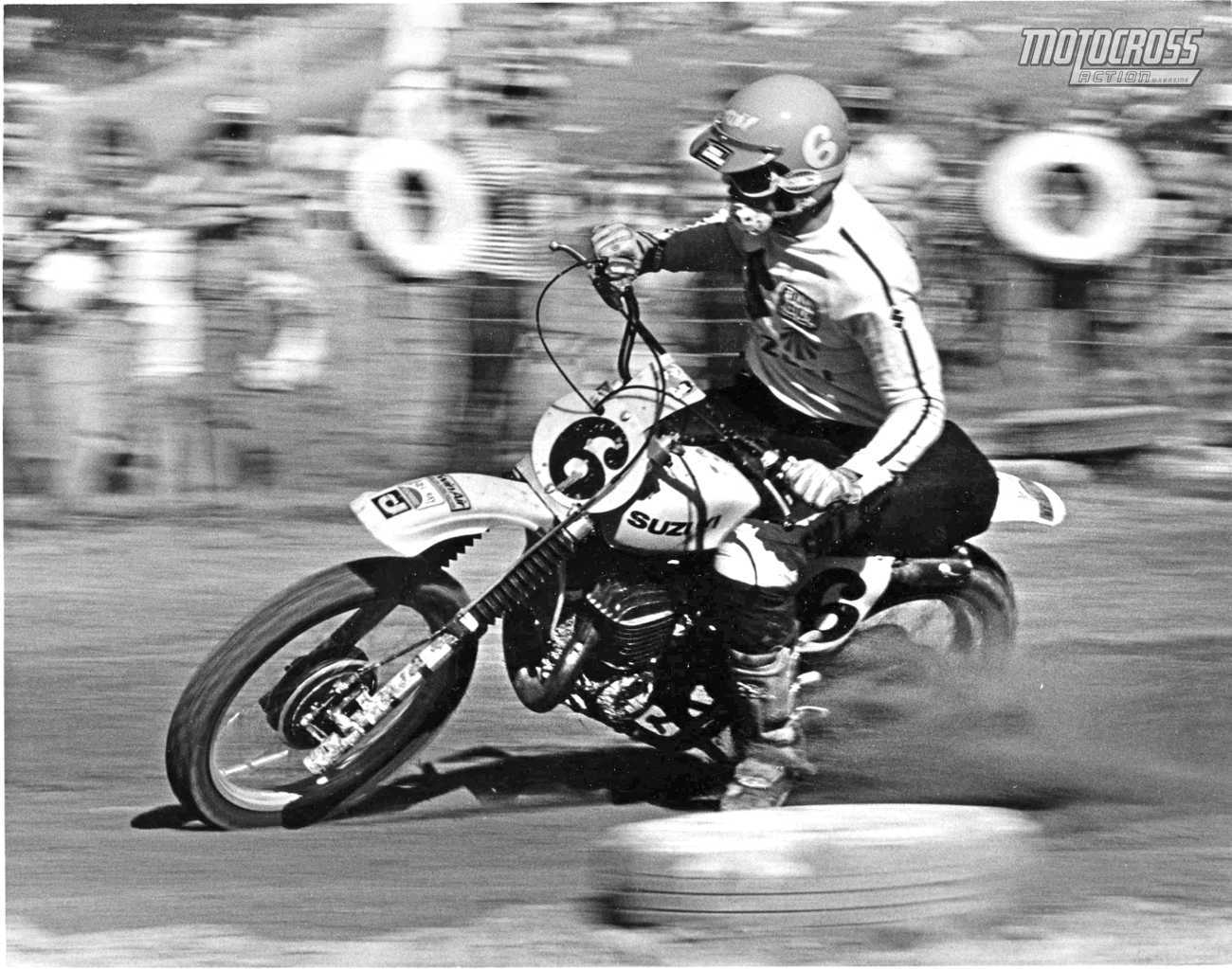 Tony DiStefano was considered to be an unstylish rider in an era of super smooth stars. When criticized, Tony would say, "I'll do my styling at the bank."
"Three-time 250 Champion Tony D had a signature line of gear, boots and goggles. The only problem was that it wasn't Tony's actual signature. It was created by an advertising agency. So, instead of writing the fake signature, Tony had small decals made with his photo and the ad agency's signature on them. When a kid would ask for his autograph, Tony would hand them a sticker. If they complained, Tony would say, 'Hey, that sticker cost me a dime. I'm not just giving you my autograph. I'm paying for it.'"
"GASSIN' GAYLON MOSIER
Gassin' Gaylon made everything look effortless.
"In the old days we drove to the AMA Nationals, so we had lots of time to waste between races. Once Steve Stackable, Gaylon Mosier (shown) and I went tubing on Lake Austin behind Steve's boat. Steve would crank the ski boat so hard that the tube would go supersonic. I gave up, but Gaylon insisted that he could hang onto the truck tube at speeds of up of 60 mph. He was skipping across the water like a stone, but no matter how hard he tried, he couldn't hang on. He had so many bruises that he could barely ride on the weekend."
ROGER DECOSTER
Roger is The Man.
"Roger has laser focus in everything he does. He isn't a perfectionist, but does a pretty good imitation of one. I have a lot of memories of Roger because he has managed to stay at the top of the sport for 50 years and he worked at MXA for a couple years (between Team Honda and Team Suzuki). One time Roger and I went riding at Gillman Hot Springs with his son Kitch and, between riding sessions, Roger would work on Kitch's CR85… and he actually broke out a pack to Q-tips to clean the spokes. I knew in that moment that any dreams I ever had to being a World Champion had been a waste of time. Why? I didn't have one-tenth of Roger's attention to detail. He applies that focus to everything he does."
DANNY DOSS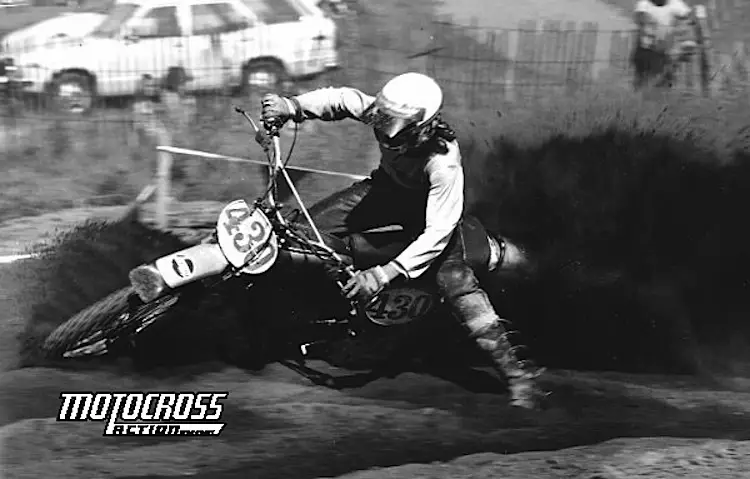 Danny Doss.
"Every kid in North Texas wished that they could ride as fast as Danny Doss. His jersey said, "Genuine Banke" (a reference to his exhaust pipe). As a guy who grew up racing at Pecan Valley, Strawberry Hill, Mosier Valley, Paradise Valley and Lake Whitney, my hero was Danny Doss. When the Honda CR125 came out in 1974, Doss rode the silver CR with such precision that he could shift it through the gears without the spectators being able to detect when he shifted. It was a thing of beauty to watch him ride. Unfortunately, a few years later I was working on my bike in the pits at Azle when I heard a loud pop. It was Doss' leg. I never knew that a breaking bone could be so loud."
MIKE GOODWIN
Bob Hannah and AMA head honcho Mike DiPrete chat with Mike Goodwin (behind the wheel of his Clenet).
"I don't know if Mike Goodwin killed Mickey Thompson or not. I like to think that he didn't because I had more than my small share of arguments with him. I do know that Goodwin was a carnival barker in the P.T. Barnum mold. He used to come up to the MXA offices and take me to lunch in his ridiculous cars (often wearing a full length fur coat). I don't like to think that someone I spent time with was a murderer. It should be noted that I did think that Mike was a shyster. but since he didn't hide it, it wasn't an issue. Once at the Rose Bowl Supercross the riders complained that the whoops were too tough. Goodwin listened for a few minutes and then walked away. Ten minutes later Goodwin came back on a bike and rode through the whoops. And, it should be noted, that Mike could barely ride. It stopped the complaining."
RICKY JOHNSON
"Ricky was a child prodigy…but one without a 125 National Championship. He has all the others though. Ricky Johnson, David Gerig, Marty Moates, Matt Tedder, Jim Tarantino and I went to Mexico back in 1980 to race the Mexican Supercross Championships. Ricky was probably 14 when this photo was taken, but he was a natural. A couple years later, at the height of his fame, I brought my mother to the Anaheim Supercross and introduced her to Ricky. Later I got her track side for one of the races. Every lap, Ricky would whip his bike sideways and point to her as he passed. She was thrilled, and it is more telling about what kind of person Ricky is than any of his victories."
LANCE "THE TRANCE" MOOREWOOD
Lance and Jody were MXA's powerhouse test riders in the 1980s. Here, they should be working, but instead are trying to throw each other down a cliff.
"Lance Moorewood was blazing fast on a motorcycle…he just wasn't serious. Lance and I lived about five blocks away from each other in Norwalk, California, in the '70s. To test bikes for MXA Lance and I would race four times a week (which you could do back in the heyday). Lance made history on one of these treks when he won all four Pro classes (100, 125, 250 and 500) on the same day. He raced and won on a YZ100, RM125, CR250 and Husqvarna 390 at Escape Country. It's a record that can never be broken because they dropped the 100cc Pro class and the 500c Pro class a few years later. Lance had the talent to be a National Champion, but he was too busy having fun."
LARRY BROOKS

Hard to believe, Larry Brooks became an MXA test rider at the age of 15.
"Larry Brooks replaced Lance Moorewood as MXA's chief test rider in the mid-80s and has been an MXA wrecking crew member ever since. Larry's best chance to win a 125 National came to n1ught when the top-end rod bearing on his CR125 exploded in the second moto while he was leading (and winning the overall). Larry felt bad, but he felt a lot worse when I showed him an article in MXA from the month before that said that Honda had recalled the stock 11-roller CR125 top-end bearing that was in his bike because they were blowing up. Larry went on to a long and successful career in racing before becoming a team manager and team owner. Today he is running his own amateur Suzuki team in SoCal."
JIM TARANTINO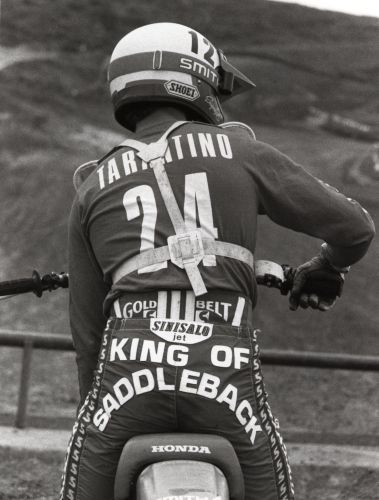 Being the King of Saddleback meant something in the 1980s.

"Being the "King of Saddleback" was important. Only one man could claim the title and to keep it you had to beat the factory guys. I used to go to Saddleback Park every day of the week. I loved racing there and was proud to be a "Saddleback Specialist." The only guy who was there more than me was Jim Tarantino. Jim was the "King of Saddleback," a title he earned by beating every factory star who came to the track. Jim was a great rider, but a lousy mechanic. One day we stopped to talk at the top of Webco Hill and I looked down at Jim's forks and told him that he had a couple bolts missing from his triple clamps. He thanked me and went back to riding."
PRESTON PETTY

Preston and Jody: It was, after all, the Age of Aquarius.

"Preston Petty was a genius on a motorcycle. More importantly, he was a genius off one. He is a unique and honest individual. I once asked Preston why he always wore blue mechanic's coveralls everywhere he went. I thought he was going to say that it was a fashion choice. Instead, he said it allowed him to walk through airports without security asking him what he was doing (that was obviously in a pre-9/11 world). This photo of Preston and I is at the Superbowl of Motocross in 1983. We were hamming it up for the camera. Amazingly, when I saw Preston at the 2016 Glen Helen 250/450 National 33 years later, he did the exact same thing. Priceless."
CHUCK "FEETS" MINERT
This is a photo of Feets Minert at the 1970 Saddleback Trans-AMA. Feets also went to England to race motocross back in the 1960s.

This is a photo of Feets Minert in 1951 on his BSA. Feets raced his first race in 1947 and by the time this photo was shot, in the era of the pudding bowl helmet, he was a super star of American racing.

This is a photo of Feets Minert at Glen Helen Raceway at 81 years old.
"Sadly, you can't see Feets racing at Glen Helen anymore, he retired at 83 and passed away at 85, but over his 67-year racing career thousands of people got to see him race. When I was wet behind the ears, Feets Minert was a factory BSA rider. When I was still in elementary school he was winning the biggest races in America (including the 1956 Catalina Grand Prix). When he was in his 40s he was still racing the Pro class at Saddleback. When I finally beat him I was as proud as punch (it didn't matter to me that he was over 50 at the time). In the ensuing years he taught me two things—how to fly aerobatic airplanes and to never try to pass him on the outside."
HORST LEITNER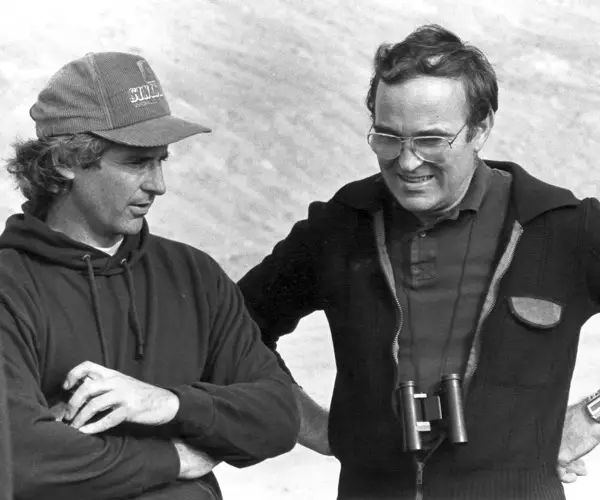 Jody and Horst discussing the engineering principles of modern suspension design at Saddleback in 1984. Well, Horst is discussing them and Jody is thinking about what he will have for lunch.

Before Horst moved to America, his brothers and he were successful Austrian motorcycle racers in the glory days of the big British four-strokes.
Now and then. Take any star of today and add 40 years and it equals this photo of the young and old Horst Leitner.
"Horst Leitner was an Austrian 500 GP rider with a boatload of ISDT medals, but he was actually an educated engineer. He didn't waste his time building bridges or designing I-beams, instead Horst applied his thoughts to motorcycles. After moving to the USA, Horst unleashed a host of inventions on the motorcycle world. Sadly, the motorcycle industry wasn't ready for Horst's ideas. But, rather than give up, he decided that if he couldn't get Honda, Yamaha, Suzuki or Kawasaki to try his inventions, he would build his own brand and go into competition against them. Horst's ATK motorcycle company was a success (at one time the fifth biggest selling motocross brand in the USA). He built full-race, four-stroke motocross bikes that bristled with his ideas—including backwards facing brake pedals, air filters in the gas tank, countershaft disc brake, no-link single-sided rear suspension, mechanically assisted clutch pull and anti-chain-torque suspension. Eventually Horst sold ATK and moved on to popularize mountain bike suspension with his Horst Link. He has since sold his company, AMP Research, and retired."
GARY OGDEN

Gary Ogden.
"Gary Ogden was handsome, fast and gregarious…he just wasn't lucky. Today, Gary is a LifeFlight helicopter pilot , but in the '70s he was an up-and-coming AMA star. Gary suffered two careering-damaging setbacks in the '80s. First, he broke his leg, and then, when it healed, he broke the same leg in the same spot the first time he went riding after getting the cast off. Second, Gary's biggest win came at an AMA National Support class race, but when he stopped before the finish line to let his mechanic ride under the checkered flag with him he was disqualified by the AMA for endangering a spectator."
ZAPATA ESPINOZA

"True democracy, in order to be effective demands dissent, and if the government is wrong it's our duty to correct it."
"I knew Zap from when he was skipping classes to go to Saddleback and Indian Dunes to practice. Later, when he went to law school in NorCal, the MXA gang would take a spare bike with us to Mammoth, the Winter Series or the Trans-Cal in case he wanted to skip more classes to race. When he decided that he didn't want to be a lawyer, I hired him to work at MXA. Of course, I told him that he had to cut back on the earrings, mohawks, piercings and tattoos. I think he got a couple more the next day to commemorate getting the job."
JOHNNY O'MARA

Johnny O.
"Awesome photo—Johnny O and the Mugen. Before Johnny became a star, he was an MXA test rider (you can see his MXA logo on his jersey in the above photo). Johnny hit the big-time when he got a Mugen ride from MXA columnist and Baja star Al Baker. But Johnny almost blew the deal when he and a buddy (speedway star Rick Miller) were fooling around at a construction site near Indian Dunes. Johnny was jumping up and down on a sheet of plywood laying on the ground. The only problem was that the plywood was covering a ten-foot-deep hole in the ground. Kaboom! Johnny broke his arm."
WYMAN PRIDDY

If Wyman Priddy didn't get the holeshot, the starting gate must have malfunctioned.
"In a state that produced Kent Howerton, Steve Stackable and Steve Wise, the late Wyman Priddy (68) was the big hero. Plus, he was incredibly nice. One time Wyman offered me a ride back to Texas in his van from the 1975 Herman, Nebraska, National. I declined and told him how I was a "big-shot" and was going to fly home instead of driving for 16 hours. Surprise; my flight home included five stops in Hicksville, two mail planes, one closed airport, and it took 18 hours."
JEFF HICKS

Jeff Hicks.

"Jeff Hicks and I are blood brothers…at least I bled. Back in the '80s the word "manfriend" hadn't been coined, but if it had been Jeff Hicks would have been considered Bob Hannah's manfriend. Bob Hannah always looked out for close friends like Eddie Cole, John Savitski, Bevo Forti and Jeff Hicks. Jeff Hicks was cool, and I don't hold it against him that I cut my thumb off in the rear sprocket of his CR250. He even took the time to look around on the ground to see if he could find it. No big deal; they sewed it back on."
TROY LEE

Troy and his Pro Circuit Husky.
"Back in the day Troy Lee was a certifiable maniac. Today, he can't get a certificate, but he's still crazy. To most of you Troy Lee is a clothing designer, but to those who knew him before he became famous he was a maniac. As a young Pro he rode with reckless abandon, but was good enough to get a ride on the Pro Circuit Husqvarna team. Someday you'll have to ask him about getting arrested for stealing the front yard of a Marie Callender's restaurant or being thrown off an airliner for sleeping in the overhead bin."
DANNY "MAGOO" CHANDLER

Magoo was as nice, friendly and easy-going as he looked.
"The first time I saw Magoo ride was at the old Hangtown track in 1976. He was riding a KTM 125 and had to stand on a milk crate to get on it. I had never seen anyone ride the way Magoo rode. He just turned it wide open and hung on: half the time he was flailing behind the bike. A year later he showed up at the Superbowl of Motocross on a KTM 400. He lost control over "Insanity Ridge," rocketed into the infield, scattered track workers, ripped out 100 feet of banner and never shut off. Maybe that was the problem. After Danny was paralyzed he led a hard-scrabble life. I called him every month, and he wasn't always easy to track down, right up to the month he died. Magoo deserved so much more out of life."
BOB HANNAH

Bob Hannah was the fittest rider in the 1970s.
"The most likable thing about Bob Hannah is that he doesn't care if he is likable. He says whatever is on his mind and, in today's era of canned speeches, he would last about ten minutes before being muzzled by the factory. In my opinion, Bob Hannah wasn't the greatest rider of all time, but he was the greatest hanger-on of all time. It didn't matter if his feet were over his head or if he was riding sidesaddle up the Peristyle or if he had over-jumped by 50 feet; nothing could shake Bob's grip from his machine."
GARY JONES

Four-time 250 Champion Gary Jones.
"Gary Jones has seen the sport from every angle. The four-time Champ in the only rider to invest his own money into his own brand of motorcycle. I lived down the street from four-time 250 National Champion Gary Jones for two decades. We hung out together and went to the races together since the '70s. Gary is hilarious and is full of stories about the good old days. The other day he was telling someone how he won the famous $100,000 Evel Knievel Snake River Canyon Motocross in 1974. He went into great detail. After Gary was through telling the story and the other person walked away, I said to him, "Gary, you didn't win Snake River. Marty Tripes won." Gary looked at me and said, "Yeah, you and I know that, but that guy didn't."
STEVE GALL & ANTHONY GUNTER

Before there was a Chad Reed, there was Gall and Gunter.

"These two Aussies came to stay with me…even though I didn't know them. Steve (front) and Anthony (back) were the heroes of Australian motocross way before there was a Chad Reed. I didn't know Australian Champions Steve Gall and Anthony Gunter from Adam, but when they showed up in America to race, the next thing I knew they were living in my house. Worse yet, they kept coming back every year (and Steve would bring a different group of young Aussie racers with him every time). Amazingly, all these years later Steve (left) still calls every time he comes to the States, but he isn't sleeping in my spare room any more."
DENNIS KANEGAE

Denny, which I pronounce as Den-neee.

"Banzai Kanagae" was a Class C dirt tracker. Dennis didn't get the nickname because he was any good at it. When Dennis was Yamaha's PR guy I talked him into letting me shoot some spy photos of a works Yamaha when the race team was at lunch before the Atlanta Supercross (he held the bike after I promised that his face wouldn't show). When the magazine with the photos came out showing all the details of the secret workings, Yamaha team manager Kenny Clark rushed into Dennis' office and yelled, "Somehow MXA got photos of our works bike. We've got a spy in the company. I'm going to find the guy who is wearing the watch in the photo and fire him." When Kenny left, Dennis took his expensive watch off and threw it away."
TED MOOREWOOD

Ted Moorewood.

"The late Ted Moorewood was responsible for giving credibility to amateur racing. Forget everything you think you know about minicycle racing and big amateur events. The late Ted Moorewood literally invented big-time minicycle racing. Not only did he run his Cycle Town motorcycle shop and Myerscough Machines, but with the NMA Ted, and partner Ron Hendrickson, moved minicycle racing out of the lawn-mower-engine era into the limelight. The NMA's World Mini Grand Prix and Ponca City Grand Nationals were earthshaking ideas back in the '70s. Every big amateur race of today is a clone of Ted's original idea."
MITCH PAYTON

Mitch Payton.

"I first met Mitch at Saddleback in 1978. He was totally dedicated to building hot-rod bikes even back then. One day a guy asked me how long Mitch Payton had been in a wheelchair. I looked at the guy like he was crazy, but then I remembered that Mitch actually was in a wheelchair. Mitch defies description—except on a police blotter."
MIKE GUERRA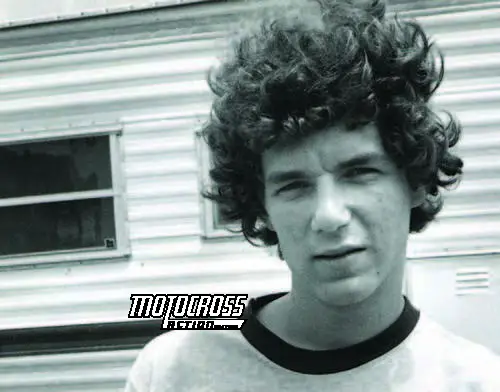 The other Mike Guerra.

"Mike Guerra didn't really find his speed until he moved to Europe to raced the 250 GPs. In 1982 Mike Guerra and I spent a week at the Husqvarna factory in Husqvarna, Sweden. When we toured the factory, our guide showed us a worker straightening tubing. Then, down the next aisle we saw a worker putting forks together. Then, down the next aisle we watched a guy put bearings in swingarms. Then, down the next aisle we realized that it was the same guy at every station. Husky had the guy running ahead of us to make the Husqvarna factory look busy."
ALAN OLSON

Al Olson.

"Al Olson has wrenched for Steve Lamson, Doug Dubach, Craig Anderson, Chad Reed and many others during his racing and wrenching career. Everybody has to hang out with somebody and for 30 years my racing pal was Alan Olson. I first met him when he was an aspiring Saddleback Pro, but our friendship blossomed when we both turned Vet Pro and raced together over 100 times a year. Al would go on to win the World Vet Championship 9 times and become a factory mechanic. In fact, he was the "AMA Mechanic of the Year" when he wrenched for Chad Reed at Team Yamaha. Today, he plays golf. I will still talk to him, but my opinion of golf has been ruined."