JODY'S RACING SCRAPBOOK: THESE SNAPSHOTS COULD BE YOURS

One man's motocross scrapbook is pretty much the same as anothers. They all hold gems from the past, precious moments lost in time.
We hope that a look at Jody's old photos will remind you of your good old days. Take this photo above for example. Jody's Hodaka Super Rat barely used any Hodaka parts. The shocks were by Arnaco. The leading link forks and two-inch longer swingarm were from Swenco. The radial top-end was from Eric Jenson. The seat was as small as it could be. The gas tank was an aftermarket fiberglass CZ tank. The fenders were from Preston Petty. The aluminum air filter canister, GEM reed valve and down pipe were all popular mods. The frame wouldn't be used on a mountain bike today. As for the haircut…what can we say, it was the 1970s.

The transition from 1960's motocross to the early 1970's was a cool time. The leading link forks were a throwback to the 1960s, as were the quilted leather pants, but the Full Bore boots, Hallman Flip Visor, face fender, rubber flap on the front fender, Curnutt shocks on the forks and Impact plastic levers spoke of the next generation. This photo was shot at a cross-country race at a track outside of Denton, Texas.

This is a late 1960s Hodaka road racer. Jody originally raced in 100 GP, but he eventually had E.C. Birt build a big-bore engine so that he could race it in the 125 GP class (before there was a 125cc Hodaka). Jody always insisted that it was faster as a 100 than it was as a 125. Eventually, Jody outfitted it with an E.C. Birt big-bore top end and ran it in 200 GP. Jody still has this bike in his barn five decades later. He lengthened the swingarm every time he made the engine bigger.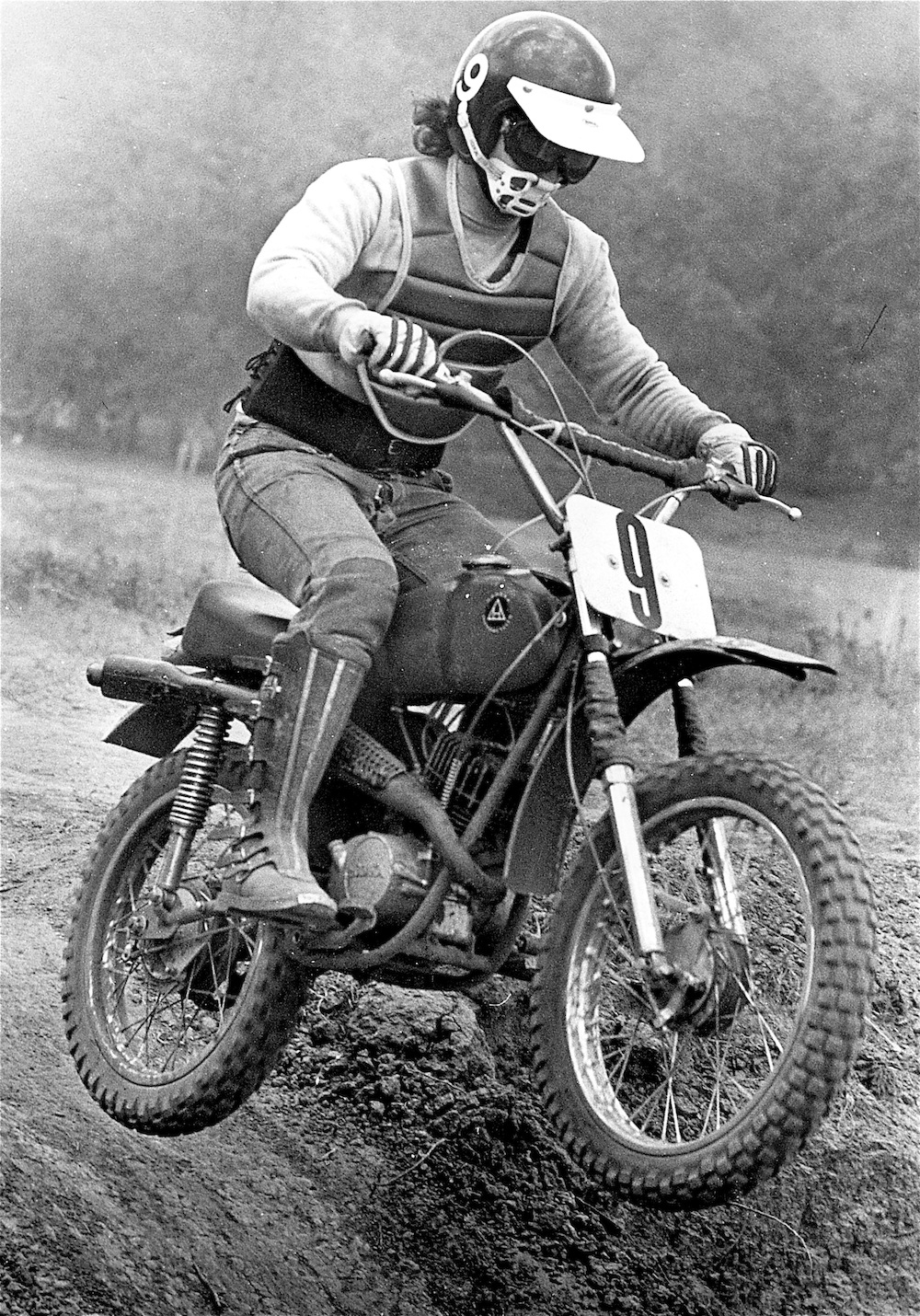 This photo was shot at a Texas cross-country race 48 years ago. Racing was more laid-back in those days, which explains the jeans and sweat shirt. Note the Webco cylinder head, nylon fork guards, rubber mud flap, fiberglass gas tank, rubber tank commander goggles with the strap inside the helmet (since the elastic was too weak if left outside) and the stock flamethrower exhaust pipe. Just so you know, the fork legs were 30mm in diameter — today's fork legs are 48mm — and the fork sliders aren't aluminum, they are steel. The front wheel is a 19-incher and Jody ran the largest front tire available at the time—it's only a little smaller than the rear 18-inch tire.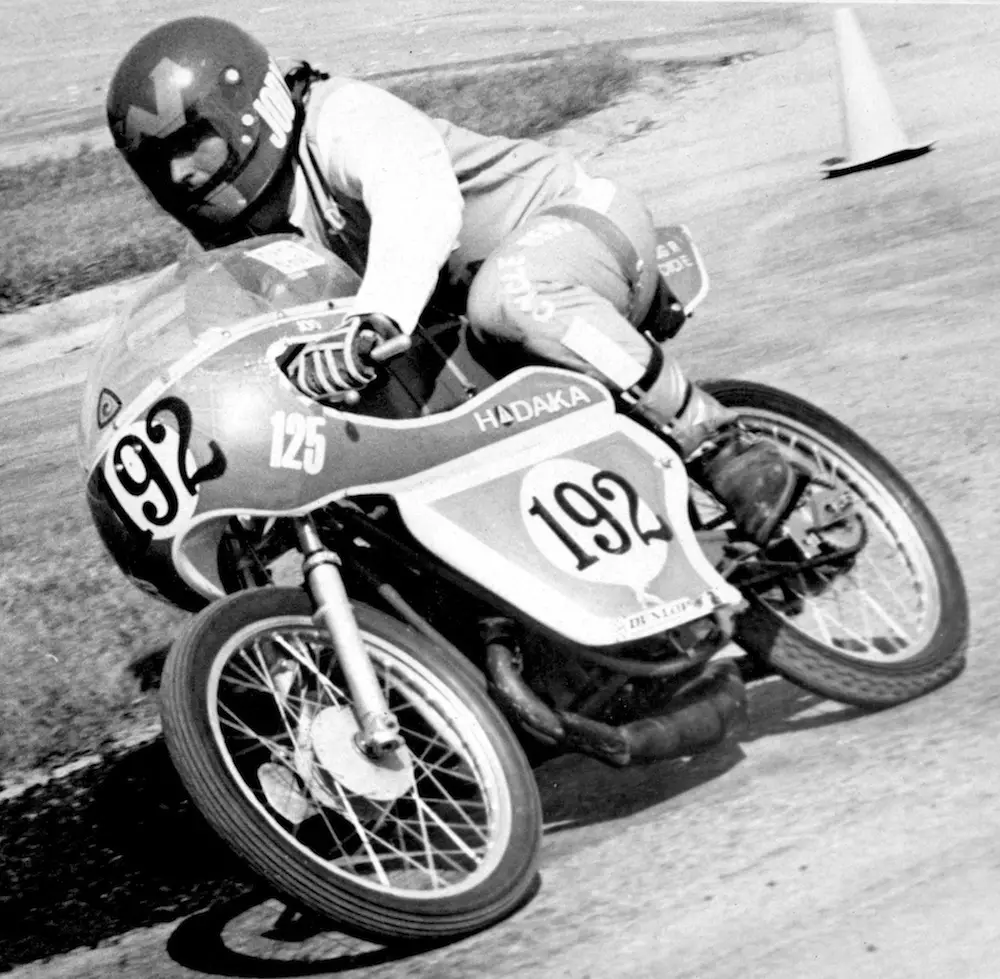 One of the most famous road races of all-time was the Austin Aquafest road race. It was held on the city streets of Austin, Texas. The race was very fun, but there were curbs, buildings and telephone poles lining the course. The best Jody every did at the Aquafest race was ninth in 125 GP, but he did achieve some notoriety by jumping the flag start from the second row and ramming Freddy Spencer in the front row. Jody's skinny front tire got wedged between Spencer's Yamaha TA125 swingarm and exhaust pipe. Spencer didn't win that year. Note the duct tape on Jody's boot and thigh from a crash earlier in the day. Jody's AMA Road Racing license number was 192, which he then adopted for motocross.

All road racers have pit bikes to get around the course. Jody tried to race his Garelli moped in the 50cc Grand Prix class. He got smoked as his top speed was down about 70 mph to the special Italian road racers. The race promoters finally banned him from goofing around. The long hair was aerodynamic.

The most intense battles are always between friends. That held true for Ketchup Cox (CZ) and Jody Weisel (819). These two 1970's MXA editors raced together in Texas as kids and continued their battles all the way into the 1980s at Saddleback (until Ketchup switched to quads). Ketchup was a loyal CZ rider and tried to race the Czech bikes way past their prime. The two Texans banged bars every weekend all the way to the checkered flag (or until Ketchup broke a bone)—whichever came first.

Back in the glory days, the 100 Pro class at Saddleback was a big deal. This is the "road turn" at Saddleback. Chris Parker (514) leads on a Jeff Ward Racing Products (JWRP) sleeved-down CR125 in an XR75 frame. Mark Lawrence (11D) is second on a YZ100. Jody Weisel is in third on an Suzuki RM100 (his front number plate dangling by his throttle hand). Randy Skinner is the fourth rider on a sleeved-down Honda CR125. Randy Skinner and Jody Weisel are both still racing today.

Jody never wanted to give up on Hodaka in the 125 class. But the Oregon brand couldn't keep up with the rapid pace of change in the mid '70s. Note the Full House leathers and Heckel plastic boots, but, most importantly, the Saddleback sign-up booth and snack bar in the background hold many memories.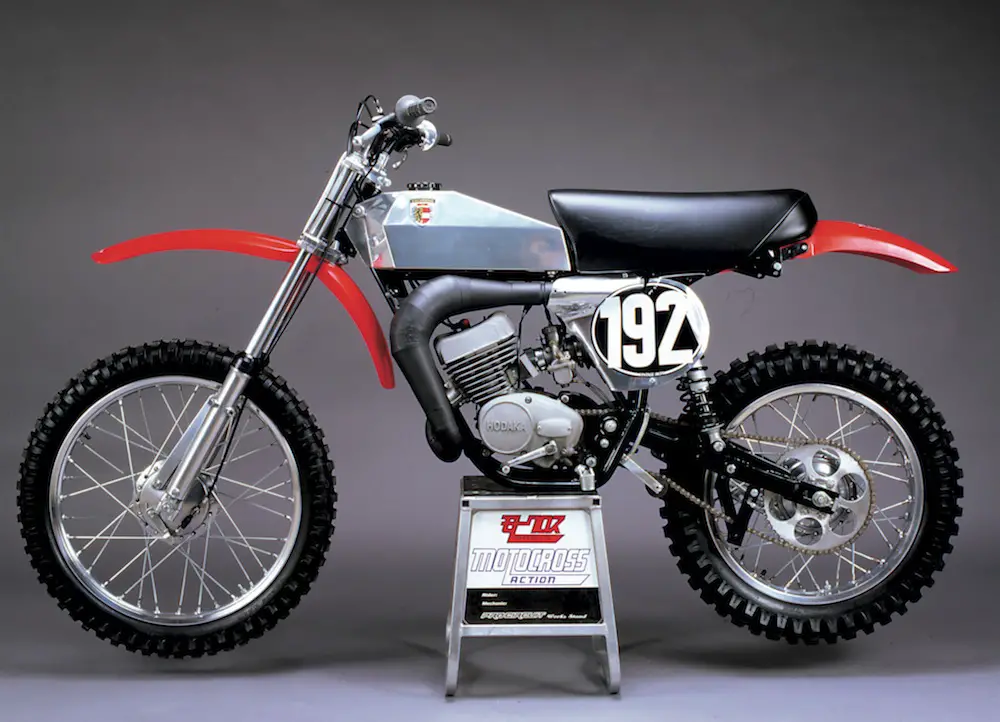 In a last ditch effort to keep his 1974 Hodaka Super Combat on the cutting edge, Jody moved the shocks up, added 36mm Kayaba forks and a Rickman front hub. The gas tank is by Alex Steel and the pipe was fabricated by Grand Prix Specialties. Unfortunately, the 1974 Hodaka 125cc Combat engine was unreliable and Jody pushed this bike into his barn the next year and never raced it again. He pulled it out 30 years later for the AMA Hall of Fame's "Motocross America" exhibit. Today it can be found in Tom White's "Early Years of Motocross Museum."

Jody returned to the Hodaka fold one last time in 1977, when Hodaka exec Marvin Foster ask him to develop a motocross version of the 250cc Hodaka Thunderdog enduro bike. The finished bike had Kayaba forks, Fox Airshox (laid down), an RM250 front wheel, CR250 rear wheel, custom aluminum swingarm, bar-backs and a specially prepped Ted Moorewood (of Myerscough Machines and NMA fame) engine. Lance Moorewood is shown here riding the Thunderdog at Indian Dunes. Jody sent the bike back to the Oregon factory, but they went out of business soon after and the prototype bike disappeared.

This is the first turn at Mosier Valley (between Dallas and Forth Worth) in 1974. Jody must have forgot to put his goggles on before the start because they are hanging down already.
Jody in 1976 on his center-port CZ  practicing in the oil fields just south of Long Beach.

Jody (3) pilots a Yamaha 650 Wasp sidecar into the lead at the California Sidecar Championships on Saddleback's back track. Jody, Ricky Johnson and Feets Minert all raced sidecars on occasion. As with most American sidecar races, the Whitney Brothers won, but Jody got to style out front for awhile. In the good old days motocross racers didn't just race motocross. Jody moonlighted in sidecars, road race and dirt track.

Kevin Rodgers on a Montesa chases Jody's Husqvarna towards Saddleback Park's famous tree turn. When you went to a race in the 1970s, you were guaranteed to see bikes from Montesa, Husqvarna, Ossa, Penton, Bultaco, BSA, Rokon, CZ, Maico, Hodaka, Monark, DKW, Can-Am and other brands mixed in with the Japanese brands.

This photo was taken one week after three-time 250 National Champion Tony DiStefano lost the sight in his right eye to a workshop accident. Jody, ever the caring friend, mocks his buddy.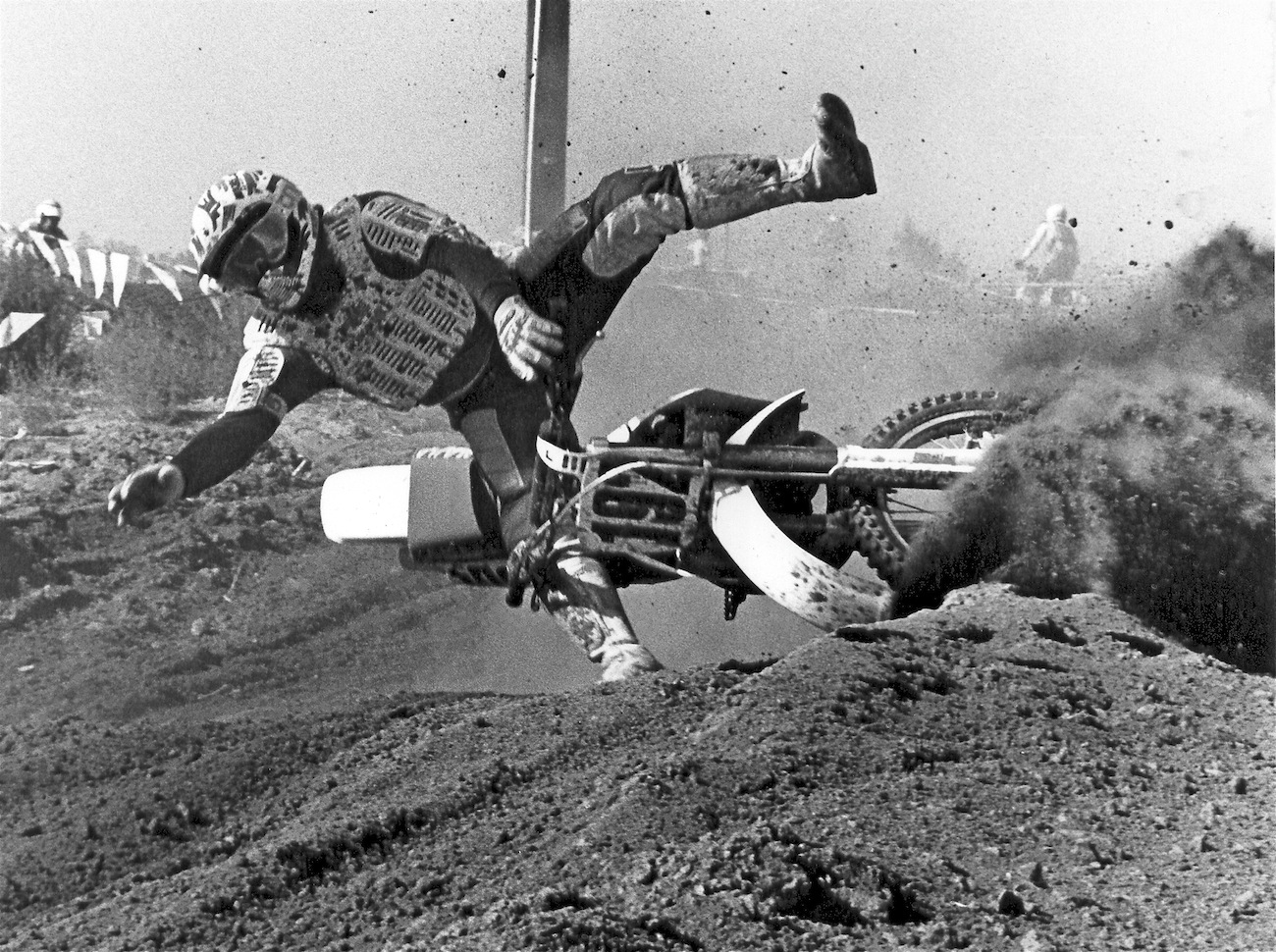 This doesn't look good. Check the next photo to see how it turned out. Spoiler alert! Jody's right leg didn't get away clean.
Photographer Mike Van Camp shot this sequence of Jody swapping out at Perris Raceway. You can't tell how fast this was until you notice that even when the bike has hit the ground the front wheel is still spraying roost (as is Jody's face).

This sandy section of track may look like Southwick or Indian Dunes, but it is actually a very rare day at Saddleback..and no Jody didn't save it.

This is the Pro Circuit gang back in 1979. (From left to right) Bill Keefe (cowboy hat), Lance Sallis, Steve Wiseman, Jody Weisel (green surf trunks), Mitch Payton (holding CR, the cocker spaniel), Mike Monaghan (PCP shirt) and Steve Ballmer.

The Heckel plastic boots stand out in this 1976 photo of Jody on an all-red Honda CR125 at Saddleback. Ragland-style sleeves will make a come-back some day.

It's a tough life when all you have to do is travel to exotic beaches to promote your surfboard design. Jody's weird Asymmetrical surfboards, built by Loe Surfboards, were long and narrow on one side and short and wide on the other. The fin was offset to the narrow side. You could say it was ahead of its time for the 1960's, but the truth is that its time has yet to come (even after 50 years). Loved the beard though.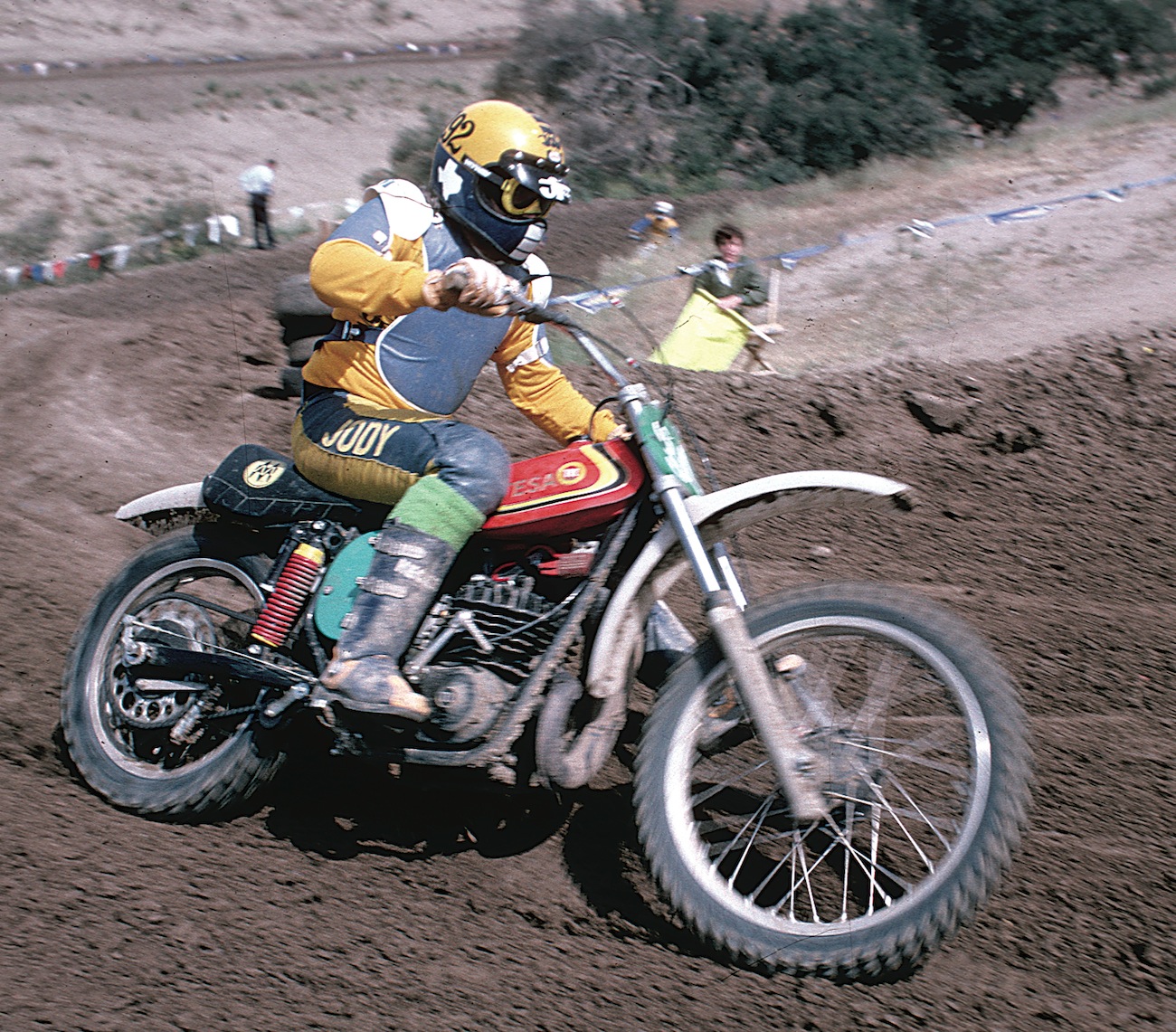 Jody at Saddleback on a 1977 Montesa.
When Jody decided to quit wearing Heckel boots, this is what he did with them.
Flying aerobatics in his vintage Kachina is considered relaxing to Jody. Think of it as scrubbing big jumps, but without having to come back down to earth (and a little higher off the ground).
What a time capsule photograph! This is Saddleback Park. The bike is a Montesa 250 VB. The boots are Heckels. The pants are Bill Walters. The helmet is a Bell Motostar. The chest protector is a JT "Mikkola" model. The goggles are Skyway Foam Fits. The kidney belt is a Gold Belt. Not only does Jody not wear any of this stuff anymore, but he doesn't pitch his bike into a turn until the footpegs drag anymore either. Perhaps because he is 40 years older and 12 years smarter.

From the Saddleback starting line you could see Suicide Mountain on the multi-level hill in the distance.

Preston Petty (left) and Jody at the Superbowl of Motocross. They were hamming it up for the camera.

As time passes it is hard to remember how hard motocross was back in the early 1970s. Take a close look at the knuckles on Jody's hands and you will see how close he got to the trees at the old Mosier Valley track in Texas. Big R Cycles was his home away from home. It was populated by some wild men…really just teenagers back then.

How did you know you had made it back it the day — being on the cover of "Rolling Stone" for rock stars or "Cycle News" for motorcycle racers. In September of 1974 Jody and his dog made the cover of "Cycle News"…which Jody refers to as "five days of fame and a lifetime under a parakeet."
This photo was shot at the old Escape Country "DeSoto Moto" track in 1976. Jody claimed that the best way to get an Ossa Phantom to turn was to pitch it in. Note that in 1976 he is still wearing his socks out of the top of his boots.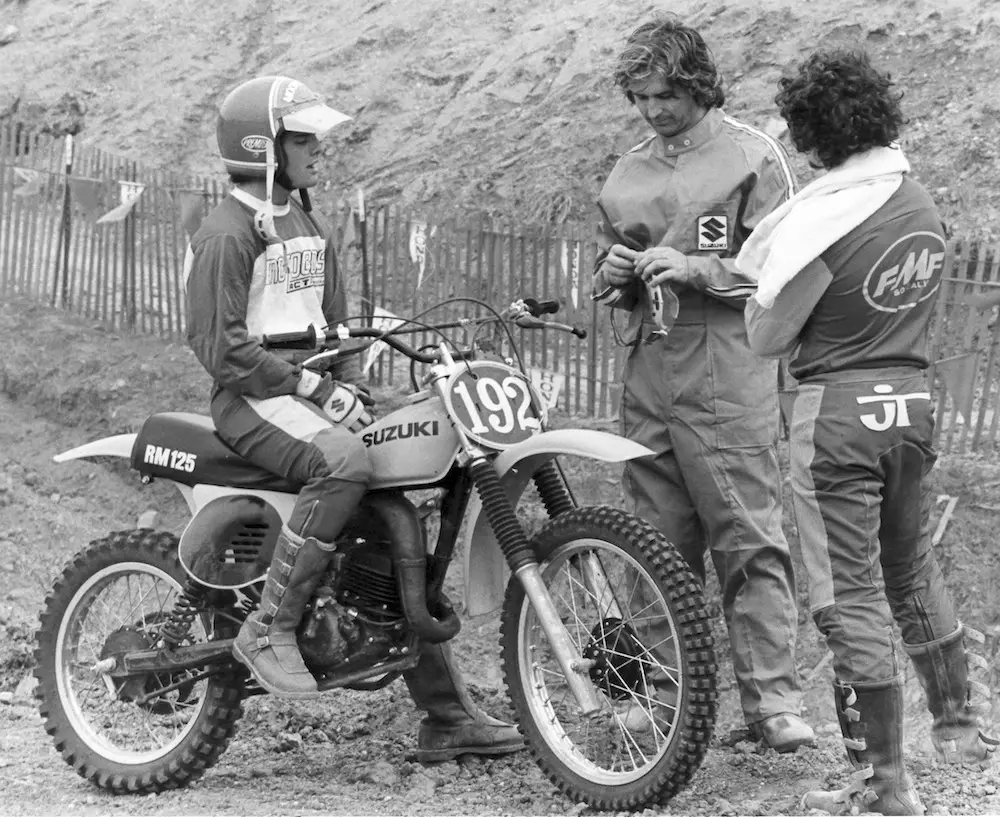 You can always find clues in an old photo about its age. Lance Moorewood (left), Jody (center) and Radical Ron Turner are at Saddleback Park, the snow fence is a giveaway. They are still wearing leather boots with buckles. The Suzuki RM125 is air-cooled, twin-shocked and drum braked. Lance is wearing an open-face helmet; Jody has on a jump suit (which riders wore in the '70s to keep their gear clean) and is holding Carrera goggles.

Back when the motorcycle industry sold 1,000,000 dirt bikes a year, these four guys dominated the bike testing world. This was the MXA wrecking crew from 30 years ago — Lance Moorewood (kneeling), David Gerig (left), Gary Jones (center) and Jody Weisel (right).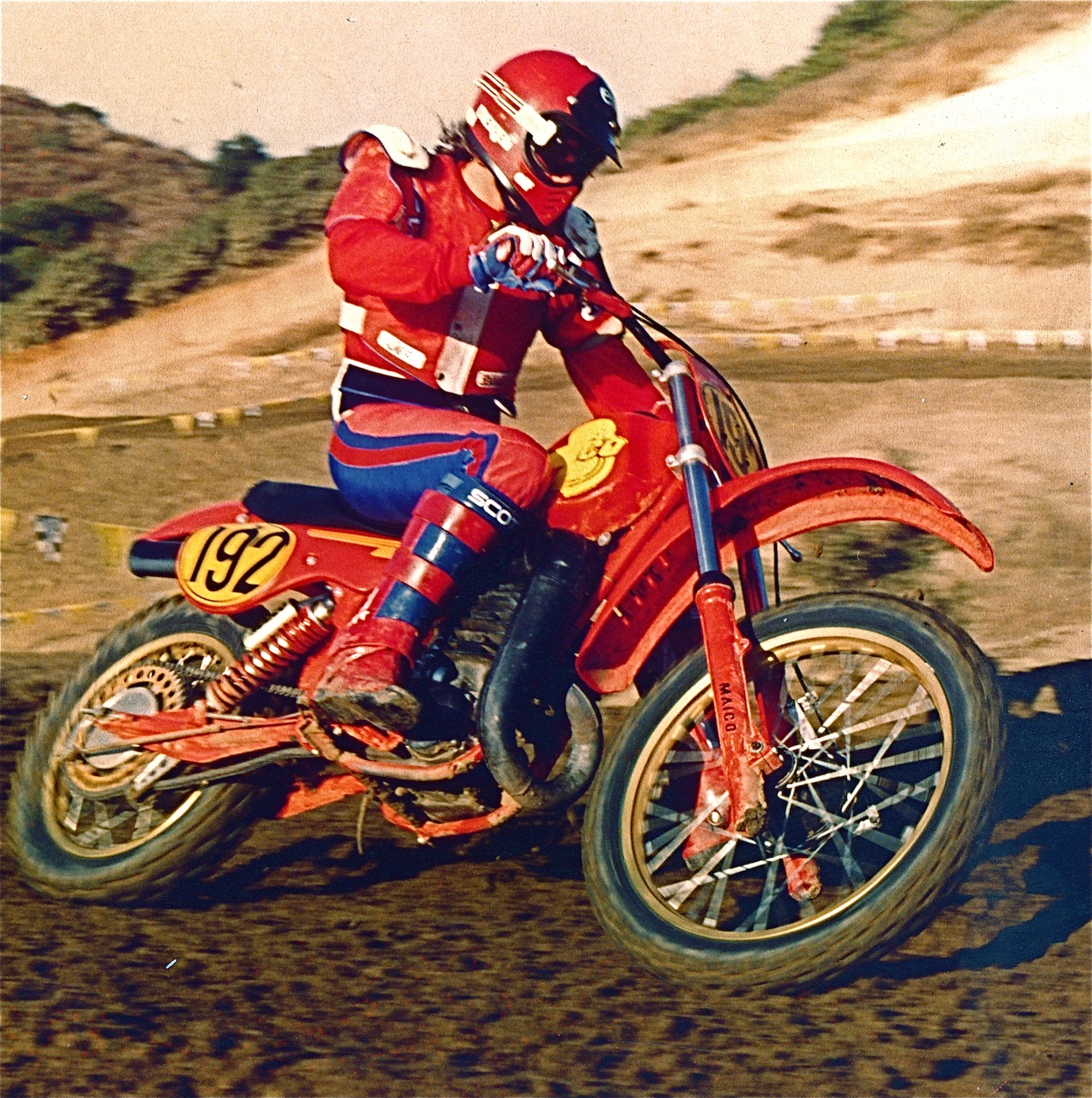 No carbon dating is necessary! This is 1981. The Scott plastic boots and Bell helmet are clues, but the 1981 Maico 490 is a dead give-away. The next year Maico went to the ill-fated single-shock bike which was followed by bankruptcy and, briefly, the M-Star clone bike.

Saddleback was the perfect track for the charms of a 1981 Maico. The big 490 engine produced great power for the long uphill start, while being torquey and manageable on the blue-groove dirt.

Another Maico, but this time at Lake Whitney, Texas, in 1975.

Jim O'Neal, Rick "Super Hunky" Sieman and Jody Weisel pose for a snapshot at a Golden State race in 1982. Well, Jim O'Neal poses, while Super Hunky tells Jody some fabulous and possibly true story.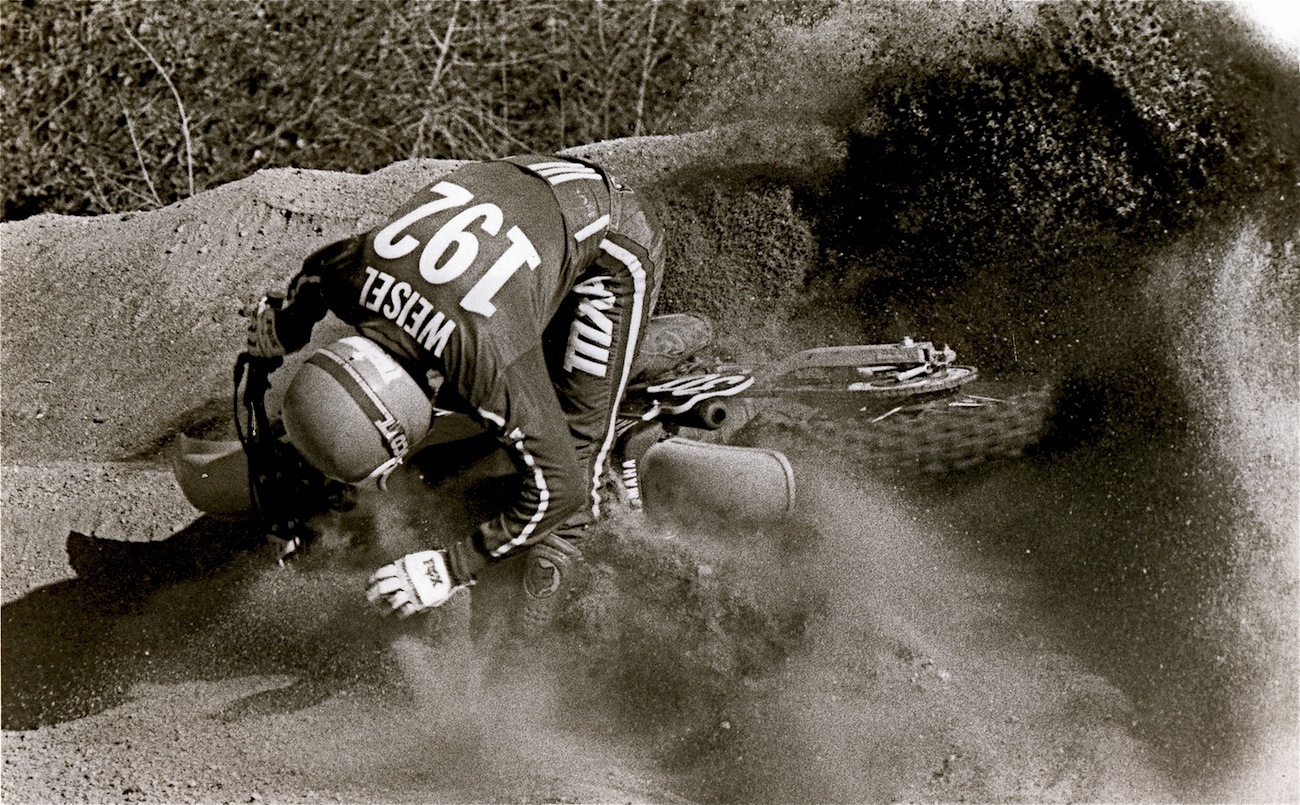 Nobody makes it through every corner without the occasional miscue, but it hurts a lot less if someone shoots a photo of it for the scrapbook.
This is Jody's Dewey Weber Team board. It hangs in his living room today. This model is called the Weber SuperWide Performer. It has twin foam stringers and is 8'11" long. The Paisley print was a 1960's thing. The SuperWide was the model before the Weber Vee-Bottom. Jody hated the sluggish Vee-Bottom and decided to design his own surfboard for a competing company.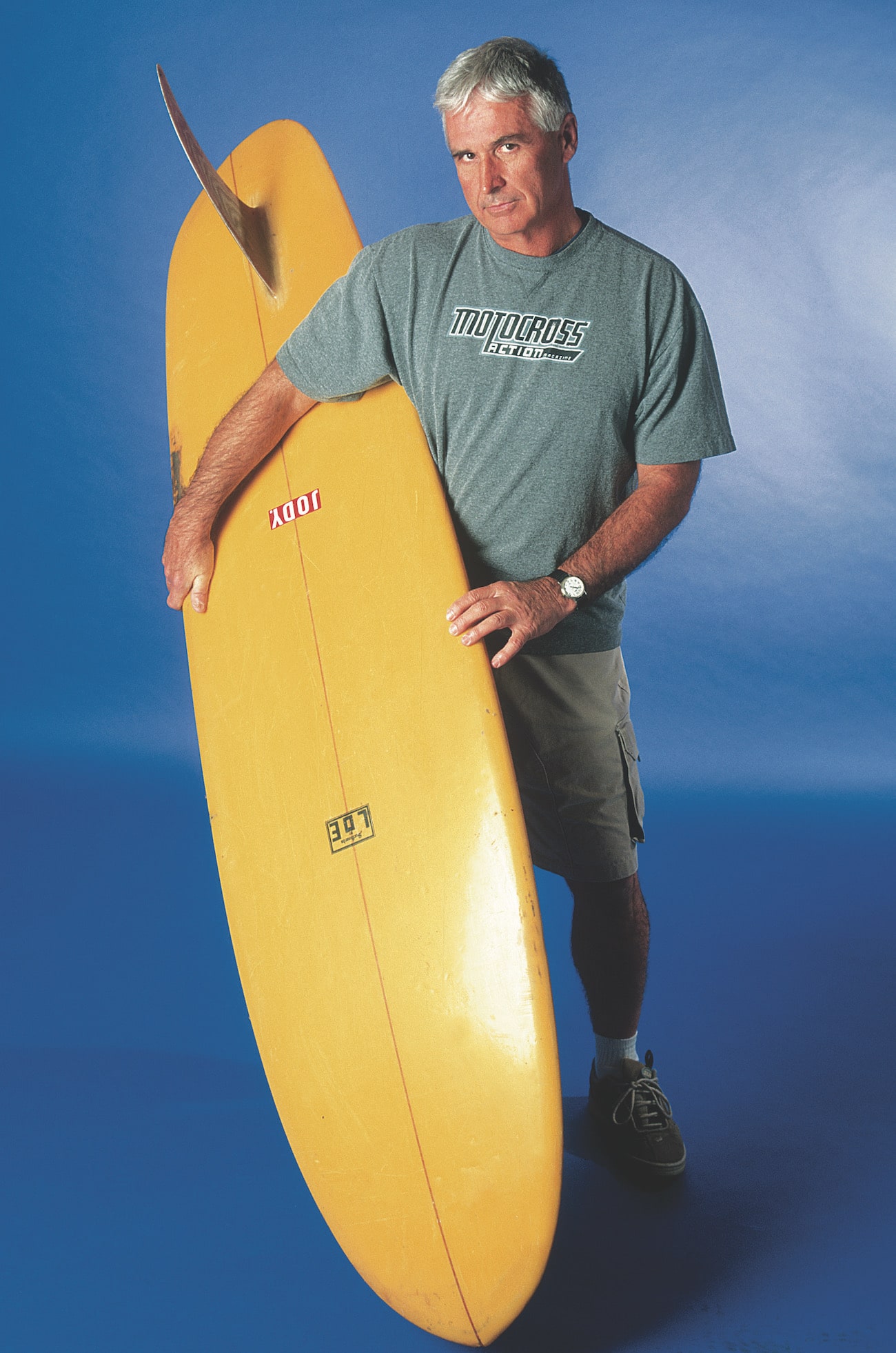 This is Jody today, holding the last remaining example of his Asymmetrical surfboard design. The deep fin design, which is offset to the side, is made from multiple layers of fiberglass cloth and is tuned to flex under a load.
Still racing 53 years after his first motocross race, this is Jody Weisel last weekend at Glen Helen on a 2022 Husqvarna FC350.
No scrapbook of Jody photos would be complete without a photo of Lovely Louella. This is a classic.