JOEY SAVATGY INTERVIEW: ROCKY MOUNTAIN KTM'S NEW PILOT FOR 2021
JOEY SAVATGY INTERVIEW: ROCKY MOUNTAIN
KTM'S NEW PILOT FOR 2021
Joey Savatgy turned Pro in 2013 with the JDR KTM team, but his run with the team was short as they folded up shop at the end of the 2013 Supercross season and Joey was left without a ride. At this point, Roger Decoster put together a program for Joey to go race the Nationals with factory support from KTM. Instead of a semi-truck, Joey was in a fun mover motorhome i nwhat they called an extension of the Orange Brigade amateur program. From there, Joey moved to the Rockstar KTM team (now Rockstar Husqvarna) for the 2014 season. After one year with them, Joey moved over to the Pro Circuit Kawasaki team for four seasons (2015 through 2018).
Joey was close (ultra-close in 2018 until Zach Osborne took him out with two corners left) to earning a 250 Supercross Championship, but it never happened. He moved to the 450 class in 2019 with a one-year deal on factory Kawasaki, but he was bumped out by Adam Cianciarulo and moved over to the (now folded) JGR Suzuki team for 2020.
After a pre-season injury kept him away from the races for the entire 2020 Supercross season, Joey salvaged an 11th overall in the 450 Nationals with his best finish being a 7th overall. MXA caught up with Joey Savatgy just after he signed his new deal with Rocky Mountain KTM to see where his head is at going into 2021.
---
CONGRATS ON THE NEW RIDE JOEY. HOW DID IT HAPPEN? I can't really get into too much detail, but this was the end goal. If I had a list of places that I wanted to be, this was definitely number one on the list. I wanted to get back on orange. I turned Pro on orange and I just felt like what they offer here is the standard. It's the highest level of our racing I feel like with how they run everything. With the organization, how everyone runs it. They're not afraid to spend the money to get things situated. For me, that shows that they're into it 100 percent and they're dedicated and the results speak for themselves. This was definitely number one for me and this is where I wanted to be. It took a little longer than I would have liked, but at the end of the day all that matters is that we got it done. 
IS YOUR ROCKY MOUNTAIN KTM DEAL FOR SUPERCROSS AND OUTDOORS IN 2021? Yes.
DID YOU RIDE THE BIKE AT ALL BEFORE SIGNING THE CONTRACT? No I didn't. 
Joey Savatgy admiring his new Rocky Mountain KTM 450SXF.
DID YOU KNOW MICHAEL BYRNE OR FORREST BUTLER BEFORE THIS DEAL CAME ABOUT? Yeah, so Byrner was around when I was at MTF, when I was young young. I hadn't seen him in a while, but obviously he knew who I was because he was there when I was there and I knew who he was. Byrner, obviously I know who he is, we end up being on a lot of the same flights home from the races early in the morning, so there's always small talk. So I'm definitely familiar with the guys. All around, it feels like I'm coming home almost, in a way.  
IS IT WEIRD THAT HOUSTON WILL HOST THE FIRST ROUND OF SUPERCROSS? Yeah a little bit, but at the same time, with Covid and how everything has been going, it doesn't surprise me. It's one of those things where it's not going to be an Anaheim, but it's still going to be the first round and the jitters are going to be the same. Everyone is going to be going into the first round thinking everything is awesome, you know, and then if things don't go great, it's going to be who can adjust the quickest. It's not going to be a lot of time though, with three races in a week. But everyone's in the same boat, so all we can do is do our homework now and try to be ready. 
Joey Savatgy's Rocky Mountain KTM 450SXF up close.
WHAT MOTIVATES YOU TO PUSH THROUGH INJURIES AND CONTINUE TO PRESS FORWARD GOING INTO 2021 EVEN WHEN YOU DIDN'T KNOW WHICH TEAM YOU WOULD BE ON? I think that there's a lot involved. I think off the top of my list is providing for my family. Obviously having a kid is life changing and I know that I'm the provider for my wife and for my little girl. I think that, first and foremost, is a big role for me. Also, just for myself, I've been around long enough and I've put in the work. I feel like with this opportunity and my work ethic, I do believe that we can turn some heads this year and be competitive and battle up front with those guys. So, the motivation factor is my wife and my little one and myself, knowing that I don't cut corners and I do the work. I've been down some good roads before and I've been down some bumpy ones. So, you just have to take the good with the bad. Last year wasn't the greatest, but it could have been a lot worse and obviously it could've gone a lot better. But, all in all, we're here and we're ready to do the thing. 
WHERE ARE YOU LIVING AT NOW? I'm in Florida, for now, I'm in Tallahassee. The future is a little bit unknown right now as far as what I'm going to do and where I'm going to move. But what I do know for now is that I got a home (Rocky Mountain KTM) and I got a motorcycle. That's all I need and everything else will fall into place.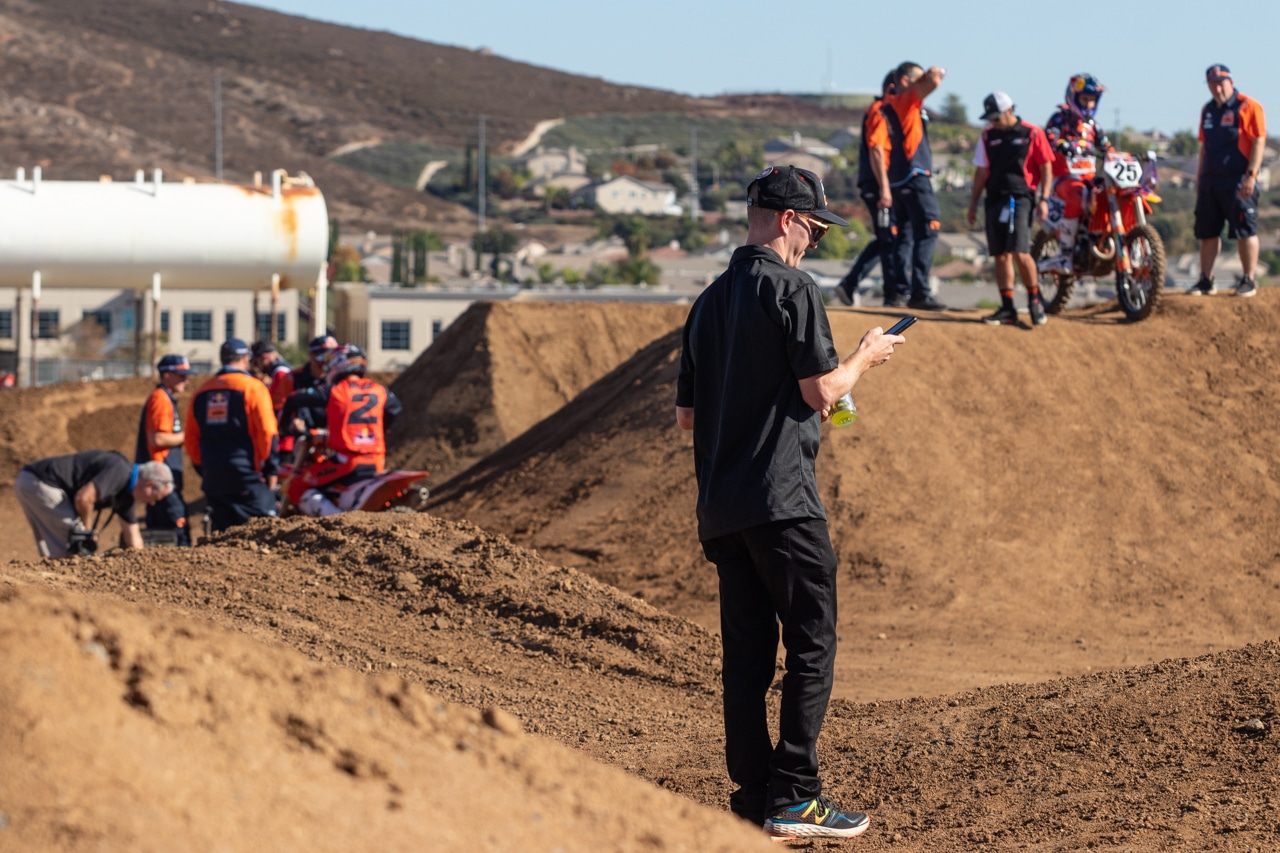 Joey Savatgy's contract was finalized on Friday, November 13th and the KTM team intro was on Tuesday November 17th. Joey got to see his new bike in person for the first time at the team intro, but he didn't get to ride it until the next day. Joey explained that he would spend a few days riding the KTM 450 on outdoors before jumping on a Supercross track.
ARE YOU AND YOUR NEW TEAMMATE JUSTIN BOGLE FAMILIAR WITH EACH OTHER? Yep. We grew up at the amateur races. We always hang out . We joked about being on the same team a lot. When he first got the Geico Honda ride I was next in line, or I thought I was. We always joked about being teammates. It's taken a long time, but it's come full circle and now we got dumb and dumber together for a whole year. 
YOU'VE MENTIONED THAT KTM IS SETTING THE STANDARD, WHAT IS SOMETHING TECHNICAL ABOUT THE TEAM THAT SETS THEM APART FROM OTHERS? I just think its their effort level. They're willing to go through the hassle and spend years to get a facility like this (private test tracks right behind the KTM headquarters). If they can make things one percent better, they'll go through the hassle, spend years and dollars to get a place like this set up so they can be that much closer to the office, so they can save time if something needs to be tested on the track, or whatever it may be. They don't cut corners. They don't have a random guy out here putting the track together, they hire nothing but the best. That just shows that their work ethic and their want is very high and I think that speaks to me because I have that desire to win and they show the same thing.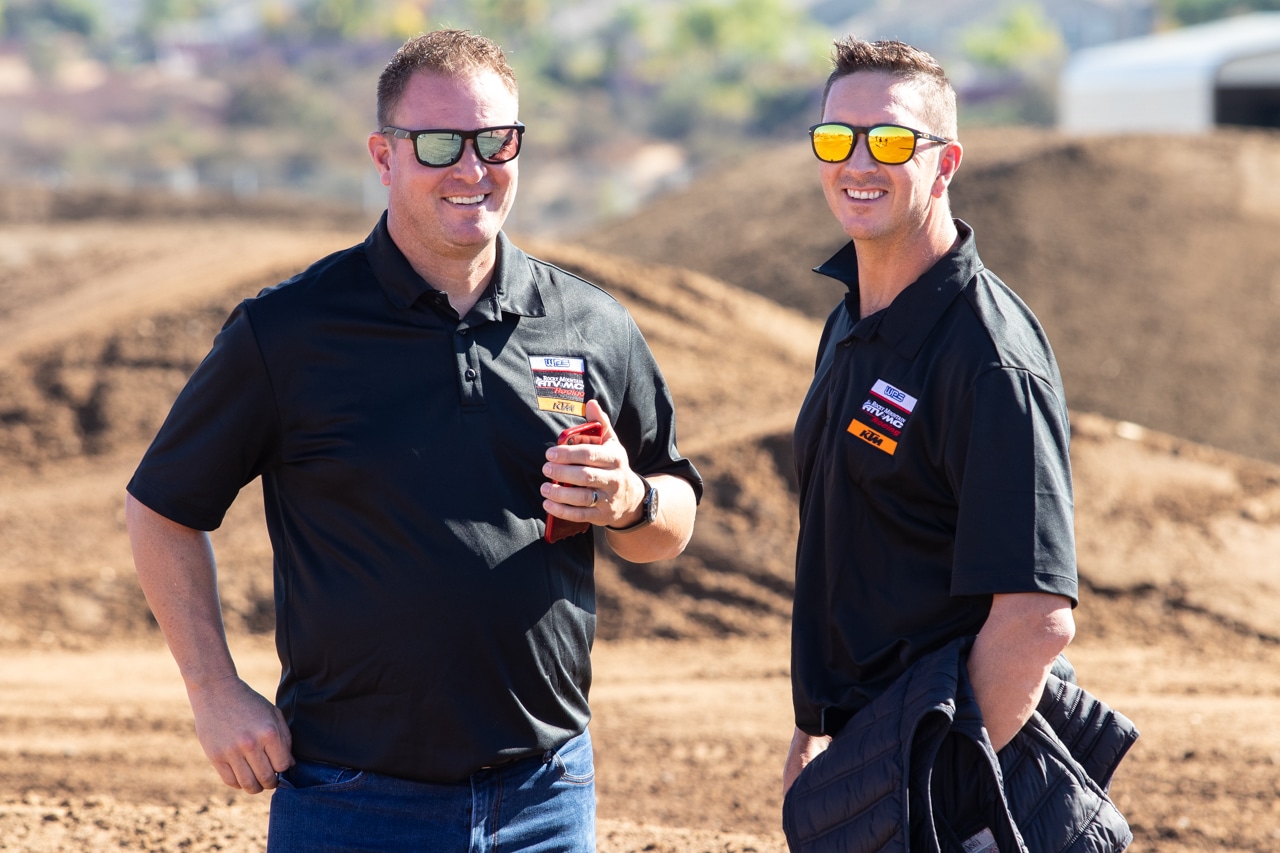 Rocky Mountain KTM team owner Forrest Butler (left) and Team Manager Michael Byrne (right) were both very happy to announce their new team and be part of the factory KTM intro day in Murrieta, California. 
WHAT ARE THE PROS AND CONS ABOUT RACING THREE TIMES OVER AN EIGHT-DAY PERIOD? The positives are, if everything is set and you feel good, you just want to race, things are clicking, you're doing well, then you just want to race. On the flip side of that coin, if you don't have your set-up dialed, and you're struggling a little bit you're like, "Hey, can we get a week?" You want those five normal days so you can figure some things out. It's a little bit of, I hate the word "gamble," but that's just part of it.

If things are going well, you just want to race. That's kind of what I liked about the triple crown. If you're having a good night and you've got three chances to go racing, then you have more opportunities to get on the gate and make things better. But if things aren't going well, you're really dread going back-to-back. I just think it's going to be about who can minimize the damage on those nights when they're not feeling their best. Then, when the opportunity is there and you feel great, who can capitalize and maximize points. 
Joey Savatgy and Justin Bogle have been friends since their days in the amateur ranks. Both of them explained that they were happy to be on a team together for 2021. 
YOU'VE MENTIONED TESTING AND DIALING IN YOUR SETTINGS, IF YOU GO BACK 10-YEARS, WOULD YOU HAVE TRIED TO LEARN MORE ABOUT TESTING AND DEVELOPING YOUR BIKE? Yes. I would go back andtry to understand a little bit about what's goinge. Over the last three or four years I've really tried to absorb what's going on, "We're changing this." "Why are we changing this?" sort of thing. It's too easy to say, "Hey, it's not good. let's fix it." Obviously at those times I wish I knew why it felt like this and what to do to make it better. Looking back on it, I think if I could have digest a little bit more and understood why and how things worked,  that would have been helpful. 
WHICH ASPECT OF THE MOTORCYCLE ARE YOU MOST PICKY ABOUT? I'm a front end guy. So, I think if I can get comfortable with the front end and feel like I have a lot of front end grip, I'm pretty easy after that.  I'm definitely picky about the fronte. I'm not a rear end, let it loose kind of guy. I'm a lot more of a "feel" guy. If I can get the front end to work, that's when I feel like I can do damage.