JOHN BASHER'S INTERVIEW OF THE WEEK: LARRY LITTLE

By John Basher
Larry Little is a motorcycle advocate and enthusiast. He's also a great host, which is why you should take the wife and kids to Orlando in October so that they can see Mickey Mouse and you can check out all the new motorcycle product.
Larry Little is a motorcycle industry magnate. He's the main reason why the AIMExpo, now in its third year, brings manufacturers, aftermarket companies, dealers, consumers and the press together. Taking place from October 15-18 at the Orange County Convention Center in Orlando, Florida, AIMExpo is the perfect opportunity for the industry to meet under one roof and see new product. And, yes, as a motocross fan you are also part of the industry. A trip to Florida in mid-October affords you the chance to see the 2016 lines from Yamaha, Suzuki, Honda and Kawasaki, as well as BMW, Zero, BRP and Arctic Cat. There are also several hundred aftermarket companies to check out and Pro racers to bench race with. If that's not enough, AIMExpo Outdoors houses motorcycle units to test ride. Very cool. Meet Larry Little, the ringmaster of AIMExpo, who just so happens to be connected to motocross racing in a way that you would never guess.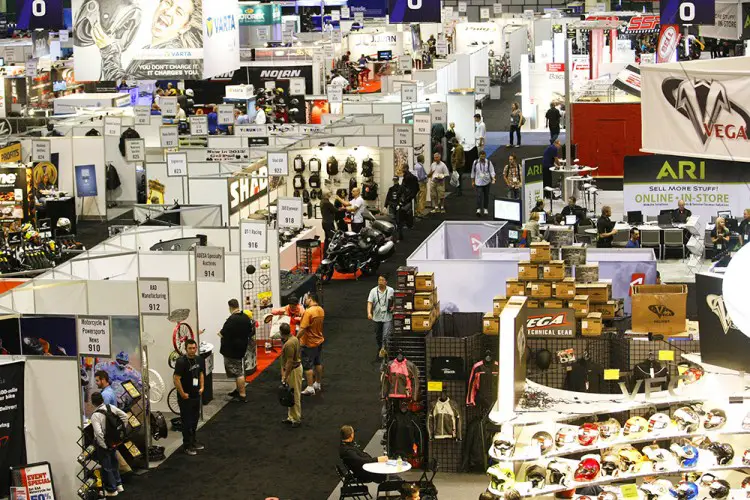 Larry, have you reached your goals thus far with the AIMExpo? When we did our five-year business plan I thought it was going to take us three years to get all the Japanese OEMs on board. I also thought it would take three years to get some global product reveals. Actually, the first year we had EBR (Eric Buell Racing) do a global product reveal. Admittedly EBR is a smaller OEM, but last year we had both Yamaha and Kawasaki do global reveals of product. We were a year ahead on the press side. This is year three, and it's the tipping point as far as getting more dealers and consumers to turn out. We're already 240-percent ahead on dealer sign-ups compared to last year. That momentum is obviously occurring. Having more OEMs doing activities, as well as more aftermarket companies sign up, shows that we're heading in the right direction. Year three is a key year for us. The first year we built the foundation and showed promise. Last year we built on what we had, although there weren't as many consumers or dealers that everyone would have liked. However, for 2015 we should show what people hoped for in their expectations of the AIMExpo from a return on investment.
What did you in envision with the AIMExpo when drawing up the blueprints? I became the publisher of Cycle World back in 1990, and the following year I went to the EICMA show in Italy for the first time. It was so amazing to see. As an enthusiast and also working in the industry I wondered why there wasn't a show like that in the U.S. There were so many exhibitors and press at the EICMA show. I came back from Italy and called Mike Webster, who at the time was running the Advanstar stuff, including the tradeshow in Cincinnati. I told Mike that he needed to figure out how to do a show like EICMA in the U.S.
History shows that such a tradeshow didn't materialize in the U.S. Why? The reality was, at that point in time, you couldn't get the manufacturers to come. The OEMs were doing individual dealer meetings. The U.S. is such an important market to the OEMs that brands like Honda and Suzuki could afford to spend a ton of money on having their own dealer meetings. Fast-forward to 2008, which was the time of the global financial crisis. It was a defining time, because budgets got cut across the board for everybody. All of a sudden it wasn't economically feasible to do individual dealer meetings. Some OEMs still hold meetings, but on a much smaller scale. AIMExpo offered the OEMs to be in one place at one time. With the tremendous number of multi-line dealers in this country that have franchises, such as Honda, Kawasaki, Yamaha, and Suzuki under one roof, dealers can come to Orlando in October and attend all of the meetings without taking too much time out of their schedules. I spoke with one dealer from Albuquerque last year who had nine different franchises, and he would be out of his shop for three weeks just to attend all of the different dealer meetings. The AIMExpo dealers can see new product under one roof over several days.
What are the key components of the AIMExpo? It's really a three-legged stool. The dealers are a key component, as are the consumers. Equally important is the press. If we can get the press to the show then it makes sense for the OEMs to reveal product. It's this mash-up that creates a central place for the industry to gather. That was our vision from the start. We wanted to create something that showcased the power sports market in North America.
"THE POINT IS THAT BUSINESSES CHANGE. YOU'RE NOT GOING TO GO BACK TO THE SAME TIME. RIGHT BEFORE THE CRISIS WAS A HIGH WATER MARK FOR A LOT OF COMPANIES. EVERYBODY'S BUSINESS WAS GOING GANGBUSTERS. THE REALITY IS THAT IT WAS A BIT OF A FALSE ECONOMY, BECAUSE THAT'S WHEN MORTGAGES WERE CHEAP AND PEOPLE WERE REFINANCING IN ORDER TO BUY NEW TOYS."
How far do you think the industry has rebounded from the global financial crisis? I'm not sure that you can equate coming back. If you look at how different things were in 2006, that was the first year the Apple iPhone was introduced. It's hard to believe that we ever lived without it! The point is that businesses change. You're not going to go back to the same time. Right before the crisis was a high water mark for a lot of companies. Everybody's business was going gangbusters. The reality is that it was a bit of a false economy, because that's when mortgages were cheap and people were refinancing in order to buy new toys. It seems that the people who got in the industry because they wanted to make a quick buck and thought things were easy are now gone. That's actually healthy for the marketplace. Dealers could still be stronger. The profitability is coming back, but it's going to be a while before dealers are back to where they are tremendously profitable.
"People get excited about buying new products. Someone buys a new motorcycle because they feel that they can't live without it." 
Certainly aftermarket companies were effected by the recession, but they seemed to weather the storm better than the OEMs. What's your take on that? The aftermarket companies are doing better, because even though people weren't buying new bikes, they were still putting parts and accessories on what they had. Some of those companies aren't down as much as the OEMs were. What we lost in that whole cycle more than anything else was product development. On the OEM side, once budgets were pulled way back then product development seemed to be put on hold. Just now we're starting to see a lot of neat new stuff coming out, and I'm hearing there will be a lot more in the next 18- to 24-month cycle. People get excited about buying new products. Someone buys a new motorcycle because they feel that they can't live without it. However, if there's no new product coming along then there's not a lot of motivation to buy a new motorcycle. The U.S. is still pretty much a recreational power sports economy.
What does the AIMExpo offer to the general consumer? A lot! AIMExpo in reality is almost two shows in one. Inside the exhibition hall at the Orange County Convention Center there will be over 550 exhibitors. There's a tremendous amount of opportunity for the consumer to see all of the new bikes in person. They will be able to talk directly with the manufacturer and get their questions answered. It's hard for a dealer to know everything about a product. Consumers read a lot of information online these days, so for someone to have face-to-face time with the manufacturer is huge. As for outside the show hall, there's AIMExpo Outdoors. It adds a experiential component to the show. In many cases a consumer can go outside and ride the new bikes that they saw inside. They won't really have a chance to ride dirt bikes, but there will be other offroad opportunities. It should take two full days for a consumer to see and do everything at the AIMExpo.
Do you feel that you're fighting against the tide of the internet? So many people research and learn about new products via the web. It's a double-edged sword. The beauty of any show is that you have face-to-face interaction. There are three ways for someone to get information, either first-, second-, or third-party. You can get information by reading about something on the internet or in a magazine, which is third-party. Someone can tell me that they just rode the new Honda CRF450 and they think it's awesome. That's second-party. Or I can go talk directly with the manufacturer and see things for myself. That's first-party. At AIMExpo you get to talk to people, and it's different than going to a local dealer. The representative in the Honda booth isn't looking to directly sell you a bike. It's a much different environment.
How closely do you follow motocross? I have a bit of a vested interest in motocross, because my son-in-law is Justin Barcia's mechanic. Ben Schiermeyer is married to my daughter, Ashley. Just over two weeks ago Ashley gave birth to our first grandchild, Amelia Grace. We're very pumped. I was able to be back there and spend some time in North Carolina after she was born. What's great is that Ashley and Ben stayed at our house when Supercross started this year. Justin Barcia also stayed at our house until he had that bad practice crash before San Diego. While I don't live and die in the moto world, I did race motocross in my youth. Now I ride adventure bikes, because it allows me to get on the dirt. My wife and I do follow the racing pretty closely. We were watching the outdoors on television whenever we could.
"BETWEEN JEREMY MARTIN, COOPER WEBB AND BARCIA, IT'S NEAT THAT THEY ARE ALL ON YAMAHA'S. IT SHOULD MAKE THINGS A BIT SIMPLER FOR THE TEAM…I DON'T THINK THERE'S ANYONE WHO COULD BE MORE COMMITTED THAN JUSTIN TO THE USA EFFORT. HE REALLY WANTS TO DO WELL."
Larry Little believes that Justin Barcia (51) will do great for Team USA in France at the MXDN.
How do you think Team USA will do at the Motocross des Nations with Jusin Barcia anchoring the team? I think it's a really solid team. It would have been great if Ryan Dungey could have raced, but I also understand that he needs a break. I get it. I do think the team will do really well. Between Jeremy Martin, Cooper Webb and Barcia, it's neat that they are all on Yamaha's. It should make things a bit simpler for the team. My son-in-law trains a lot with Justin. They ride bicycles together a lot. I don't think there's anyone who could be more committed than Justin to the USA effort. He really wants to do well. It was clearly evident that Justin was the number-two guys during the second half of the National series. He built the speed up, and while it took him a while to recover from a cracked pelvis, he's ready to go. Justin has been there before, and so has Martin. It's not like we're sending three brand new guys to race the Motocross des Nations. As long as everyone stays healthy, which was our big issue last year, then we have just as good of a shot as anyone else.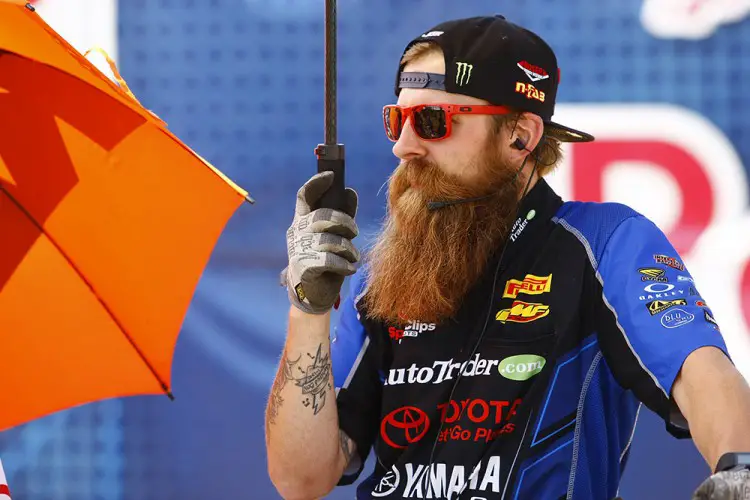 Little's son-in-law, Ben "Sheetmetal" Schiermeyer, is Barcia's mechanic. Ben undoubtedly has the best beard in all of motocross. 

I can't help but ask what you think about your son-in-law's beard? It's such an impressive display of facial fur. [Laughter] As somebody once asked, does that beard have its own Twitter account? I'm not one of those guys that judges. If that's what makes my daughter and Ben happy, then good for them. They're both really good kids. Ben's beard is the last of my worries. I want to make sure that he's a good husband and father, and he is. Beyond that, who cares?
Click here to learn more about the AIMExpo.