JOHN BASHER'S INTERVIEW OF THE WEEK: TRAVIS PASTRANA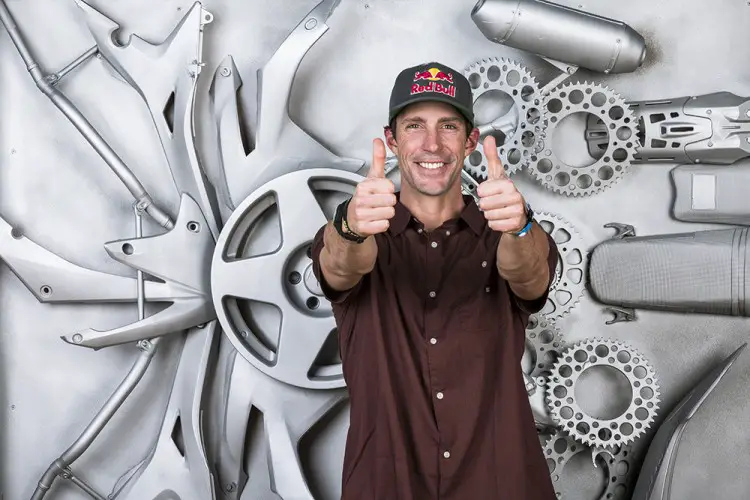 By John Basher
Travis Pastrana means a lot to a lot of different people. He's a star to some, an idol for others, and a conundrum for those who can't understand his way of thinking. Admittedly, I fall in all three categories. He's talented beyond compare, the gutsiest person I've ever met, and yet I wonder why he does what he does. After all, he's married with two little girls. Surely life would slow down for Pastrana. However, that's not his style. Travis wants the most out of life, so he does what he wants and accomplishes more in a year than most people would in their entire lives–me included.
What's truly remarkable is that out of every rider I've exchanged phone numbers with, Pastrana is easily the most accessible. Regardless of wherever he is or whatever he's doing, Travis somehow makes time to chat. Most of the time our conversations are light and fun. However, today was different. Pastrana's long-time friend, Erik Roner, had tragically lost his life on Monday morning in a skydiving accident. Our condolences go out to Erik's family and friends.
Hear what Travis has to say about his latest happenings, including a North American schedule of the Nitro Circus Live (www.nitrocircus.com) tour, which I encourage you to attend. Trust me when I say that you won't be disappointed. Until then, get the scoop from the adrenaline-junkie himself, Travis Pastrana.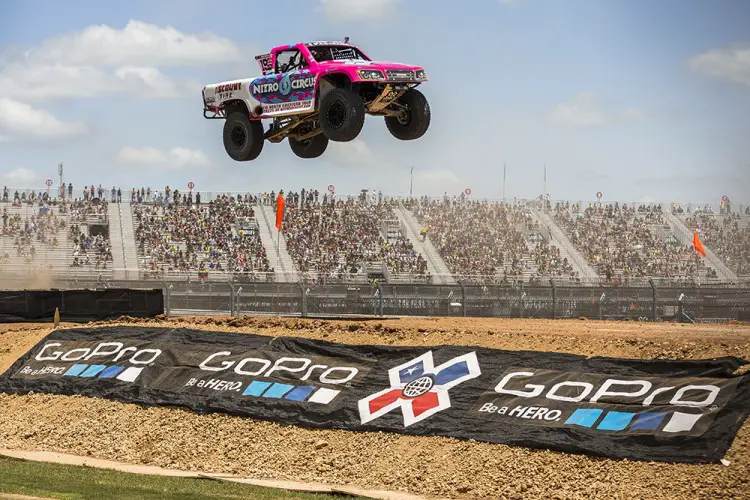 MXA: You've been a little bit of everywhere the past month. Where have your travels taken you lately? I'll just cover the past ten days. I've been to Washington D.C., Philadelphia, Boston, Chicago, Toronto, Florida, and now I'm in California. I'm doing a press tour for Nitro Circus Live. The United States is tough, because everywhere else in the world the Nitro Circus Tour sells out. I don't have to do a whole lot of press overseas, but in the U.S. I have to really put in the work. Whenever an event doesn't sell out a month ahead of time they scramble to put together a press tour to generate interest.
It's a bit unbelievable to me that the U.S. tour hasn't sold out yet. Why aren't people scooping up tickets? There's a lot of stuff to do in the U.S., and people have stuff going on. When we went to New Zealand, we got 80 percent of the population of New Zealand that came to our shows over a 1-1/2 week period. Granted, that's not even half the population of Los Angeles [laughter]. It was neat, though, because in New Zealand we'd be walking down the road and some old lady would yell out of her car, "Hey, look! It's Streetbike Tommy!" [laughter]. We hit rock star status over there. We had never been to Chile before, and before we went over there we had a 15,000 person arena sold out! We ended up doing two more shows, because people are excited about the Nitro Circus over there. It's very interesting. I will say that I am going to enjoy having a show in my hometown. A lot of my friends and family will be coming to the show in Washington D.C.
I follow your Instagram, and you were recently at a Navy football game. Was it good to be back home? It was great. I was tailgating with half of my family before the game. Jim DeChamp and his dad were there hanging out. The next day we got the Wounded Warrior guys out to my house, along with the mascots for the Verizon Center. It was crazy what went down! They got on big wheels and rode down my big hill and off a jump. My buddy said, "It's called the Wounded Warriors, not the Wounding Warriors." I couldn't believe what was going on. I've found out that mascots are the best. That makes me think of a story about Erik Roner and the Utah Jazz bear…Erik Roner died this morning. He was skydiving into a golf tournament. Sorry, but my mind is in a bad area. It's horrible what happened. He has a wife and two young kids.
What? Oh, no. That's horrible. I'm sorry to hear that, Travis. It's almost the easier stuff now that becomes scarier. Once you see someone do a triple backflip, or you're BASE jumping, you get away with so much. The jump that Erik did today, anyone with 20 sky dives could have done that okay. He wasn't pushing the envelope or doing anything sketchy. You kind of get lax on the easier stuff. Really, the harder stuff we're getting safer and safer with…
Well, when we were with the Jazz Bear, he convinced Erik to go from the top of the stadium to the bottom on skis, and Erik blew out his knee. Then Jolene [Van Vugt] wanted to try it on a sled, and she broke her ankle at the bottom. So the Jazz Bear came out with us later, because we were down two of the seven people for the show. In his costume he jumped the Olympic ski ramp on a bicycle and tomahawked into the ground. He ended up dislocating his shoulder [laughter]. It was the worst day ever on Nitro Circus! It was hilarious. And that's what I call fun.
You've always had a rather strange perspective on things, Travis. How can you laugh at people getting hurt? Our job at the end of the day is to have as much fun as possible and make people smile. That's why the shows are so cool. Honestly, the Nitro Circus Tour is the highest-rated traveling show in the world. That's cool for us. We have the highest-rated show of all-time at the MGM Grand in Vegas. The more people that go to the shows, then the more people that come back. We'll go to Australia now and do four or five shows in one city. Every year we add another show to it, because the word of mouth travels. It's pretty inspiring. To see Aaron "Wheelz" Fotheringham launch the Giganta Ramp in his wheelchair is incredible. Nitro Circus is like a rock show. There's great music and great action. It's built for an ADD (Attention-Deficit Disorder) audience. Everyone is on their feet.
"THEN A TRIPLE AMPUTEE SAID THAT HE COULD DO IT. I LOOK UP, AND HE HAD TOMMY CARRYING HIM TO THE TOP OF THE HILL. I KNEW THAT ONCE THE GUY HIT THE BOTTOM OF THE RAMP HE WOULD HAVE TROUBLE WITH THE G-OUT. THE GUY SAID, 'I GOT THIS! ANYTHING WORTH DOING IS WORTH DOING RIGHT. SEMPER FI!' HE HAD JUMPED ON A GRENADE TO SAVE SOME LIVES, SO I FIGURED HE KNEW WHAT HE WAS GETTING HIMSELF INTO. THEN HE JUMPED OFF THE SIDE OF THE RAMP AND DISLOCATED HIS HIP."
What were you thinking as you watched the Wounded Warriors sending it on the Big Wheels at your house? We invited them out to the house to ride four-wheelers. They asked if they could jump the four-wheelers off the ramps. I didn't think that was a good idea. Then someone came out with the Big Wheel, and a lacrosse player jumped it into the air bag. Everyone has false confidence when they come to my house. So the lacrosse player hit the ramp from halfway up the hill. He did it no problem at all. Then a triple amputee said that he could do it. I look up, and he had Tommy carrying him to the top of the hill. I knew that once the guy hit the bottom of the ramp he would have trouble with the G-out. The guy said, "I got this! Anything worth doing is worth doing right. Semper Fi!" He had jumped on a grenade to save some lives, so I figured he knew what he was getting himself into. Then he jumped off the side of the ramp and dislocated his hip. As he was put into the ambulance he shouted, "This is the best day ever!" I thought he was nuts. Nobody else would be sitting there with a dislocated hip thinking how awesome everything was. He said, "You have no idea what I've been through. I needed this."
Then what happened? His buddy, a double amputee, wanted to jump the ramp right after him. I told him to go halfway up the hill. He refused, saying that his buddy would talk smack to him if he didn't go from the top. Then he crashed on the ramp. Maybe one day I'll start being smarter. I try to give everyone all the information that I know, and it's really not me who talks people into doing things at my house.
I'm not so sure that's true. I can speak from experience, because when I visited your house you told me that I had to jump or backflip into your foam pit before I could leave. Yeah, I did say that, but you also have all your limbs. If you break a wrist or an arm, then you can still do your job. Red Bull is always sending athletes over to my house, and they tell me not to break them [laughter]. Did you know that my job at Nitro Circus is safety?
You're kidding. I'm serious! I'm surrounded by people who want to do a triple backflip on a dirt bike or a quadruple backflip on a bicycle. They go to my house and want to do insane things. That's why we invented a bag system that you can land on and ride out of. You can have the exact same setup that you would do to dirt. It takes us ten minutes to pull the bag away, and everything else is exactly the same. Before you would jump into the foam pit, and then move to some completely different area. Now the tricks are getting so big. You can't jump 96 feet into a foam pit, because you would bury yourself to the bottom of the pit. It's amazing how far technology has come to allow people to do stuff. You know, five seconds of air time on a motorcycle, doing three flips, 96 feet off the ground level and not one injury from that. It's ridiculous, you know?
How did the air bag become a reality? I wanted to invest in this bag setup, but it cost a lot of money. The market for making money back on a DVD is tough. They said that we would make about a half of a million dollars. So they put in that money, and I put in a half million dollars of my own money. We realized that we were only going to get half of our money back, more or less. We spent over a million dollars, but it was worth it. We wanted to make things as safe as possible–things that people were going to try anyway [laughter]–to continue on without having any injuries.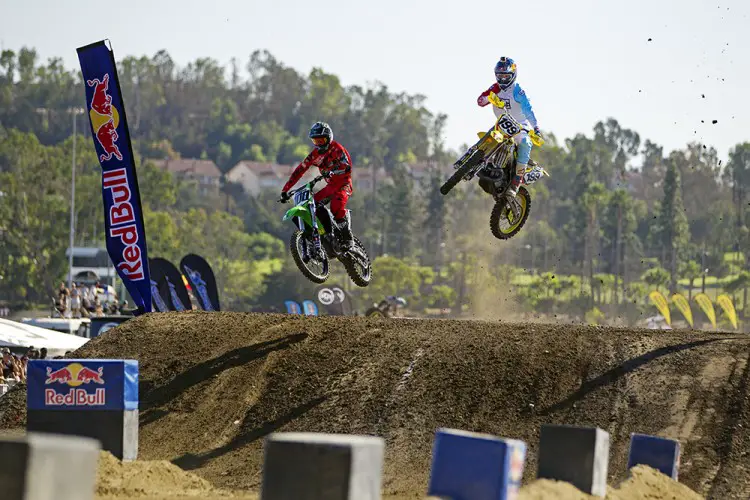 Your daughters are taking a nap right now while you're talking to me. You have a family. How do you balance everything? Honestly, tour life is the best part for us as a family. When we go on tour there's catering, so we don't have to cook or clean. There's a huge group of awesome, high-energy and motivational people that are so inspiring. If our girls can get anything out of action-sports, I hope it's that passion. You see it in motocross and most sports. To live that life every day and see that energy is so amazing. I'm not encouraging our girls to do what we do–although it's not like I am trying to discourage them from it, either–because they can do whatever they want to do. It's cool to be on tour with the family. There are so many babysitters, so if Lyn-Z and I need a night out, we have that.
"I MIGHT BE CLOSE TO AS FAST AS I ONCE WAS, BUT EVERYONE ELSE IS A LOT FASTER. THOSE GUYS KNOW HOW TO SCRUB AND THEN THEY'RE GONE. IF THE WHOLE THING WAS WHOOPS THEN I MIGHT SKIP ONE OF THE NITRO SHOWS TO COME RACE [LAUGHTER]. THAT 500 TWO-STROKE ATE THE WHOOPS UP."
Your Nitro Circus Live tour conflicts with the Red Bull Straight Rhythm on October 10th. You raced the inaugural event last year and had a good time racing on your "RMZilla." It's a bummer that you won't be racing again. Yeah, that was great. Now there are a lot more of the top riders that are going to be there. I might be close to as fast as I once was, but everyone else is a lot faster. Those guys know how to scrub and then they're long gone. If the whole thing was whoops then I might skip one of the Nitro shows to come race [laughter]. That 500 two-stroke ate the whoops up. Unfortunately I won't be able to make it, though.
Do you still enjoy riding? I still love riding my dirt bike. I ride probably every other day. The last few days I was riding the "Two-Stroke Week" with Tarah Geiger, David Wells and all the crew at Croom, Florida. We were riding the trails, jet skis, and everything else. I used to go there to practice for the Winter Series. Back in the day it was me, Ricky Carmichael, Ernesto Fonseca, Matt Walker, Robbie Skaggs, Paul Currie, Ben Riddle and Kevin Windham practicing down there. It was so cool. This year I tried to ride my dirt bike across the lake, but I didn't quite make it to the end. Some kid came up to me afterward and was yelling "Two-Stroke Week!" It was really funny, because it wasn't like we announced we were going down there or anything. I guess the kid saw the DVDs and put things together after seeing a bunch of people riding two-strokes.
Thanks for your time, Travis, and condolences to you on the loss of a great friend. I appreciate it.
To purchase tickets to a Nitro Circus Live show or see the schedule, please visit www.nitrocircus.com.
Photos courtesy of Red Bull Content Pool