JON ORTNER'S "DAYS IN THE DIRT" DIARY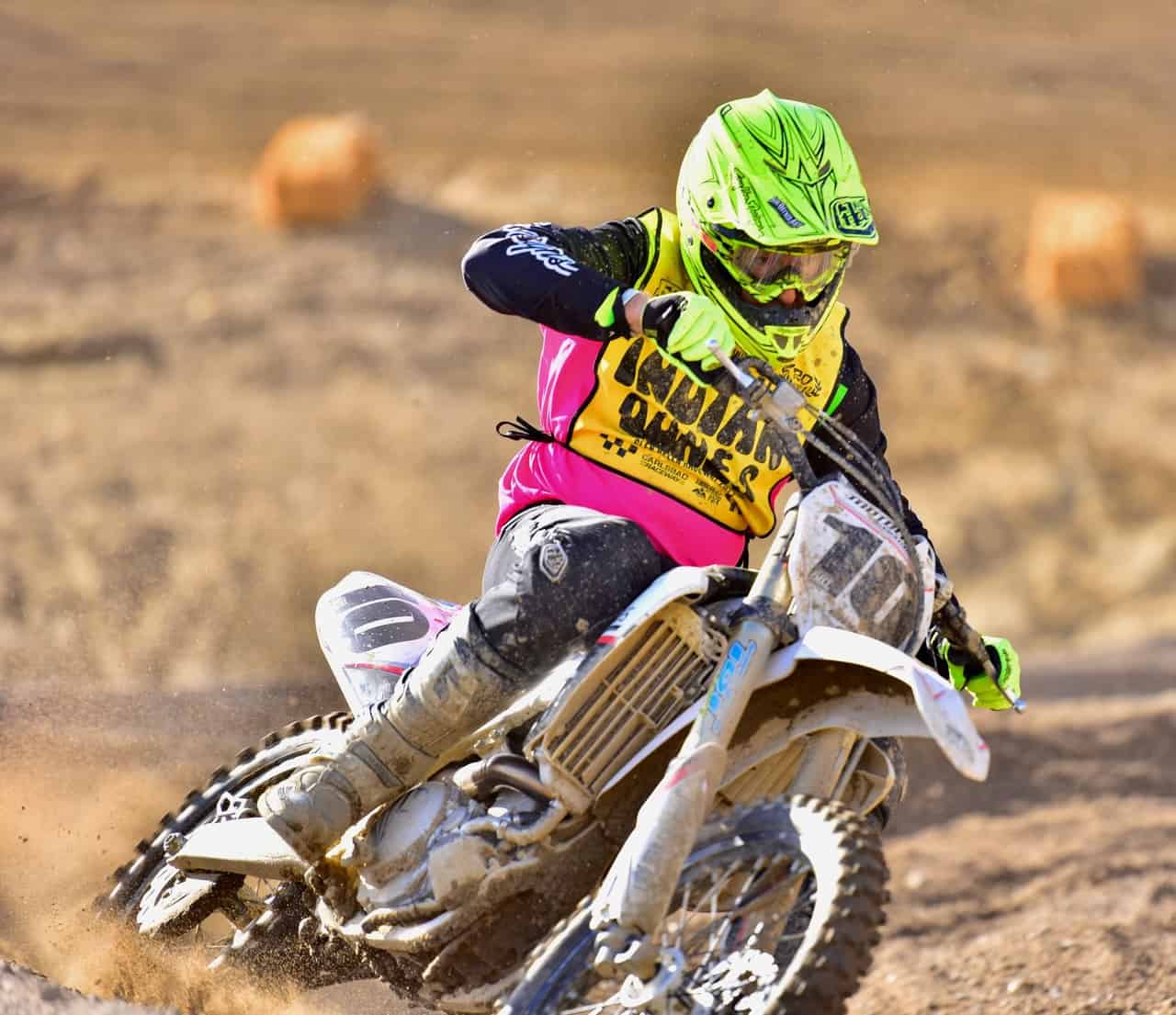 Jon Ortner in his Indian Dunes Vest for The SoCal Reunion race. Apart from Carlsbad riders, anyone who could even possibly be on the Saddleback or Indian Dunes teams would have to be over 40 years old.
By Jon Ortner
Photos by Mad Moose Media and Jon Ortner
Twenty years into the Day in The Dirt saga, Kenny Alexander has built an event that has developed an annual following that has riders visiting from all over Southern California to ride, race and roll at "The Fastest Party In Town." In fact, Alexander has built the Fasthouse company by working with iconic figures from the relationships he had while growing up at Indian Dunes (where his father ran the track).
Braden O'Neal (127), RJ Wageman (621) and Max Lee (50) on the charge to Talladega.
Originally back in 1998, Kenny Alexander and Jimmy Roberts, both working as stuntmen in Hollywood, had the idea to reintroduce a grand prix that was a tribute to the Hollwood-supported races from the past like Hopetown and the Westlake GP. That very first race exceeded all of their expectations with motocross legends Ricky Johnson and Broc Glover, and over a thousand racers lining up at the gates. Over the years, James Cameron got involved. Then Red Bull joined the party, along with famous artist Troy Lee.
N2Dirt's Brian Bolding and wife Britt enjoying the atmosphere.
With Glen Helen Raceway again hosting this year's 2017 Day in the Dirt, Glen Helen manager Lori Wilson invited me to be a guest racer at the event. With an art piece on my easel and a holiday timeline commitment, I took a break from my easel and drove down to Glen Helen from my art studio in Santa Barbara for the Friday "Happy Hour" practice session, and to compete in the "SoCal Reunion Race."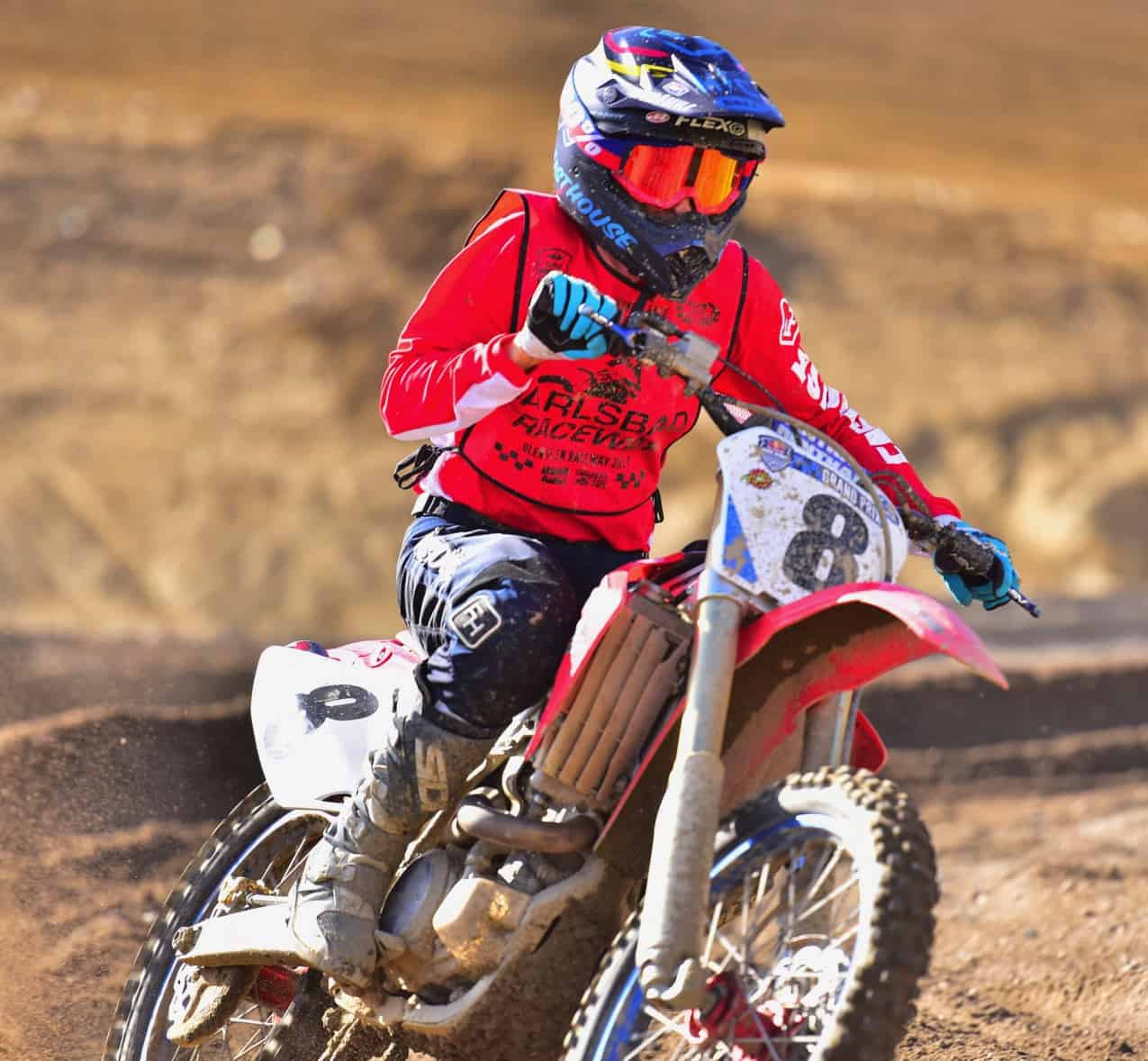 Scott Burnworth.
A VISIT FROM A FRIEND
Earlier in the week, the Dubach family graciously paid a visit to my studio and brought a DR.D exhaust system for my Simi Valley Cycles 2018 Yamaha YZ450. It seemed like the weekend's Day in the Dirt event was a perfect testing ground for getting a feel of the Dubach exhaust character and performance.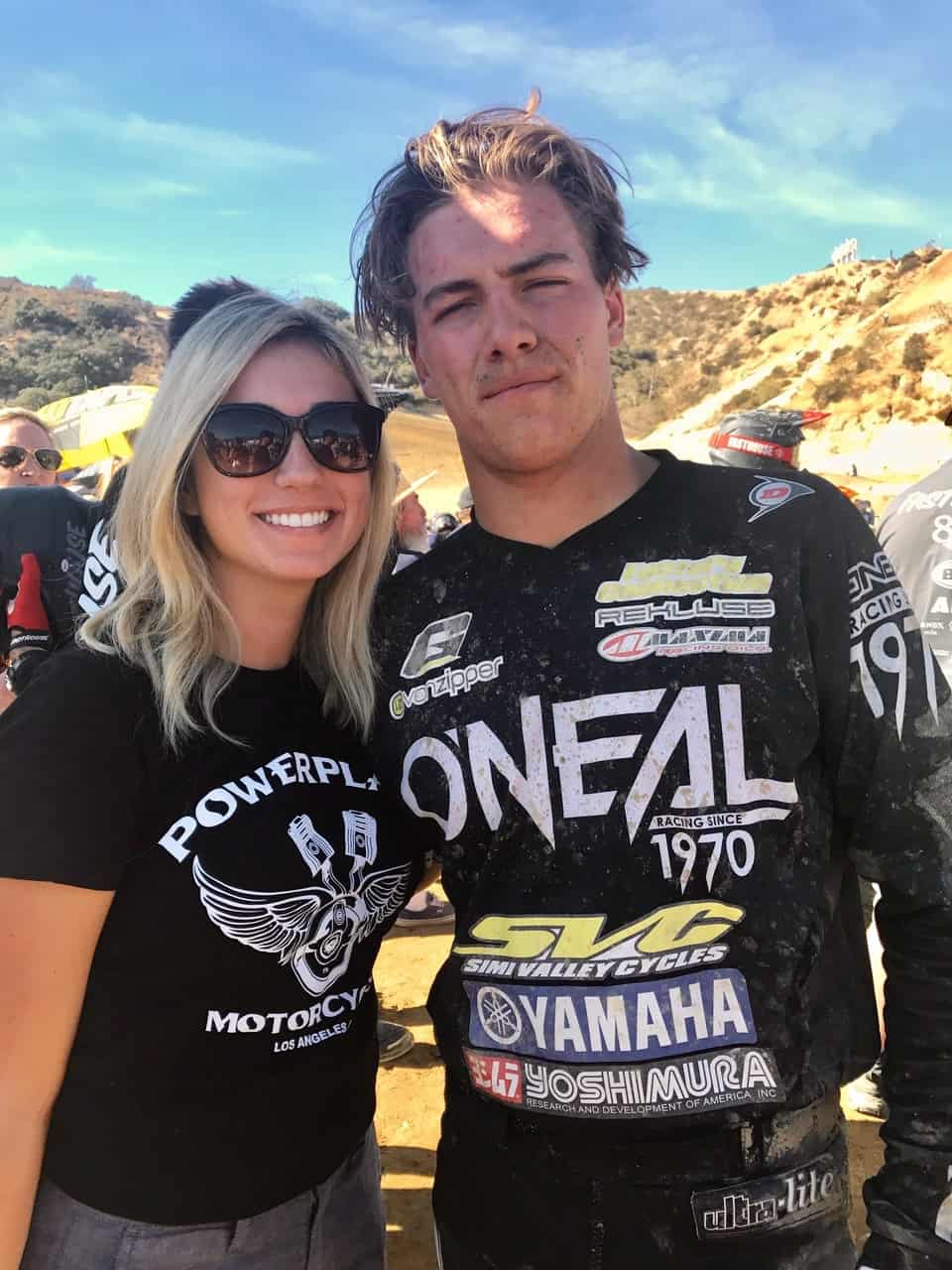 Braden O'Neal and girlfriend Carly Lee (Troy Lee's daughter). Together the represent two major gear companies and a lot of moto history.

For the SoCal Reunion race, I fumbled with the hands-on-the- helmet start and immediately got covered in roost and mud by a group of really good riders covering me in mud. As I rode through the first soggy lap, I tried corners in first gear, second gear and third gear. My idea was to feel the powerband, understand where the engine pulled best with this new exhaust system, and then start to lay down some better laps.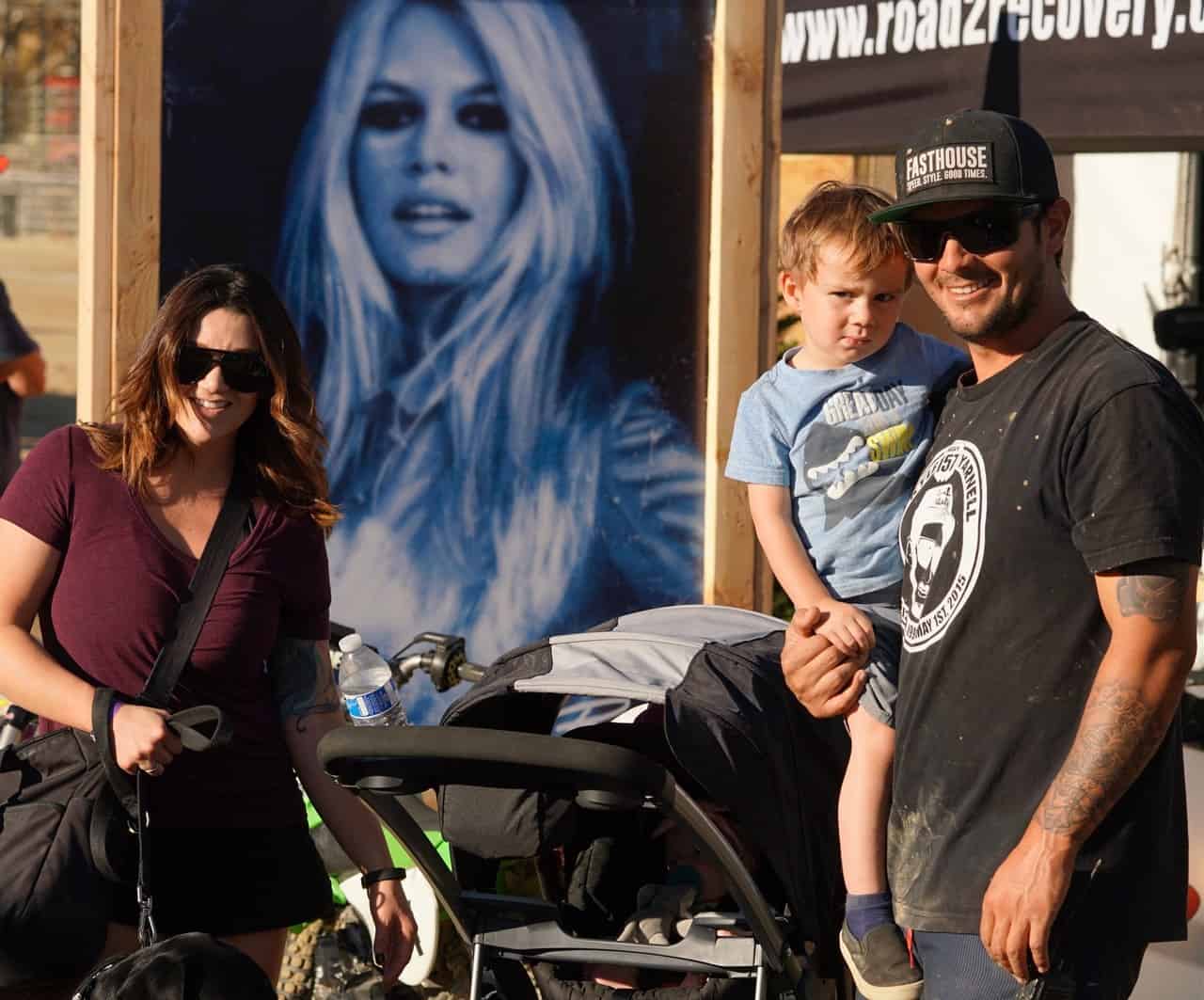 Andrew Yarnell and family. After working at Glen Helen for years, Andrew still comes out to the big events to help.
Right in the middle of all this thought process, as I am racing around the course, which combined the National track, the REM Motocross track, and various pavement and concrete sections linking the park, Husqvarna ambassador and motocross hero Jeff Emig passed me on a technical uphill section —  on a two-stroke Husqvarna TC150. Dang, I had to quit thinking about the powerband, gearing and performance of my bike and get to racing!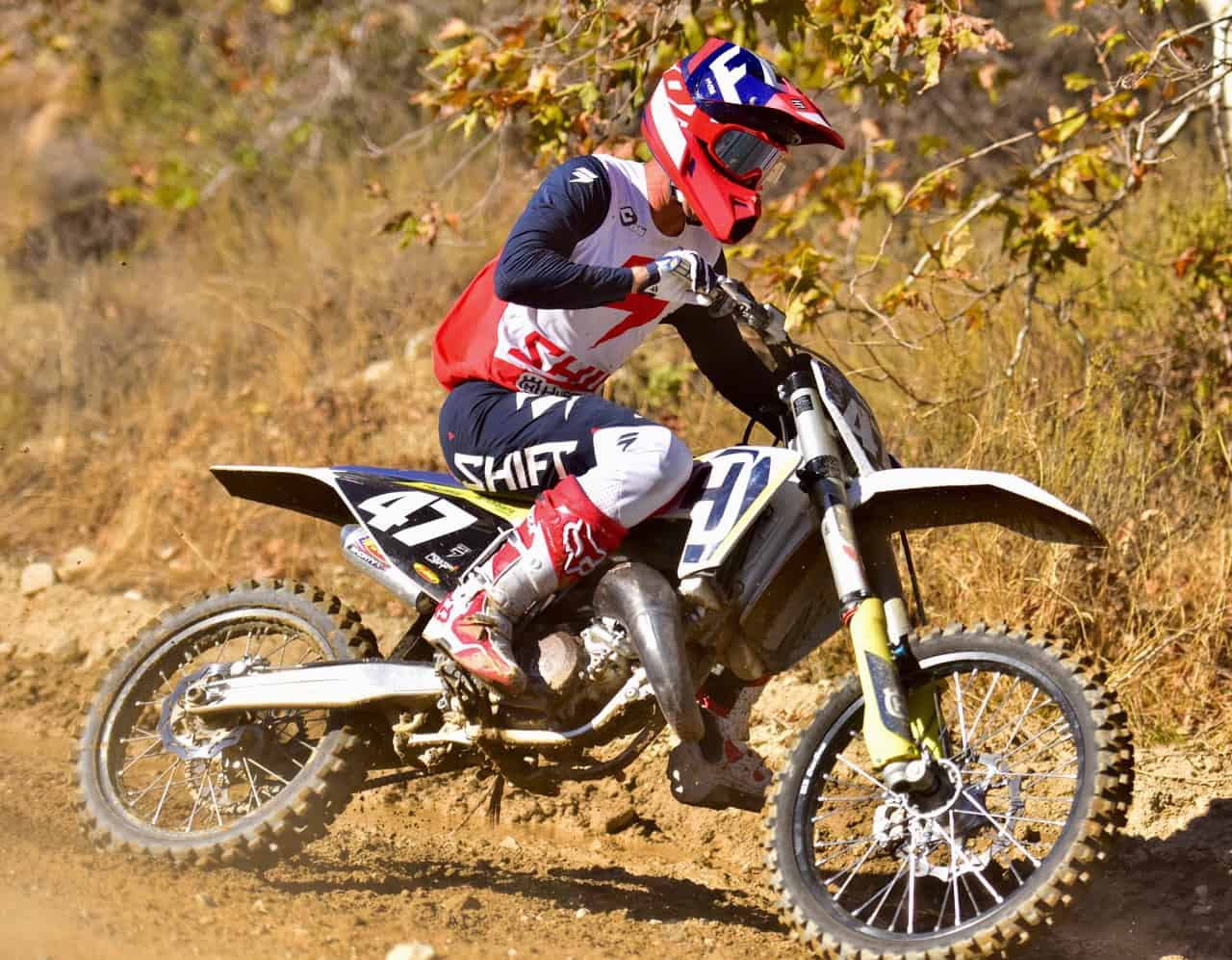 Jeff Emig on a Husqvarna two-stroke.
I finished seventh, but was happy to have raced against heroes like Jeff Emig, Ron Lechien and Scott Burnworth.
SOCAL REUNION RACE
1. Mike Sleeter
2. Jeff Emig
3. Ron Lechien
4. Mark Tilley
5. Caile Noble
6. Scott Burnworth
7. Jon Ortner
8. John Burfeind
9. Darrin Hoeft
10. Gary Riekki
RJ Wageman.
BACK AT WORK
Saturday I got back to work in Santa Barbara and throughout the day thought of how my bike was working, what I liked about it, and how I could reduce lap times for Sunday's race back out at the Day in the Dirt. That approach worked for me because during Sunday's race I shaved 20 seconds off my best lap time from Friday!

There is nothing "Hooligan" about an Indian FTR750.
Sunday morning on a full line of 50-year-old riders, I was motivated to start clean and stay out of the roost. Within a few corners I was up to second place. My old friend Louie Franco was leading and I was happy to let him blaze the first lap at a solid pace. Louie and I have history…we both started our racing careers in the 1970's at Indian Dunes. We were American teammates racing HardCross in Europe during the 1980's, then in more recent years we won numereous San Felipe 250s, Baja 500, Baja 1000 races and Class 40 SCORE Championships. Louie is fast as lightning, but, as erratic as possible. He gets so caught up in how much fun he is having, he simply blows through berms during his joy of speed. Then, you just have to figure out how to safely ride by while he careens back onto the course. I took the win in front of Louie and Ronnie.
OVER 50 SENIOR GRAND PRIX
1. Jon Ortner
2. Louie Franco
3. Ron Lechien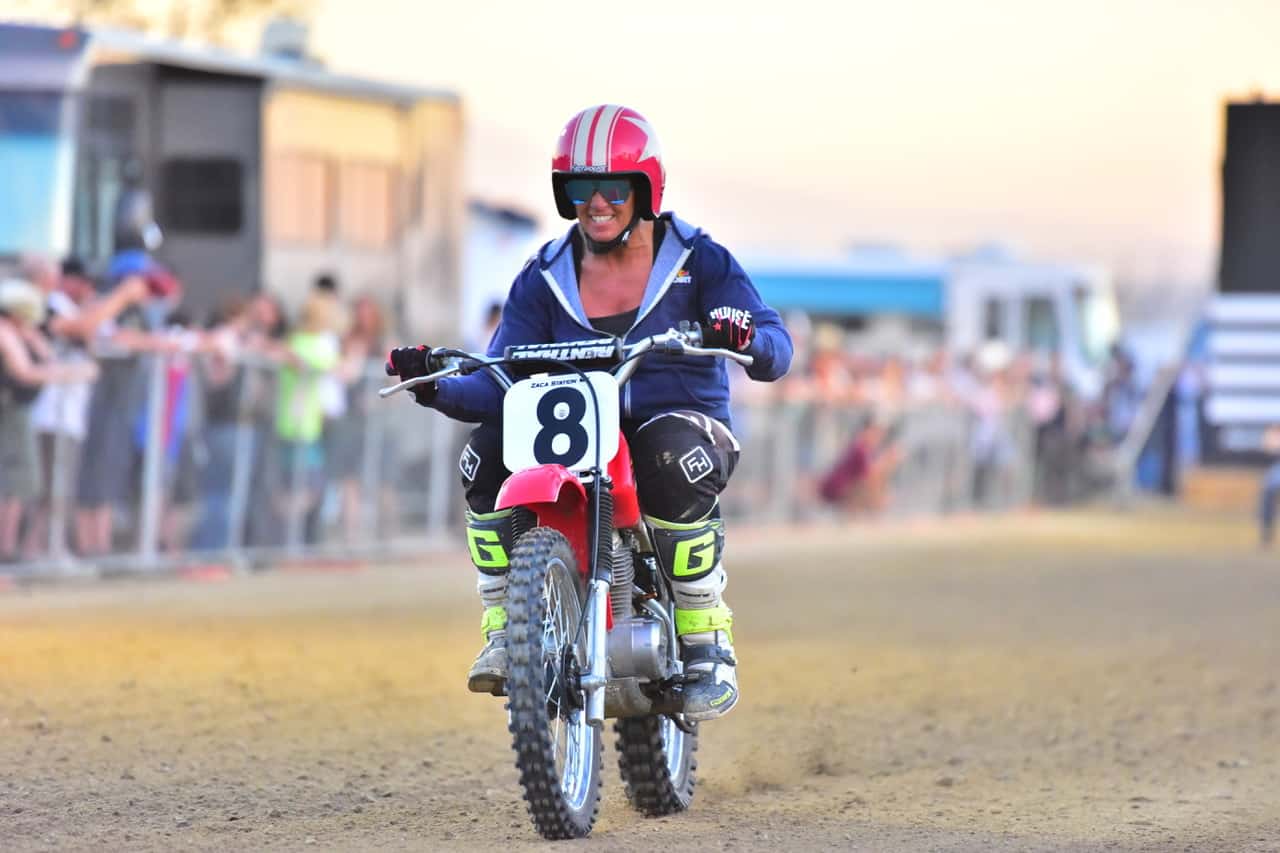 Tami Creese (8) runs the gate at Zaca Station MX Park.
Throughout the three-day event, numerous classes where run. The FMF 2-Stroke Rival Race, the Women's Grand Prix, Stunt Grand Prix Team Race, Beginner/Novice Grand Prix, Bossa Nova Grand Prix, Vet Classic Grand Prix, Hell on Wheels Scrambles, Mini Grand Prix, Pro/Am Grand Prix, Moto-a-GoGo GP Team Race, and the Coup De Grace GP Survival Race.
FMF 2-STROKE REVIVAL RACE
1. Justin Hoeft
2. Blayne Thompson
3. Matas Inda
4. Collin Shiner
5. Deegan Vonlossberg
6. Chance Fullerton
7. Ryan Ferris
8. Cobe Lehnertz
9. Tyler Bereman
10. Cody Briner
Mike Sleeter.
VET 30 PRO
1. Mike Sleeter
2. Jeff Emig
3. Kendall Norman
It's not a true-t0-life Day in the Dirt without an old Husky.
450 PRO
1. RJ Wageman
2. Derek Kelley
3. Rookie White
"I don't need no stinkin' rear suspension."
SR. VET 40 EXPERT
1. Mark Tilley
2. Daron Rahlves
3. Lawrence Klein
The Mad Moose photo booth was a popular place all weekend.
Jason Ashton, from Mad Moose Media, graciously provided the action shots for us. The Mad Moose crew of photographers and tech support provided every racer at the Day in The Dirt with action photographs, at a great price—truly a fantastic service that gave all of the racers crystal clear lifetime memories, in color!