JON ORTNER'S FACES IN THE PITS AT THE WORLD VET
Click on images to enlarge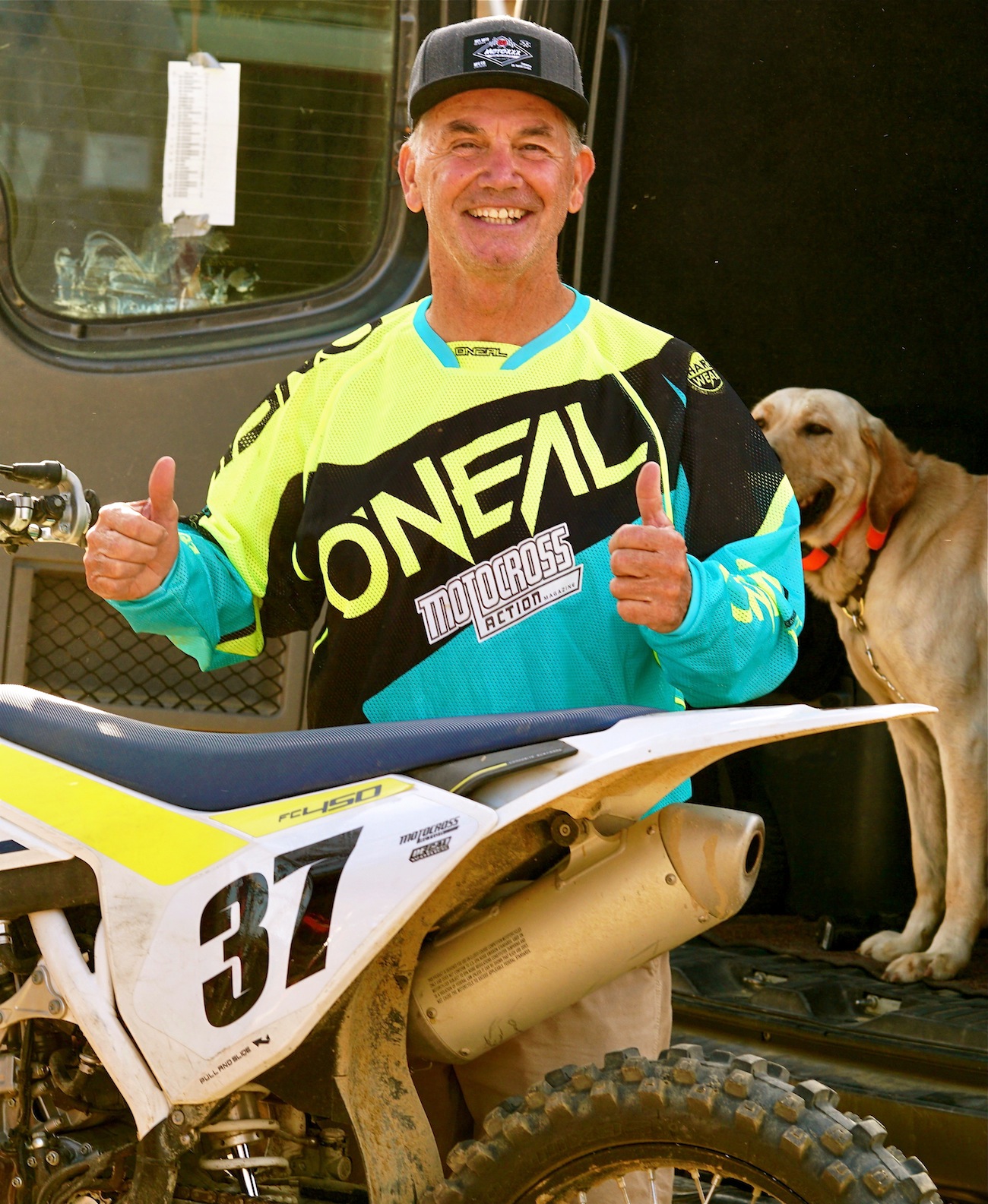 A happy Jim O'Neal celebrates his Over-70 World Championship, while Radar wonders when he's going to get fed.
Ashley Cole wanted to come to the World Vet, but the best gig she could get was being Jon Ortner's mechanic for the day. Well, at least she got to the races.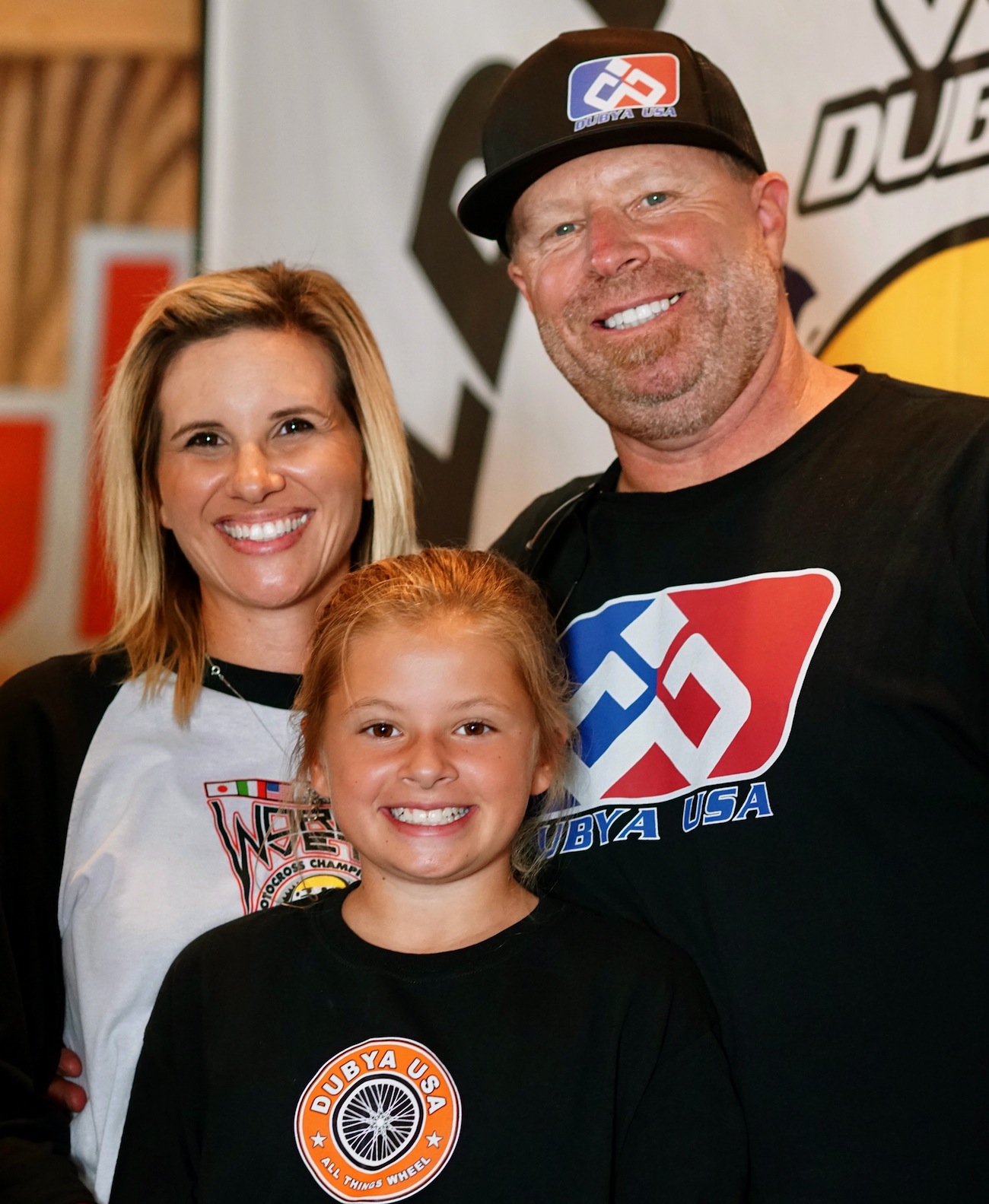 From those wonderful people who brought you the 2016 Dubya World Vet Championship. Kristin (left), Andie (center) and John Anderson (right) own Dubya USA. They are the sponsors of the World Vet and do a great job of making the weekend special for riders from 19 countries, 39 states and 2 territories—1212 entries for the the weekend.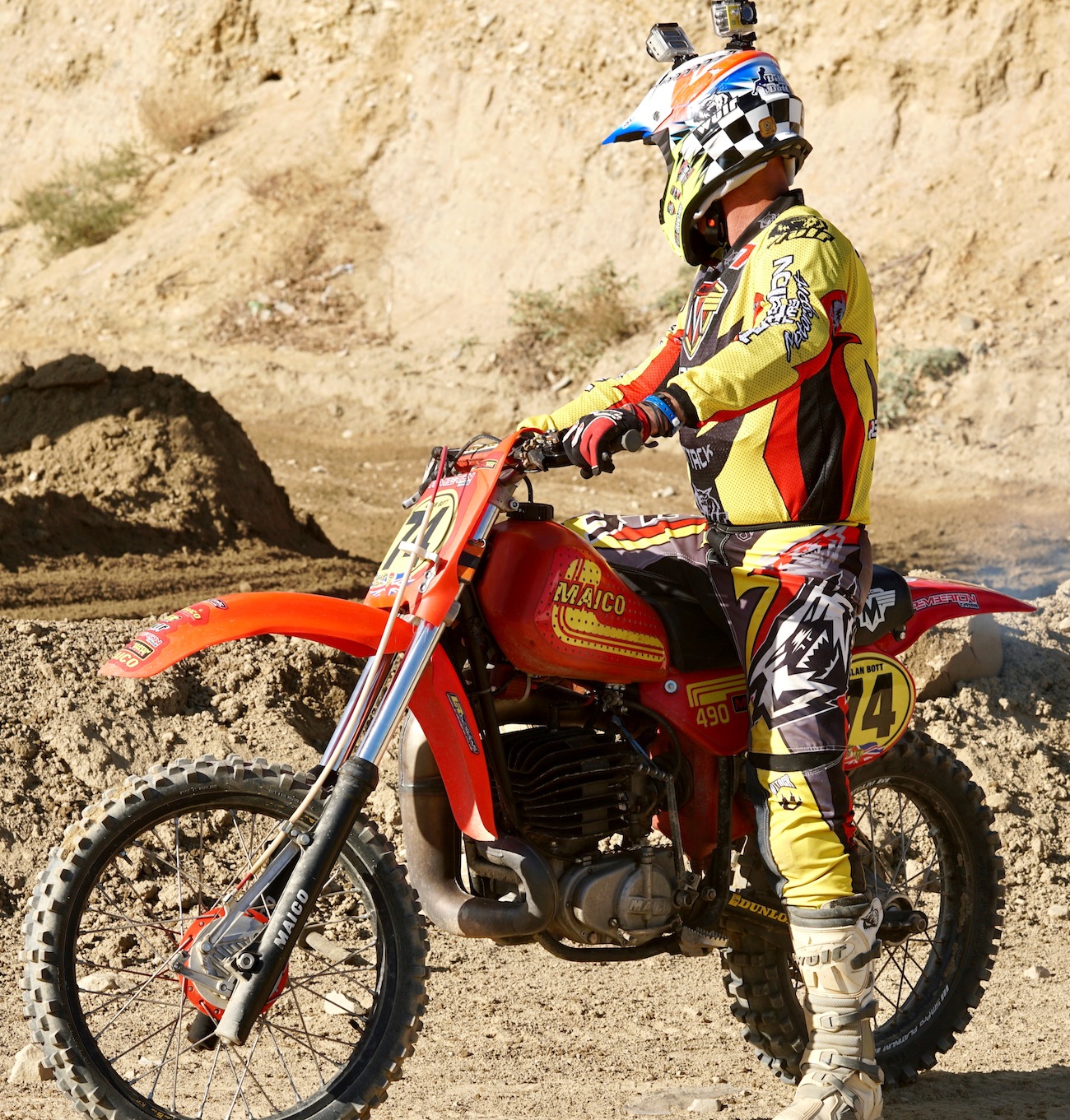 The World Vet is not a vintage race, that is the Farleigh Castle VMXDN, but no one told Brit Alan Bott. He raced his Maico 490 Mega2 to solid finishes in his classes.
Motocross is a family affair and injured racer Keith O'Neal brought his whole family out to watch grandpa Jim win both motos of the Over-70 class. The O'Neals are hardcore. This is Keith and daughter Jacqueline.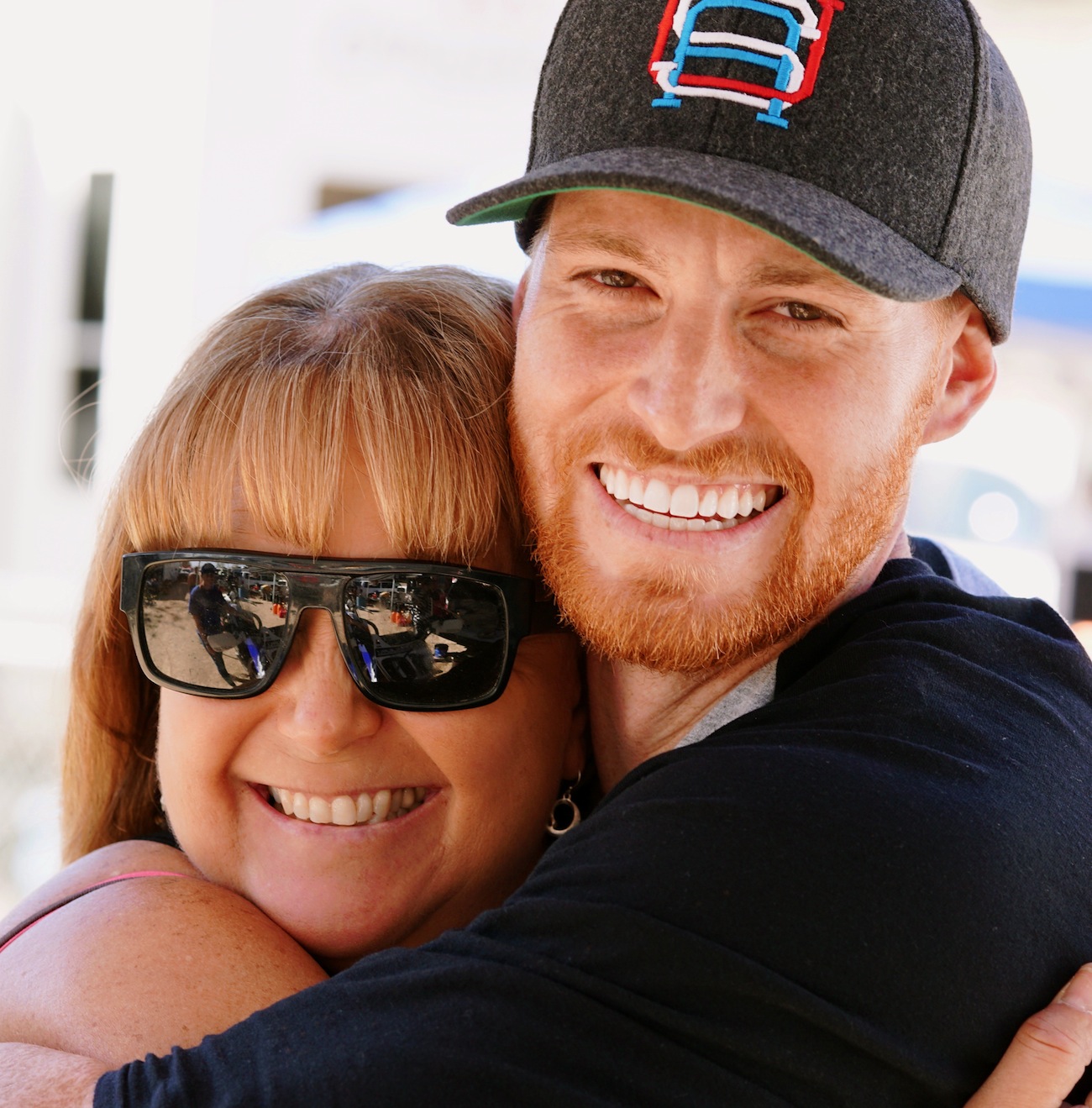 Glen Helen General Manager Lori Wilson gives a hug to former AMA National Pro Matty Dowell. Matty wanted to come out and watch his father Phil Dowell in the Over-50 Pro class, but Phil was injured and couldn't ride.
Ed  Tashjian found the perfect way to wear a neck brace and a beard at the same time.
If Travis Preston was a farmer, this would qualify as plowing the North 40. It doesn't hurt that Josh Coppins had added a extra dose of roost to Preston's YZ450F.
Todd Gravitt's daughters, Kennedy, Taylor and Kylie are experienced race fans. They go to the weekly REM races with dad and four-year-old Taylor has already had the training wheels taken off her CRF50.
R&D Racing's Dean Dickinson and girlfriend Cynthia came out to check on the progress of his Genius throttle body-equipped racers.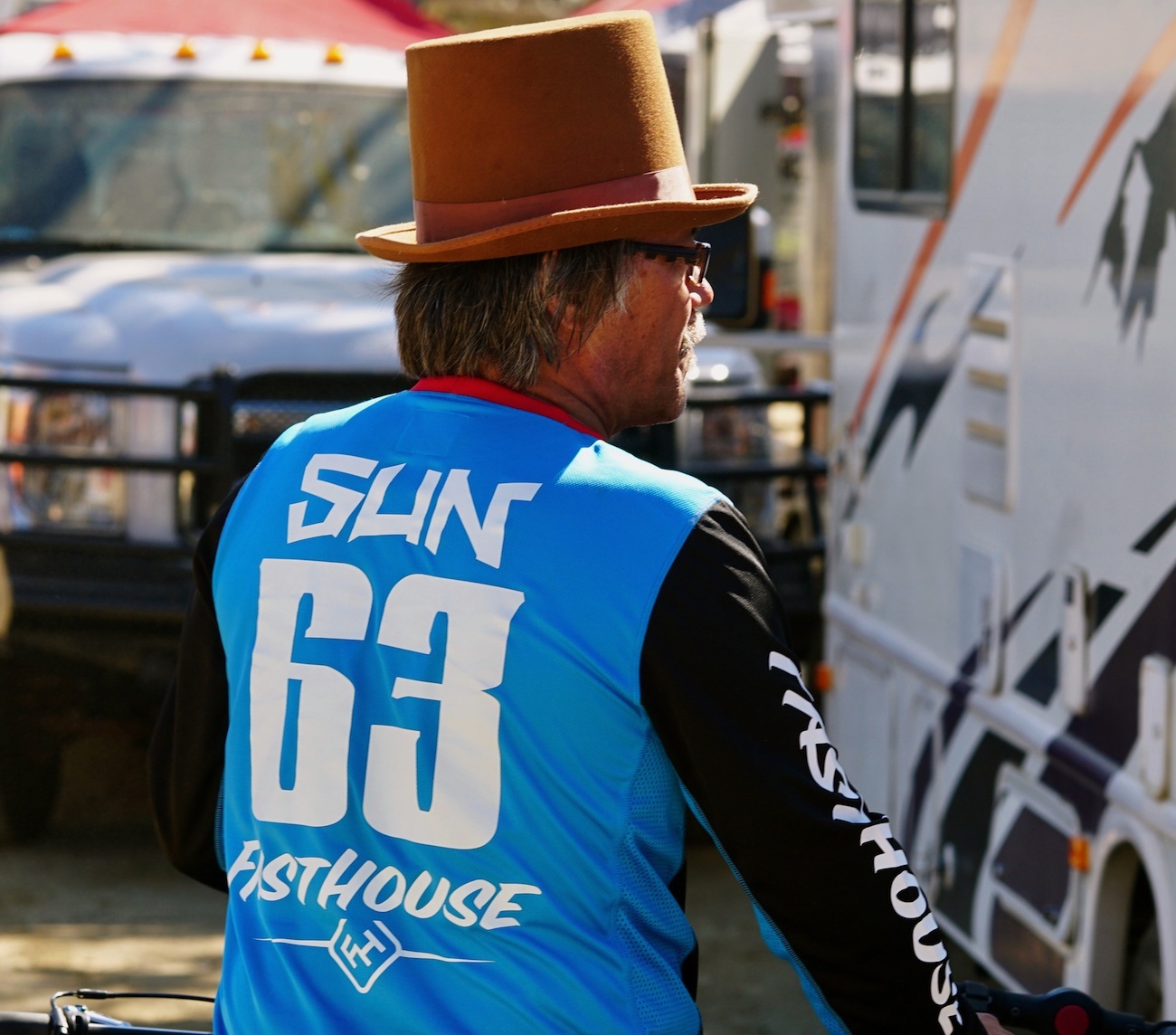 Chuck Sun wore his leprechaun hat all weekend.
On Lars Larsson's big day, former business partner Birgitta Berlin came to Glen Helen to celebrate with him. What business were they partners in? Lars, Torsten Hallman and Birgitta founded Torsten Hallman Offroad Racing—which we know as THOR today.
Towering over the rear wheels of dads' bike, Sergi Costa, flew to America with mom and dad from Barcelona for the World Vet.