JORDON SMITH TALKS SAND SECTIONS, PAST TEAMS & SUPERCROSS SO FAR
JORDON SMITH IS READY FOR THE 2023 ARLINGTON SUPERCROSS
Signed by the now-defunct Geico Honda squad, Jordon Smith quickly made a name for himself as a Pro. Soon, he was sought after by most of the 250 teams in the pits. Troy Lee Designs/Red Bull/KTM signed Smith for 2017, and Jordon quickly rewarded them with wins. For the 2020 -2021 seasons, Jordon switched to the Monster Energy Pro Circuit Kawasaki team, but unfortunately, numerous injuries sidelined him for much of his tenure on green. Wanting to re-establish his career, Jordon signed with the Australian-owned Fire Power Honda team for 2022 (formerly called Penrite Honda team). After the 2022 Supercross season, Bobby Reagan's Star Racing Yamaha team needed an experienced rider to add to their roster which mostly consists of rookie riders in the 250SX class. 
Now healthy and hungry, the recently turned 27-year-old is hoping the 2023 season is a career turnaround year for him. Two rounds into the 2023 East Coast 250 Supercross season, Smith finished on the podium in third place at the Houston Supercross opener after crashing in the sand, and he finished 15th at Tampa after crashing the in the sand again and having a bike malfunction while running sixth, late in the race. 
By Jim Kimball
---
JORDON, YOU NOW HAVE TWO RACES UNDER YOUR BELT WITH THE STAR RACING YAMAHA TEAM, HOW DO YOU RATE IT? Well, we are not in the position that we wanted to be after two rounds, points-wise, and results-wise. But my riding has been good, and I feel like possibly the best in my career. I have been qualifying well and won a heat race. I have been really struggling with the sand at the races, so I guess the rating that I would give myself is good but not great. I have been getting good starts and riding well, so just must clean up a few little mistakes, mainly in the sand sections. I think that wins are in the equation for us this year.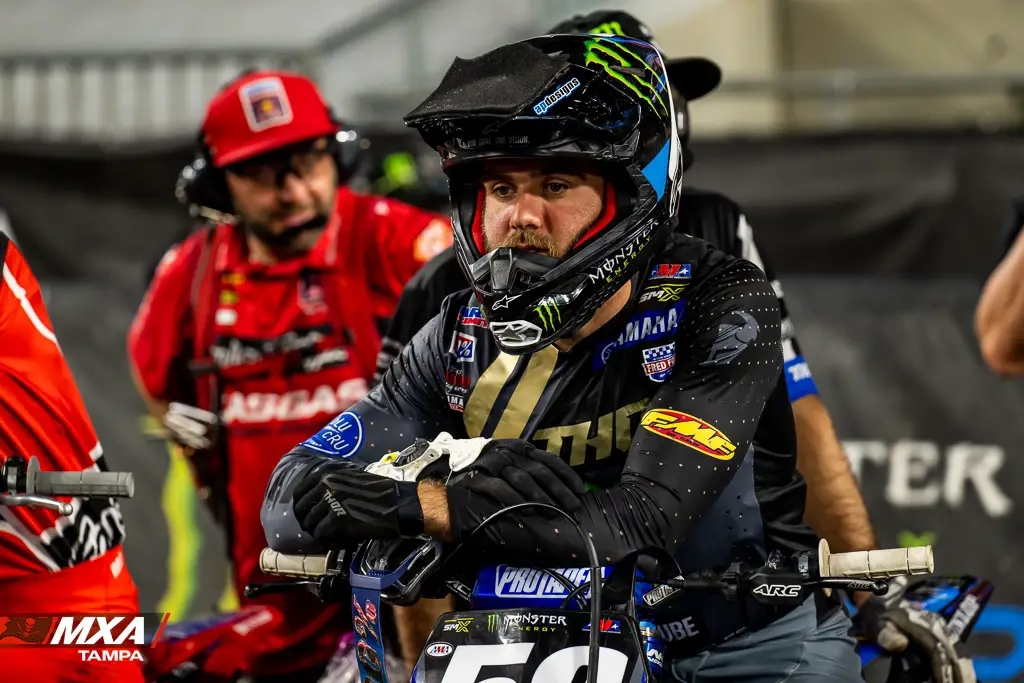 Rain fell during the night show at the Tampa Supercross. It wasn't a mud race, but the track got slick. Alpinestars put foam on Jordon's helmet to keep mud from sticking to it.
I THINK SO TOO. I BELIEVE YOU HAVE THE SPEED AND FITNESS TO WIN. I feel that way as well. We have been working hard this off-season, the bike is good, and I feel comfortable. After that first round, that belief came back in me. It has been so long since I have been up on the podium, so it was good to come out and get that podium right away. Now I feel like I can win any race that I am lining up behind the gate for. I came out in pretty much a perfect position in Tampa. I was in second but going into the sand section, in that fresh deep sand, I pushed the front, fell, and we were way, way back. That was not ideal, but then came through the pack pretty well. Then I got together with Chance Hymas in a spot, went off the track, and lost a couple more spots. Near the end of the main, I made my way back up to sixth, but unfortunately, then I had a little bike problem and was not able to finish with under two laps to go. That was a big bummer because it had been a great day, all around. Finishing sixth would have been much better than finishing fifteenth. All we can do is go back to work, just keep plugging along and try to just focus on getting some wins now.  
HOW DO YOU FEEL ABOUT SUPERCROSS TRACKS HAVING SAND SECTIONS? It is one of those things, it is what it is. The track guys seem to like sand, but it is not at every round. Everyone has to race it too. It is just one of those things. Personally, I don't ride a lot of sand. We don't have a lot of sand around here, and racing in it just does not come naturally to me. There are some trails in Tallahassee that I went and rode a little bit that is really sandy, so I am trying to work on it. I felt like over the first two rounds, that was really my only weakness that we could really point out and say that is where we really struggled. It is always a good thing to know exactly where you need work. I am not the biggest fan of sand on the Supercross track. I think I would rather there be another set of whoops there but it is what it is, so we have to just get better at it and they are probably going to keep throwing it at us. I have to get better and make my weakness a strength.
Jordon Smith's Star Racing Yamaha YZ250F. 
EVEN THOUGH YOU HAVE ONLY RACED TWICE WITH THE TEAM, DIDN'T YOU BEGIN WORKING WITH THEM LAST SUMMER? I started riding the bike and training with the team at the beginning of June last year, once Supercross season was over, we got everything squared away and my contract signed. I only live about twenty minutes from the farm, so once they got me a bike built, I went over there and started riding and trained all the Motocross season with the guys last year.  
I AM ASSUMING THAT BY NOW YOU FEEL PRETTY DIALED INTO THE TEAM? I feel good. The team has been awesome. I really like the atmosphere of everyone training together. We are all really good friends and we all get along well and push each other every day, so it is really cool as far as that part is.  
YOU HAVE BEEN WITH SOME OTHER HIGH-PROFILE TEAMS, IS IT SOMEWHAT COMPARABLE? Yes, for sure. They all do things a little bit differently but for the most part, they do them the right way. If we are struggling with something, they are always ready to go testing and trying to figure it out. That is one thing about this whole team, they are always looking for the next thing that is going to make us better as riders and make the bike better and they just don't leave any stones unturned. It is really good and this is the first team that I have been on that we all train together all the time. It has been good.  
Jordon Smith navigating the sand at Houston with Max Anstie (63) trailing him. Max is riding for Fire Power Honda, the same team Jordon was riding for last year.
YOU HAD A COUPLE OF PRETTY TOUGH YEARS, CAN YOU TALK ABOUT THOSE? It was not a good two years for me at Monster Energy Pro Circuit Kawasaki. I was just talking to Mitch at Tampa after the last qualifying practice when I saw him strolling by and decided to stop him and talk to him. We talked for a few minutes, and he told me how happy and proud of me that he was that I turned it around. Back then he was right there going through all that stuff with me. No one wanted me to be going through that stuff. I feel like I am a levelheaded guy, and I don't really get too down or get too excited. I just keep plugging along and take what it gives me. But it was stressful not knowing what I was going to do after the Pro Circuit deal.
I had multiple offers for smaller teams and was just trying to make the right decision. I linked up with Yarrive Konsky (Team Owner) and Martin Davalos (Team Manager) at Fire Power Honda, and I think that was good. We started from nothing, but it was good for my career, somewhat of a reset. Then to get the call from Star and have that opportunity. It was just a blessing and was ready to go and make the most of it.  

TALK MORE ABOUT THE FIREPOWER HONDA TEAM. Obviously, the year before, they had Justin Brayton, but everything changed from 2021 to 2022 when I was on the team. It was really a completely different team. None of the personnel was the same. We got a whole new bike. I did not even get a bike to ride Supercross until the beginning of December. We were riding Supercross on a stock engine, and suspension on it. So, you know it was tough to get through that, but I just tried to make the most of it, and we got better throughout the year. It was towards the end of the Supercross season, maybe around the East/West Shootout at Atlanta when it was the first time that I talked to the Star guys. I talked to Bobby. I was really open with Yarrive and that team as they had reached out to me.
Yarrive and I have a good relationship and I was fortunate enough that he let me just move right on over. I will be forever grateful for Yarrive and that whole team that we put together last year. It's very cool to see them doing good this year. They just kept building off what we were doing last year. Max (Anstie) is riding well, and I am happy for Yarrive and Martin Davalos to see them doing as well as they are.  
Jordon leading the pack in his Heat race at Houston.
AFTER NOT RACING ALL SUMMER LAST YEAR, DID YOU LOSE ANY OF YOUR RACECRAFT? I was not sure how it was going to go, going into Houston. It had been since Salt Lake City Supercross last year since I had raced a true race. I did not really know what to expect from myself. I knew I had been riding well at practice. It is basically a race every day at the farm with all the Star guys. I knew that I had been riding well and I knew if I showed up for race time, I would be okay, but I did not really know what was going to happen. Then, as soon as the gates dropped and I got that heat race win, I felt a lot more at ease and ready to go. I don't really feel like I lost much.  
It will be a bit of a work in progress throughout the season. I am really excited this year to get a good healthy Supercross series in and get out and race outdoors as well. I think that is going to help me out a lot.  It has been so many years since I raced outdoors and raced throughout the summer, so just getting those gate drops is going to help me out a lot.
As you can tell by his right elbow, Supercross is taxing on the body. 
WE KNOW YOU CAN TAKE A WIN IN THE 250 EAST COAST SERIES, BUT WITH YOUR RESULT FROM TAMPA IS THE CHAMPIONSHIP OVER? At this point, I am not thinking about a championship, I am just going out there and I am in ninth place in points after two rounds, so that is not ideal from a championship standpoint.
I am just going out there and just trying to get some race wins. I have been a part of championship battles and you never know what can happen, but I am not thinking about that. I am just thinking about going out there and getting a good start and trying to run up front. I am trying to put myself in a position to be battling or beating Hunter (Lawrence). Obviously, he is riding well and my teammate, Nate (Thrasher) is riding well also. It is just about putting myself in a good position and being upfront. You never know what happens, just as easily as I had a DNF last week, that could happen to anyone. We are just going to go out there and keep plugging along, trying to get better every week and be upfront.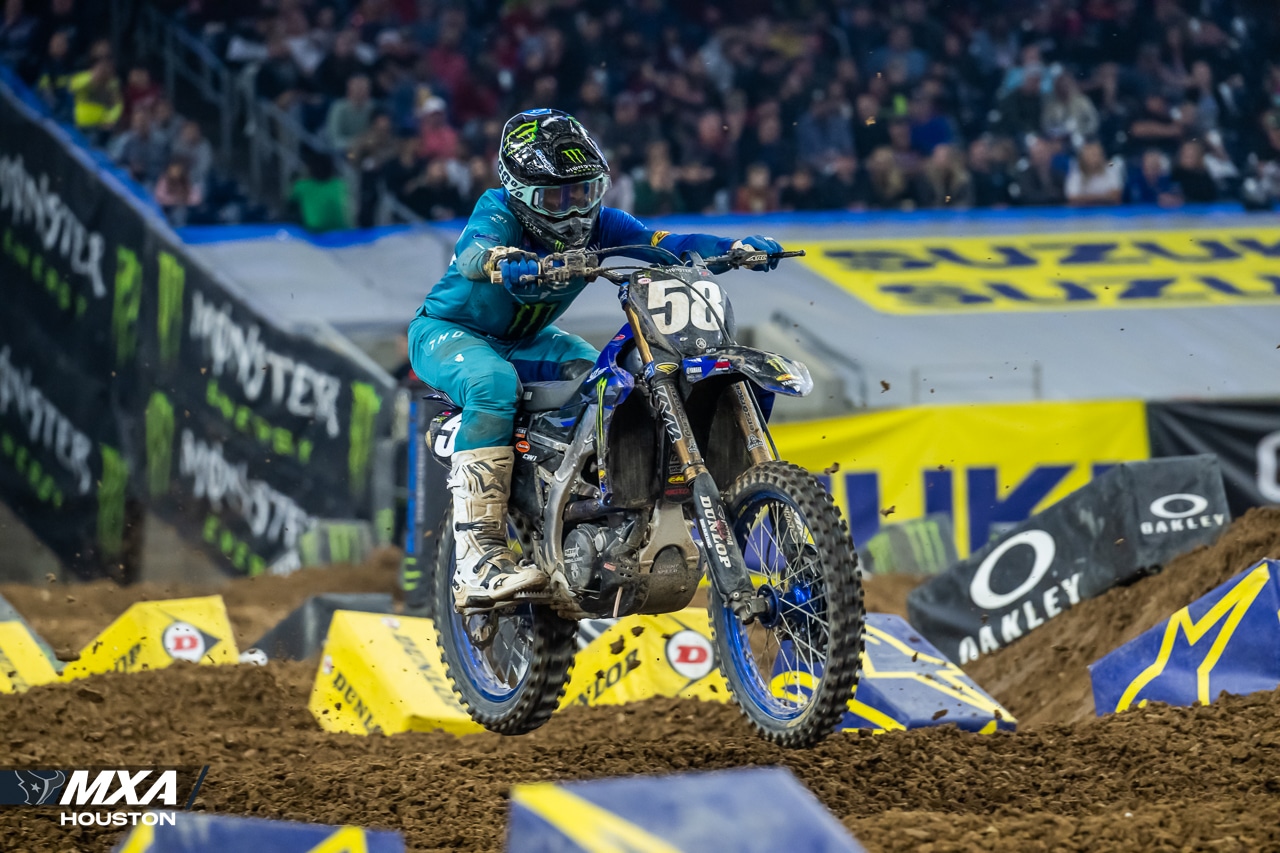 ONE MORE QUESTION, DO YOU HAVE ANY MORE THOUGHTS ABOUT THE OUTDOOR NATIONALS THIS SUMMER? I really like racing outdoors. It has been 2018 since I did a full season. I did a few rounds in 2019 and since then, it has been injury after injury. I am excited to get out there and get on a good bike. Coming into being a Pro, I always felt I was a better outdoor rider than I would be in Supercross, and I just feel that I have never really gotten to show that. I am excited to try and get a good healthy season and finish all the rounds of Supercross and Motocross and show that I can be upfront outdoors as well.