JOSH GRANT MXA TEST RIDER, GASGAS MX SMOKER & MORE IN THIS WEEK'S MID-WEEK REPORT
TWO-STROKE SPOTLIGHT: RICK GRANT'S 2002 HONDA CR250
2002 Honda CR250.
"This is my 2002 Honda CR250. I'm the second owner and it has really low hours. It still has the original top end and clutch. The suspension is done by N2D. I put on Renthal 971 handelbars, sprockets and chain. It is shoed with a Bridgestone 403 front tire and Michelin StarCross rear. Has new DID Dirt Star rims and new rear Honda spokes, FMF Fatty pipe and Shorty silencer. I put on a Works Connection clutch perch, Keihin PWK air striker carb, Throttle Jockey graphics blue Honda seat cover. I also took a picture of my bike with my collection of motocross des nations T-shirts from 1980-1998." –Rick Grant.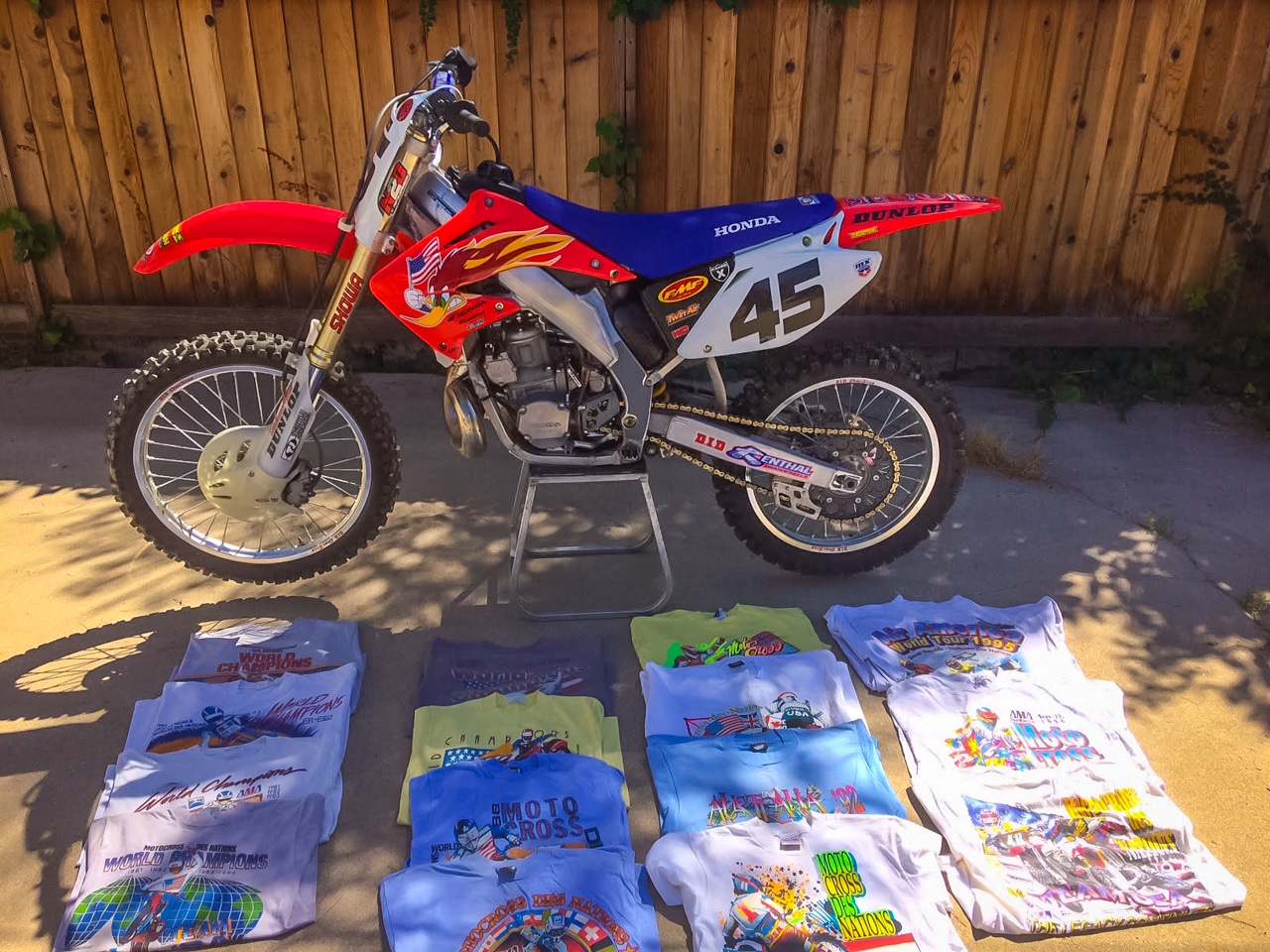 EDITORS NOTE: Please keep those submissions coming. If you would like your bike to be featured in the "Two-Stroke Spotlight," please email me at [email protected]. All I ask is that you give a breakdown of your bike and a detailed description of the build. Please also send a few photos of your steed. By submitting your bike for the "Two-Stroke Spotlight," you agree to release all ownership rights to the images and copy to MXA. Please don't email me spam or try selling me Taylor Swift concert tickets or email me spam. I already celebrate T-Swizzle's entire collective, and there will be "bad blood" if you send me junk mail. See what I did there? Happy submitting your smoker.
2019 MXA 450 SHOOTOUT
FASTER USA FULLY BUILT WHEELS

Pricing on these FasterUSA built wheel sets run $1079 and come in multiple color combinations.
-D.I.D STX rims, Excel spokes and nipples, FasterUSA hubs fully assembled.
– Ship within 1-2 days (free freight to lower 48).
– Hubs are 100% US made in house.
Check out www.fasterusa.com or call them at (951) 296-0012.
JOSH GRANT TESTING MXA'S TWISTED DEVELOPMENT RM-Z450 PROJECT BIKE

Josh Grant is between rides and when he found out about our Twisted Development 2019 Suzuki RM-Z450 Josh wanted to come ride it. He was part of the MXA wrecking crew for the day — putting on the orange lid and all. 
Josh ripping at his home Glen Helen track.
The RG3 suspension was setup for a Vet Intermediate, so it was a bit soft for Josh, but he was able to feel comfortable with a 105mm of sag rather than having to drop it down to 108mm like we have to in stock trim. Our Vet riders loved this setup.  
The Twisted Development engine sounded mean. 
Jamie Ellis from Twisted Development built Josh's RM-Z450 back in 2016—the one that he raced at the Daytona Supercross.
FMF made a custom exhaust for the build. 

THURSDAY AT GLEN HELEN

The Star Yamaha team was out testing. Mitchell Oldenburg was ripping.


Dylan Ferrandis getting ready for the MXDN. 
Mitchell Falk was putting in laps.


Adam Cianciarulo is back on the track.
Aaron Plessinger is still riding his 2018 race bike.
Justin Barcia with his MXDN Alpinestars gear on.


Amateur Matt LeBlanc is now on a YZ125. 
Cole Seely was also doing testing. 
AME AMATEUR SX WARM UP RACE REPORT
Jo Shimoda (center) won the Amateur All-Star race over the AMA Horizon winner Derek Drake (left). 
The AME Amatuer SX warm up race took to the field this past weekend on an all-new Amateur SX track built at Milestone MX park in Southern California. The event saw America's top youth talent pack 28 different classes ranging from the youngest 51cc first timers to the elite superminis and Amateur All-Stars. 
This event ran an SX style format with a heat race and a main event in every class which ignited some of the most intense racing ever witnessed.
The feature race was the Cowboy movers Amateur All-Stars which put our future SX Pros into head-to-head Challenge.
Seth Hammaker trying to make the mover on Shimoda. 
Derek Drake, the AMA horizon award winner in 2018 scored a well earned heat win over Jo Shimoda and Seth Hammaker. Rising American Honda star, Jo Shimoda came back strong in the main event taking advantage of a strong start to lead every lap of the 10 lap main event! A three way battle between Carson Mumford, Derek Drake and Hammaker erupted with Hammaker scoring the runner up spot. 
The Super Minis were buzzing with the likes of Pro Circuit Kawasaki riders Jett Reynolds, Ryder Difrancesco, and Nick Romano facing off against local Southern California kids Josh Varise and Hunter Yoder just to name a few.
Jett Reynolds (79) with Josh Varise (24) in tow. 
The Supermini 12-16  class saw KTM's Josh Varise surprise Jett Reynolds with a perfectly executed block pass on the final lap of the main event to score a decisive victory. 
Reynolds returned in the Super Mini 9-14 and wouldn't be denied victory with a solid win in the main event. 
Other notable race winners included Utah's Degan Palmer in the 250 youth class. 
85 open: Raven Gordon
85 9-14: Raven Gordon
85 7-11: Enzo Timmerman
65 open: Evan woody
51 open: Wyatt Thurman
PW 1st timer: Noah Cornejo
KLK 110: Jake Osborne  
KREFT MOTO ALTA MXR
Kreft Moto staff recently spent three weeks testing a 2018 Alta MXR, the electric motocross bike built in California. You may have seen Josh Hill riding an Alta in the Red Bull Straight Rhythm supercross event last year, where it proved to be remarkably competitive.
The Alta comes with the same WP suspension components we know from KTM and Husqvarna, so it is a good fit for Kreft Moto services. We wanted to evaluate the stock suspension and see what we could do to improve it. Naturally, we were also just curious to ride it.
To learn more about our analysis and solutions for this unique motorcycle visit our Alta MXR webpage.
KEVIN WINDHAM'S MXDN HONDA CRF450 WENT FOR $30,100
WHAT THE MXA WRECKING CREW IS UP TO
MXA testing a GasGas? GasGas built Damon Bradshaw a motocross version XC300 that we got to test and race. 
The Beast from the East is still tearing it up. Although now he is doing it in Idaho. 
In stock trim the GasGas 3000 two-stroke comes standard with Kayaba SSS suspension components. 
We had Dennis Stapleton putting time on our 2019 Husqvarna FC350.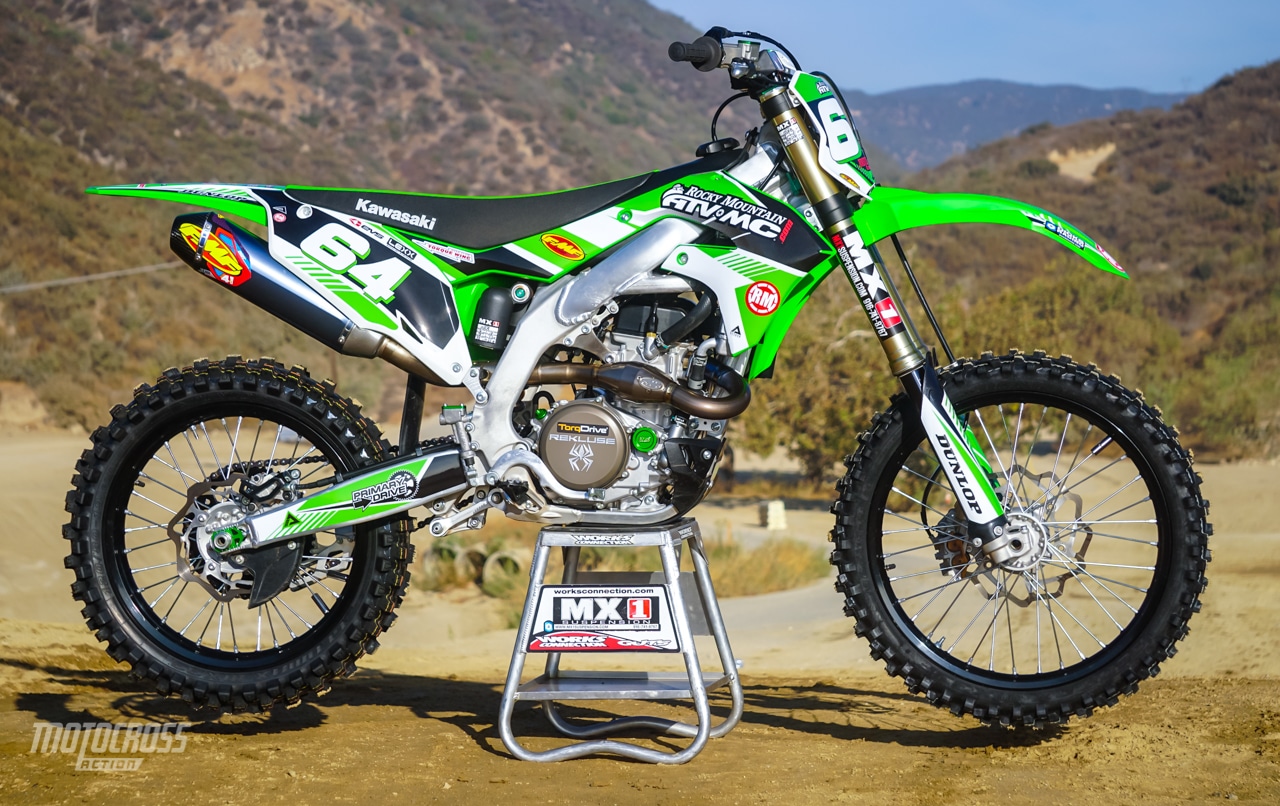 Dick Wilk built a 2019 Kawasaki KX450 that we are testing. 
We are having good luck with FMF's exhaust on the 2019 KX450.
Dennis Stapleton blasting berms at the Saturday REM race on the MX1/Dicks Racing Kawasaki KX450. Photo; Jon Ortner
BOYESEN BUDDY BOOGIE SPEED FESTIVAL AT PAGODA MC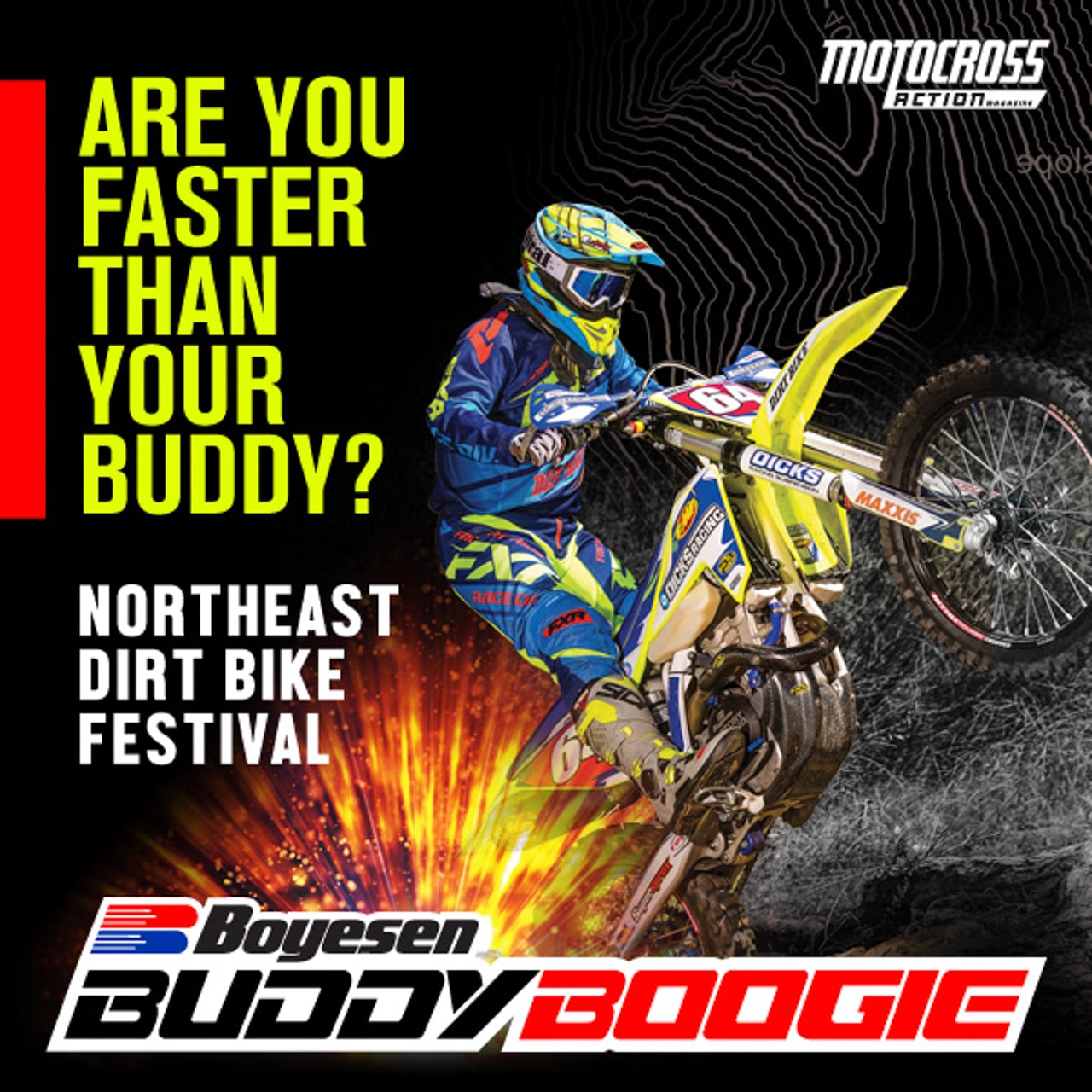 Press Release: The Mortheast and mid-Atlantic's premier dirt bike festival. "The most seat-time you will get all year" – Randy Kastle, Pagoda MC President.
Calling all Motocross, Enduro, GNCC, Cross Country, casual riders… young and old, fast and slow. This is YOUR CALLING. The Boyesen Buddy Boogie is a unique Dirt Bike Festival designed to offer the best collective Riding and Racing experience available in the Northeastern and Mid-Atlantic regions.
Boyesen Engineering, Motocross Action Magazine, Dirt Bike Magazine, and ThumperTalk.com are proud to showcase the 1st Annual Boyesen Buddy Boogie Speed Festival held at Pagoda MC in Birdsboro, PA. The Boyesen Buddy Boogie has been created to include the full spectrum of Motocross and Offroad and has been designed to be a weekend-long celebration of the best that each discipline has to offer. From beginner youth riders and casual riding , to some of the fastest and most accomplished regional Moto and Offroad pilots, the Buddy Boogie Speed Festival promises to be a fun and approachable event that offers a weekend packed with family fun, riding and racing! The Boyesen Buddy Boogie is slated to be a can't miss event with opportunities to gather as friends, as competitors, and most importantly as FAMILY to celebrate all things Moto and Offroad in one single destination event. The Buddy Boogie offers riders the most available riding time throughout the weekend. Call your Buddies and come out and Boogie!
SOCIAL HASHTAGS
#buddyboogie, #doyouboogie, #pagodamc, #ridepagoda
Event Date:
October 5th – 7th 2018 (Weekend Festival: Friday, Saturday, Sunday)
Event Location:
Pagoda Motorcycle Club
441 Redlane Rd
Birdsboro, PA 19508
TEL: (610) 582-3717
www.pagodamc.org
[email protected]
MXA'S SNAP CHAT FEED
If you are a Snap Chat user then add us to your stories. Get sneak peaks of everything moto. Our Snap Chat name is motocrossaction. Or just take a Snap of the picture above and it will add MXA automatically to your feed.
TALK MOTO WITH MOTO MINDED PEOPLE. JOIN MXA'S FACEBOOK GROUP CHAT


We love everything moto and want to bring all moto junkies together into one place to share their two cents, ideas, photos, bike fixes, bike problems and much more. To check it out first you must need to or already have a Facebook account. If you don't, it isn't much work and you could even have an alias so nobody knows it is you. To join click HERE. After you request to join we will accept your request shortly after.
JOIN MXA'S FLIPBOARD PAGE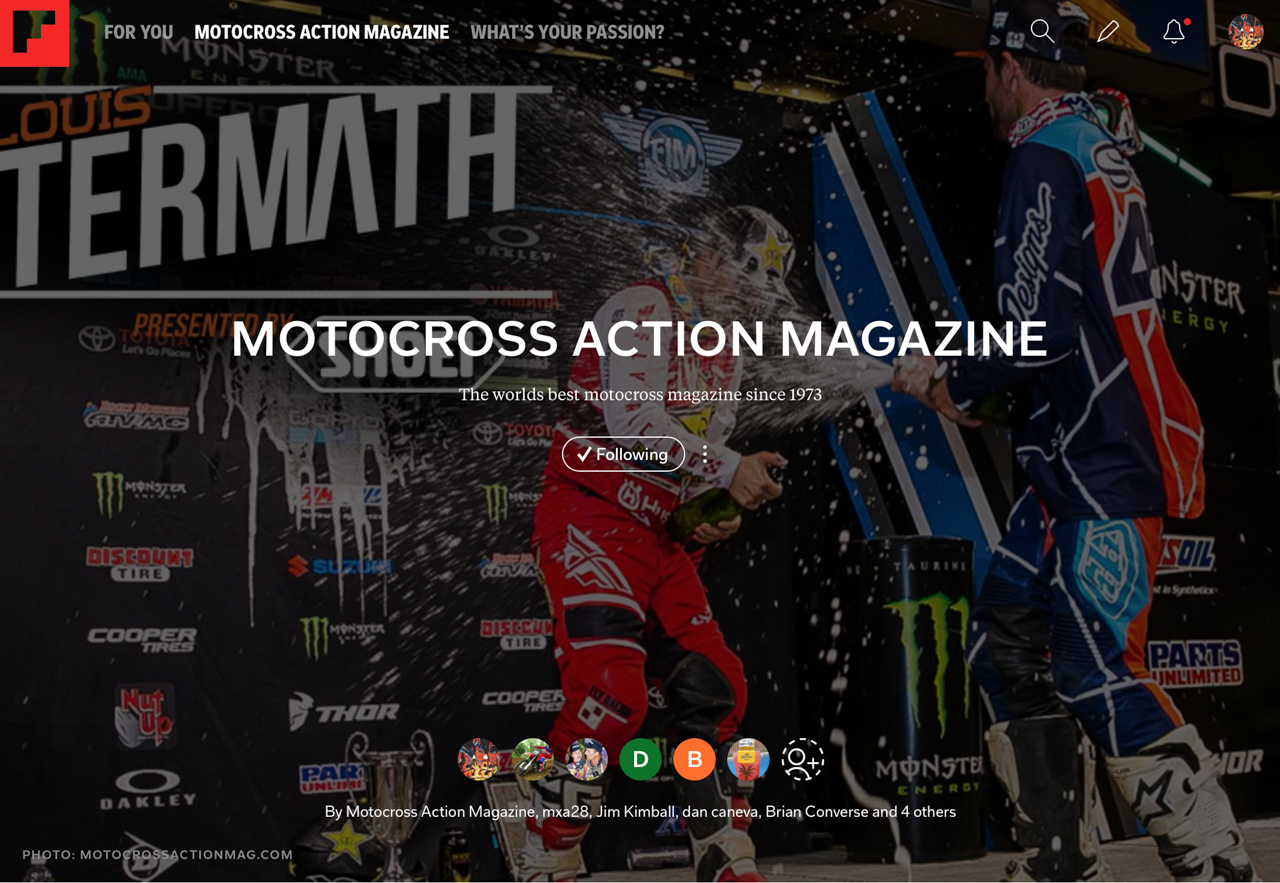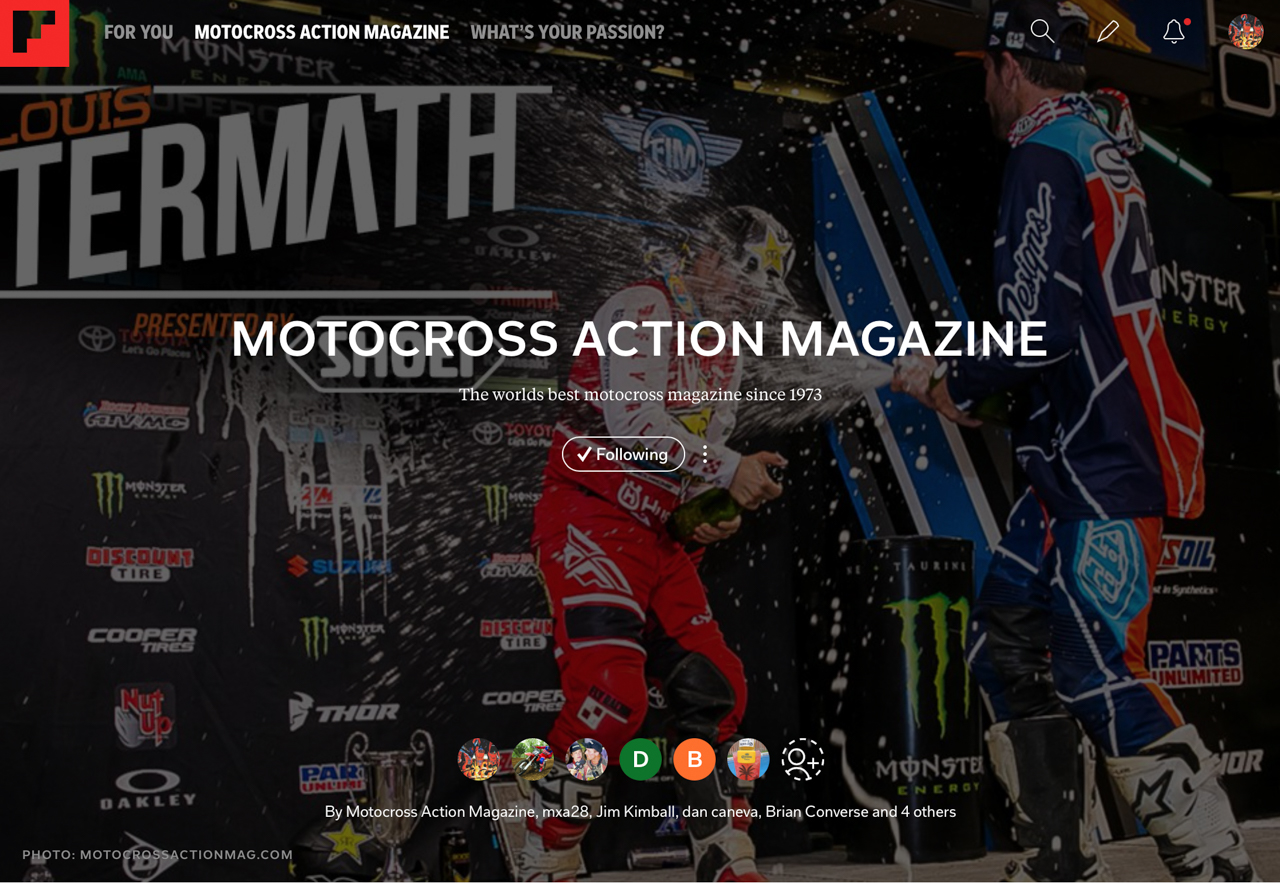 If you use Flipboard make sure to subscribe to the Motocross Action page for all the updates on our website. Click HERE to check out the page.
THOR & THE STAR RACING YAMAHA TEAM RENEW CONTRACT
Press Release: THOR MX is proud to announce the extension of their partnership with the Monster Energy / Yamalube / Star Racing / Yamaha team. As one of the premiere 250 Supercross and Motocross teams, Star Racing continues to produce some of the top athletes in the sport. During these past three years of collaboration, Star Racing has won two 250cc Supercross Championships and two Pro Motocross 250cc National Championships with THOR racewear.
For the 2019 season, the Star Racing team comprises a very fast, race-proven roster, including
Justin Cooper, Dylan Ferrandis, Colt Nichols and Mitchell Oldenberg. This well-rounded and
extremely talented team will undoubtedly deliver success both indoors and out for some time to
come.
"All of us here at Star Racing are truly excited to continue our relationship with THOR/ Parts
Unlimited," said team manager, Wil Hahn. "This partnership goes beyond just product and great
looking gear, we're now a family and looking forward to many more years!"
The entire THOR staff is eager to continue and grow their relationship with Star Racing. Beyond
results on the track, the Star Racing team riders provide valuable insight and testing for the
development of new THOR products, making them an essential part of the process.
"THOR Motocross is beyond excited to continue our working relationship with Star Yamaha! We
are looking forward to continuing to grow with this powerhouse team and forge an even stronger
bond," said THOR MX Athlete Manager Andy Gustafson.
About THOR MX: Over the years, countless races and championships have been won by riders
wearing THOR. Every product is a progression, a new step forward in design and performance.
Always racing forward, always respecting our past, always focused on building quality products
that exceed rider expectations. See what's new at www.thormx.com or call 858-748-0040
The First, The Forever…Torsten Hallman Original Racewear.

MXA | MOTO | TRIVIA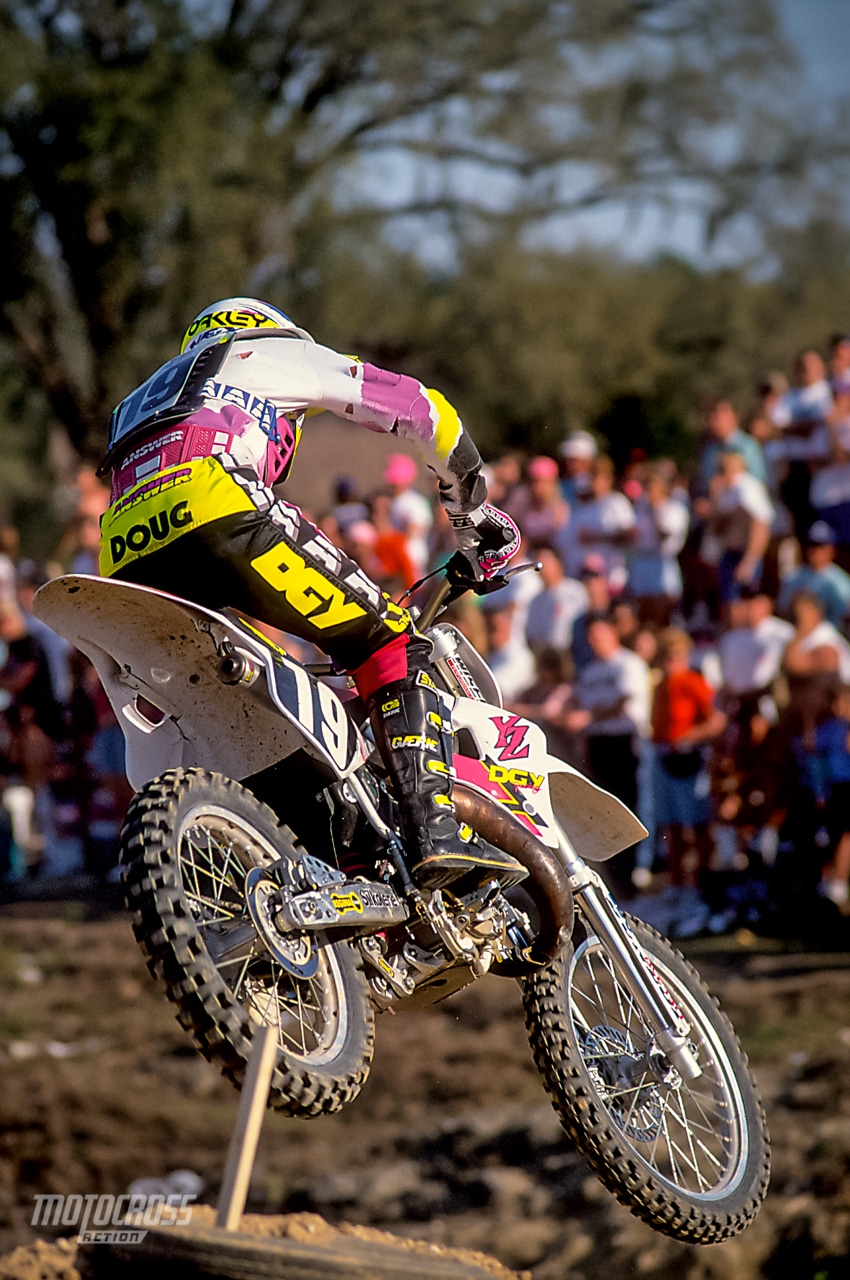 Doug Henry was number 19 on multiple occasions. Although this was the first year. What year was it?
FMF RED BUD FANS
CRAIGSLIST FIND | CORVETTE V8 CHOPPER–$17,000
We couldn't help but post this Corvette V8 chopper.

LOST BUT NOT FORGOTTEN | ALL-WHEEL DRIVE YZ250



6D HELMETS RE-INTRODUCES GAME CHANGING ATR-1 OFF-ROAD MOTORCYCLE HELMET
 Press Release: 6D Helmets re-launches its "Game Changing" ATR-1 off-road motorcycle helmet for 2019. The new lower priced ATR-1 features the same award-winning Omni-Directional Suspension (ODS) technology as previous generation ATR-1 helmets and is available in 6 fresh new graphics and 12 color options.
6D revolutionized helmet design with the 2013 introduction of the ATR-1 helmet, whose ODS technology set new standards in athlete brain protection by providing protection over a much broader range of energy demands, including both linear and angular acceleration forces. Inspired by 6D's work, some manufacturers have subsequently introduced technology in an effort to address the inherent flaws in traditional designs which 6D exposed. To date, none have achieved the overall performance characteristics of 6D's ODS system. Now, the revolutionary ATR-1's lower price will allow more riders to enjoy the safety benefits and superior protection of the exceptional 6D ATR-1.
"After nearly 7 years of ATR-1 production we have been fortunate to be able work with our vendors and lower the manufacturing cost of the ATR-1," said Bob Weber, 6D's CEO and cofounder. "At 6D, we feel it is our responsibility to provide every rider the opportunity of a safer helmet option and we have worked hard to accomplish that. Our new lower priced ATR-1 allows us to do this better than ever before!"
In addition to its patented ODS energy management system, the ATR-1 also features a removable, washable comfort liner with a genuine Dri-Lex® antibacterial fabric, as well as 17 transfer ports that work in unison with the Air Gap Ventilation System to keep the rider cool. The EPS chinbar is over-molded with polyurethane at the sternum pad location and is more energy-absorbing for side impacts to the jaw area. Other safety features include a clavicle cutaway, sternum pad, shear-away visor screws, and emergency removable cheek pads.
The ATR-1 is available in XS to XXL and comes with a three-year limited warranty. MSRP is $450 for solids and $495 for graphic designs.
At this time 6D is also releasing two new exciting ATR-1Y Youth and two new ATR-2 graphic options.
ATR-1 youth helmet. 
ATR-2 helmet.
See the full collection at www.6DHelmets.com
CLASSIC PHOTO BLAST | Ryan Hughes back in 1998
MXA QUESTION OF THE WEEK ANSWER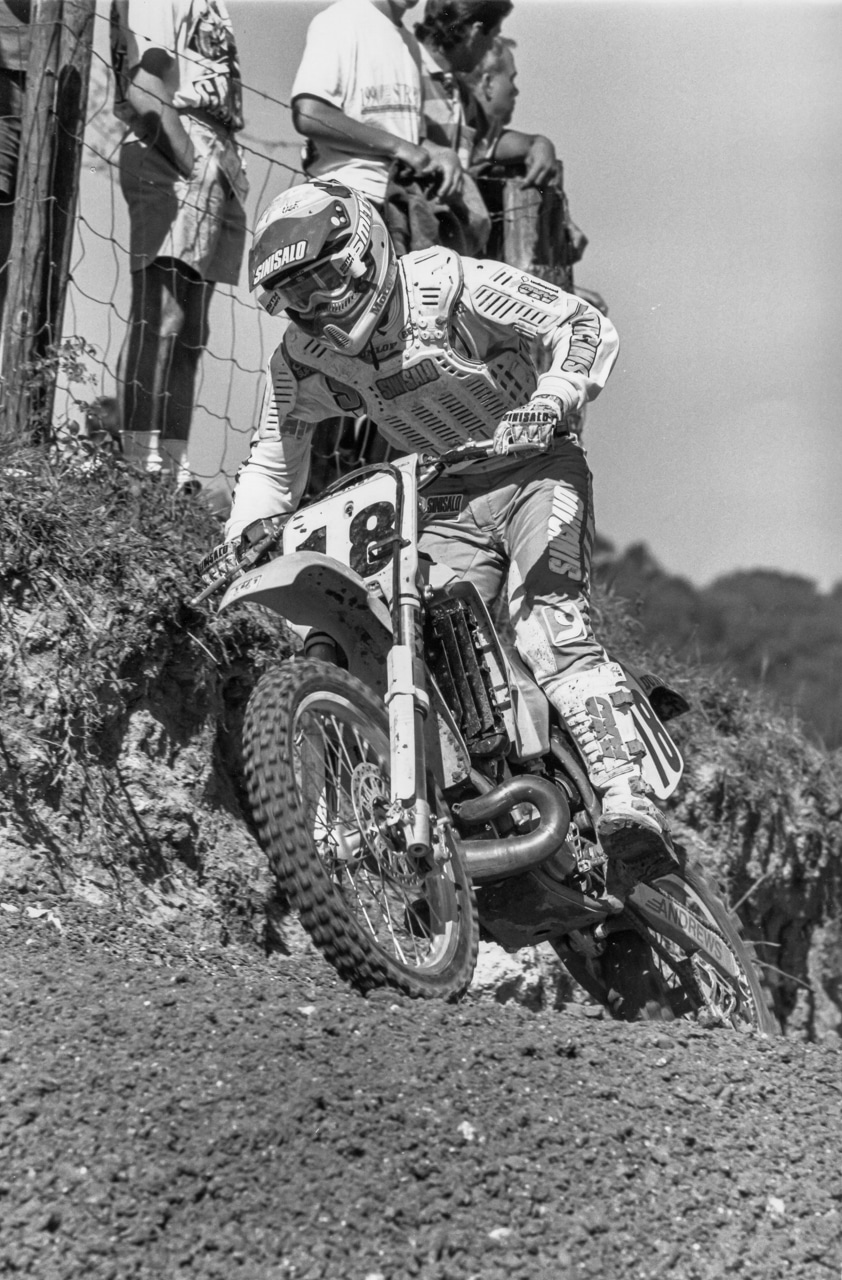 The answer was Fred Andrews and the winner of the FXR swag is Tom Bumann.

---
Moto Trivia answer: Doug Henry first had the number 19 in 1992.