JOSH MOSIMAN'S PRO CIRCUIT-BUILT GASGAS MC150 TWO-STROKE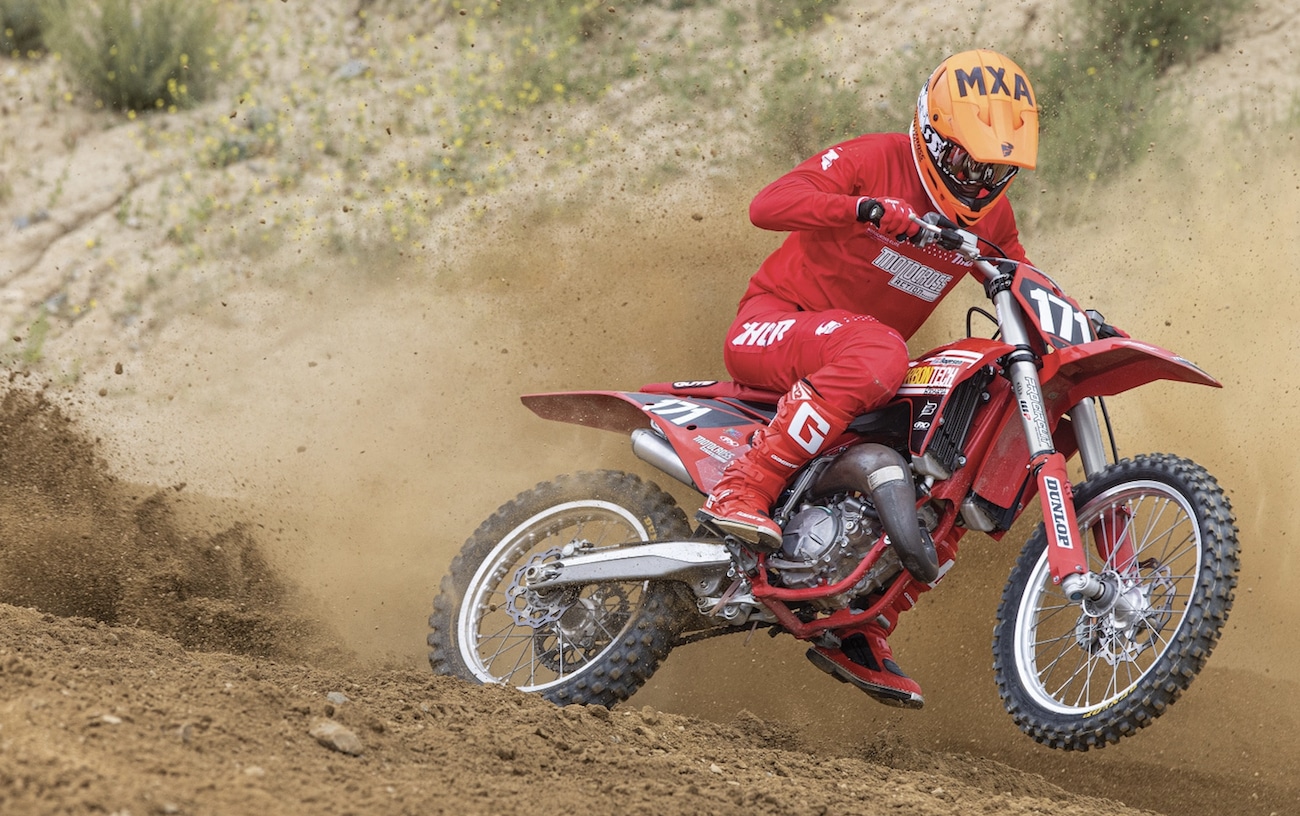 Remember our Pro Circuit-built KTM 150SX from the 2021's World Two-Stroke race? This is the red-colored 2022 version of that bike.
BY JOSH MOSIMAN
If you're not taking steps forward, you're going backward! I've raced the Wiseco World Two-Stroke Championships four times now, and with each pass, I've learned to refine my focus. My friends have heard me say multiple times that this race is my Anaheim 1 of the year. The location, the bikes and the atmosphere are a perfect storm for me. I'm lucky that MXA has the keys to Glen Helen, and we ride there weekly. Our working relationship with Glen Helen means that we provide them with lots of exposure, and they give us free access to one of the biggest, roughest and fastest tracks in the world. It is also conveniently located in a geographical box between Jody's, Daryl's, Trevor's, Travis' and my homes, making it a great place for us to meet.
GasGas doesn't make a 150cc two-stroke, but the KTM Powerparts catalog sells a top-end big-bore kit that fits right on.
I'm constantly testing new production two-strokes and project bike two-strokes throughout the year, so it's not a big adjustment for me to hop on a smoker to go racing. The Wiseco World Two-Stroke race has a big enough purse to attract riders such as Mike Alessi, Josh Grant and Zach Osborne, but the field is not as stacked as that of an AMA National, which means there are fewer riders between me and the elites, giving me a better shot at the prize money.
IN 2021 I CHOSE TO USE STOCK WP XACT SUSPENSION WITH THE AIR FORKS ON MY KTM 150SX AND HUSKY TC250, BECAUSE I FELT COMFORTABLE ON IT AND FRANKLY DIDN'T THINK I NEEDED IT STIFFER.
The 2021 World Two-Stroke race was fun. My Pro Circuit-built KTM 150SX was the fastest bike in the Pasha 125 Open class, and I rode it to third place overall. I also raced our stock Husky TC250 to a 4-10 finish in the Open Pro class for eighth overall. If you read last year's article, you also know that I convinced Pro Circuit's R&D technician Mike Tomlin (A.K.A. Schnikey) to build my 150cc big-bore engine and be my mechanic for the race by splitting my earnings with him 50/50. After we both made $750 last year, it was easy to convince him to do it again!
After my wife, Ashley, saw how much money I brought home last year (and how much money I could've made if I had won), she made sure to push me out of bed in the mornings to go to the gym, and she encouraged me to race more leading up to the 2022 event so that I'd be in better shape. It wasn't the money that motivated her (I get paid to race no matter where I finish), but it's the safety aspect of it. She knows how dangerous motocross is, and she knows how much more dangerous it is for me to try to keep up with top-level Pros when I'm out of shape. Like my wife, Schnikey also wanted to make things easier for me.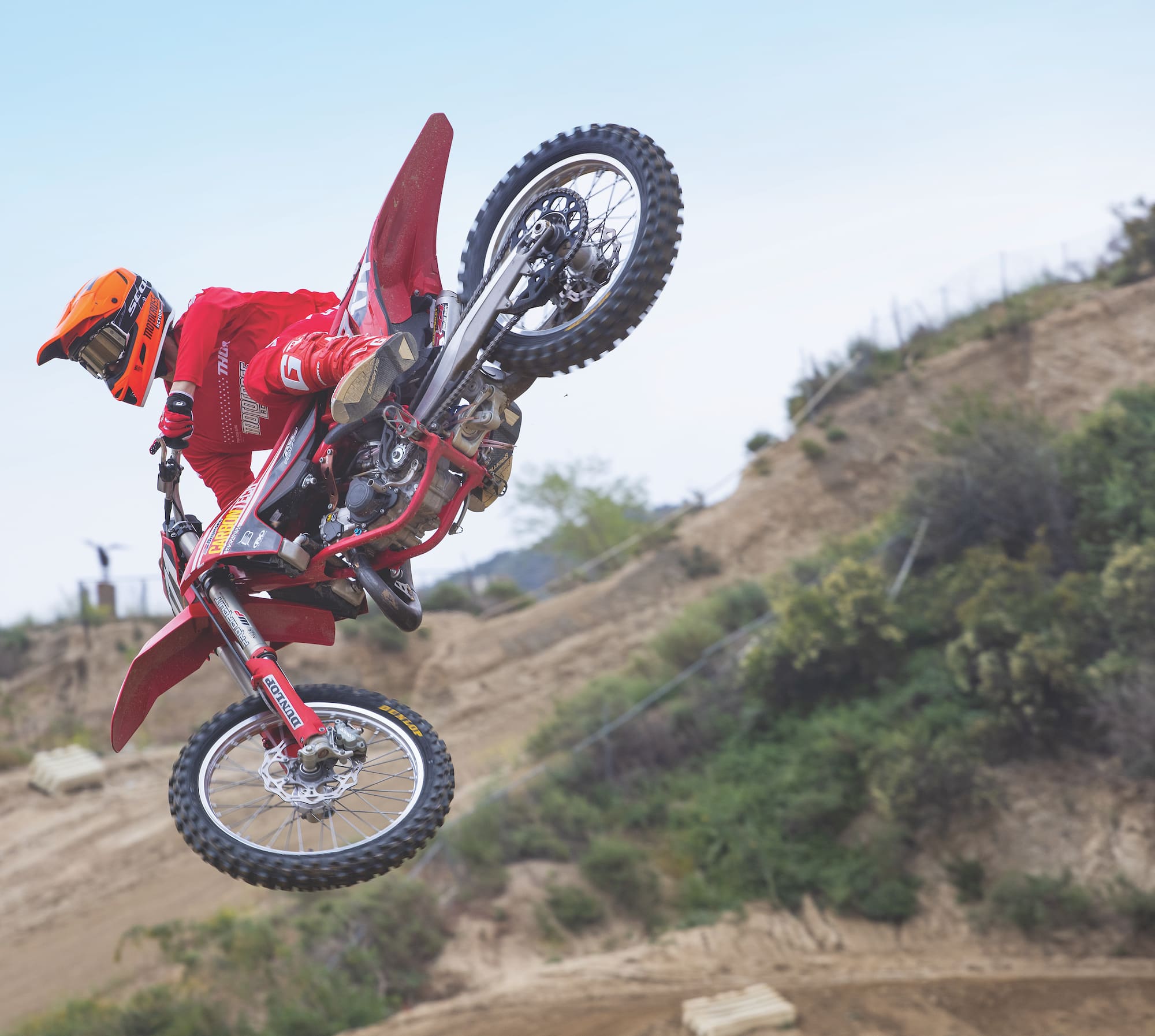 Last year I chose to use stock WP XACT suspension with the air forks on my KTM 150SX and Husky TC250, because I felt comfortable on it and frankly didn't think I needed it stiffer. It was also a natural excuse for me. If I didn't do well, I could blame it on the fact that I was using stock suspension.
For 2022 we came in with a new approach. I was set to race MXA's GasGas MC250 and MC125 (turned into a 150). The mods were the same across the board for both the MC250 and MC125. The only difference is that the 250 engine was left stock while we went all out on the 125 engine to make it into a 150cc screamer.
AS FOR THE ENGINE, WE SAVED THE 150cc BIG-BORE KIT THAT I USED LAST YEAR ON MXA'S 2021 KTM 150SX RIPPER AND SET IT ON THE SHELF UNTIL IT WAS TIME TO START BUILDING THE 2022 RACE BIKE
Luke Boyk has taken over Bones Bacon's position as the lead suspension tuner at Pro Circuit. He set up the suspension for both my GasGas MC150 and GasGas MC250. Diving into the WP XACT air forks, Luke went with a stiffer shim setting in the mid-valve stack and replaced the stock low-speed free-bleed hole with a low-speed valve stack to add more initial control. With it, the mid-valve setting can be a little softer, while the low-speed valving does a little bit more of the holdup. The WP air fork re-valve is fairly simple and affordable at only $164.95, because there's only one damping leg that needs work (the air side is left alone).
Pro Circuit built the engine, while FCP Racing's engine mounts held it in the frame.
As for the shock, Pro Circuit makes a shock reservoir and bladder conversion kit that removes the floating piston and replaces it with a rubber bladder made by Pro Circuit to lower friction and increase nitrogen volume, creating a smoother and more consistent stroke. This upgrade retails for $265.95. Luke also installed a stiffer shock spring, and he re-valved the shims for $164.95.

Next, I swapped out the forged aluminum GasGas clamps for Luxon MX Gen2 triple clamps. Luxon MX is fairly new to the motocross world, but they make some great products. For $879.95, their Gen2 triple clamps and bar mounts have the stock 22mm offset. They are 18 grams lighter than stock, are more precise in corners than the forged aluminum GasGas clamps, are more comfortable over hard chatter bumps than stock KTM CNC-machined clamps, and their bar mounts are stronger and less likely to twist in a tip-over.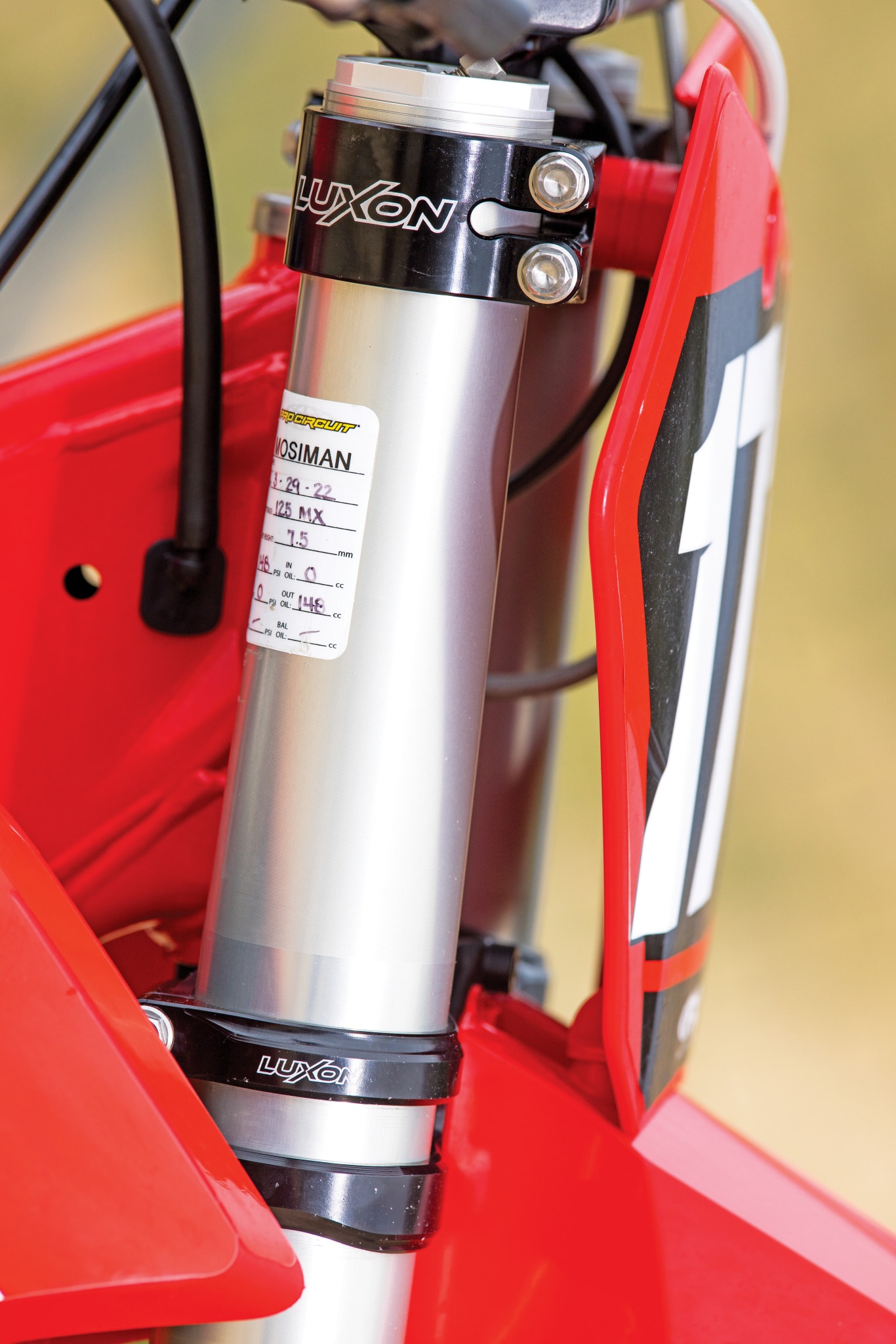 Luxon MX triple clamps are lighter, stronger and more comfortable than stock GasGas and KTM clamps.

For more handling benefits, I used FCP Racing's front motor bolt and engine mounts; however, I want to caution you that it's not a great idea to buy aftermarket suspension, triple clamps and engine mounts and install them all at once. The best way to go about it is to test each product, one at a time, on a bike that you're already familiar with. Since last year's two-stroke race, I have tested each upgrade (Pro Circuit suspension, Luxon MX triple clamps and FCP engine mounts) individually to make sure I liked the effect each part had on the two-stroke. The engine mounts are the ligaments that connect the powerplant to the chassis, and with their added flex, I was able to find more traction and comfort in the rough chatter bumps at Glen Helen. The GasGas 125 FCP mount and bolt kit costs $399.00.
As for the engine, Mitch built the first top-end for Husqvarna. Husky never got to use it, so they gave it to us. Mitch worked on it some more after that and we used it to turn MXA's 2021 KTM 125SX into a 150 ripper. When that season was over, we set the engine on a shelf until it was time to start building the 2022 race bike. Schnikey freshened up the 150cc top-end kit and installed it on the GasGas MC 125 bottom end. The dyno runs were strong once again, but Mitch wanted Schnikey to take it a step further, so he took the 38mm Mikuni carb off and bored it out to 39mm to flow more air for added midrange and over-rev. The carb mods took our already potent 2021 44-horsepower KTM 150SX engineup to a 44.5-horsepower smoker, and it made an even bigger difference on the track than I expected.
For reference, the stock GasGas MC 125 peaked at 37.8 horsepower, and when we added the PowerParts KTM 150 cylinder kit, the bike jumped to 40.7 horsepower. Anyone can buy the KTM 150SX Factory Kit through a KTM dealer for $831.99. (at the moment there are no 150cc kits for the 2023 fuel-injected KTM 125SX or Husky TC125, but the 2023 GasGas MC125 is not fuel injected so the old kit still fit). Pro Circuit hopped it up for $349.95 (not including the carburetor) and assembled everything for $149.95. The Pro Circuit pipe retails for $278.95, and the R-304 shorty silencer goes for $155.95.
The R-304 silencer provides a distinctly beautiful sound.
WOW! WHAT A FEELING! MONTHS OF PREPARATION WENT INTO GETTING THE BIKE READY. I SPENT MANY HOURS IN THE GYM WITH MY WIFE AND HOURS LYING AWAKE IN BED THINKING ABOUT THIS RACE, SO IT FELT AMAZING TO WIN THE FIRST MOTO.
The 2021 engine was already the fastest 125/150 two-stroke, but when I broke in the fresh top-end, Pro Circuit pipe, R-304 silencer and bored-out carburetor, I was blown away. It felt too fast! With a 13/51 sprocket ratio, I was having a hard time shifting it quickly enough to keep up with the rocket-like power. I weigh 175 pounds, and I have never ridden corners in third gear on a 150cc two-stroke before. Most of the time guys my weight will get down to first gear in the corners, but not on this bike! It was pulling third in turns and sixth down the straights, but I was shifting more than ever before. I ran straight VP MRX02 for this first test, and on top of the bike needing to be shifted too fast, it was detonating slightly.
Our solution for both problems was to switch to a 13/48 gear ratio, go bigger on the main jet from 480 to 500 and cut the MRX02 50/50 with VP C12 to increase the octane. After these updates, we didn't struggle with detonation, but the 150cc engine still wanted to be shifted constantly. I ended up riding third gear through many of the corners, only shifting to second for the tightest spots on the track and never thinking about going to first gear. The engine was so fast that it ripped its way through every gear in the transmission.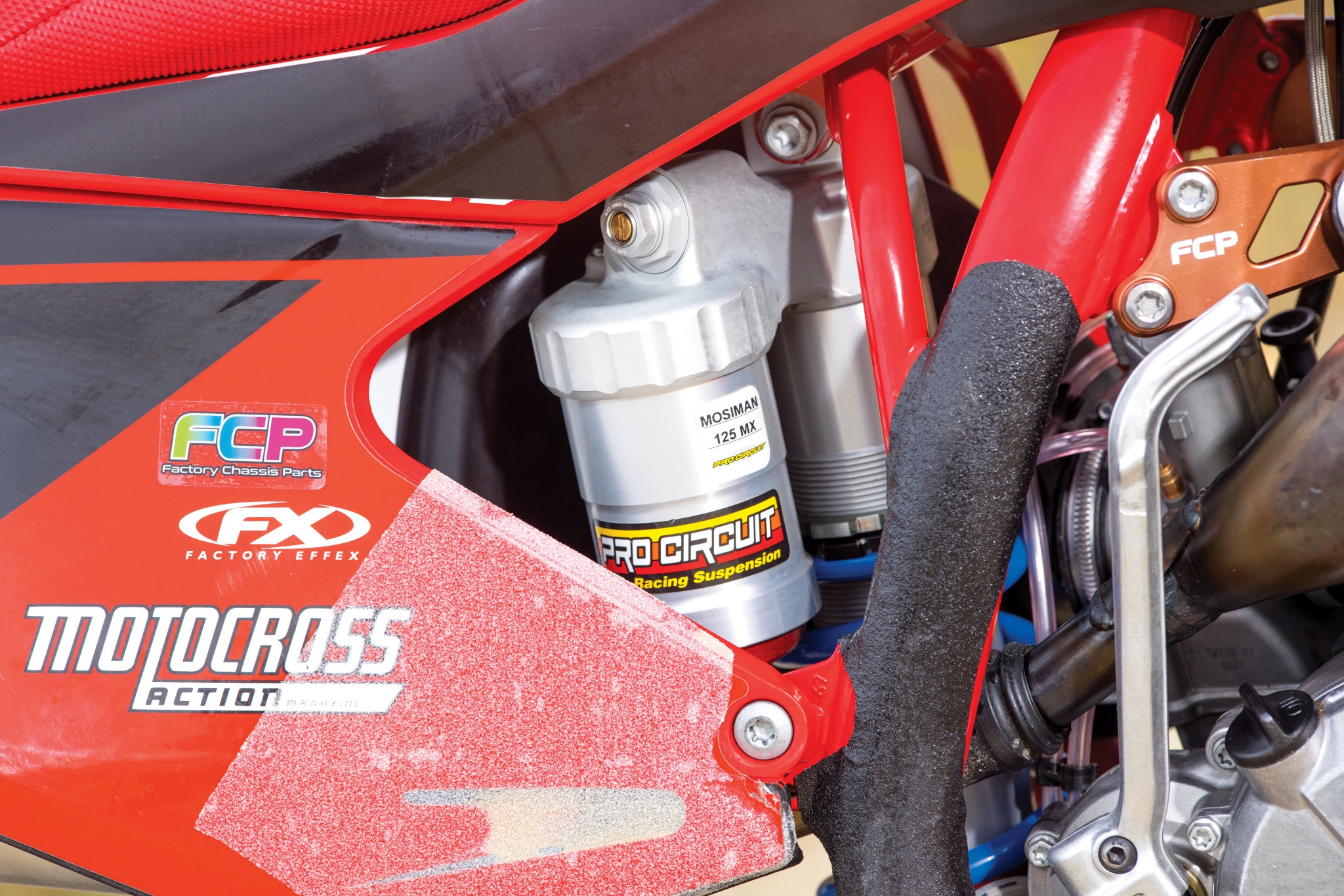 This is Pro Circuit's custom shock reservoir. It looks stock at first glance.
Another mod I made to the GasGas MC150 (and my GasGas MC250 for that matter) was to swap out the stock seat for a complete seat from Guts Racing. Instead of putting the seat cover on myself, Guts shipped me two complete seats (with the cover, foam and seat base all put together). I used the red RJ Wing Seat cover with a bump in it to help me save energy by giving me grip on the bike. The cover retails for $149.99, and with it installed as a complete seat (including the bump added), it is $379.89. I also used grip tape on the frame and side number panels. Since GasGas doesn't provide a vented airbox cover like KTM and Husky, we ordered red aftermarket vented covers from UFO Plastics, which retail for $62.99 (including both side number panels). I also used the trusty $129.95 Works Connection Pro Launch starting device and Dunlop MX33 tires with a 110 rear on the stock GasGas silver wheels. Often, 125 riders use a 100 rear because the skinnier tire lessens weight and rotating mass (to produce more power), but with such a strong engine and fairly slick conditions expected at Glen Helen, I wanted extra traction more than I wanted extra power. Finally, Factory Effex dressed the bike in stylish custom graphics ($249.90) with my new AMA National number for the race.
So, what was it like to race this Pro Circuit-built GasGas MC 150 at the 2022 World Two-Stroke Championship (and this past Saturday at "Saturday at the Glen?"). It was a thrill. The extra horsepower on the dyno felt like 10 percent more power on the track. To be honest, our Novice and Intermediate test riders preferred last year's modded KTM 150 over this year's bike with the exact same engine and the bored-out carb. The small increase in power translated into a lot more shifting on the track. As for the handling, with the stiffer Pro Circuit suspension, Luxon clamps and FCP mounts, I could push harder down the hills and through the braking bumps while worrying less about finding the smoothest lines. Big holes didn't jar as much, which saved energy. The Guts Racing seat cover also helped big time when standing. I could lock my knees into the 1-inch foam that sticks out on each side of the cover to save my arm and shoulder strength. After the 2022 World Two-Stroke race we let the MXA test riders race it a few times at local races and then pushed it into the barn to wait for the 2023 World Two-Stroke Championships.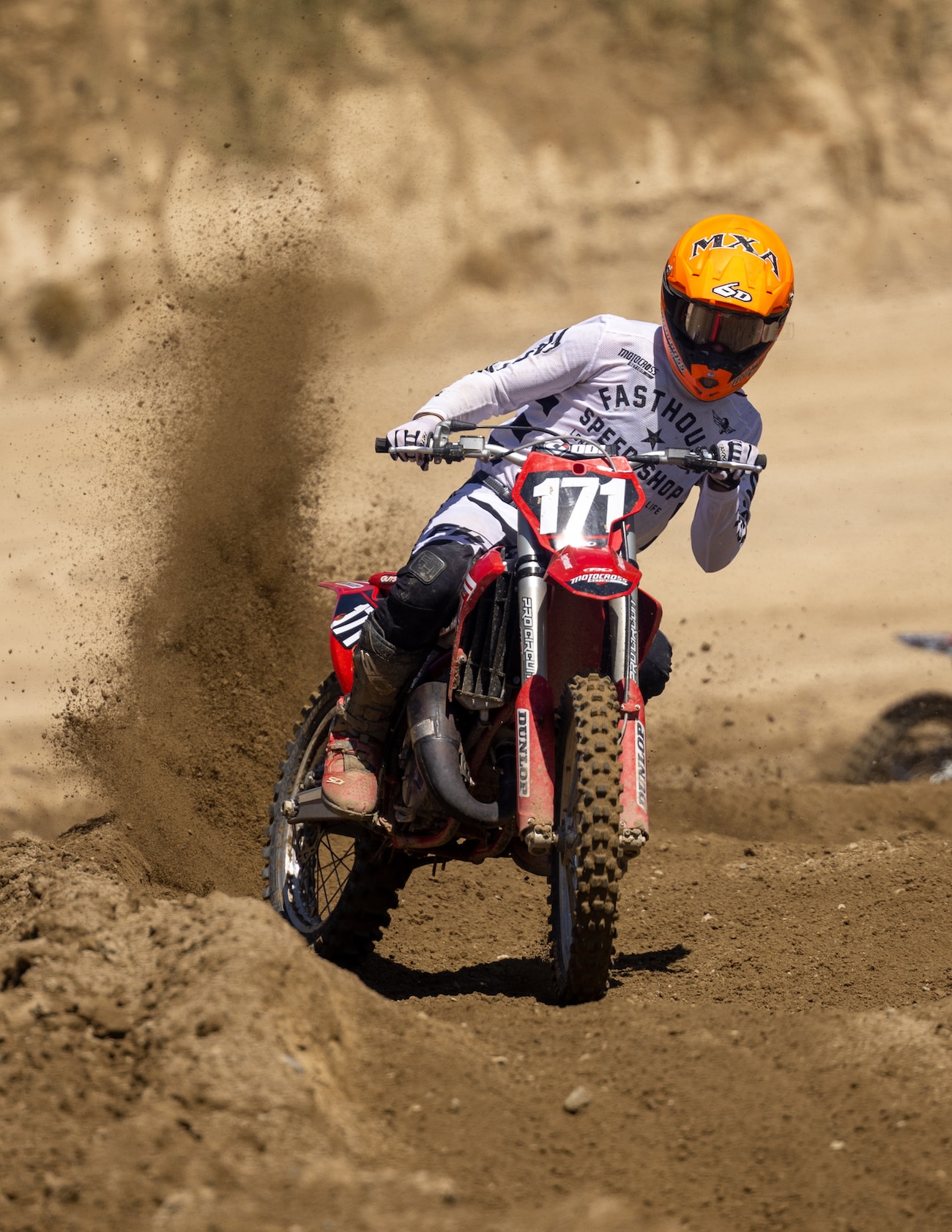 Josh Mosiman dusted off  the 44.50 horsepower GasGas MC150 that he raced at the 2022 World Two-Stroke Championships and raced it one more time this past weekend—the trick parts will probably end up at the 2022 World Vet Championship and 2023 World Two-Stroke race on a different GasGas. -Photo by Mark Riker
That was a long time to wait to race a bike so good, so we rolled it out of the barn, drained out the race gas, pour in new fuel, cleaned the dust off of it and took it to "Saturday at the Glen" to race the first of Pasha Afshar's World Vet 125 warm-up races. It ran just like I remembered it from the 2022 World Two-Stroke Championship. It's always nice to revisit a bike you love—or in this case, a 44.50 horsepower engine package that had already served me well at two World Two-Stroke Championship—and hopefully will for a third time.
Any further racing of the 2022 GasGas MC150 will be in a race against MXA's plan to pull the special Mitch Payton-tuned top-end off of our 2022 GasGas MC150 and put it (and all the other special parts) in a box to keep them safe. Then, we will use those parts to build a new 2023 GasGas MC150 two-stroke before the 2023 World Two-Stroke Championship next April.