JUSTIN BARCIA TALKS ABOUT GETTING THE BALL ROLLING INTO THE 2019 GLENDALE SUPERCROSS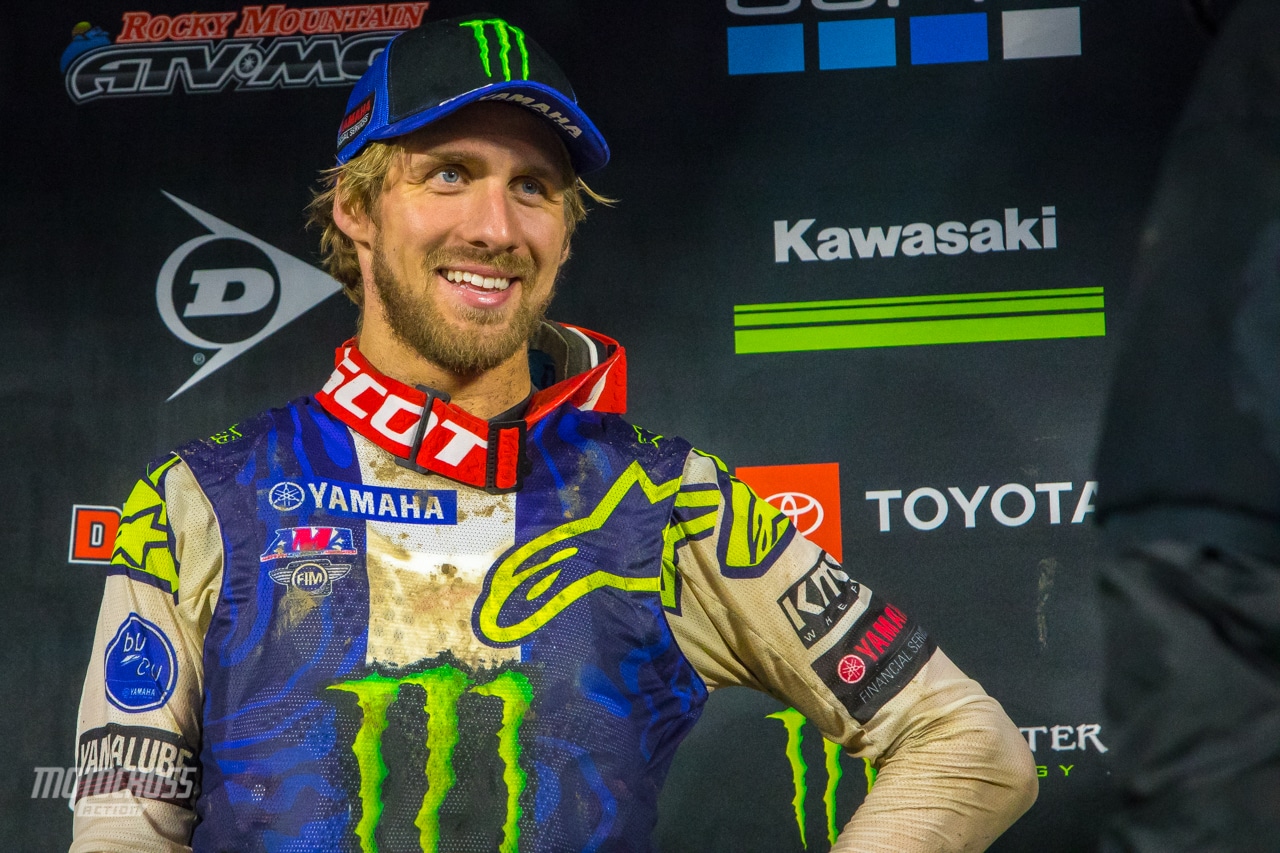 By Jim Kimball
It seems just like yesterday when I was seeing Justin Barcia Honda commercials focusing on the all-new Honda four-stroke mini CRF150. But time has flown by for the New York native. After moving to Honda's Factory 250 Geico team, he quickly racked up multiple wins, and back-to- back 250 Supercross Championships in 2011 and 2012. Although an excellent outdoor motocross rider, Barcia did not earn a 250 outdoor championship, he scored multiple wins. His big break came when team Honda's 450 rider, Trey Canard was injured in 2011. Filling in on Canard's CRF450, Justin captured podiums and his first 450 win! It was easy to see that "Bam-Bam" was Honda's next 450 hope. Officially moving to the 450 team in time for the 2012 Monster Energy Cup, Justin took the win. Full-time 450 rider in 2013 he captured the "450 rookie of the year." Justin truly looked to be Honda's next superstar, but a series of injuries, and a souring relationship moved him to JGR Yamaha where things looked brighter. However, a preseason Supercross crash took the wind out of his sails, eventually leading to more disappointment. When JGR left Yamaha and went to Suzuki, Barcia's long-term contract changed. After a final year with JGR, Barcia was dropped. Considering retiring, Justin, with the help of future wife Amber, family and friends put together a last-ditch effort at the 2017 Monster Energy Cup. Barcia rode well enough to get a fill-in ride at Factory Yamaha (with Davi Millsaps unplanned retirement). Adjusting quickly rewarded the team with a podium at his first Supercross (Anaheim 1, 2018). A series of good rides then led to a full contract for Barcia and now he is signed with the Yamaha Factory through the next couple years. It was again at Anaheim 1, 2019 where Justin rewarded the team with his first Supercross win in six years–and Yamaha's first 450 indoor win since 2015. It was here that we caught up with the now 26-year-old to get his take on everything.
---
JUSTIN, IT'S INCREDIBLE THAT YOUR LAST SUPERCROSS WIN CAME SIX YEARS AGO. ON TOP OF THAT YOU WERE GOING THROUGH SOME VERY DIFFICULT TIMES NEAR THE END 0F 2017. It is a cool story for sure. I definitely embrace it, because I have been all the way to the bottom, like almost quitting to the bottom, and back to winning this weekend, so for me this is phenomenal. I am glad I never let this tough racing career get the best of me, kept charging, working hard, and made my way back to this position–but yeah, it is phenomenal. I can't be any more happier than to get a win here. It has been six year and actually it is funny. I remember it was Seattle and it was a little bit muddy that night, so it brings back some really good memories.
The 450 Main Event start at Anaheim 1 2019. 
DURING YOUR LAST COUPLE YEARS, YOU HAD INJURIES ON AND OFF, BUT IS IT FAIR TO SAY THAT SOME OF YOUR ISSUES AT THAT TIME WERE MORE MENTAL? Yes, I left Honda, got my ankle fixed, went to JGR and I was ready to win. I should have been a championship contender, but I never matched with the team. I had a lot of injuries, was just never comfortable, and that mentally beat me down to the point where I was not having fun racing anymore. I just felt like, I was someone else, just going through the motions, and not enjoying it. I was definitely really lost in my life, but as I have said before, the best thing that happened to me was to find my wife, Amber. She is very smart, has her Master's in psychology, and all of that stuff. So, she is a really smart woman. When I met her, I was at the point where I told her that I did not want to race anymore. She got me out of that, and with my determination, digging deep, and going to the Monster Cup on my own. Then getting a call for Yamaha to fill in, and then hitting the podium and the first race at Anaheim brought me back. And then continuing that and doing good at outdoors all lead up to me feeling like my old self, back when I was on 250s and winning races.
THINGS LOOKED REALLY GOOD WHEN YOU FIRST WENT TO THE JGR YAMAHA TEAM. BUT THEN YOU DID THAT OFF-SEASON EUROPEAN SUPERCROSS AND HAD THEAT BIG CRASH AND INJURY. THAT APPEARED TO BE A CATALYST TO OTHER INJURIES. Yeah, that was a scary one for sure. I have had big crashes and you know, that was more of things on top of each other. I had that right off the bat and then I was testing for Supercross and my bike cut out on the face of a triple and I broke my pelvis and I was out for a while for that and then come back and try really hard and I hit my head a couple of times and it just was not right. I would not say it was one thing. I would say it was like a lot of pressure to perform on that team and I was never able to get comfortable on the bike and then all the injuries, it was just like snowball effect. It was like I think in my opinion it was the best thing that has ever happened to me in a way because it made me so much tougher and so much smarter and so much like I enjoy the sport so much more than I did in the past, because I was just like this will go forever and dah, dah, dah and then realize well this might not go forever because I almost did not have a ride and almost quit.
Barcia charged hard in the rain and mud to make his way to the front at A1. 
BUT THEN YOU DID THE MONSTER CUP. Yes, I went and did it myself and had fun. But I could have done way better if I had similar support, because I did not have the good parts to really do much testing. I was changing my bike every time, and for the last test, I ran out of suspension parts to make my bike better. I just felt "I need to be on a factory team again". But I did have a lot of fun, and had a lot of cool people around me, like personal sponsors that have been with me forever and put that together. It was cool, and everyone made me feel like I belonged there as well, so it was special. I am glad I went through that situation, honestly. I don't exactly want to do it again, but it was good that I did.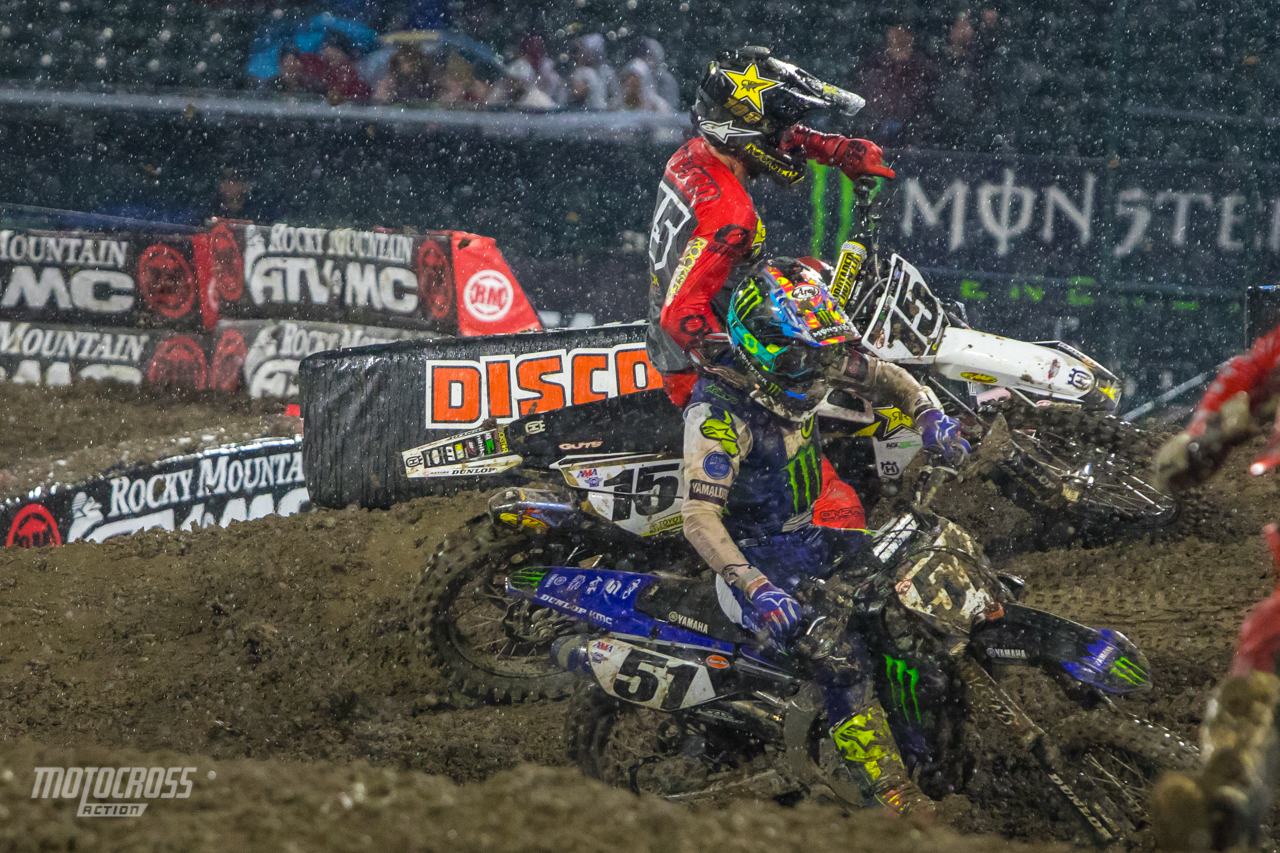 More than half way in, Barcia made the pass on Dean Wilson for the lead. 
EXPAND ON BEING BACK ON YAMAHA AND WINNING, WHY DIDN'T YOU BEFORE? It was a completely different motorcycle back then. I had a lot of fun at JGR like I really liked a lot of the guys there. I still have a relationship with a few of the guys there. I think they are good people, but it just never panned out, and I think they would say the same thing. I don't think they would say bad things about me and I don't say bad things about them. It just did not work out. Coming to the Factory Yamaha team, I pretty much came back a year after they got back to racing again, and it was still really a new bike. Cooper was developing it and when I came in, I got onboard, and started developing it as well, which was cool, because I had not been in that position in a really long time. When I was Factory Honda, I was always learning, and so young that I never really figured out the whole learning a motorcycle. I feel like when I went to Yamaha I got to learn a new motorcycle, have an opinion on it, and make it my own in a way. I have never really been able to do that until now, so it is cool. And it is awesome to be around people like the Yamaha guys. They have been around a long time, and they know what they are doing. It is cool to have their experience behind me.
LET'S WRAP UP WITH ME ASKING YOU SPECIFICALLY ABOUT ANAHEIM 1. IT WAS NOT REALLY A "MUD RACE" BUT NOT A DRY RACE. YOU DIDN'T GET THE GREATEST START BUT WERE ABLE TO WORK THE WAY UP. ARE YOU FEELING GOOD ABOUT THE START OF YOUR SERIES? Someone on the podium said, "You don't look that happy." But I now have learned to keep steady, not get too high, not get too low, just keep a nice steady flow, but I am very happy. This is incredible, and this is something I dreamed about. This really is everything, but I don't get over excited. Obviously, I am going to take the momentum from this race. As you said I do not think it was a crazy mud race. I think you could come from the back and go to the front. I'm taking the motivation from it with getting the win, bring it to Glendale, and just keep the ball rolling.
Barcia taking the checkered flag and winning Anaheim 1.