JUSTIN BRAYTON INTERVIEW: THE 36-YEAR-OLD PODIUM CONTENDER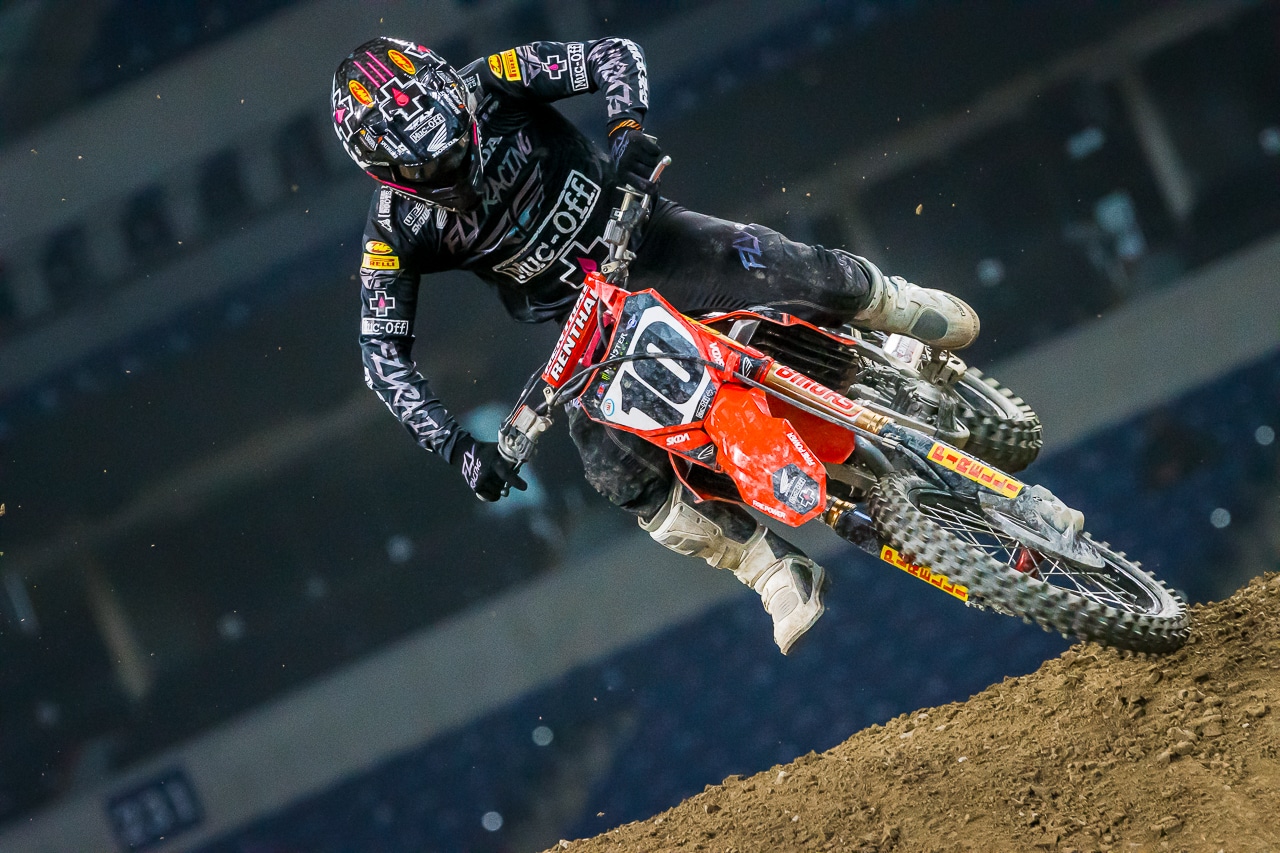 JUSTIN BRAYTON INTERVIEW: THE 36-YEAR-OLD PODIUM CONTENDER HEADS INTO 2021 ORLANDO SUPERCROSS WITH CONFIDENCE
As they often say about wine, Justin Brayton only gets better with age. Although he may not have been on everyone's predictions list of top five 2021 Supercross contenders, Brayton has shown that he is a force to be reckoned with. The long time Honda rider is able to use his vast experience to enable him to be competitive at 36 years old. While Brayton has undergone several changes recently (not racing last fall's Covid canceled Australian Supercross series, and leaving the factory HRC Honda team), he nonetheless remains riding on a Honda, and he's continuing on another team that's familiar to him, Muc-Off Honda. The Muc-Off team is the same Honda team he has won four Australian Supercross championships with. The only difference is that they have a new title sponsor and they're racing AMA Supercross for the second time after getting their feet wet with two 250 West riders last season. We had the chance to talk with Justin Brayton to learn more about his early success in the 2021 season, his relationship with Roczen and the HRC Honda team, his mindset and more. 
---
By Jim Kimball
WHAT IS YOUR TAKE ON THE 2021 SUPERCROSS SEASON AFTER THE FIRST FEW ROUNDS? It has been great. It has been awesome to show up here a bit under the radar. A lot of people were not really even thinking about me for top ten. Showing up here and to take a podium and then to tie for fifth in points was great. It is definitely exciting for me, exciting for the team, and exciting about this new motorcycle. The 2021 Honda 450 is amazing. I really wanted to keep that ball rolling.
THE LAST FEW ROUNDS IN INDIANAPOLIS DIDN'T GO AS GREAT DID THEY? No, they didn't. I was riding well, but just spent too much time crashing. There are so many fast guys that are going the same speed. If you get a bad start, or crash, its difficult to get going again.
Justin Brayton started the season on fire while many of the top riders started off slow. He was sixth at the first race and third at Houston 2. 
HOW DOES THE COMPETITION SEEM TO YOU? It is definitely more stacked than I have ever seen it. It's now my twelfth year in the 450 class. Every year, they say it is the most stacked it has ever been, this year I believe it.
There is always amazing talent. It is the best in the world, so it is never going to be easy, and I will say it is the deepest this year. There are fifteen guys all within the same second. Race strategy, executing the day properly, and other things come into play now more than ever. Racing right now is much more than just going fast. There is a limit to the track that we are racing, and you have to flirt with that limit, but also don't pass it by. I feel like that is one of my strengths, to get to that limit, ride right there for the twenty minutes and then really charge the last half of the race. The track can hardly handle how much power that these 450s have. It is fun to be a part of this. I feel like it is going down in history of one of the toughest years ever. Fitness is very important right now too.
ARE YOU PHYSICALLY BETTER THIS YEAR? For sure I feel that way. Every year you learn more and more. I am 36 years old and still learning things about my body. This past year was a lot different for us, as we did not go to Australia for the three months of Supercross. I also did not travel to Europe two or three times, so it was really a lot of rest, recovery, and a lot of training leading up to American Supercross.
Justin Brayton was over looked coming into the season, but his results and speed has only intensified how stacked the 450 class is for 2021.
I'M SURE THAT WAS A LOT DIFFERENT FOR YOU. Yeah, I was able to put in a lot of motos and focus on myself and my family, and not have to worry about the stress of travel. Australia has been amazing for me, and we have loved it. It is just incredible what we have done over there, and also the experiences that me and my family have had. Also, there is the side that is good with the racing, as far as nerves and race fitness. Australia has prepared me well for AMA Supercross. But the races are much, much shorter over there, and the tracks are much tamer. So, the past four years, although I have been racing a lot, I don't think my general fitness has been great because of all the travel. Overall, I would say that with all the riding and training I have been doing versus the travel that it has been a major contributor to my fitness level this year. And I actually had a proper off-season.
PREVIOUSLY YOU HAVE POINTED TO THE OFF-SEASON RACING AS AN ADAVANTAGE FOR YOU, COULD IT HAVE BEEN A DISADVANTAGE? As I said, I think mainly it is the travel. Then the convenience of being here in America and having access to all the tracks. I train at Club MX. They have amazing tracks, and it is an incredible facility. I got to do all my off-season prep there. Yes, all the travel is a lot, but trust me, I would not take it back for anything. I have no regrets about going over there. I have had amazing experiences, and still have been able to have some good seasons over here as well.
THIS REMINDS ME A BIT WHEN YOU STOPPED RACING MOTOCROSS TO FOCUS ON SUPERCROSS. I felt like if I was going to continue my career, something had to give and that was Motocross at that time. Now, I feel like maybe something else will have to give to continue this mental and physical effort. Now, I have a third child on the way. My wife is due in April, so life is happening fast, and trying to juggle everything gets more and more difficult as the years pass.
It has been an exciting adventure to watch Justin Brayton and the Muc-Off Honda team make waves in the 2021 Supercross season. Although he struggles with crashes at the Indianapolis triple-header, we expect to see Brayton near the front again making the season even more exciting in the coming rounds.
AFTER RACING FOR THE FACTORY HRC HONDA TEAM IN 2020, WHAT IS IT LIKE RIDING THE MUC-OFF HONDA? The biggest difference is that with being on Factory Honda, you have so many resources. You can literally change anything and everything on the bike. You can fully customize it to exactly how you want it. Sometimes that is a positive and sometimes that can be a negative because you just have too many options. You are always trying stuff and always changing things. In the back of your mind, you feel "I think this could be a little better, I think that could be a little bit better" and you have the resources.
MANY FEEL THAT HRC HONDA IS THE EPITOME OF THE "FACTORY". You can literally make a phone call and say, "Hey, let's make this or make that", or "Hey, do you have one of these to try?" It is so awesome having those resources, whereas now, my bike is fairly standard. I obviously have good Showa suspension that HRC and Honda have helped me out with. I have some HRC pieces and chassis parts. We also have factory triple clamps, and some foot pegs. Other than that, it is Twisted Development doing the engine, which has been awesome. Jamie Ellis over there has been so good. The timeline that we had was next to no time to build us an engine and I rode my final engine setting literally a couple of days before we left for Houston.
LETS HEAR MORE ABOUT YOUR ALL NEW 2021 HONDA CRF450? Well, our bike is fairly standard. I think that is a huge attribution to Honda out of the box. This new bike is amazing in stock form. I actually rode it with the standard engine, and just suspension on it in pre-season Supercross for a couple of weeks, and the thing was unbelievable. As I mentioned, it just proves how good the stock bike is. Also, these days, I think more now than ever the factory teams don't have that much of an advantage over a motorcycle that me and the Muc-Offcrew can put together.
Justin Brayton's Muc-Off Honda CRF450 has a Twisted Development engine with some factory parts from the HRC team. Subscribe to our youtube channel and keep your eyes peeled for an 'Inside the Pros bikes' video coming soon from MXA's Travis Fant.
IT DOES APPEAR THAT THE DIFFERENCES BETWEEN PRIVATEER BIKE AND FACTORY BIKE ARE LESSENING. Obviously, there are still advantages and resources of being on a factory team. But also, on that note, I am super thankful that I still have a lot of those resources. I still have a direct line to America Honda, the factory team. I am still really good friends with all those guys. We talk on a weekly basis. I have done some testing with them, so it is not like I am closed off there and I am just on a totally stock motorcycle. I don't want to portray that at all. I don't have quite all the resources being on the team, but I do still have a lot of help from those guys.

THAT'S GREAT YOU STILL HAVE A CLOSE RELATIONSHIP WITH THE FACTORY HONDA TEAM. For sure, and it is really cool for them to help me out. Also, Ken and I have created a great relationship over the past one and a half years. We work together a lot and talk all the time about the bike. Since this is a new motorcycle, with more people on this bike, the better it is. The team respects the rider's opinion. I think that is one of the reasons they have me on this bike. Obviously, I am no rookie and I have been on a lot of bikes. I feel like I know what type of motorcycle it takes to make it in the main event. You can really have a good bike during the day but then in the main event when it gets really rough and nasty, it could get worse. I feel like I have a good direction, and a good sense of feel what that should be. Trey Canard, the Honda test rider, is obviously awesome, and I talk to him a lot as well. Having me close to that program obviously benefits me tremendously but also may help them as well to just have another guy on the bike, and another guy racing. They value the feedback, and they can trust my opinion that much to still want to help me.
HOW MUCH OF A CHANGE HAS IT BEEN WITH PENRITE GONE AND MUC-OFF AS YOUR TITLE SPONSOR? Everything is basically the same. Yarrive Konsky is still the team owner. It is really just a sponsor change. Penrite is an oil company based out of Australia. They don't' really have much motivation to be in America. There is no distribution for that company over here. I think they just wanted to take a different direction, and that is totally fine. Having Muc-Off on board is great. What a cool, thriving, all things two-wheels, bicycles, motorcycles company it is. Muc-Off is willing to grow and it seems like they really love the sport.  Generally, everything is the same as far as the infrastructure and the people on the team.
Justin Brayton leads the defending Champion through the sand at Houston. 
YOU ARE A GREAT MENTOR, HAVE YOU WORKED MUCH WITH THE 250 GUYS? I have not done much with Mitchell Oldenburg who is riding the East Coast currently, and Mitchell Harrison will be on the other coast. So, I have not really worked with them, but I am here for them for sure. The hard part is that I am in North Carolina most of the time. Oldenburg is in Texas, and Harrison is in California. I would actually love that role. I do that with several other riders on other teams, mentoring and helping with their training, mindset, and even bike set up if they want me to. This is what I would love to do after racing. I feel like I have a lot of value to bring to some younger riders, and even teams. I am here for them anytime they need me but also, I am here to do my job as well.
HEARING YOU TALK AT ONE OF THE 2020 SALT LAKE CITY SUPERCROSS ROUNDS, I GOT THE IMPRESSION THAT YOU SAW YOURSELF AS THE SECOND RIDER TO TEAMMATE KEN ROCZEN, I AM ASSUMING THAT HAS CHANGED FOR THIS YEAR. Yes, for sure. It is no secret that Ken is the number 1 guy, and he deserves all those accolades. He is tremendous on a motorcycle. He is a champion. He is a world champion. I don't have any of those titles to my name. Obviously, I am getting older, and with factory Honda bringing me to the team, I was the number two guy. Of course, I still wanted to get great results for myself. That never wavered all year, but I never had Ken's pace from the start. Once we got to Salt Lake, he was still in the championship hunt. I was eighth or so in points coming into that with not a chance at the title. At that point, I am not going to make it more difficult on him. We have been hanging out a lot since we have been in Houston and Indianapolis for over a week each. He was over the past couple of nights for dinner and his family and so, that has not changed at all.
Justin Brayton was a perfect fit for the HRC Honda team in 2020 when they had plans for Chase Sexton to jump to the 450 class for outdoors and needed a second rider for Supercross. He helped the team develop their bike and he has been a great friend to their star rider, Ken Roczen. Now, in 2021, Justin has factory support and he still works closely with HRC, although he isn't riding for the team anymore.
ON THE MUC-OFF HONDA TEAM, YOU ARE THE CLEAR LEADER. Being on the Muc-Off team, I am essentially the team leader. All the resources point towards me and I like that role. It is a good feeling, and a good vibe. Yarrive believes in me more than anyone, I feel like. It is a good feeling to have, and I really want to reward these guys with results. I want to put that little extra effort into helping this so-called underdog perform at a high level. To earn a podium only two races into the season, says a lot about the character of the team.
DO YOU FEEL THAT HAVING THE MULTIPLE RACES IN THE SAME VENUE AND CITY CREATE A LITTLE MORE FRIENDSHIP ATMOSPHERE WITH THE RIDERS? I think it does a little bit. My family and I were in California for a couple of weeks leading up to Houston. We spent a lot of time with Ken and his family. Now we have been at the two venues and have all gotten a couple of COVID tests now. We are just trying to really stay around the same people, so we are not venturing out too much with other people and trying to be careful. You don't want to lock yourself in a room and do nothing, but you definitely want to manage it and do the best you can with this whole COVID situation.
DO YOU MIND WHEN PEOPLE BRING UP YOUR AGE? I love it when people bring up my age; I really think it is awesome. I feel that a part of me is changing the way the sport is with my age. Several years ago, if you were 30, you were literally ancient. There was no way you could perform at a high level. Everyone would count you out. No team would ever want you to be on their team. But I feel like it is changing now. People want to race longer, and I think teams are taking that into consideration. You can look at a guy like Zach Osborne or look at a guy like Marvin Musquin.
With starts like this, Justin Brayton feels confident he can run up front with the likes of Roczen, Webb and Tomac. And he's not all talk, after this start at Houston 2, Brayton finished on the podium in third.
AGE IS JUST A NUMBER. Eli Tomac is in his late 20's now. I just don't even think about my age really that much. People talk about it more than I even think about it. The biggest thing is that this is what I want to do every day. My favorite thing to do every day is to ride motorcycles and compete at a high level. If I think I can still do that and mentally I still want to do that, then I am in. Things are changing with the nutrition, and you have things to keep you young and keep your body performing. As you said, age is truly just a number. Whether or not mentally you want to do it or not is the biggest thing. You could still race into your lower 40's if a guy truly wanted to and had done all the right things for his body. Most of the time people start a family, and then other things start to take precedent in your life. I have a 6-year-old and a 3-year-old and another one on the way, I just feel like it is so many great experiences that we have had with them.
My daughter was at the race the other night, which was a late one, so my son had to go back to the house and go to bed. She was there and got to see her Dad get a podium and get a trophy. She was not very happy with me after round one when I did not get a trophy and Ken did, so we had to go to Ken's bus at the end of the night to see his trophy.
She sees me every day working hard and every day going to the track and she asks all the time about all of it, like why I have to do that so much and there is just so many life lessons in there.
KIDS CAN BE AN EXTRA MOTIVATION TO WORK HARD TOO, RIGHT? If I were not doing it, it would be "why is Dad just home all the time and not really working?" Why is he riding his bicycle all the time for fun?" There are great life lessons, and we got to travel a ton as a family. It does make it more difficult to travel with kids and much more coordination, but I have learned to deal with it and adapt. I would much rather have it that way than just be by myself all the time.
Justin Brayton had been with Shoei helmets and Scott goggles for a long time, but for 2021, he's wearing Fly helmets and matching Fly goggles.
HAS THAT STRESS OF THE SUPERCROSS SEASON NOW EASED THAT WE ARE A MONTH IN? No, the variants could be so big on any given weekend, so you really need to bring it every single time you line up for that 20-minute main. It is different types of nerves. The first round is a lot of stress though. You are always thinking "is the setting we came up with at the test track going to transfer over into the stadium? Is the engine setting going to work as good as we think it is? Are my starts as good as we think they are?" You just never quite know who has taken a big leap up in the off-season, or who is going to come in a little under prepared. There are just so many different factors. Now after a couple races, I feel like you kind of know what you are going to get.
We know what the bike is going to do. Now, it is a different kind of pressure or stress or anxiety, whatever you want to call it. Now, it is executing the things that you know you can do, and using your strengths to their maximum, with minimizing your weaknesses if you have any.
IT SEEMS LIKE YOU HAVE A GREAT MINDSET. For me, you never know when your last season is going to be. It is not like I am 24 and I have a bunch of years left. I am going to try to maximize every little inch of that track and every race. I'll enjoy every podium I get and try to keep writing my story—that is the biggest thing, to keep writing the story.
Hopefully it changes the other guy's story too that have thought about retiring in their late twenties thinking that they are done. I would love to be that guy.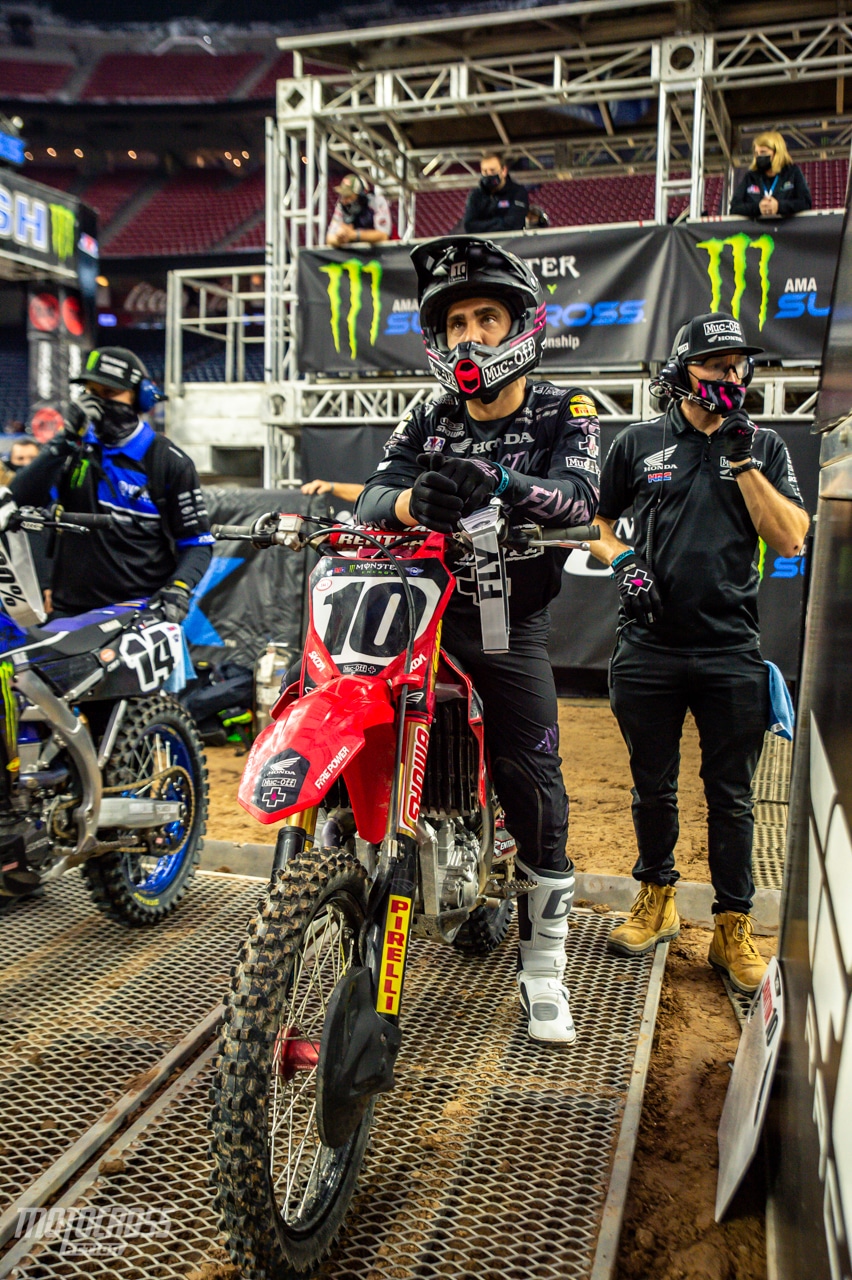 Justin Brayton on the line with his long-time mechanic, Brent Duffe.
GOING FORWARD, WHAT ARE YOUR FINAL THOUGHTS ON 2021 SUPERCROSS? I have a sense of feeling with the motorcycle and the team, like I did in 2018 with MotoConcepts where I ended up top five in the series with a win and a few podiums. I have that same vibe. I just want to maximize every race to the fullest, and really put all my emphasis on the start to put myself in good position. and then race with the guys that I feel that I belong to race with which is Roczen, Tomac and Webb. Actually, there are probably 10 of them that I could name but I want to race with those guys every weekend. I realize every weekend might not be a podium or a top five but maximize what I have that day. Give everything of myself that day, and I can leave being happy.