JUSTIN BRAYTON TESTS POSITIVE FOR COVID-19, OUT FOR 2022 OAKLAND SUPERCROSS
JUSTIN BRAYTON TESTS POSITIVE FOR COVID-19, OUT FOR 2022 OAKLAND SUPERCROSS
Justin Brayton will have to sit out the 2022 Oakland Supercross race this Saturday after testing positive for Covid-19 on Friday before the race. For 2022, the Supercross requirements are that riders, mechanics, crew members and anyone with a season credential must either provide proof of being vaccinated for Covid, or if they aren't vaccinated, they must take a rapid test each week before the race.
At 37-years-old, Justin Brayton has said that 2022 will be his last year of full-time racing and it hasn't been smooth sailing for him so far. First, an off season practice crash one month before Anaheim 1 kept him off the bike for a month while he did everything he could to recover and be able to race the season opener last Saturday. Now, after pushing through A1 and scoring 13th place in the 450SX Main Event, Justin will have to sit out Round 2 in Oakland.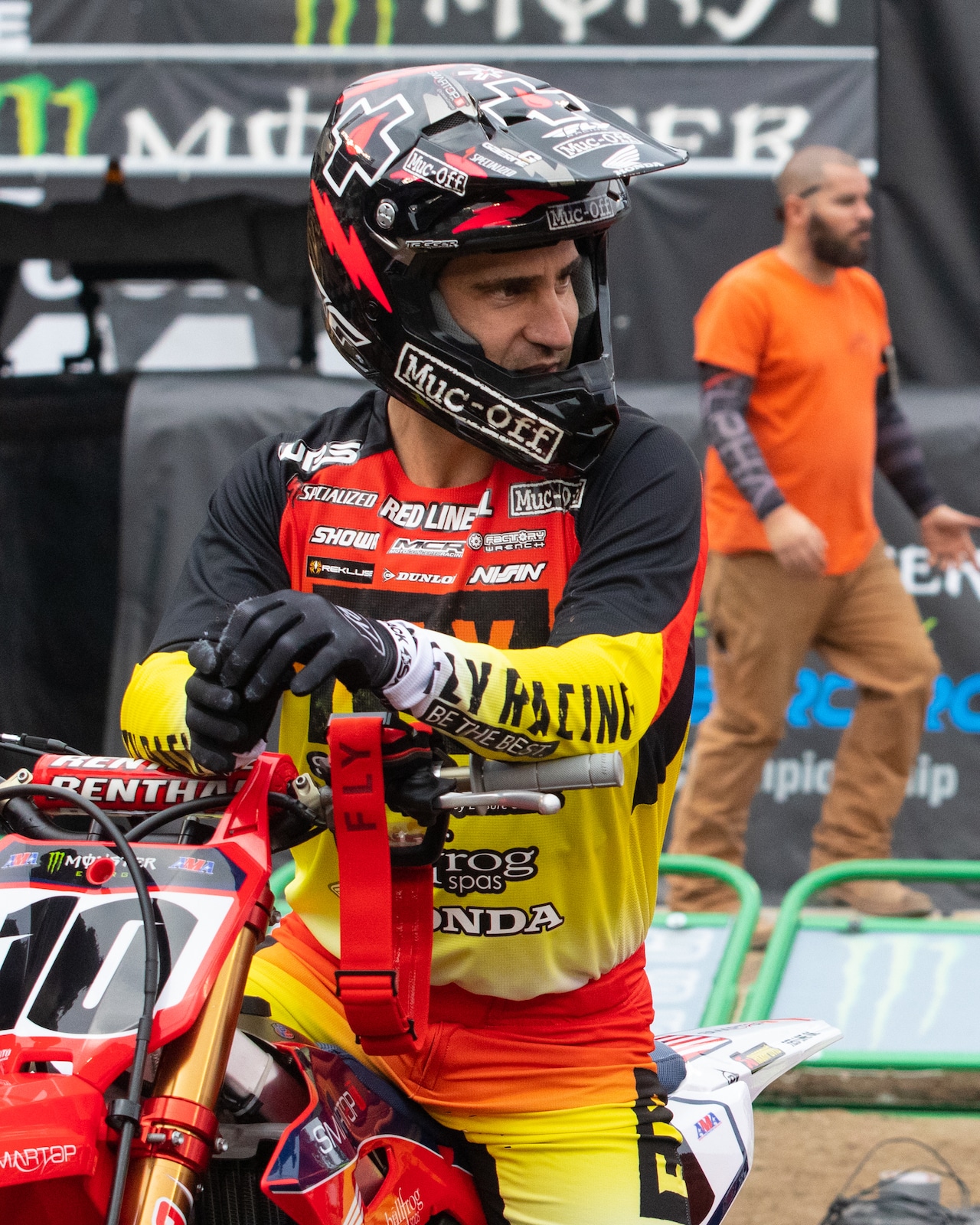 Justin posted via instagram on Friday: "Bummed to say but I tested positive for Covid and will be sitting out this weekends race in Oakland🤷‍♂️ See ya next weekend in SD! – Btw Parker wanted me to wear her glasses in this photo😂"
Justin posted again Saturday morning saying: "Definitely feels weird waking up feeling totally fine and not being able to race. I've had countless times where I've woken up the morning of the race and thought there's no way I can ride, whether it be a sickness or a broken bone, when it's race day it's time to race regardless. We live in a different world now and we're all having to adjust. – Those people hammering Feld Entertainment like it's their fault, STOP!! They are doing everything they can to keep the best sport in the world going over the past couple years. Imagine the rules and regulations they are having to follow that are constantly changing in every city and state. We should applaud them! @feldentertainment – Can't wait to be back on track next weekend in San Diego! @supercrosslive"
JUSTIN BRAYTON'S INSTAGRAM POST:
 

View this post on Instagram

 
Justin Brayton started off his farewell season with a 13th while still being banged up from his pre-season practice crash.