MXA INTERVIEW | JUSTIN COOPER TALKS ABOUT ADAM CIANCIARULO & THE CHAMPIONSHIP
What can be said about Monster Energy/Yamalube/Star Racing rider Justin Cooper? He is fit, fast, aggressive, determined and dedicated to winning. All that, coupled with of course his winning team, make him clearly a force to be reckoned with in this years 250 outdoor National Championship. Currently second in the championship points, Cooper clearly wants to beat nemesis and points leader Adam Cianciarulo, who has six points over Justin. We caught up with the New York native several times throughout a long day at Thunder Valley to learn more (if you don't know, there was a protest against Adam Cianciarulo  for cutting the track).
BY JIM KIMBALL
JUSTIN, THREE RACES IN YOU HAVE THREE SECOND PLACE FINISHES AND ARE ONLY SIX POINTS BEHIND CHAMPIONSHIP LEADER ADAM CIANCIARULO. It is exactly what we wanted, to be honest. The plan was to be on the podium for the first two and then come here and win, which unfortunately didn't really happen. But it was out of my hands. But we are on track for that, and really looking for the first overall win. We have been striving for that, but just not able to put two motos together. We got the first motos figured out but got to get out front again in both motos. I also won a moto here last year, so I'm definitely comfortable here. We had a good chance to getting it done this weekend. Overall, we are just trying to keep it consistent and stay in the championship hunt.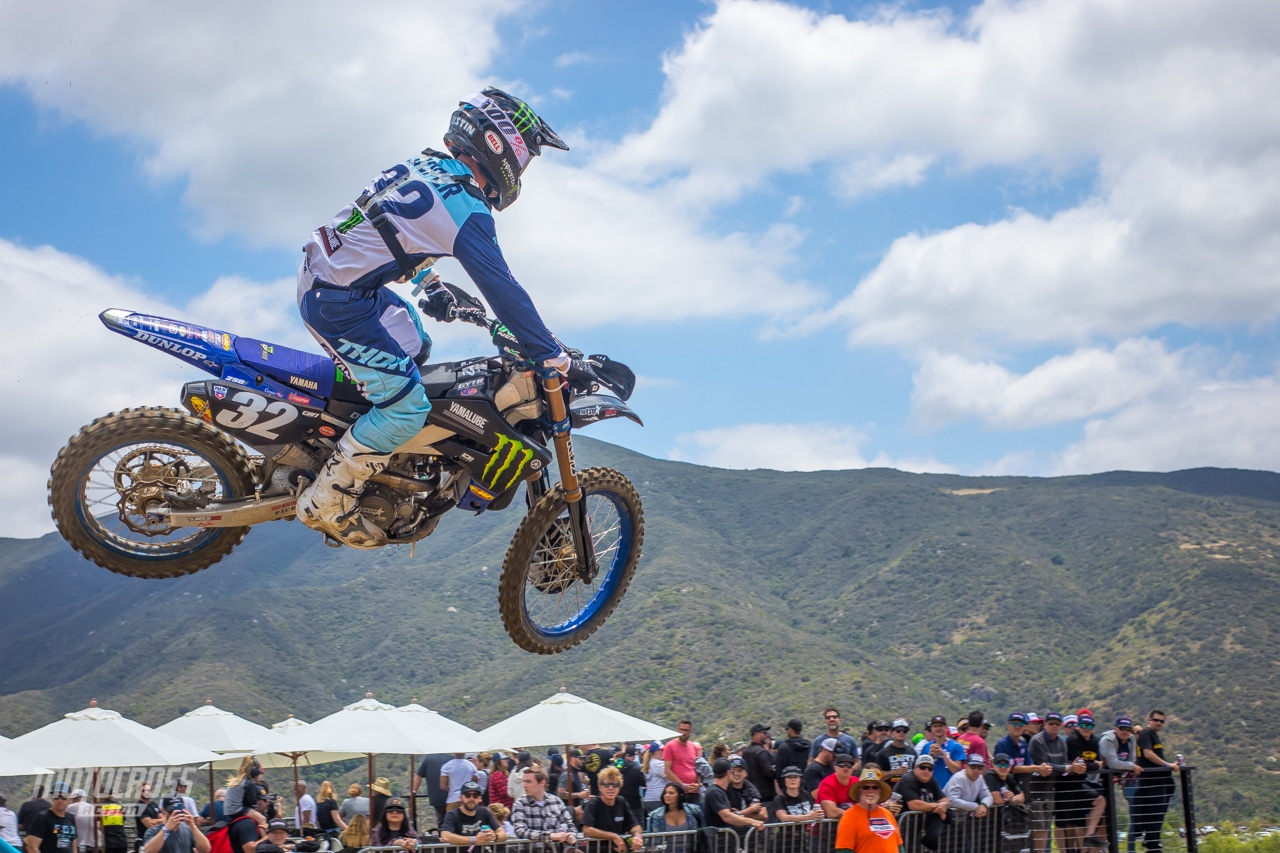 WHEN WATCHING YOU RACE YOU SELDOM APPEAR TO HAVE ANY REAL WEAKNESS AREAS. AT THIS POINT DO YOU FEEL YOU HAVE ANY AREAS TO WORK ON? There is always stuff to work on, but like you said, I have been feeling pretty good. I just have not been able to put myself in the right spot in the second motos, so that's pretty frustrating. I actually had the overall for a little bit. Even last weekend I think until four laps to go, I had it. So, it has been a couple of frustrating weekends, but it just made me that much hungrier to go out there and get the job done. It has been a long time coming, but I got nine podiums this season so far, including Supercross. None of them have been wins, so it is building an opportunity to get the job done.
YOU MENTIONED SUPERCROSS. THIS YEAR WAS REALLY LIKE YOUR SUPERCROSS ROOKIE SEASON AS YOU WERE INJURED VERY EARLY IN THE SERIES LAST YEAR, RIGHT? Yes, that is very true. I raced Supercross once last year and I got 9th and then hurt the next weekend. I actually was feeling really good there, but everything happens for a reason. I am almost glad it happened that way. It gave me a lot of focus on the outdoors, and I was able to finish up a strong third overall in that series. I shifted my mindset a little bit going to Supercross this last year and I was able to get on the podium six times. That was big for me and a good base year for me. Now, I'm taking the momentum into the outdoors where I feel a little bit more comfortable and looking to go for the championship for sure.
TALKING TO YOU, AND HEARING YOU ON THE PODIUM, YOU APPEAR TO HAVE A LOT OF CONFIDENCE AND MENTAL TOUGHNESS. I think my mentality is my really big strength that I have. Every race that I come into, I am confident and feel like I can win. And no matter what happens that weekend, I come back the next weekend with the same attitude. I believe I am one of the best guys out here and I know I can put myself in good positions every moto to get the job done and come away with the win.
THE COMPETITION AS USUAL, IS TOUGH IN 250 OUTDOORS ISN'T IT? Yes, basically, like this is a long series, so you cannot have those bad motos. You have to maximize all of your points each time out and each time out is like its own individual points paying race, if you look at it that way for the championship. The big picture is the championship, so you cannot do anything stupid out there. You cannot DNF a moto, crash out or anything like that. You have to know your limits and ride within them unless there are points where you have to turn it up. But yes, the biggest thing is being at every moto, and a lot of guys can't do that. So, I think that is some of the things that I am strong at and looking to keep it going and build upon. I had a couple of bad motos last year but looking to change that this year.
I don't realize how fit I am, and I realized that this last weekend when I made a late charge, and it was too late
SO MANY RIDERS MOVE TO FLORIDA TO GET USED TO THE HEAT AND HUMIDITY AFTER LAKEWOOD, WHAT ABOUT YOU? I think as a team; we will stay in California. We have a good organization out there and we have good tracks to ride. It is a little hectic during the week sometimes, but I think what we have going on there is good and I don't believe much in the east. Last year maybe for a few weeks, we went east for three to four weeks, but I don't think that will happen this year. Just keep the focus on California and come back refreshed each week.
IT DOES SEEM OBVIOUS THAT YOU DON'T LACK ANY FITNESS. If I have a weekend that is bad, it is me pacing myself too much, like within the motos. I am very in shape, so I don't think I need to leave anything on the table, and I think that is the only thing affecting me. I don't realize how fit I am, and I realized that this last weekend when I made a late charge, and it was too late. But I felt great the whole moto. I felt that I had more to give after the second moto, so it is frustrating to leave some on the table. I just have to work on depleting myself all the way to the end, so I get the most out of myself.
ANYTHING ELSE TO BE SAID ABOUT THE PROTEST SITUATION AT THUNDER VALLEY? No, other than bring on High Point!
ADAM CIANCIARULO GOING OFF THE TRACK IN THUNDER VALLEY BEHIND JUSTIN COOPER