MXA INTERVIEW: JUSTIN HILL TALKS EAST/WEST SHOOTOUT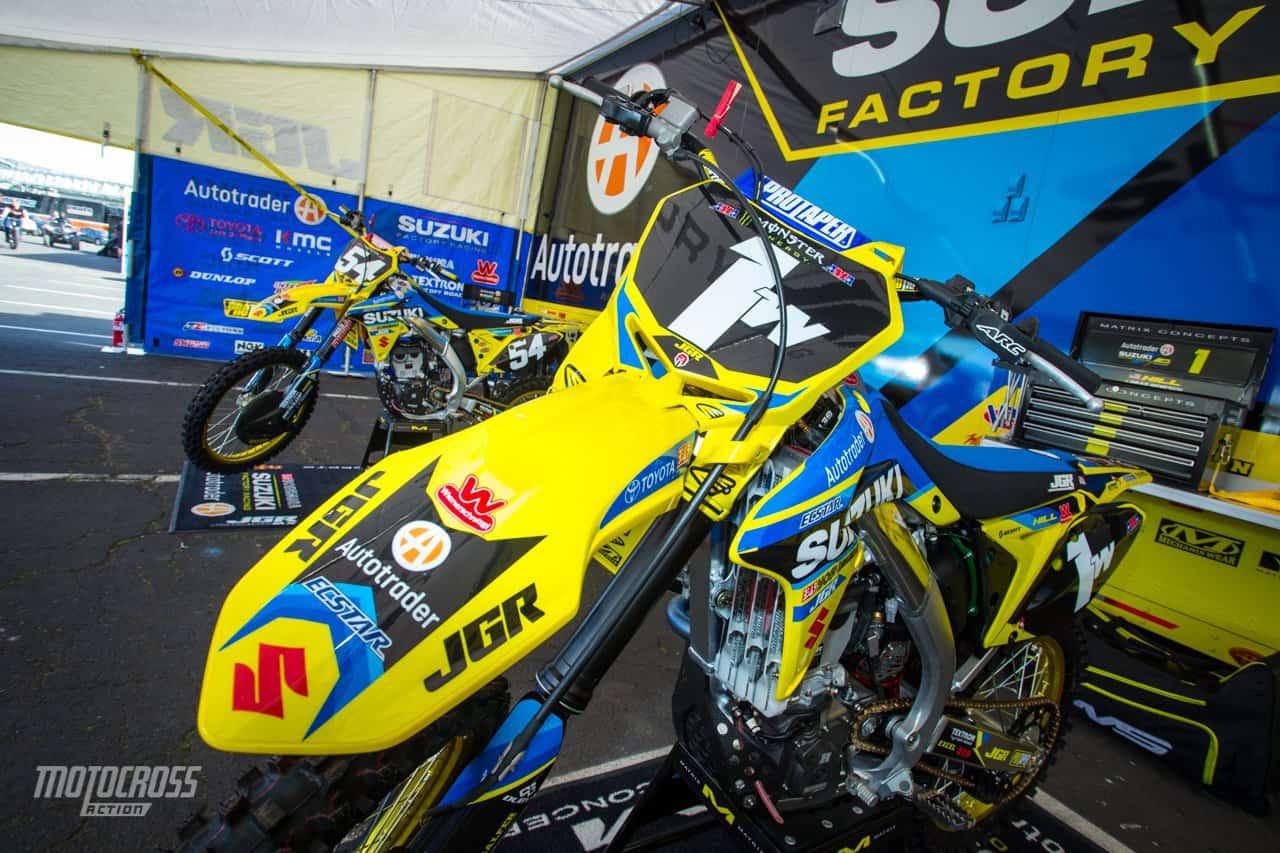 2018 Supercross has seen exciting racing mixed in with surprising results. And it has been this way in both 250 coasts, and the 450 premier class. One rider that has seen his share of up and down results has been Autotrader/Yoshimura/JGR rider Justin Hill. While Justin may have started his 250 West title defense with setting the fastest qualifying time, his first race was considered mediocre. The next few races Justin was nowhere near the podium, which had many scratching their heads. However, he turned things around at Oakland with a podium, and then took the main event win the following weekend in San Diego. A couple weeks later, in only his second time ever racing a 450, the 22 year old won his heat, and accomplished what very few have done this year – racing with, and passing Marvin Musquin, and Eli Tomac. A mid-race tip over would land him in sixth; but Hill served notice that he was more than ready for the 450 class. the following weekend in Atlanta, Justin would qualify an amazing 2nd. Atlanta looked to be a repeat of Tampa until a crash sidelined him. Now a couple weeks after his 450 successes we caught up with Justin just before flying to Indianapolis for the 250 East/West showdown.
BY JIM KIMBALL
JUSTIN, LETS BEGIN WITH THIS; TALKING TO YOU A COUPLE YEARS AGO YOU TOLD ME YOU RODE A 450 WELL, AND BY THE LOOKS OF THE TAMPA SUPERCROSS YOU PROVED IT! When I was around fourteen years old, I made the transition from an 85cc to the big bikes. For a couple of weeks I rode 125 two-strokes. We decided that we had to make a choice on what we were going to be riding, and we chose Suzuki. So we bought Suzuki's, and the first bike that I rode was the fuel injected 2008 RM-Z450. My dad and I were just tripping out because of the fuel injection. We were sitting there with it, and just start it. We were literally trying to trick the throttle, and make it bog like a carburetor. We were thrown for a tailspin as it would not bog, and that it just picked up. You just try to trick it, it still goes boom, and wraps right up. And the thing to me when I rode it was that I immediately developed a style that was very calm, and very smooth. Riding that bike in the meat of the power where it belonged worked awesome. It did not hit my dad, and me until we really started racing on it, and started to really do well on it. I always tried throughout my whole amateur career to have 450's around. I wanted to try to continue to stay good on them. I rode the 450 on a Supercross track. My dad was watching me, and just went, "Oh man, that is the ticket. The day you ride a 450 in Supercross, people are going to flip."  Out of everything I rode, that is what I just hopped on, and opened the floodgates with. To this day, that was the defining moment of becoming what I am, as far as knowing that this is what I was meant to do. That is still a pretty prideful moment for me, getting on that bike, riding Supercross and developing this idea. I have been anxiously waiting for the time to come. I think it is going to be a really bright future with Joe Gibbs Racing, especially because I am a huge fan of the bike, and it seems to work really well in Supercross. In the future I am hoping to make that bike top dog.
I DON'T RECALL YOU RACING A 450 AS A PRO BEFORE TAMPA. I raced Monster Cup one time on a 450 back in 2014 on a KTM. Everybody was flipping out, because I got second in the first moto to Canard, and then got second in moto 2 with Trey winning again. Nobody remembers it because I got in a first turn pile-up in the last moto. With the speed I had I would have finished up front for the overall, which obviously would have shocked everyone. I don't really think of that as a true spec race because there are no whoops. It is a bit of a hybrid track, but I knew what I was good at and I knew that when we got to a Supercross race, I could ride well, so I am just overall happy that I went, and rode the 450 back then. I truly felt that I had the speed to win each and every time I rode that bike.
IN THE TAMPA MAIN EVENT, I REMEMBER THAT YOU WERE BATTLING PRETTY HEAVILY WITH MARVIN MUSQUIN, AND ELI TOMAC.  That was fun. I knew that I was going fast enough, and I knew that if I could get out front I could probably get away because of the rhythm with the quad that I was doing. I had that in the back of my pocket, and thought "I need to surprise these guys, get them when their pants down, and get going." And that is what I did in the beginning. Obviously I had that little check-up thing with Marvin, which put the end to any win hope.  But even in that moment, I was not upset just because I got a taste of running up front on the Suzuki 450. I know in the future it is going to be like that but better, and I am going to be more content while doing it. I was just excited that I could do it just as I had imagined it for so long.
 I knew that I was going fast enough, and I knew that if I could get out front I could probably get away because of the rhythm with the quad that I was doing.
WHAT WERE THE JGR GUYS SAYING BACK IN THE PITS? These guys had my back the whole time. They knew that I was going to do well, and it was not a shock to them that this was happening. It was cool and everybody was pretty pumped. I think that it made everybody relax their shoulders a little bit because Suzuki has the new bike, and they really want to have a strong 450. With me doing well and showing a lot of speed, I think that took the edge off everybody. I wanted to show that I could be really good, and maybe that they would relax
AND WESTON PEICK HAD GOTTEN A HEAT RACE WIN IN DALLAS. Yes, just before I started riding, he got one. He has been doing awesome on that bike.  He has been a solid top five guy the whole season, and many are over looking him.  The guy is putting in excellent finishes every single time, fighting through dumb stuff that always happens. He is tough and he has great fitness. I think truthfully, the team would be foolish to not to have him on again next time.
LETS GET BACK TO THE 250 CLASS. THE FIRST COUPLE RACES WERE PROBABLY DISSAPOINTING FOR YOU, BUT THEN YOU GOT ON THE PODIUM, AND THEN TOOK A WIN. I think it was just one of those things that was going to take a little time however you looked at it. We started off a bit in the dark, and you never know what things are like until you race. Even that first race last year when I won the title was terrible. I got fifth, but truthfully with the amount of guys that we have now with it should have been a worse finish. That should have been an eighth or ninth place. Basically what it came down to for me was that the competition had gotten stiffer, so if you are not on your game, you fall back further. as far as the coming into the year and not doing better, I do not think that anything happened that did not need to happen. Every single thing happened for a reason. I wish that it could have happened a little sooner, but as it stands I am actually not even out of the title hunt, so we did not completely destroy our chance. It was just a thing where I needed to take what I had and get used to it a little bit. I wanted to do so well and I wanted to come out swinging, and I definitely think I was trying to over prepare, I should say. I was trying to get the bike to do some stuff, but I just needed it to be balanced. I just needed it to be the way I normally set things up. I took a couple of extra steps that I think hurt me at the end of the day for the beginning of the series.
THE 250 EAST COAST GUYS HAVE DONE PRETTY WELL, AT LEAST BEFORE JIMMY DECOTIS GOT INJURED. The two East Coast guys have done great. Kyle (Peters) just put in a really good ride in St. Louis, and was knocking down the door for a podium just now. That was an awesome ride for him, especially since he has had some racing time elsewhere (Australia), and I think he may have gotten forgotten a bit. That is what I am hoping for, that people re-recognize that he is good. You know how it is; if you do well, people call you, and they want to put their gear on you. People want to put logos on your helmet, and all that type of stuff, so that is what I am hoping for Kyle. But however you look at it, Kyle is making the bike look good. It is definitely putting silence on a lot of people that thought it would be bad.
CONTINUING ON WITH THE 250 CLASS, DO YOU THINK THE SPORT IS A LITTLE BACKWARD IN THAT YOU APPEAR TO HAVE TO STAY IN THE 250 CLASS FOR SO LONG? You know, that is a good question. My personal experience is that I want to be on that 450 absolutely as soon as possible. I have ridden some of the best 250's, and I did not like riding any of them. I liked riding the 450, and that is just who I am. If you look at a guy like Martin Davalos, I don't know that he is trying to race a 450. Maybe he is trying to, but I could not tell you. As far as what appears to be happening is that he has a long career in the 250 class. Maybe that is fine for him; it is just all about what you want.
 If you look at a guy like Martin Davalos, I don't know that he is trying to race a 450. Maybe he is trying to, but I could not tell you.
IN THE PAST, FOR THE MOST PART IT SEEMED THAT RIDERS WANTED TO MOVE TO THE PREMIER CLASS AS SOON AS POSSIBLE. NOW THE 250 CLASS CAN BE A CAREER CLASS. It is just things have changed. For example, back a long time ago, if somebody said they won a lights (125/250) championship that did not really even mean anything because it is not like it is now. Now it is like you are saying, it is a career class now. It is just a much bigger deal. People are getting paid good money to ride this class. As soon as there is money involved, everybody is going to flock to it. It is just how it is. There seems to be more relevance to having a successful 250 team, and it is not as much as a stepping-stone class, as maybe it should be. it should be a stepping stone class. I do not think you should spend a whole lot of time in it, but that is just me because when it comes to it, the real good guys have to do it on the 450. And that requires you to be strong, requires you to be durable, and requires you to be very efficient, because it is just a different class. I think that it is a little bit of a crime to let somebody who can ride the little bike stay down forever. I think it would be perfect if it was like the GP's, you know 25 years old and move up. I don't think that is hard; I think it is a pretty easy rule to make. It is not complicated to understand, but right now here it is super complicated, the eligibility rules. So, you get in a position where people do not want to even call a guy because they think that maybe they are eligible. Maybe a 450 team might not even want to call somebody because they think that they are still eligible for a little bike, and will stay down. It is far too complicated for this already complicated industry as it is.
SWITCHING BACK TO YOU AND RIGHT NOW, THE 250, YOU STILL HAVE A LEGITIMATE SHOT OF DEFENDING YOUR CHAMPIONSHIP, RIGHT? What it comes down to is that I have to win some races, especially as far as the shoot-out is concerned. This race (Indy) could shake things up, but it could shake things up the wrong way too. You never know what could happen, so you really cannot think too much about that. The main thing is just trying to get good starts and trying to win races. That is all I can do, so, I am not thinking about that. I have not thought about this championship in a while and the main reason for that is not because I don't care about it, but because I am trying to focus on what is important to everyone; which is just me continuing to grow and get better. I can't even think about trying to defend a championship if I am sitting here worrying about it, and not just worrying about myself. Everybody comes back a little rusty from the break, and you just never know what can happen. So I am just trying to come back as good as I can, and hopefully get some wins!