JUSTIN HILL TALKS ABOUT HIS 2017 SEASON, HIS JGR RIDE & RIDING A 450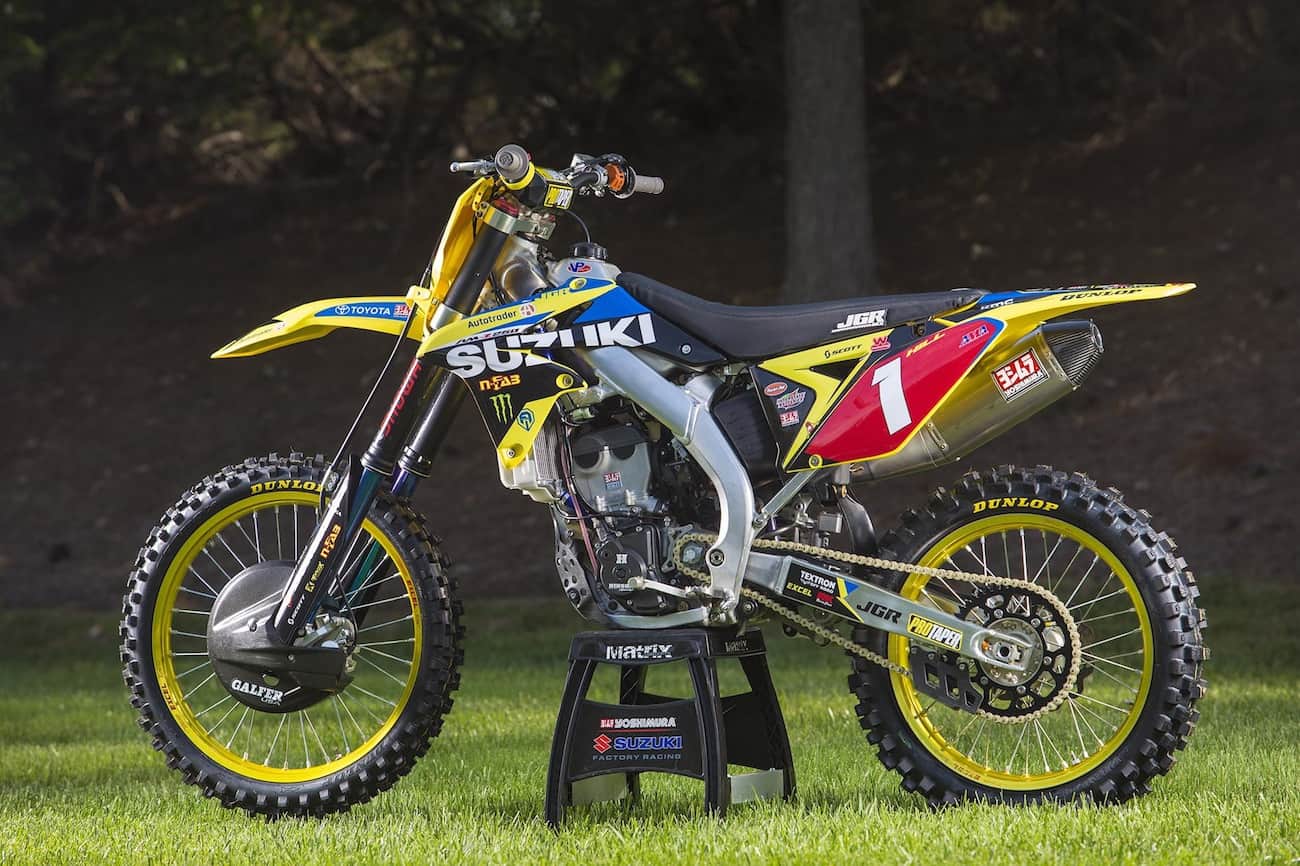 It seems like yesterday when I first met justin hill. I met him in his Pro rookie season wearing number 317 on his Monster Energy Pro Circuit Kawasaki KX250F. I recall doing an interview with him while his team was calling him to the starting gate. Justin enjoyed his racing, and talking to his fans and the media. Justin would do well in his rookie season, and in the following year he captured his first Supercross win! Mistakes and injuries may have derailed his outdoors season, but he had made enough impact to be the "sought after guy" for 2015. Signing with Red Bull KTM for 2015 and 2016, Hill's career was marked by fantastic highs and lows. When KTM farmed out thier 250 team to Troy Lee Designs for 2016, it signified the beginning of the end for him and the orange team. Back with several key sponsors (Monster Energy, Fox Racing), and Pro Circuit for 2017, Justin captured his first Pro championship with the 250 West coast Supercross title. While his outdoors season was a bit of a struggle, many expected Hill to be on the Monster Energy Kawasaki KX450F for 2018. But not the case, Justin Hill signed with the formidable JGR Suzuki team for 2018 and 2019. After a recent press release we were able to catch up with the 22 year old. I was happy to see that justin was that same kid that I met in 2013.
By Jim Kimball
JUSTIN, WE HAVE TO BEGIN WITH THE RECENT PRESS RELEASE FROM JGR. WHAT IS GOING ON? Well, I wanted to be a part of it for a while. I previously tried to call them and do a deal.  Obviously, with them not having a 250 team in the past, it was a lot trickier before. My eligibility in a Supercross series is only one more year, and it began to be a little more feasible. I got a hold of Jeremy pretty early on from the time that I was allowed to negotiate, and he was one of the first ones I called.  I basically said, "Hey, you know, I got to make calls and try to secure myself something. Here is where I would like to be with you guys." Right from the start, that is what I told him and he was cool. He got me everything that I asked for, and he was very understanding in what I was looking for. He did not tell me anything that was not true, and I definitely appreciated how he was with this deal in particular. With the help of Chris Wheeler and Coy, I was honored that they all came into agreement, and said, "This is going to be our guy, we are going to put some faith in him." I thought that was cool because this is where I wanted to be for a long time.
JEREMY ALBRECHT REALLY SEEMS TO VALUE THE RELATIONSHIP ASPECT OF SIGNING AND WORKING WITH A RIDER. I will tell you something about Jeremy, 100 percent he is a straight shooter, and that is not necessarily something you find every time. There are some out there, but Jeremy is a straight shooter. He has been very honest with me since I began talking to him, and we are becoming close. He honestly is one of the coolest people that I have the honor of knowing, and working with so far. I am excited to work along aside of him, because I feel with his mentality that Jeremy just looks things straight up and down, the way they should be looked at. I don't think that he necessarily buys into other things along the way. I think that he values the communication between he and I.  I don't think that there is going to be miscommunication. Everyone is going to get along just fine and that being said, especially Jeremy, and me we had a good time so far. We have not even done any racing yet, and everyone is excited to. It is nice to be wanted, you know? Everybody is getting excited, and they have never had a number one plate on the bike before. I am happy to sport that on their bike, and try to defend it. I am in a better mental place to do that than I was last time. I was not in a position to where I thought winning was going to be what was going to happen. I am excited, because I really think that with a little more prep time and a little more support all around, it is going to be a great year.
THAT LEADS ME TO ASK YOU THIS; YOU WERE REALLY HAPPY TO RETURN TO MITCH PAYTON'S TEAM FOR 2017; WHY LEAVE? Basically, what it came down to for me was the commitment of years, with Jeremy, Chris Wheeler and Coy Gibbs all saying we are going to put some elbow grease behind this kid, bring him along, and put him on a 450 after this time. There were a good number of people saying he can stay down. Keep him on a 250 and defend his Supercross title. But Jeremy looked past that for me, because I had asked them to look past that, and look towards a future with them. That is exactly what it came down to; they were going to commit to building something with me long term. I am blessed with that because this is whom I wanted to start building long-term with. It worked out exactly the way that I wanted it to. There was definitely a time or two where I was like "shoot, I don't know if we are going to be able to make this happen," but it all worked out, and I could not be more thankful.
I DON'T KNOW IF YOU CAN COMMENT, BUT MANY THOUGHT THAT IF YOU WON A SUPERCROSS CHAMPIONSHIP, AS YOU DID, THAT YOU WOULD AUTOMATICALLY MOVE UP TO THE MONSTER ENERGY KAWASAKI 450 TEAM FOR 2018. Honestly, I will just tell you the truth, and tell you what I know. What I know is that I would have assumed that this is what I would have shot for. If I am the boss there, I am not letting me go, but that is just me personally. That is what I would have done, not biased to myself. I was a little bit surprised. I would not say that it was ever guaranteed, or that I would say they owed me anything. I have a pretty deep history with Kawasaki, but I also have a pretty deep history with Suzuki. I rode them even before Kawasaki, so either way that it ended up it was going to be okay. I was going to put in 100% either way, but this is the way that I wanted it to happen. Maybe they did not feel like they needed to try hard enough to keep me, or maybe they felt like I was not the ticket or whatever it was. Honestly, it makes no difference to me, because I am where I want to be.
IT HAS TO BE KIND OF DIFFICULT GOING YEAR BY YEAR WITH YOUR CONTRACTS? Oh, it is. Honestly, this past year was the first time I had signed a single-year deal, and I did not like it. I was definitely unhappy with the terms. You settle into a team and you get going. You want to go "Okay, we got two years, let's get into this."  You have less to worry about. You have a little bit of job security where you feel that you can ease into it, because if its only one year, it can be very dangerous for what we do. With that being said, with my one-year deal for 2017, I came in as soon as I started riding that bike. I was thinking, "I've got to get to it; I am going to start riding." Then one of the first days I broke my shoulder just rushing into the whole thing, over something that there was no way that I should have crashed on; It was just a tiny thing. It should not have happened, but you can never blame that crash. It is not preventable but I attribute a bit of the percentage to the fact that it was a one-year deal, and I was very anxious to get going. I wanted to make sure that I was on par because I had my sights set on that championship far before that injury. Now with having a two-year deal and having a little security, I am taking a deep breath. I am going to ease into this, and get ready for the season the way it should be gotten ready for. You do it as it comes and you cannot force it. You got to just do what you got to do, and get your pace in and then move into the more intense stuff, and not peak early. I know how to do it, and I felt like I was rushing myself, is my point.
SUZUKI HAS BEEN ABSENT IN THE RESULTS FROM THE 250 CLASS FOR THE LAST COUPLE OF YEARS. I rode the bike today and I really like it. It is definitely the classic Suzuki, and nothing different than what I remember riding before. I rode the same bike in 2010, when the fuel injection 250 came out.  That was the first bike I rode, and it is pretty much the same as far as the feel of the bike. Obviously, there are major engine differences, and major chassis differences from what the team had done before. Suzuki has done a lot along the way, but it has a very similar feel, and I have to be honest with you, it feels just like home. The turning, the handling, and they have some great power now, so I have zero worries about the bike itself. I am working specifically with some of the smartest people out there in this sport. Actually not only this sport, but others as well, so I have a lot of confidence in what we are doing.
THE JGR GUYS WANT TO WIN DON'T THEY? Absolutely, and the main thing is their commitment to the 250's. They are just not getting their feet wet with this team. Their priority is trying to give me a bike that I can retain a title on, and I am very pleased with my initial feeling towards that. They are not going to be behind at all.
YOU ARE A DEFENDING 250 SUPERCROSS CHAMPION, AND ARE NOT GOING TO WANT TO SETTLE FOR ANYTHING LESS. Right, in my opinion one of the worst things is if you win it, and then you cannot hold onto it. I intend to hold onto it, and as I get older and I go through more things, I realize how difficult it is, and how hard it is for those things to fall into place. I am just going to do exactly what I did this year in Supercross and give it my all, and that is all I can do. That is all that they ask of me, and honestly for the first time in my life, I probably had the most motivation to really be what the team wants me to be. They want me to be just the best of myself, so I know what they expect, and hopefully they are happy with what we get.
TALK ABOUT THE OUTDOORS THIS YEAR, YOU HAD A COUPLE FLASHES OF BRILLIANCE, BUT FOR THE MOST PART WERE BACK IN THE PACK. I struggled the worst ever in the outdoors over this summer. Even my rookie season, I had more top tens, and more good races. I have had a motocross podium and have been very close to a podium a lot of times. Honestly, I can do both indoors and outdoors. Supercross comes very, very easy to me, I get on the bike and it feels like I am supposed to do that. Outdoors, I get on the bike and I am like "shoot, I got to work at this", and that is the main difference.  After a lot of success with Supercross, I did not have the motivation that I needed, and that was a huge mistake. I now know that now.  I definitely have reflected on that a lot because as of right now, we are doing both series. There might be a time in the future were we don't. There might be a time in the future where it is only one or the other. But until that day, you have to split up your efforts, and I did not do that effectively this year. I did not save myself economically. I just put it all on the line and when Vegas was over and I had the number one plate for a few weeks, I was just like "we are good, we really don't have to do that much," and that is the wrong attitude. I don't care what ends up in Supercross. I don't care if I win it by 1,000 points, or if I lose it. It does not matter; the result is still going to be the same. I am going to put in the effort for outdoors, and work on any other things that hindered my finishes.
Mainly, I was fighting my location a lot. I did not like being in California and Mitch and I kept going back and forth on it. In his mind he wanted to let me go out East, and try to find some better tracks, but then I think what stopped him from having me do it was he did not feel there was a sufficient plan. For whatever reason, he did not feel that I needed to leave California, and in hindsight I felt like that was a mistake. I should have pressed him a lot harder for that early on. It took the wind out of my sails, because I felt "Shoot, I have to do this whole season from California again." But it is not an excuse. I had three minor injuries that just piled up and my body was hurting. And I took a couple of weeks off in the middle of the series, and then a couple again, so it was not good. It was a lot of scattered messy stuff going on. It is not what I wanted to do and I don't plan on having it be a cluster like that. I really want to get to it and make sure that I am competitive because the Suzuki in particular handles extremely well outdoors, and I don't think that there is any reason why I can't really do something on it.
SOME PEOPLE WERE HINTING THAT AFTER YOU WON YOUR SUPERCROSS TITLE YOU SLACKED OFF IN THE SUMMER. Yes, I heard that too, but I train hard and I work hard. There is no doubt about that. The main difference between outdoors and Supercross for me is that if I am not 100 percent ready, I can "hurt" through Supercross, and I can get through it. I can place those points on the track where I need to be. It is all mental for me, and being that I think that I am pretty economical on the bike, I don't use a lot of excess energy running in Supercross. Is not quite as easy for me to do that outdoors. The motos are a little bit longer, and there are two of them. Outdoors is more brutal on your body and so it is just something that if I am in shape for and I get the opportunity to be in a position to be in shape for it, I will be perfectly fine. I will be ecstatic and try to make every move that I can to be better at it, but this year, it did not work that way. It was definitely the worst go I had.
NEXT YEAR IS GOING TO BE HUGE FOR YOU, HUGE FOR JGR AND HUGE FOR SUZUKI. DO YOU FEELGOOD ABOUT WHERE YOU ARE AND WHERE YOU ARE GOING? Oh absolutely. JGR as a whole was more involved with the 250 team in 2017 than what many thought. They basically aided Yoshimura and Suzuki and created a team, but they were not as hands on as now. It is 100 percent at the JGR Team. What I mean is that we have all hands on deck. They have pretty much moved themselves from being an underdog in the class to grabbing the 250 team by the horns. If it is Vegas odds, I don't see them as the underdog at all. I really don't. I think they have a lot of the smartest people that there are. They have more resources than I knew they had when I got here. They don't leave stones unturned; we have some of the best engines guys, and the best suspension guys. We have access to everything on the NASCAR side, and I think that it is an edge that some of the other teams don't have.