KEN ROCZEN INTERVIEW: HEADING INTO OAKLAND SUPERCROSS WITH AN EIGHT-POINT LEAD
KEN ROCZEN INTERVIEW: HEADING INTO THE 2020 OAKLAND SUPERCROSS WITH AN EIGHT-POINT LEAD
Is team Honda's Ken Roczen back? Certainly, it appears as though he is. Now with two race wins to his credit, Roczen is gaining momentum. Of course, his first Supercross win in almost three years at the St. Louis Supercross was impressive, but it was maybe his domination of the Glendale Arizona Triple Crown event that surpassed St. Louis. Everyone will say Ken is in a good position with an eight-point lead over Eli Tomac, but even Ken understands that it's too early to get overly excited. We talked with Ken after his Triple Crown win in Arizona to see where his mindset is at.
By Jim Kimball
FIRSTLY, CONGRATULATIONS ON YOUR WIN IN ST. LOUIS, I THINK EVERY SINGLE PERSON IN THE STADIUM, INCLUDING YOUR COMPETITORS WERE HAPPY. Yes, thank you, it was a long time coming. I wouldn't say I expected it, as obviously my A1 was not the greatest and we had some work to do. But then we really just put our head down the following weekend, and still tried to dial in the bike in a little bit more throughout practices. In St. Louis I was confident going into the heat, and later into the main. I just focused on my start, my riding, and tried to be as aggressive as possible.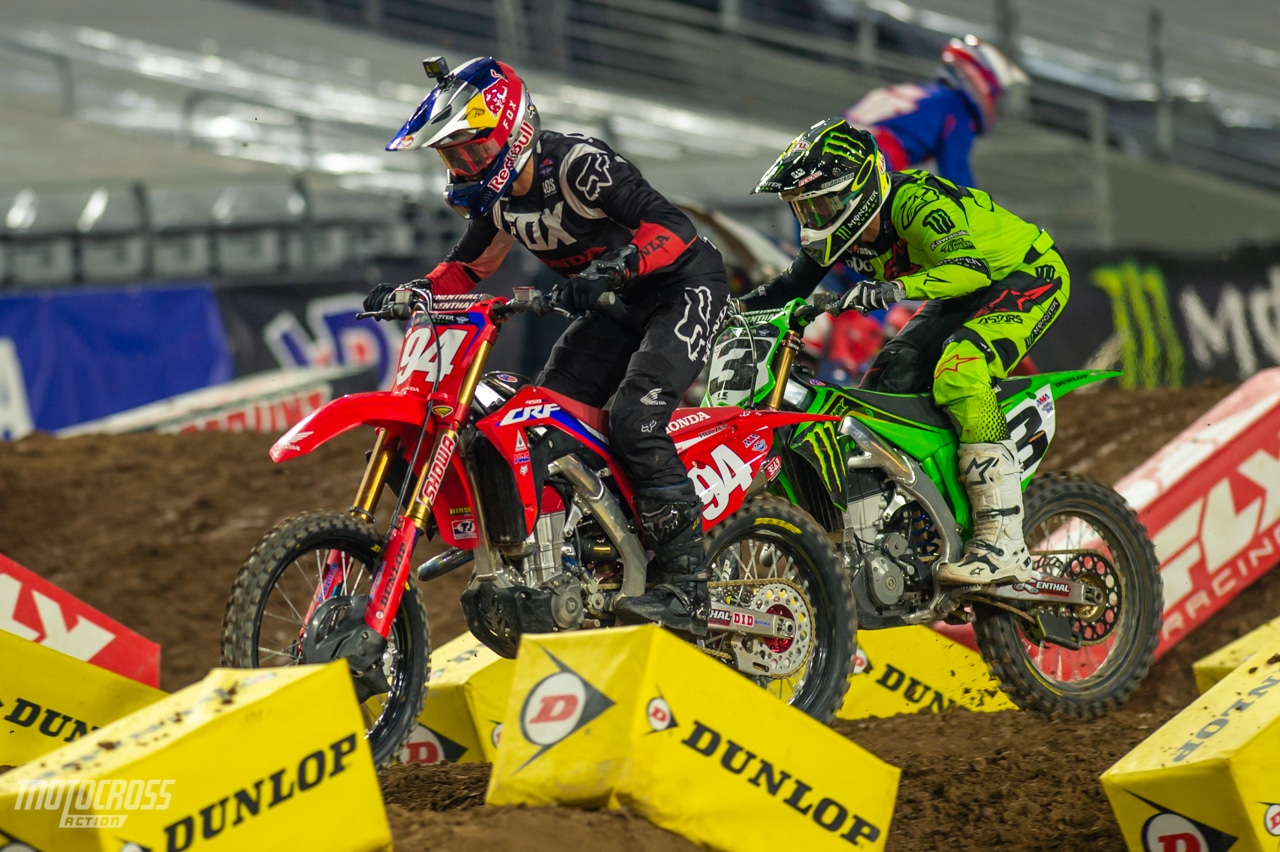 Ken Roczen held off a hard-charging Eli Tomac to score 1-1-1 finishes at the Glendale Supercross Triple Crown.
AFTER A1 YOU INDICATED THAT YOU HAD SOME SETTING ISSUES, BUT YOU CERTAINLY SEEMED TO RECOVER FROM THAT. Obviously, you know, when a rider says there was a problem or whatever, some people think it is an excuse. But when you back it up the next weekend with a win, it goes to show that we were just a little off. But at the same time, it has been a long time since we raced Supercross and coming in there and how I ended up at Supercross was not the greatest. It did not necessarily make for a good combination, but at the same time, I try to just refresh myself, and look forward to the next weekend. I try not to get too down on myself and just put in work and be focused.
Ken Roczen increased his 3-point lead to 8-points with his win in Arizona. Eli Tomac sits second, Justin Barcia is third, 11-points back, Jason Anderson is fourth, 14-points behind and the defending Champion, Cooper Webb sits fifth, 20-points behind. 
YOUR FOLLOW UP RACE AFTER CAPTURING YOUR FIRST WIN WAS GOOD TOO. For sure. A2 was tough for me. I did not gel with the track too well. I had my struggles here and there, but it was good to back it down. Instead of going for broke and trying to win, we got a second, which is still a super solid result. We have to try and be around that spot every single weekend. You can be the fastest, and then make a big mistake and be out of the championship hunt. It is early in the season, so we just try and focus on our starts as much as possible to make our life a lot easier and stay away from trouble.
Ken Roczen and Eli Tomac currently sit one and two in the points and they're both still looking for their first 450 Supercross title.
WITH SO MUCH TRAVEL BEING A PART OF RACING SUPERCROSS, AVOIDING SICKNESS, OR SIMPLY STAYING HEALTHY HAS TO BE DIFFICULT. Yes, it is tough. I try to look at traveling now just as rest and I try to relax. But at the same time, we are around a lot of people with a lot of sickness going around. It is really tough to stay healthy. It seems like we are under constant stress, with the travel, the racing, and doing our rider signings. We are always around a lot of people and it is difficult to stay away from trouble, but at the same time, we just have to manage it. Everybody is dealing with the same thing, and yes even when there are bad days or whatever, you have to try to minimize the damage.
Ken Roczen and his mechanic Jordan Troxell hanging out before the races begun in Glendale. 
"You've already seen a couple other riders win, and there are definitely a few others that will win. The competition is tougher than ever this season."
YOU ARE NOW THE ONLY TWO-TIME WINNER SO FAR THIS YEAR, ARE YOU THE MAN TO BEAT? Certainly, it's great to have two race wins now, but I don't want to get too ahead of myself. You've already seen a couple other riders win, and there are definitely a few others that will win. The competition is tougher than ever this season. I expect that we will see a few more winners soon. But yes, I just need to be putting the efforts in, and keep trying to be near the front, and in podium positions.
Ken Roczen loves to do his one-handed, one-footer whips during opening ceremonies.
I UNDERSTAND THAT YOU ARE IN CALIFORNIA NOW, BUT AT SOME POINT, WILL YOU RELOCATE BACK TO FLORIDA? Yes, I have been in California for all the races so far, as most of the races are on the West Coast, so its California for me now. But as soon as the races go East, I'll return to Florida.