KEN ROCZEN ON "THE GIFT," HIS NEWBORN, RACING MXDN & SUZUKI FUTURE

KEN ROCZEN ON "THE GIFT," HIS NEWBORN, RACING MXDN & SUZUKI FUTURE
"Kickstart Kenny" Roczen did it again at the Chicagoland Speedway for round two of the Supermotocross Championship playoffs. Okay, maybe he didn't win the overall, but his second moto win was very reminiscent of his Indianapolis Supercross win earlier this year. To say the crowd was electrified would be an understatement! Roczen's 3-1 finish put him second overall for the night, bookmarked by Honda HRC Racings Jett Lawrence in first and Chase Sexton in third.  While still sweat-soaked in his gear, we caught up with Roczen to get this update.
BY JIM KIMBALL
---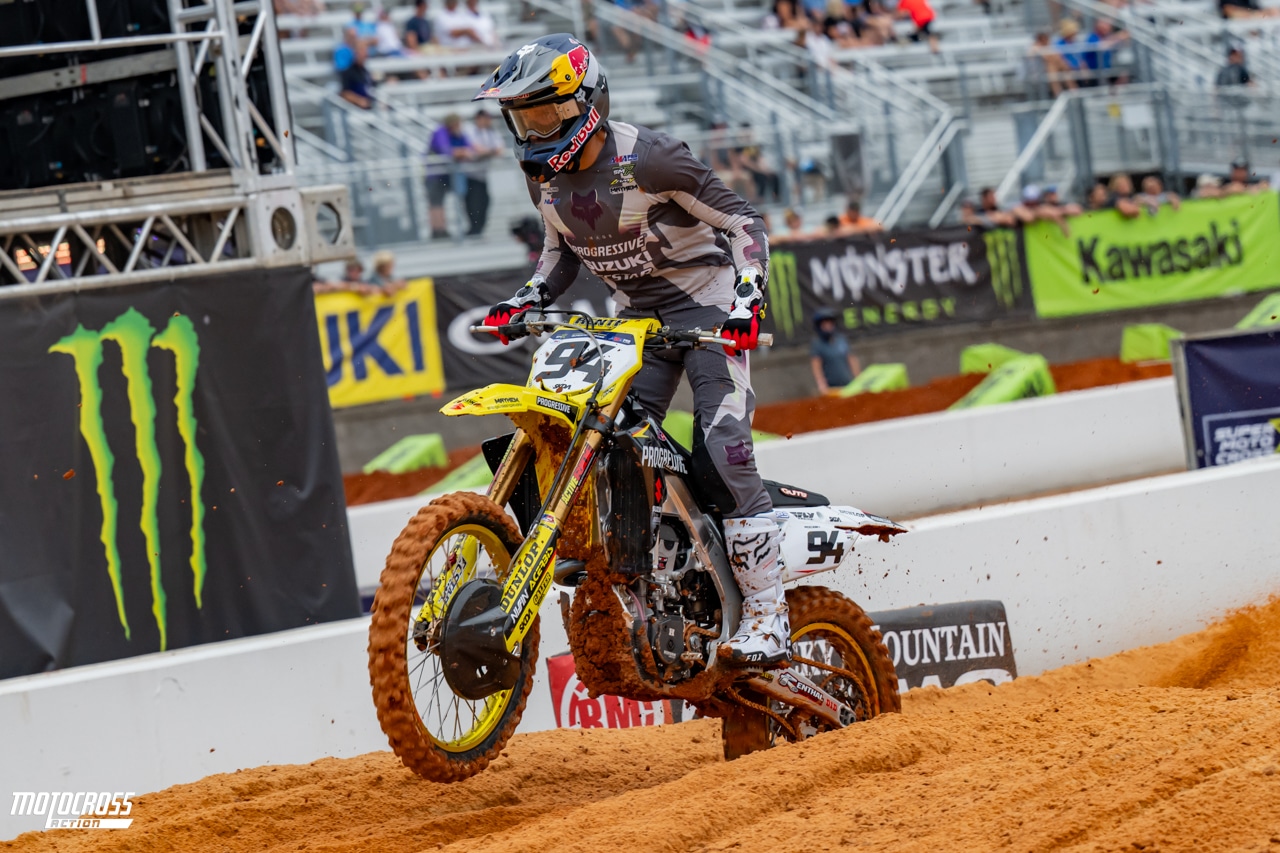 This past weekend, Ken Roczen had the crowd on their feet as he attempted multiple passes on leader Jett Lawrence. 
KENNY, DURING THE SECOND MOTO IN CHICAGO, IT SEEMED THAT "JETT MANIA" TURNED TO "KENNY MANIA." Ha-ha, near the end of that race, it turned that way. At the back of the track, not even where the fans primarily were, I heard them. Coming back towards the main track, in on the back straightaway, I heard them go bananas. That is kind of what I do it for, right?  It is just pure joy; it melts my heart and the support even after the race, like at the podium. how do you not love that? It was insane.
PURE JOY SUMMED IT UP: EVERYONE WAS PUMPED. I would hope so. I have not even been able to marinate on it yet because I feel like I have not raced like that in a while. I have been super eager to better myself, and that is what I have been doing this work for these past few months.  
Aggressive right from the gate drop, Ken put himself in a position to capitalize on the moto win. 
WHEN YOU WERE IN SECOND, YOU CLOSED RIGHT UP TO JETT LAWRENCE, WHO WAS LEADING. IT APPEARED WE WERE GOING TO WITNESS AN AGGRESSIVE BATTLE, BUT THEN HE APPEARED TO WAVE YOU BY.  Yes, it was a strange moment, and I didn't know what he was doing. I haven't had any chance to ask him about it, but my initial reaction was that he was trying to gain Playoff points on Chase Sexton. 
THIS PROGRAM YOU ARE ON WITH HEP SUZUKI WORKS WELL FOR YOU. It Is the best thing. You know, our suspension guy works so hard, and the team does anything and everything for me. Working with Larry (Brooks, Team Manager) is an absolute pleasure. Our suspension guy, Matt, is in Florida. He is out at the track with us every day and has been grinding his butt off; so have we, and I think it just shows.  
With a result of 3-1 at Chicagoland Speedway worth double points, Ken grabbed valuable momentum headed into the LA triple crown event.
CONGRATULATIONS ON YOUR NEW CHILD TOO! IT MUST BE HECTIC! I am sure it will be when I get back home. I have not been able to spend time with him, since he got here on Wednesday. Then, on Thursday, I saw him for thirty minutes and had to go to the airport, so I have not really been around him much. Of course, it is a welcoming pain in the butt, if you want to call it that. I think he has been sleeping great, but I am ready for it. I want this!  Having a baby, a second one, comes with maybe a little bit of a headache at this exact time, but I want it. 
YOU HAVE A LOT GOING ON WITH ONE MORE SUPERMOTOCROSS AND THEN THE MOTOCROSS DES NATIONS.  YOU ARE NOT GOING TO HAVE A LOT OF TIME BEFORE NEXT YEAR AND SUPERCROSS.  I had a lot of free time during the summer! So, this racing is good preparation to go racing next year. I am ready to keep going racing.
Ken posted on Instagram after the race: "I could care less about a "oh so kind baby gift" win from Jett. Thank you so much. I really appreciate it… the math didn't make a difference whatsoever on the overall anyway."
I NOTICED YOUR DAD WAS HERE. I IMAGINE IT WAS NICE TO HAVE SOME KIN AROUND; HE WAS CRUCIAL IN YOUR EARLY SUCCESS. Yes, for sure, it was nice to have family here. Usually, my wife is, but obviously, that cannot happen right now. It's nice to have my dad here as my dad. He's not often over here anymore. Back when I was younger and constantly working with me, we would often butt heads. Now, he is just here to enjoy it.
AS A WRAP-UP, EVERYBODY BELIEVES YOU ARE GOING TO BE BACK WITH THE HEP SUZUKI TEAM NEXT YEAR. CAN YOU COMMENT? Nothing has been announced yet. I have not signed yet, but obviously, my intention is to do so. We have just been so wrapped up in racing. I have the contract and everything, but as I said, nothing is signed yet. I have just not thought much about it lately with the new baby and the SMX Playoffs. In the past, when I was young, I was eager to do things quickly.  When the time comes, we will make an announcement.
Baby on Wednesday, riding on Friday, racing on Saturday. Even without a day off, Kenny showed lightning speed against the rest of the field.
\