KTM'S FIRST WIN & INJURY UPDATES // ST. LOUIS SUPERCROSS THE AFTERMATH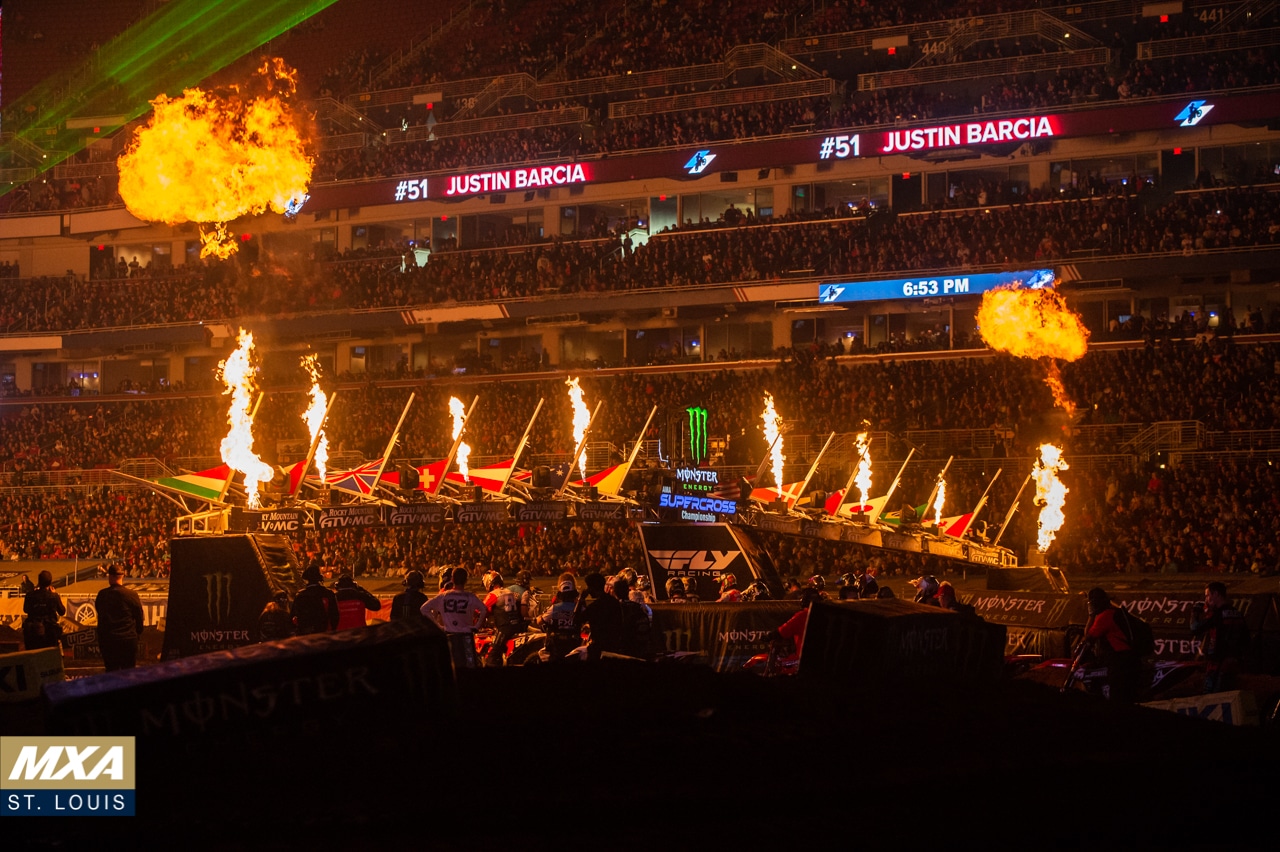 KTM'S FIRST WIN & INJURY UPDATES // ST. LOUIS SUPERCROSS THE AFTERMATH
Good gravy do Triple Crowns cause a stir. As we reached the 13th round of the season, we also reached the third Triple Crown of the series. With the formula of short stint races and the unpredictable nature of watching the gate drop 6 times, anything can happen when it comes to the podium. However, one rider in particular, is far more consistent than any other in the history of Triple Crowns. Eli Tomac is known to dominate the 3 Main Event formula thanks to his consistent riding, even when he doesn't get the best starts. But it wouldn't be Eli Tomac who was the most consistent in the night when the riders lined up on the gate.
From fan favorites going flying across to the track to KTM breaking its loss streak in the 2022 season, we unwrap everything you missed at the St. Louis Supercross. Scroll down below to find out what happened after the riders qualified for the night show in MXA's The Aftermath.
Photos by Brian Converse
Words by Trevor Nelson
Fun Facts by Ben Bridges
---
450 SX CLASS REVIEW // MARV SAVES KTM'S WIN STREAK, ENDS ELI'S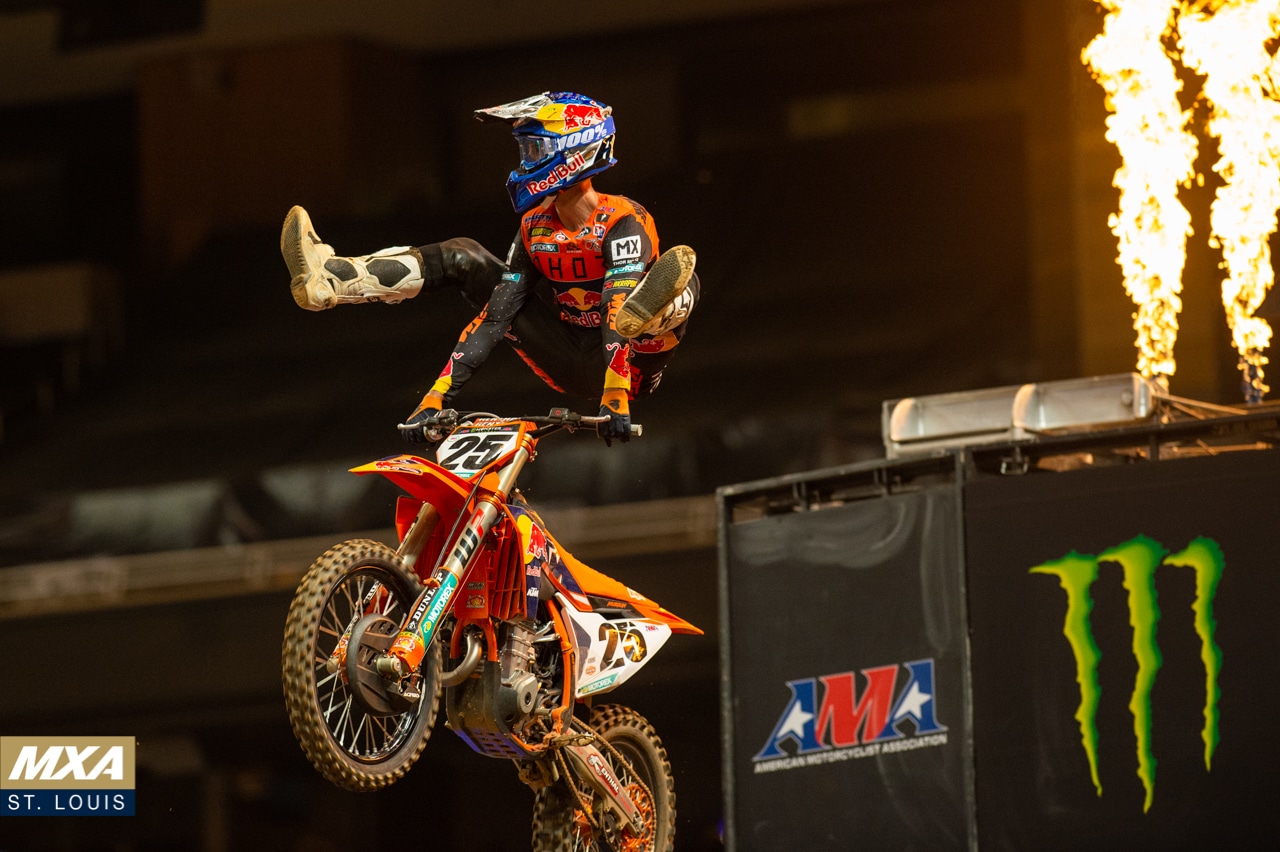 We noticed Marvin was looking better than ever when it came to qualifying. The French rider was loving the St. Louis soil and its tight technical features on the track, qualifying second behind Malcolm Stewart. When the gate dropped for the Main Events, it was a no-brainer that something was in the air tonight for Marvin, getting amazing starts and finishing 2-1-2 to take the overall. We also witnessed what had to be the most amount of heel-clickers thrown in one night.
Marvin Musquin goes 2-1-2 to win his first Triple Crown.
Musquin gets career win #10 and ties Broc Glover and Mike LaRocco on the all-time SX win list.
Musquin's last win was Round 16 of last season.
Peek a boo!
Musquin saves KTM's win streak. KTM has now won at least 1 SX race for 11 consecutive seasons.
KTM now has 59 SX wins.
Musquin has won 4 Triple Crown motos.
With a Supercross-only contract signed, we wonder if this St. Louis Supercross win will look good for his 2023 resume.
It was Musquin's 98 start, his 48th podium and 10th win.
Musquin now is 5th in the points standings.
Since Daytona Musquin has gone 6-4-3-3-1.
KTM is the 4th different brand to win this year.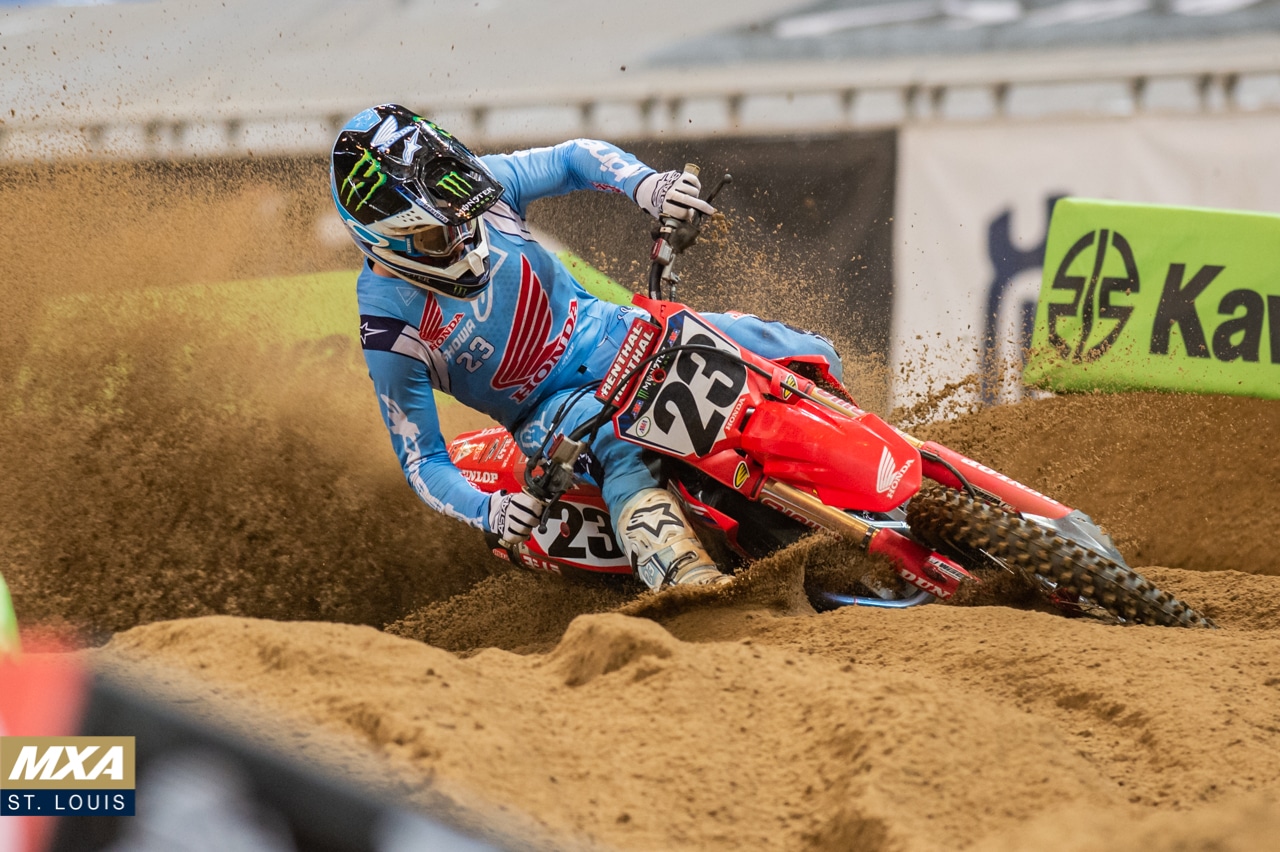 Chase Sexton's performance throughout the night may have gone unnoticed despite winning one of the Mains. With all the buzz surrounding Eli Tomac and the championship, Marvin winning, and the Triple Crown madness, his second place overall was still extremely impressive. Unfortunately, Chase still sits all the way back in seventh place in the championship due to several race-ending crashes earlier in the season. However, Chase is still one of the few riders still fighting each weekend to make it on the podium and letting everyone know that he has what it takes.
Chase Sexton goes 1-3-3 for 2nd overall, his 8th Top 5 of the season.
Sexton sits 7th in the points.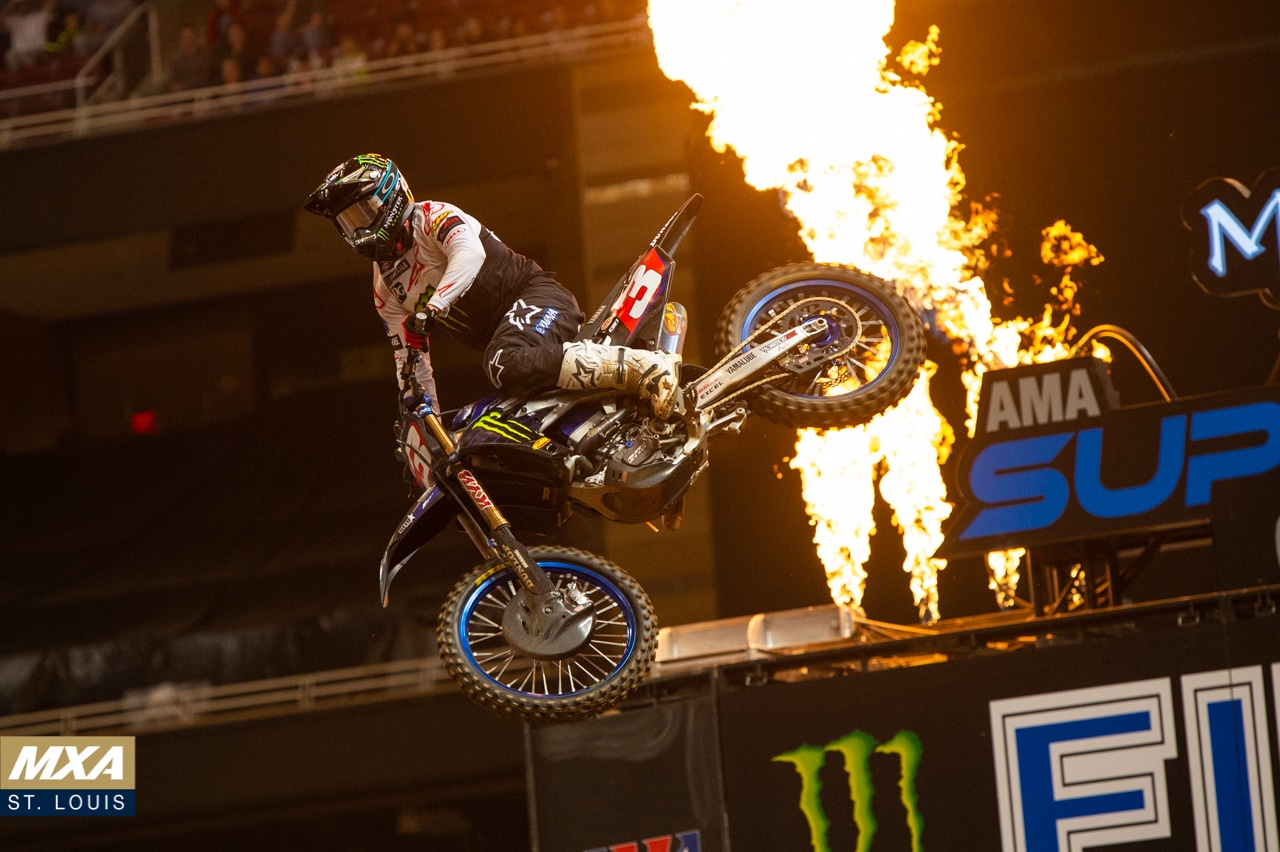 Eli Tomac, the third winner of the night, would finish third overall. Despite finishing in third, his gain in the championship points chase continues further as the riders 7th and 8th in points were the only ones finishing ahead in the overall.
Eli Tomac goes 4-4-1 for 3rd overall.
Tomac was making his 144th start, got his 83rd podium and 105th Top 5.
It was Tomac's 10th podium of the season.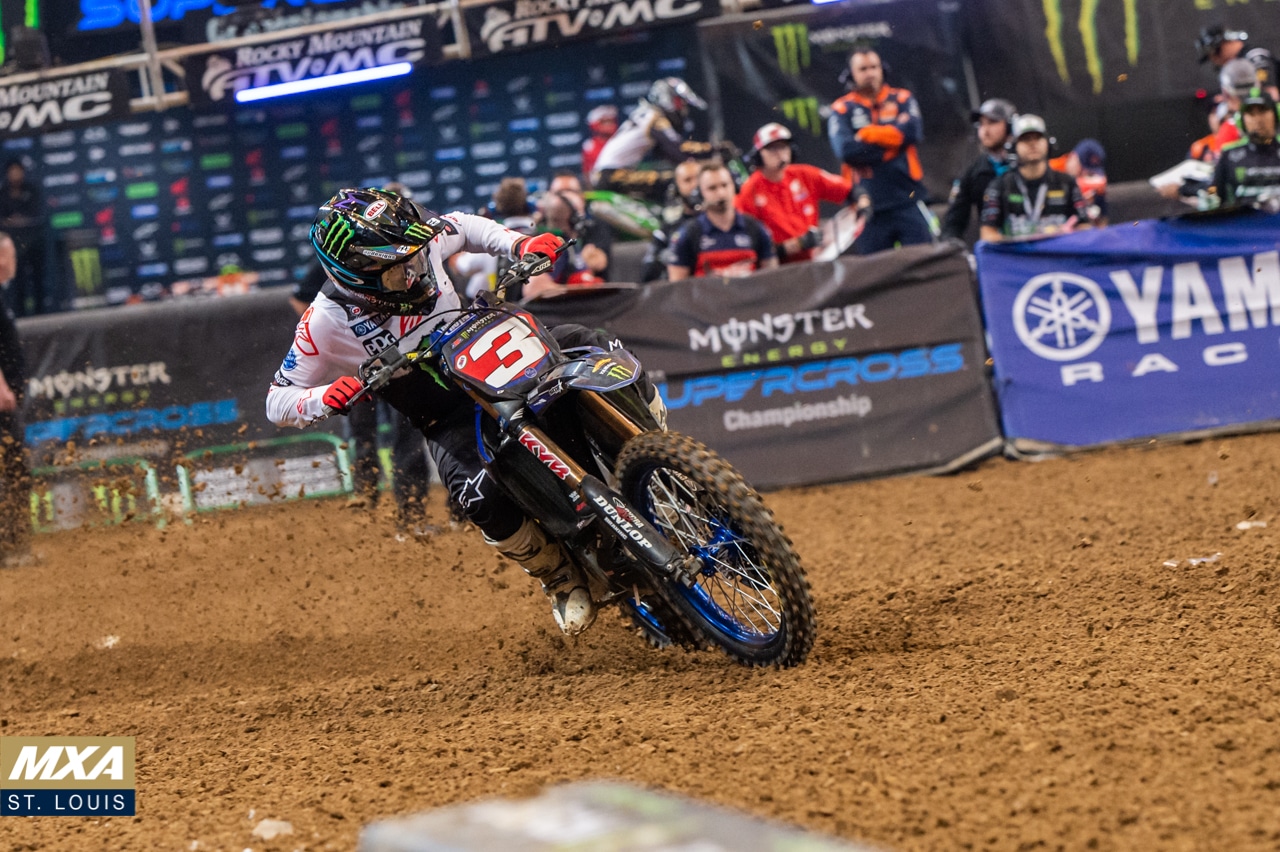 With only four rounds left, Eli Tomac has a whopping 56-point lead on second place.
Tomac has now won 10 Triple Crown motos, more than any other racer.
Tomac now has a 56-point lead on Jason Anderson.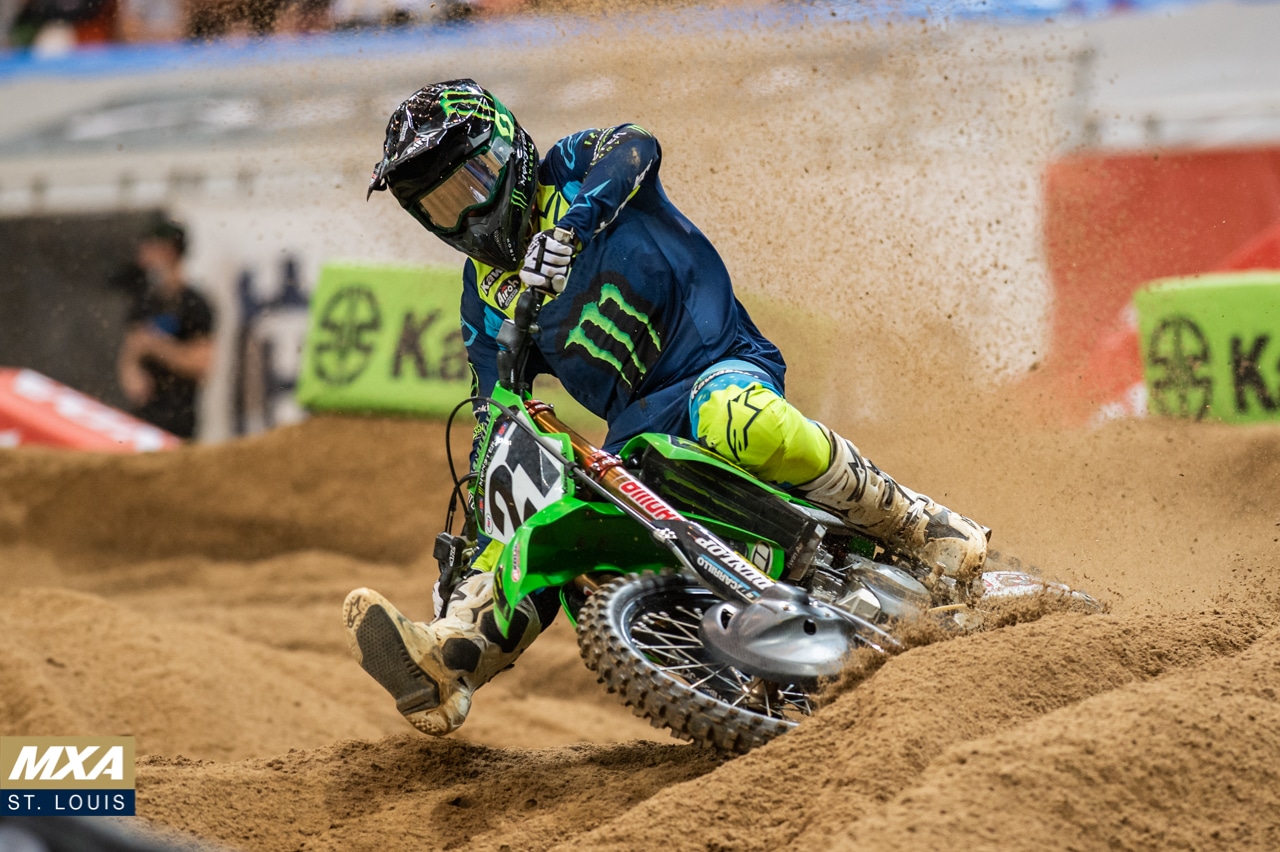 Jason Anderson finished fourth in the night after two tip-overs, one in the first Main and one in the third.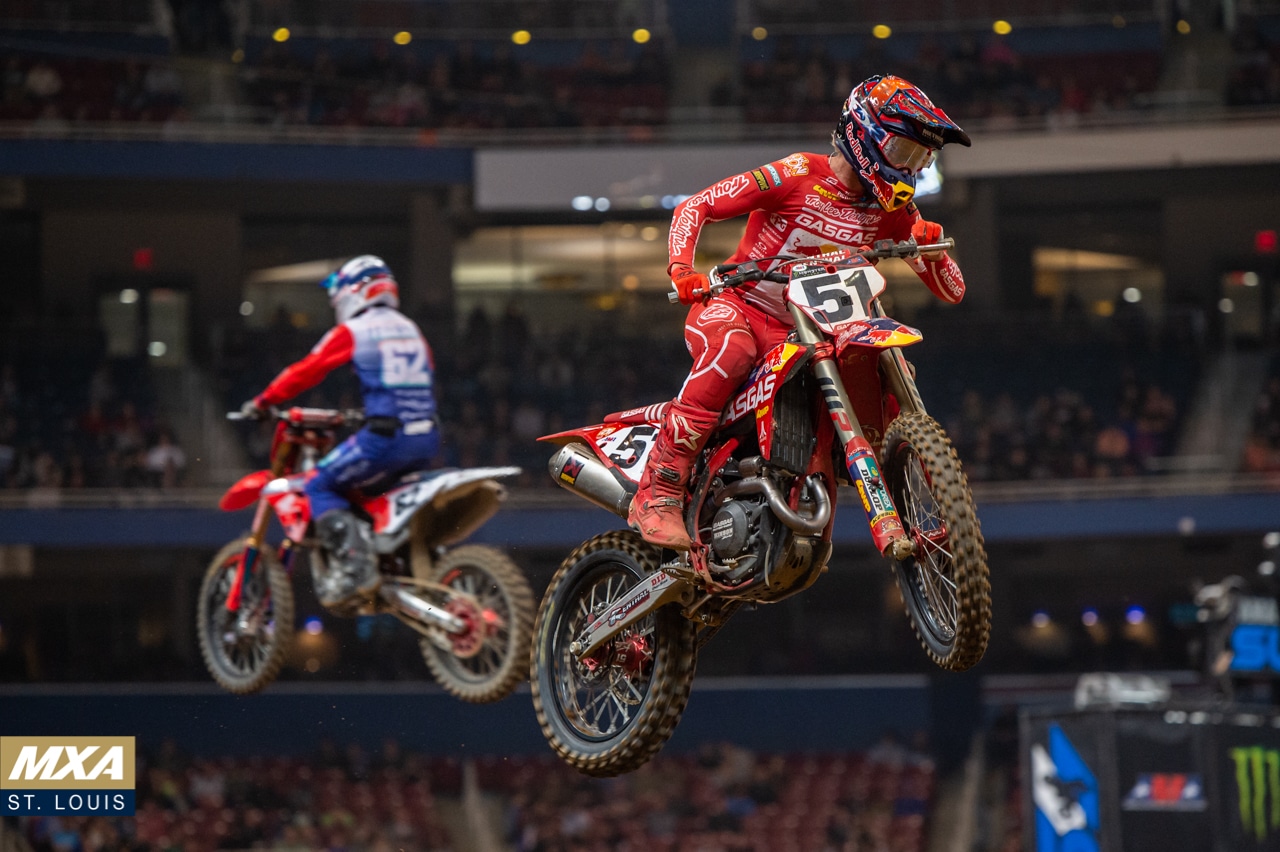 And in fifth place was Justin Barcia.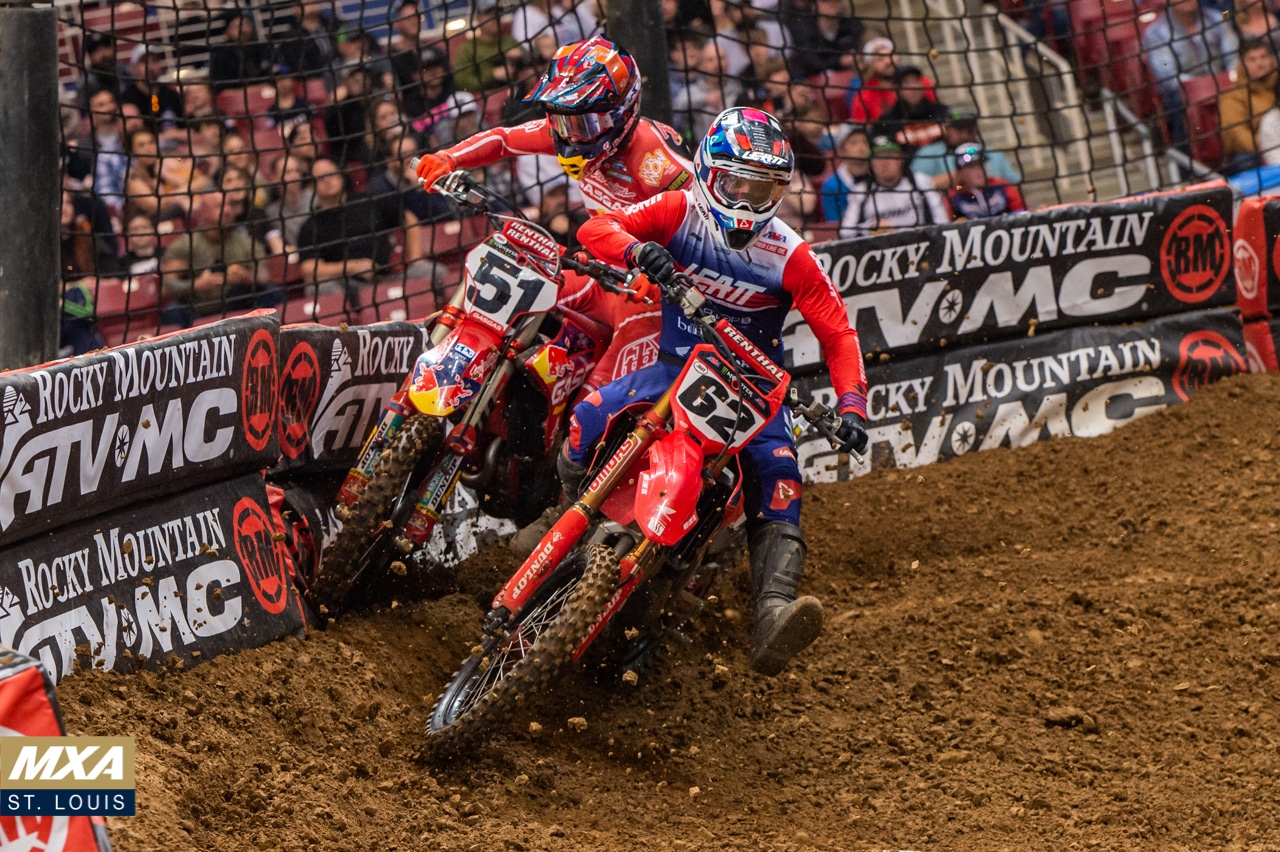 Justin Barcia also got a taste of the tough blocks after Vince Friese ran him high.
DEAN WILSON'S HORRIFIC CRASH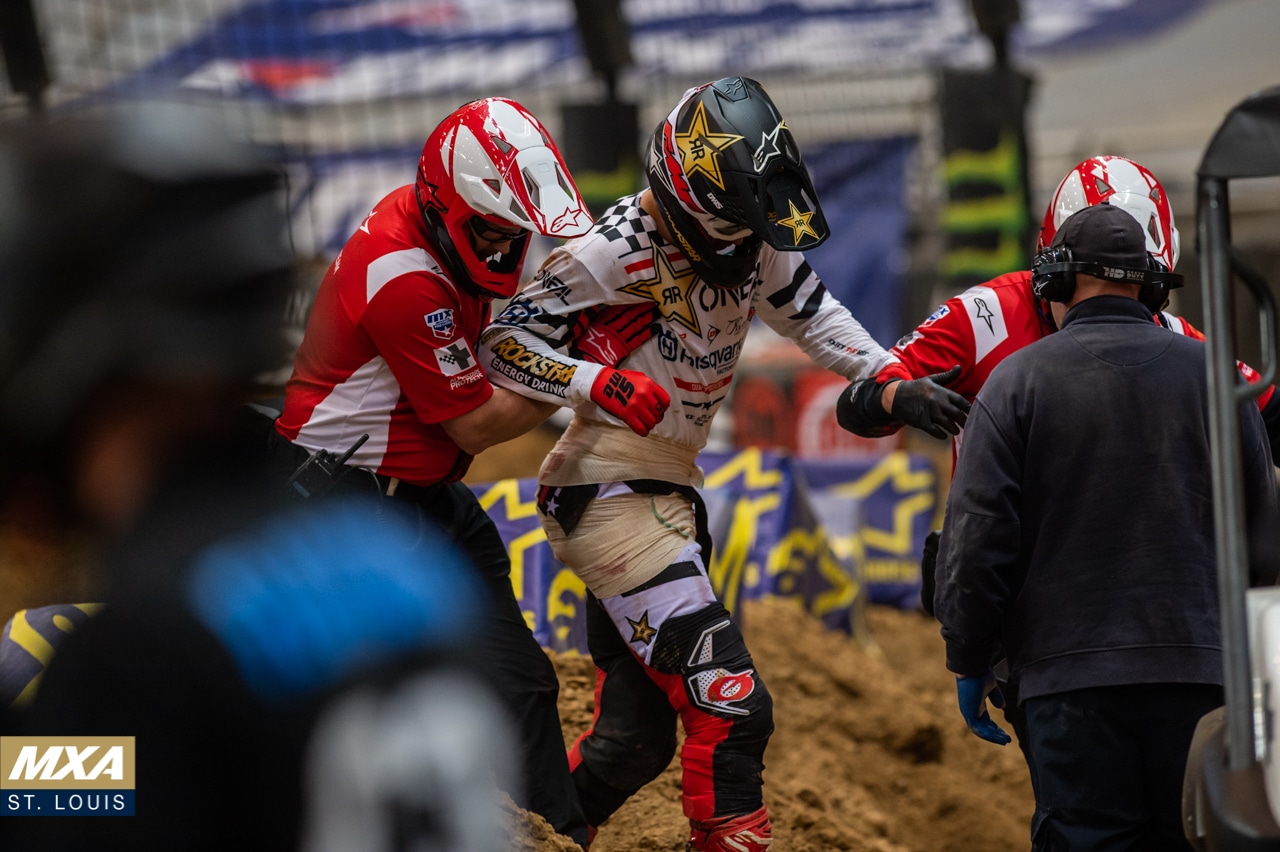 In the first of the three Main Events, Dean Wilson would go down in the whoops after getting sideways. This would send him into the side of the finish line structure. Ditching the bike at the very last moment, Dean's body would recoil back into it, catching the footpeg causing serious damage. Carving it's way through Dean, the footpeg on his Rockstar Husky would end the riders night. After what seemed like an eternity of Dean being attended to while on the track, the medics eventually carted him off where he was rushed to the hospital to undergo surgery.
ALEX MARTIN: FROM FLYING TO TRACTION CONTROL
There was another huge crash in the first 450 Main Event. Alex Martin got buck wild in one of the rhythm sections and would find himself doing his best recovery board impersonation.
REED AND HIS YZ250
Sound up!
---
450 SUPERCROSS POINT STANDINGS (AFTER ROUND 13 OF 17) – RACE RESULTS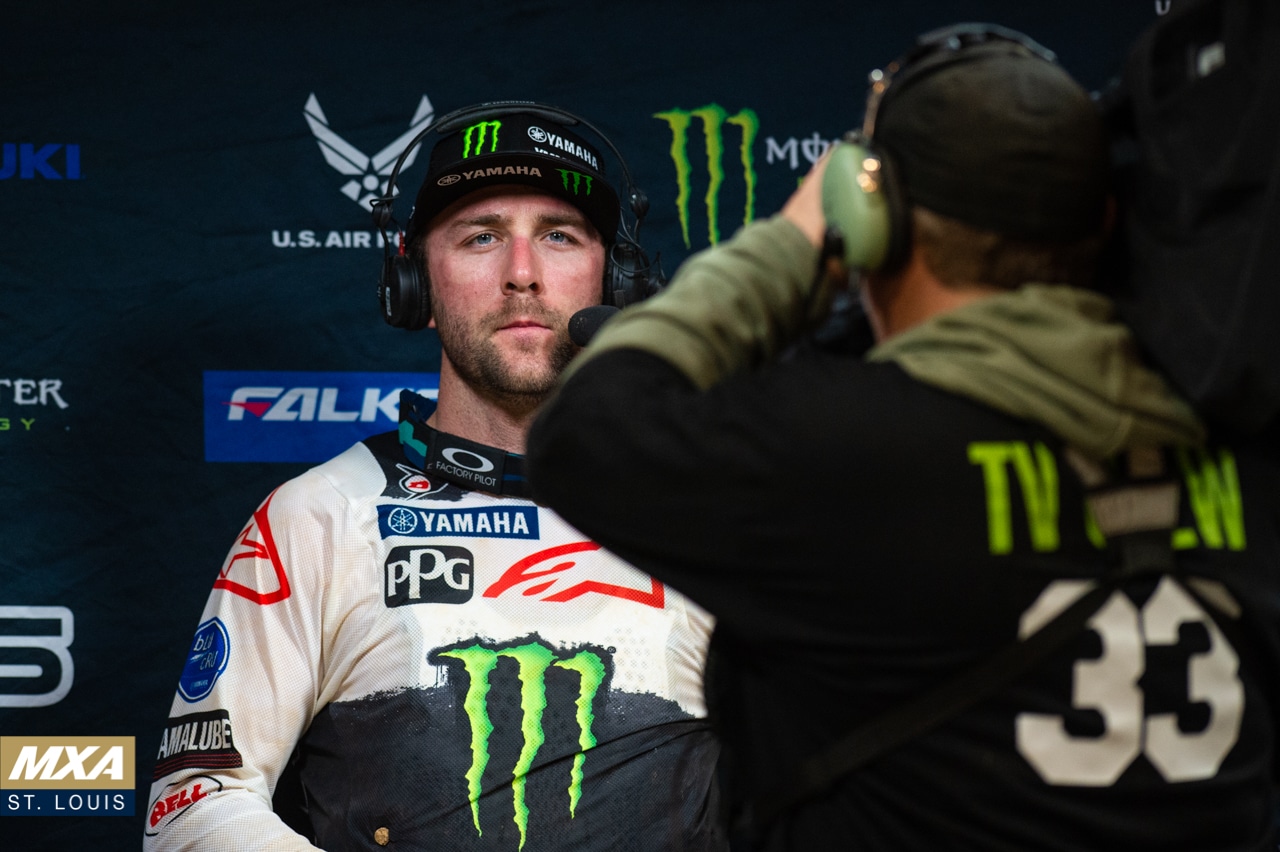 Eli! Give us your best blue steel!
| | | | |
| --- | --- | --- | --- |
| POS. | # | NAME | Total Points |
| 1 | 3 | Eli Tomac | 302 |
| 2 | 21 | Jason Anderson | 246 |
| 3 | 51 | Justin Barcia | 240 |
| 4 | 27 | Malcolm Stewart | 235 |
| 5 | 25 | Marvin Musquin | 232 |
| 6 | 1 | Cooper Webb | 208 |
| 7 | 23 | Chase Sexton | 206 |
| 8 | 15 | Dean Wilson | 152 |
| 9 | 14 | Dylan Ferrandis | 141 |
| 10 | 94 | Ken Roczen | 133 |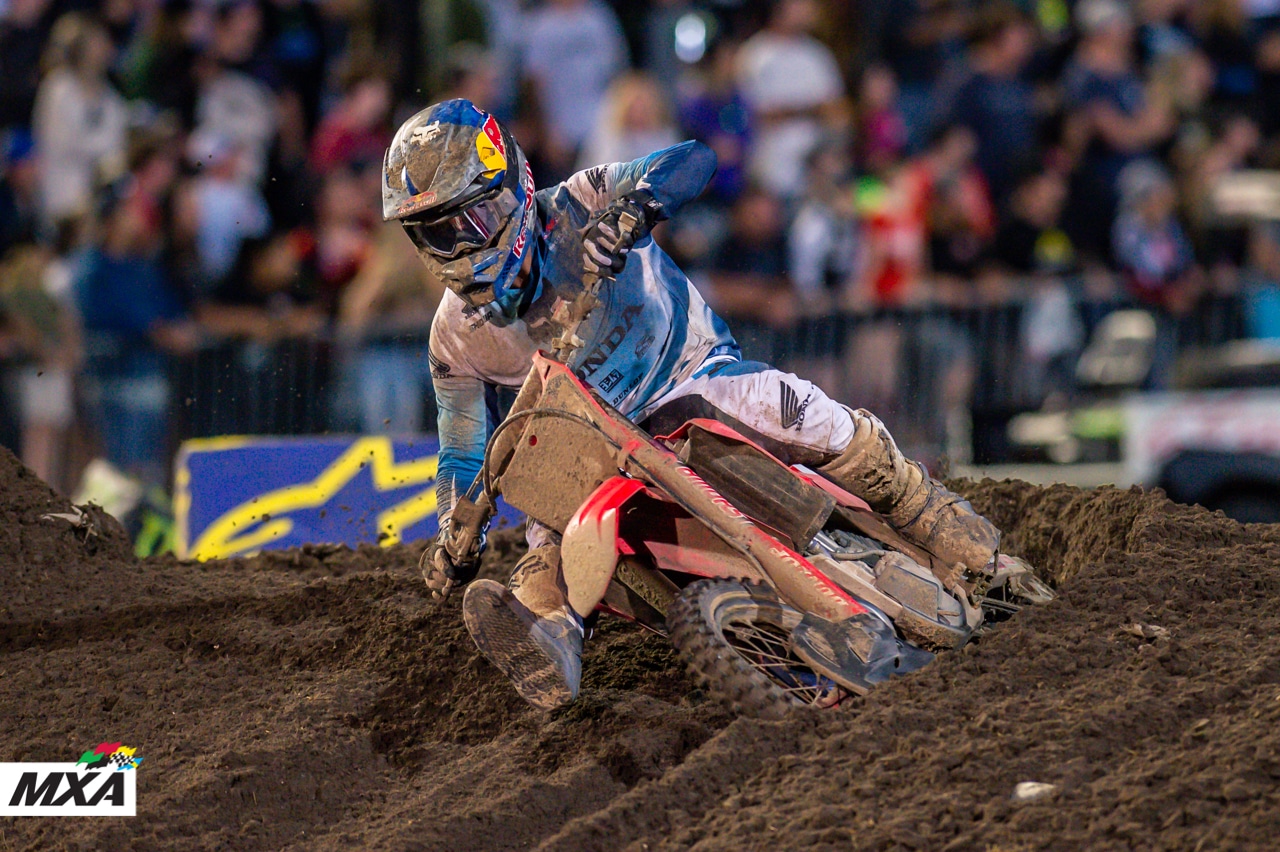 Ken Roczen's last race was Detroit, and he is still tenth in points.
250 SX CLASS REVIEW // CAREER FIRST FOR RJ HAMPSHIRE
With 45 career starts under his belt, we were surprised as many to learn that 2022 St. Louis Supercross would be Rj Hampshire's first career win. Rj is a veteran of the 250 class so to find out that Saturday night would be his first overall in Monster Energy Supercross, was pretty awesome. Not only did he impress us with his quick rebound after crashing in the first Main Event, but he would grab four holeshots. Wait a minute, four holeshots? Yep, race two was restarted due to a red flag and Rj would still get yet another holeshot. Looks like he has the next gen Husky all figured out.
R.J. Hampshire goes 2-2-1 for his 1st career 250 SX win.
Hampshire was making his 45th career start.
Husky now has 11 SX wins and it was their 1st win since 2018, when Zach Osborne delivered it for them.
Hampshire is now 3rd in the points, only 7 points behind 2nd place.
Jett Lawrence's streak would be cut thanks to Rj but he didn't seem to be too upset about it. After Cameron McAdoo sustained an injury during press day and would pull out of the 13th round, Jett's competition in the championship would be pretty much nonexistent. It also doesn't help that the rider third in the points, Pierce Brown, would DNF two of the three races due to a bike malfunction that we'll dive into later. Just like Eli, Jett didn't have much to worry about when it came to not grabbing the overall. Also wondering just how far Cameron and Jett are in the championship? Well, Cameron is still second despite not racing.
Jett Lawrence goes 1-1-5 for 2nd overall.
Lawrence still has 6 consecutive podiums this season.
Lawrence is 1st in the points with a 34 point lead.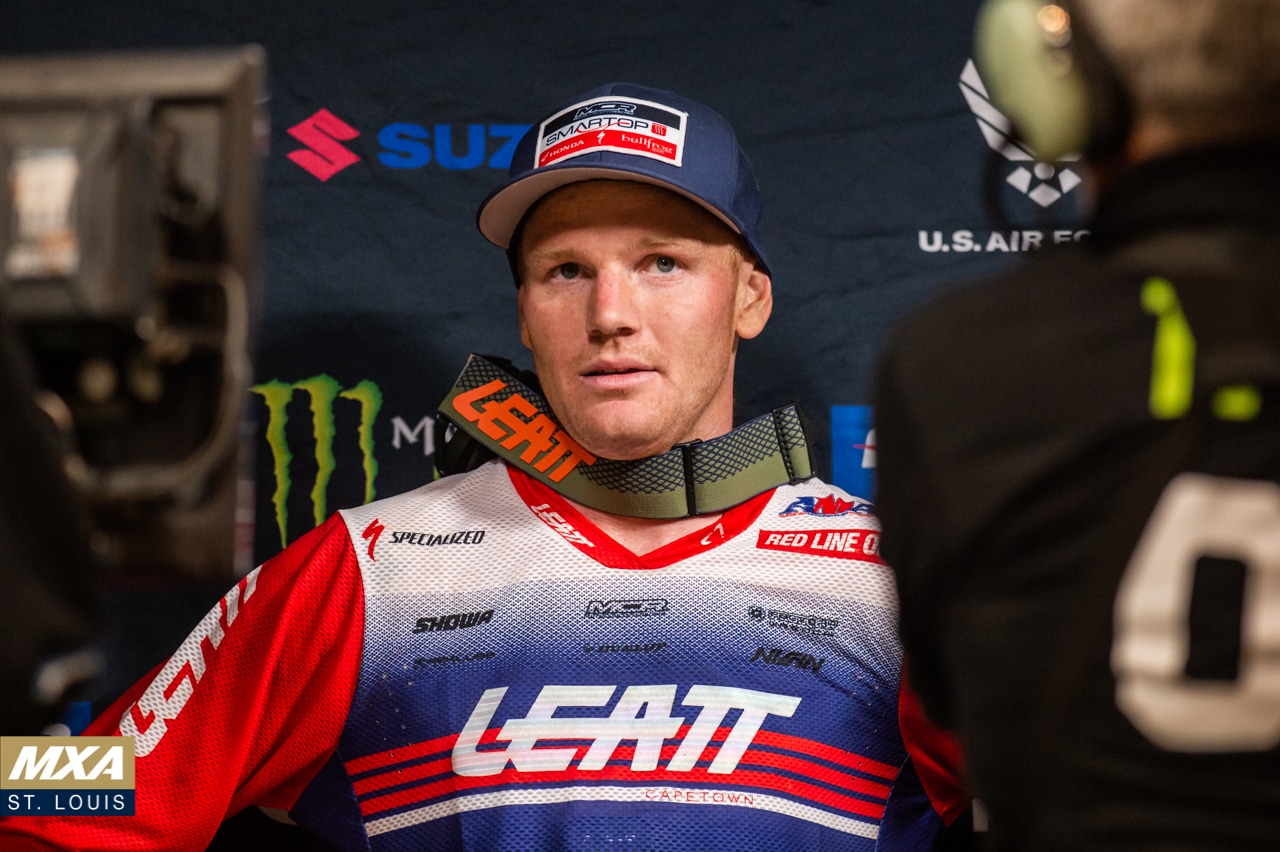 Check this out! Mitchell Oldenburg was third overall by the end of the night. Following in Rj's footsteps, literally, Mitchell was quick to be in second and third after the starts.
Mitchell Oldenburg goes 3-3-4 for 3rd overall, his 1st podium of the season.
Oldenburg now sits 7th in the points.
After a couple rounds on the new Star Yamaha bike, it appears Kyle Chisholm has gotten more comfortable with the 250 power. Finishing in fourth place, Kyle was setting very last lap times and keeping up in the pack. 
Phil Nicoletti finished in a very respectable 5th place.
THE MOST FRUSTRATING NIGHT IN PIERCE BROWN'S CAREER
First of all, we commend Pierce Brown's willingness to keep fighting throughout the night.
In the first Main Event, both Joshua Varize and Pierce Brown were racing side-by-side through the whoops when all of a sudden, Varize would go down taking out Pierce in the process. What seemed like a simple mistake would appear to be redeemed as the two got up quickly until an issue with Pierce's bike would arise. Stuck on the side of the track, Joshua's handlebars had slipped through the opening between Pierce's engine and rear wheel, damaging the wiring harness inside.
This issue would take Pierce out of the race as the team rushed back to the pits to fix the problem. Then in the second Main, the problem would come back within the first lap. Pierce's bike would malfunction once again and the team would leave the tunnel. In the same race, Kye Peters had hit the deck hard needing medical assistance within the first three laps. This issued a red flag and the race would be restarted. Pierce and the team after jerry-rigging the problem again rushed out to the starting gate in hopes that they could get a second chance until the AMA official kicked them off.
The rules state that one cannot re-enter the arena while the field is in play, meaning that Pierce's second chance would be eliminated. Well, what about the third race? Pierce Brown would finally catch a break getting a good start and even taking the lead from Rj Hampshire for a brief moment, but not for long. Pierce would wash the front end ou not just once, but twice in the last Main Event, finishing in sixth and taking home a 16th overall.
It was a rough night for Pierce but he didn't finish without a fight.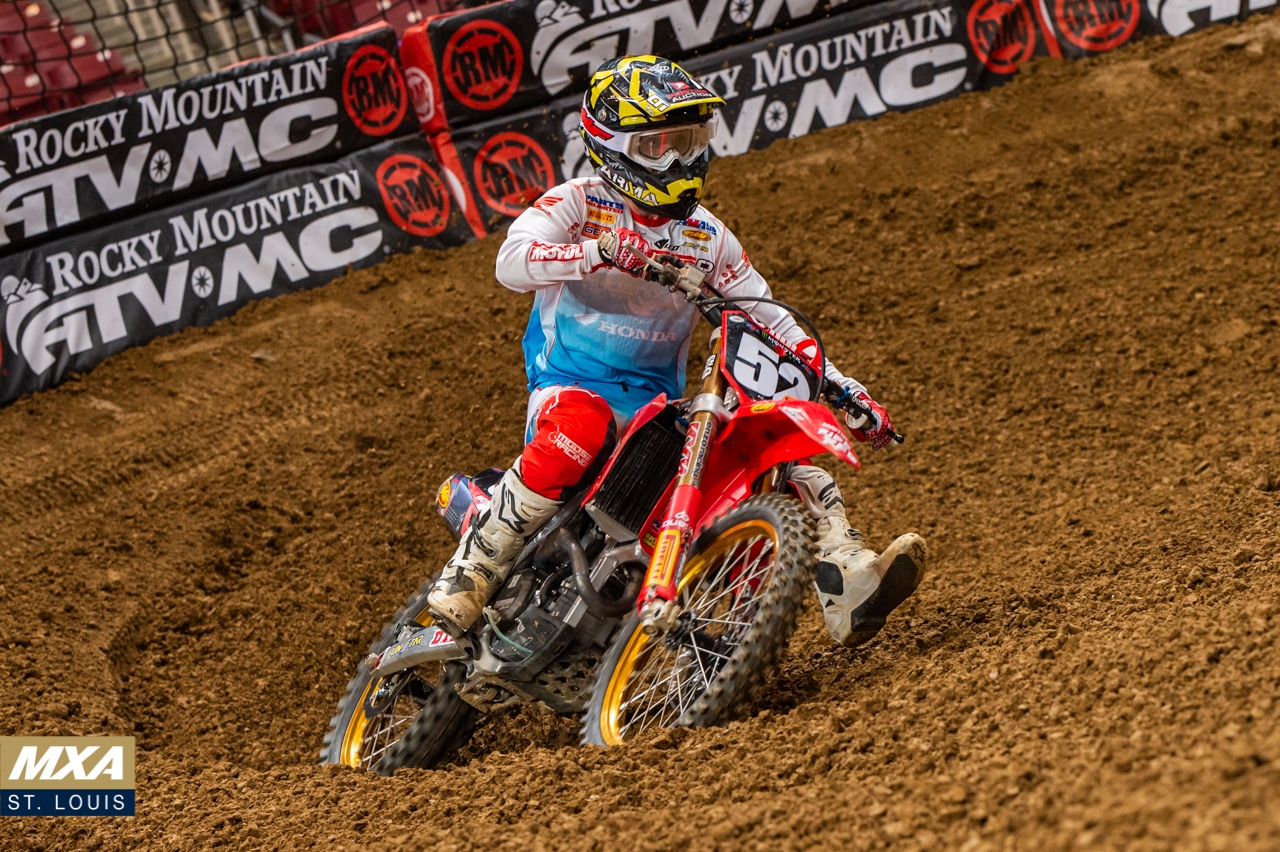 Despite having a horrific crash in the second Main Event, it appears Kyle Peter's surgery was successful. This is what the team had to update: "Rough night in St. Louis! Kyle Peters had a gnarly get off in main 2 and suffered a broke c5 and c6, he is out of surgery and everything went well! Prayers and a speedy recovery for our guy!"
---
250 SUPERCROSS POINT STANDINGS (AFTER ROUND 6 OF 9) – RACE RESULTS
Hopefully we will see Cameron McAdoo heal up soon to close the gap on Jett Lawrence and make the championship more interesting!
| | | | |
| --- | --- | --- | --- |
| POS. | # | NAME | Total Points |
| 1 | 18 | Jett Lawrence | 148 |
| 2 | 48 | Cameron McAdoo | 114 |
| 3 | 24 | Rj Hampshire | 107 |
| 4 | 90 | Jordon Smith | 95 |
| 5 | 44 | Pierce Brown | 94 |
| 6 | 80 | Enzo Lopes | 92 |
| 7 | 54 | Mitchell Oldenburg | 89 |
| 8 | 715 | Phillip Nicoletti | 76 |
| 9 | 81 | Jace Owen | 71 |
| 10 | 50 | Stilez Robertson | 67 |
Cameron McAdoo is still holding down second place.
---
ST. LOUIS CAPTURED
Here are some of our favorite moments from the day in Seattle. Supercross may be fun from the TV but it's a thousand times better in person. Captured by Brian Converse.
---
THEIR WORDS NOT OURS