KURT CASELLI 4TH ANNUAL RIDE DAY
Mama (Nancy) Caselli has always been and always will be Kurt's biggest fan. She is behind the scenes working hard each and every day to grow the Caselli Foundation and keep her son's legacy alive. Photo by Lance Nelson
By Daryl Ecklund
I have learned getting old is a privilege. Although sometimes I feel older than I am at 31, I know I am recognized as a fawn to many of my peers. This year, I am the same age Kurt was when he passed. It is so weird because I have always looked up to him as my big brother. He guided me, kept me out of trouble (as well as got me into trouble), was there when I needed him and was a true member of my family. As my hair greys and skin wrinkles, Kurt will never grow old. As the years blow by, like a gust of wind, there will come a time when my family and I show up to the Caselli Ride Day, and my son, who's named Caselli, will be the same age as him. In a way, Kurt is immortal. In my heart, his job was done here on earth. He lived a life people dream about, and on November 15, 2013 he left us for something bigger. When I look up at the stars at night, I think, maybe he was recruited to guard the galaxy or fight intergalactic wars.
Carolyn Caselli (Kurt's sister) is a high school english teacher. She organizes the scholarships the Caselli Foundation gives to former racers who are currently enrolled in institutions of higher learning. 
Most knew Kurt as the racer. He wasn't much different in the flesh. He lived life fast, with heart, determination and burned with passion. One thing he never did on the track was give an inch. Off the track, Kurt gave on a daily basis. Whether is was to his family, friends, people on the street or even complete strangers. The best part, he never expected anything in return.
The Caselli Foundation is a revolving door of giving and receiving. People give because of the legacy Kurt left behind. The Foundation then takes that support to promote safety and help others. The foundation represents what Kurt embodied.
The foundation auctioned off a pair of Kurt's race boots. Not sure exactly how much they went for, but we know it was in the thousands of dollars realm. 
Yesterday we remembered Kurt and supported the Caselli Foundation's cause to keep riders safe as well as help others achieve their dreams. People from far and wide came out to Glen Helen, rode dirt bikes, told stories about Kurt and supported his legacy. It was an emotional day full of smiles, tears, high fives and lots of cool stuff. Check out the photo gallery below to see what went on yesterday.
Kurt was everywhere, and in life size. 
 Kurt and his father Rich, had a dream of being part of the first American team to win the ISDE. They spent their own money for years and had fundraisers to get a team to the race every year–with each year getting closer to the cup. Kurt had multiple ISDE gold medals and won the E3 class in 2007, but never reached his team goal. This year, the USA team did what Kurt and Rich had dreamed about all those years ago. They won the ISDE overall as a team. Most of the riders on the team were riders Kurt had groomed for the race years ago. The trophy above is the more than a 100 year old cup with all the winners engraved on it.
Kurt's Dakar bike was there.
Kurt love kids. This is one of Kurt's good friend's boy, little Bobby, playing in the dirt.
Taylor Robert auctioned off one of his jerseys from this years ISDE.
That look is priceless.


It is possible to buy your very own replica Kurt Caselli toy bike.


One of Kurt's many ISDE helmets.


The Caselli Foundation team challenge was won by Taylor Robert and teammate. 
A good friend of Kurt's, Dano Legere, was the announcer for the day.
Kailub Russell teamed up with a mini rider to place 3rd in the team challenge.
During the memorial lap all kinds ofbikes entered the track. Photo by Lance Nelson
The pair of Sidi boots Kurt wore in the 2013 ISDE in Italy.
Good friend to Kurt and MXA Editorial Manager, Daryl Ecklund, holds his boy Caselli at the ride day.
From left to right: Sara White, Nancy Caselli and Carolyn Caselli. Three very strong woman.


The memorial lap didn't go as planned. There was some congestion going up Mt. Saint Helen.

After the  memorial lap of some of the people who were closest to Kurt found each other. Photo by Lance Nelson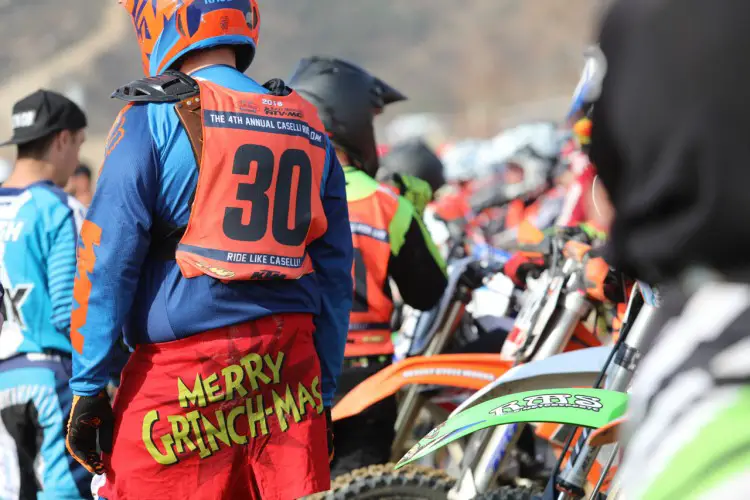 For the team challenge, you had to switch boxers that were placed over your riding pants with your teammate each lap. 
A signed number 1 jersey of Kurt's. Priceless.
The new KTM America president, John Hinz was out doing some riding. 
For more information about the Kurt Caselli foundation go to www.kurtcaselli.com.