KYOSHI'S CORNER: THE WORLD COMES TO CALIFORNIA
Eli Tomac shakes hands with Tony Cairoli after the race.
By Kyoshi Becker
The World Motocross Championship series came to Glen Helen this weekend and, with it, a slew of foreign riders. There were more or less spectators than expected, because expectation were low to begin with, but those who came got more than their money's worth. Unlike an AMA National, the racing is spread out over two days. This puts riders like Eli Tomac in a unique position. In Supercross there is one heat race and one main (unless you have to race the Semi and LCQ). In The AMA Nationals there are two motos (after timed qualifying on Saturday morning). At the GP's the Saturday qualifying races come after a morning of practices, an afternoon of timed qualifying and finally the heat races. It's a long day that that lasts until 5:00 p.m. on Saturday. The worst thing about Saturday at a Grand Prix is that the riders are being worked like dogs for no reason. They have practice, then timed qualifying. Timed qualifying is for gate pick for the Qualfier races—but since the GPs don't have full gates they don't really have any reason to have time qualifying or the heat race on Saturday—since the heat race is only for gate pick on Sunday. They could very easily hold practice on Saturday and then run timed qualifying for gate pick on Sunday morning—in place of the morning warm-up. That would save a lot of wear-and tear on the small field of stars that they have.
Tim Gajser was third, but since he clinched the title last week he was happy to try to get the champagne across the chasm between him the fans.
There is no need to run timed qualifying for gate pick for the Saturday heat race and then use the heat race for gate pick on Sunday. That is a lot of riding just to pick who get first pick at the gate. The logical extension is that whoever wins the race gets first pick at a seat on the flight home. Worrying about gate pick at Glen Helen is a moot point since AMA National riders have holeshot the field from literally every gate.
One of the most unique things about a Grand Prix is the uniqueness of the machinery. Without a production rule, the factories are free to ride whatever they want. We saw all sorts of trick bikes. The FIM has lots of different rules—but just like AMA rules they are mostly there to give the officials something to be overly officious about.  One interesting distinction is that mechanics aren't allow to prep their rider's gate. The riders have to do that themselves. In the AMA, gardening is a big deal for the mechanics—and only Justin Barcia preps his own gate.
TM debuted their fancy new 300FI-MX four-stroke. Ralf Schmidt (right) gives us a pre-peek.
How was the racing? Fantastic. From a fans perspective there were lots of great battles. Most prominent was Eli Tomac's total dominance over the 450 field. After terrible starts, Tomac picked his way through to take first in both motos. In the process he passed every big name GP riders like they were standing still. The momentum he built up was savage. By the time he reached the leader Antonio Cairoli he was on a completely different pace.
The track was different from the National layout. The Un-rhythm section now had more rhythm, but was still spectacular. The back canyon was eliminated because the National layout violated an FIM rule about how long a track could be. But the Triple Step-up and drop-down from the REM track remained—although mellowed some for European sensibilities.
For me it was great weekend—even though I was out in the sun shooting photos all day. Jody was the only other MXA guy at the USGP—and that was only because he designed the track. Where was the rest of the crew? Out in Michigan for the Soaring Eagle race to test ride Ken Roczen's National Championship Suzuki RM-Z450. Early reports have both Daryl Ecklund and Dennis Stapleton saying it was an immense pleasure to race the bike—and that the suspension wasn't rock hard. The bike was set up quite different from most Pro machines.
Eli Tomac was an animal for the second straight weekend.
Slovenian fans come out to support the 2016 champ, Tim Gajser.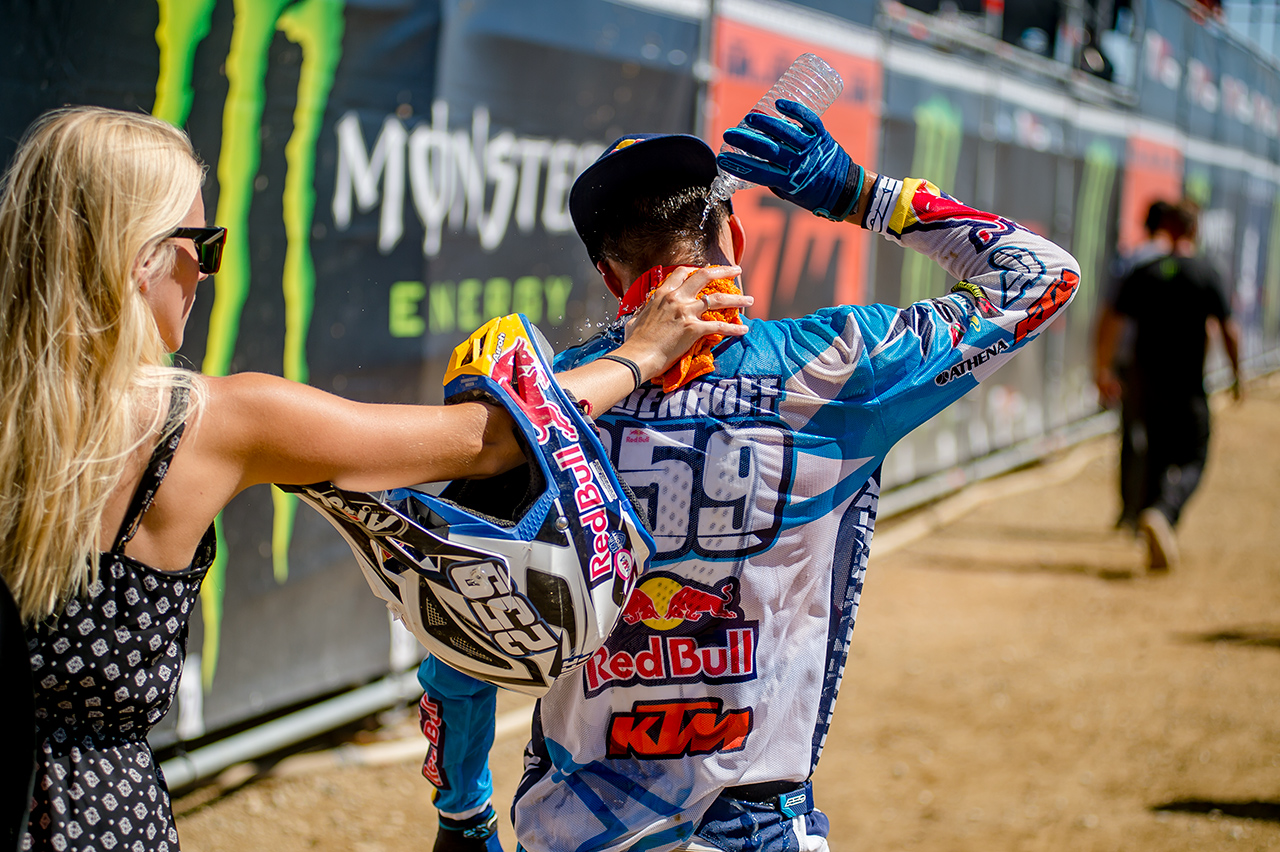 Glenn Coldenhoff got good starts, but still has some adjusting to do to for the heat, height and speed of Glen Helen.
Evgeny Bobryshev (left) and Gautier Paulin enjoy an ice bath between motos.
Alex Martin was snooping around the TLD rig. He will be riding for KTM's 250 factory effort in 2017.
Mitch Harrison celebrates a third place overall in the USGP. That's a memory and story he will be telling when he's 70 years old.
Jeremy Martin was one of the many to represent America. Jeremy didn't waste any time adjusting to his new Geico Honda. he went 2-2 for second.
Jeremy Martin congratulates his old Star Yamaha teammate Mitch Harrison on the podium.
Jeffrey Herlings was a good as they say. He went 1-1 without ease and got to shoot the bubbly.
MXA's Tom White announced the event.

Jody and Mitch Payton share funny stories. They live in the same small town and have known each other since the 1970s.
A track designer's job is never over—even though Jody always claims that all he does is point in the direction of where the track should go. Jody is trying to free up a swinging "medical road" gate that was weighted down by a Husqvarna sign. The signs were a nuisance to the nth degree to the spectator's view of the track.
Jeremy Martin didn't just switch to Honda, but also to 6D Helmets, Alpinestars boots and Alias gear. 
Glen Helen track worker John Allen may have had to park his water truck on Sunday, but you can never take his away his fire hose.
The FIM tries to find the next rider they should test for doping.
Roger Decoster gives a little wave. Roger came out to help the GP team. In two weeks he will be heading the MXDN team to beat the same guys.
There was a short line for the pressure washer.
Cycling champion John Tomac (left) chats with multi-time champion Jeff Ward.
The fastest qualifying privateer Sean Lipanovich has an ice bath. Could he be looking for a factory contract? Tune in next week to find out.
John Perry drove in from Durango, Colorado, to work on the administrative side of the USGP. He looks good in his limited edition MXA T-shirt. Photographer Rich Stuelke takes advantage of the long down time between motos to set his camera bag down.
FOX CELEBRATION OF SPEED

Party at Fox HQ.
Fox is a popular racing gear company and along with their popularity they have many riders who wear their gear. This year their riders took all but the 250 championships–Ryan Dungey in Supercross, Ken Roczen in the AMA Nationals, Tim Gajser in the MXGP and Livia Lancelot in the Women's MXGP. To host the festivities Jeff Emig and Ricky Carmichael presented each rider, listing off their accomplishments of the year. Also there was a strong nod to the Pro Circuit Kawasaki Team as many of their riders challenged hard for podiums. The fun night ended with a team race where Ricky Carmichael and Bogomir Gajser would win. The event wouldn't end without a dirty block pass from the GOAT himself.
Tim Gajsers birthday was on the 8th, so Fox celebrated it.
A lot of star power on this stage. Some of the riders include Gautier Paulin, Arnaud Tonus, Tim Gajser, Ricky Carmichael, Ryan Dungey, Austin Forkner, Chris Alldredge, Livia Lancelot, Jean-Michel Bayle, Chad Reed, Twitch, Josh Hansen and Jeff Emig. Josh Grant, Tyler Bowers and Josh Mossiman were there but didn't go up to the stage.
Mitch Payton explains the story behind Jeff Emig's pipe to a man who doesn't need the explanation–Kawasaki team manager Bruce Stjernstrom.
Austin Forkner was the flagger, 30-second card holder and gate dropper. 
Chris Alldredge catches his teammate getting into a pit bike battle. That's Amateur star Stilez Robertson on the right. 
Bogo Gajser and Ricky Carmichael celebrate.
The cake.
WHAT ELSE DID WE DO LAST WEEK?
Tony Cairoli loved his MXA cover from June of last year. Tony came to AXO USA with is just around the corner from MXA's palacial offices

Tony signed T-shirts.
And proceeded to sign everything else. He is an eight-time MXGP champion, so they were okay with that.
Electric bike manufacturer Kuberg came by MXa's offices as well. They have yet to enter the moto market, it is in the works.
Brandon tests it on our pump track. 
RED BULL | MX NATION LAST EPISODE
KEN ROCZEN 2016 NATIONAL SEASON STATS
Ken Roczen at Unadilla. Photo by Scott Mallonee.
Ken Roczen dominated the AMA Nationals. There isn't much more to say. While the field was quickly thinning Roczen showed consistency that led him to his second AMA outdoor championship. After struggling with bike setup in 2015, Roczen was able to find a suspension setup that worked and it paid dividends. Roczen came out with both guns blazing at Hangtown and never looked back. How will he transition to the red bike? Only time will tell.
KEN ROCZEN 2016 STATS
Total Starts: 24
Total Overall Podiums: 24
Total Overall Wins: 21
Total AMA Points Earned: 584
MXA'S WEEKEND WINNERS
Eli Tomac blitzed to a 1-1 finish (that's 1-1-1-1 over the last two GPs).
FIM 450 (MXGP) Grand Prix: Eli Tomac.
FIM 250 (MX2) Grand Prix: Jeffrey Herlings.
MXA CLASSIC AD: JAN 1995
Mike LaRocco was fresh off a 250 two-stroke championship when this photo was taken. "Be like Mike" was a play off the Gatorade commercial with Michael Jordan.

PHOTOGRAPHIC RAMBLINGS
A black picture? Read below.
Glen Helen is not an easy track to traverse. It is quite easy to lose a significant amount of time walking and running. There are many good spots if you can get to them. I needed a finish line photo from the first moto but I had lost track of time. While running back to it on the last lap I switched lenses to a manual focus/aperture 300mm. I set up my camera to shoot with the lens with a wide open aperture. When I was almost there I realized I would be too close for my 300mm and I switched to an 80-200mm zoom. Having done photography for years, I am comfortable working on the fly. Unlike manual lenses, autofocus lenses have a CPU and will remember the aperture setting. I was rushing when I attached the lens to my camera on. I forgot my camera was set to shoot at f/2.8. I practically shot the finish from the hip. The photo came out grossly underexposed (see above). On the back of the camera it looked unsalvageable. When I got it onto my computer, I decided to see if it was worth a try. The dynamic range of modern DSLR's is nothing short of amazing. While it wasn't perfect, I had a photo that was good enough to post online. I went through the day without making that mistake again.
The salvaged shot has a bit of noise/grain but is otherwise decent.