KYOSHI'S CORNER: LIFE IN THE MXA TRENCHES
Jody Weisel reminisces with 6D's Robert Reisinger about his days on the AMA National and Supercross circuit. Daryl Ecklund tries to butt-in with a question.
By Kyoshi Becker
Jody came to the Hi-Torque towers this week—this typically means only one thing—he's there to ramrod the next issue through production. As a rule, we see Jody on test days, new bike intros and when we are switching bikes from the studio to the track. When he shows up in the palatial MXA Towers, it's full speed head. Production week came early this month, pushing the MXA crew into a late-night-coffee-diet. Believe it or not, we had too many bikes to test this month and we had to pick which bikes would go in this month's issue and which ones would get kicked to next month—although by then we will have even more bikes on tap. We picked five 2017 models and a couple "We Ride" project bikes to go in the mag. To do it right, the MXA test crew needs time in the saddle to complete a test, but we rode and tested as many bikes as we could within the time constraints of monthly deadlines.
Luckily for me, the week didn't just consist of hunting photos and keyboard smashing. On Wednesday, I went out to Riverside to catch the buzz on Answer's 2017 gear introduction. The Answer talent pool goes deep with names like Broc Tickle, Wil Hahn, Nick Wey, Colt Nichols, Justin Bogle and Dean Wilson onboard. While Tickle, Hahn and Wey graced the media with their presence, the Oklahoma boys and Wilson were unable to attend. The evening was filled with new products to showcase including Answer's three lines of moto gear, fresh helmets (with MIPS built in) and a partnership with Gaerne to produce custom color boots.
One of Answer's 2017 gear kits. 
More gear.
A look at the details.
 Some of the helmets that were released.
A detail of the SNX2.
Answer teamed up with Gaerne. 
From left to right: Wil Hahn, Nick Wey and Broc Tickle.
SCRAMBLES, MOTOCROSS AND RUN WHAT YOU BRUNG
Micah Davis rips on an ancient Honda Elsinore.

On every Sunday, a race is happening. Some are serious and professionally sanctioned, while others happen in backyards. The origins of motocross is in scrambles races. Men that were more interested in destroying their motorcycles than racing would show up to a scrambles event in an attempt to knock enough riders over to take the win. Eventually, these races made their way over the Atlantic pond to the U.S. And since Americans love destroying stuff, we were enthralled to adopt the sport. Eventually motocross evolved. Instead of trying to break your machine, you were trying to break lap time records. Although the sport eventually morphed into motocross—some riders never forgot scrambles. Scrambles were held on simpler tracks without the big jumps of today — andthey are oh-so-fun. Hell On Wheels is a group/race series based on the scrambles concept. Run what you "brung". The older the better it seems. They primarily race vintage bikes on a toned-down motocross track. The races are fun to watch and just as fun to race. Like SoCal's local series, REM, the Hell On Wheels races are about enjoying the sport.
Open face helmets. No race is fun until your teeth are full of roost.
I don't know what year Harley this is, but it apparently can be raced.
Blazing out of the start.
These starts are somewhat unpredictable.
A vintage Triumph machine raced by a lady.

Chris Alamangos, brother of Dan Alamangos is a regular.
Micah Davis can rip on a mid-1990s KX80.
Crashes are bound to happen.
Jason Lionheart fights to keep his lead.
This is one heavy bike to jump.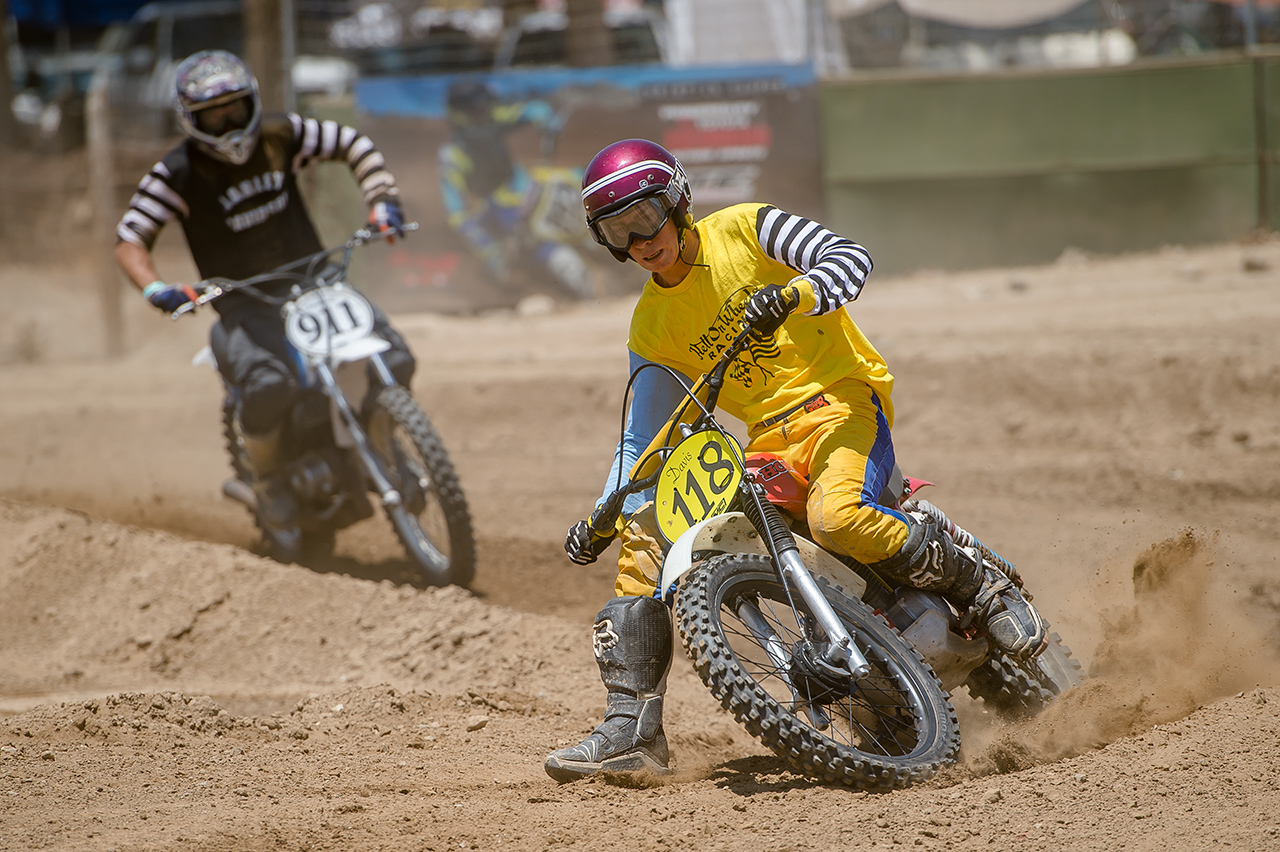 Battle for the lead.
The ladies celebrate after a good race.
Making a pass.
Race prep.
Troy Lee Designs pants and a striped jersey.
The fight isn't over until the checkered flag is waved.
Von Zipper makes seats and helmets?
ALEX MARTIN'S 2015 NATIONAL SEASON STATS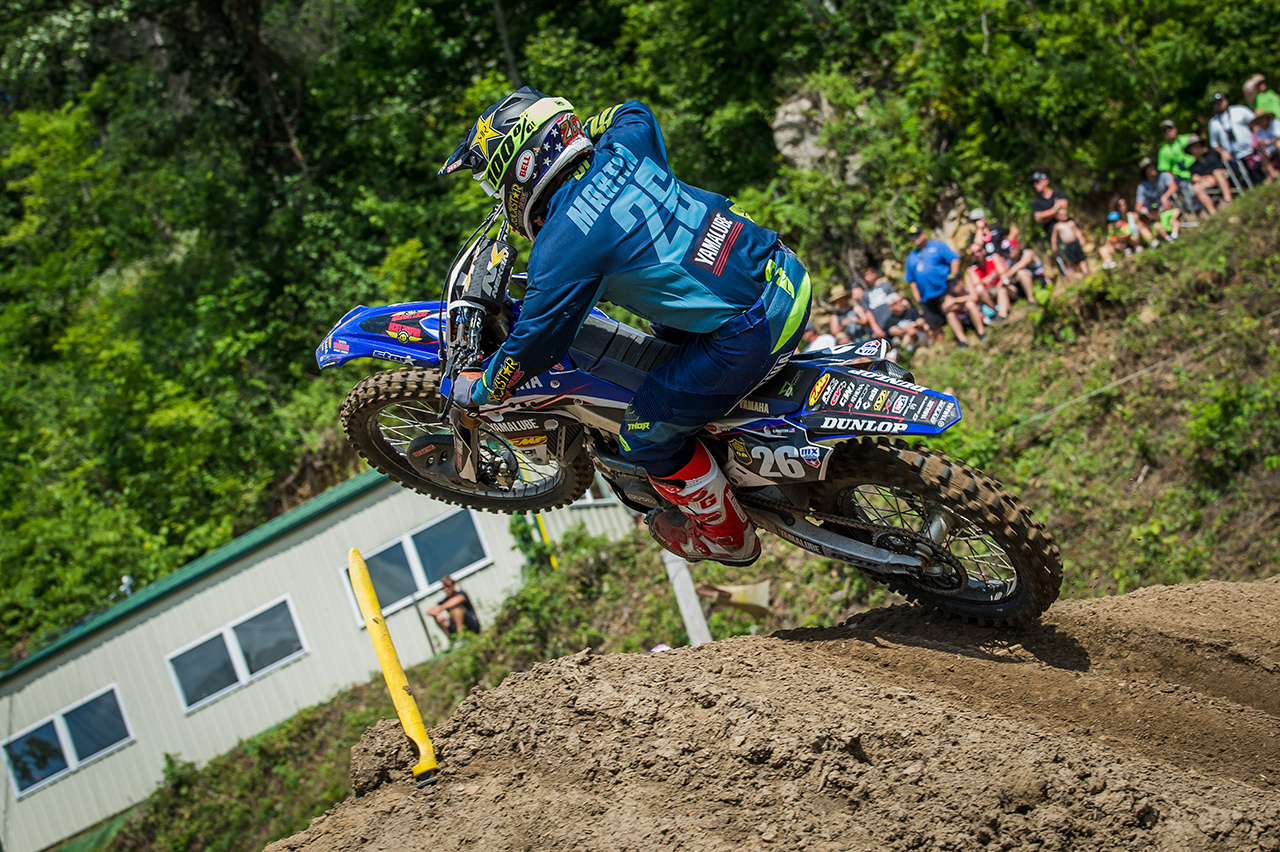 Alex Martin gets third overall at Spring Creek Photo: Brian Converse
Alex Martin is the older brother of two-time AMA 250 National Champion Jeremy Martin. Up until recently it seemed that Alex played second fiddle to his brother. He couldn't make the top five on a consistent basis. To add to his troubles, A-Mart had been racing more years professionally than J-Mart. Martin would get his first factory supported ride with the Cycle Trader Rock River team in 2013. His last two years at the Cycle Trader Rock River team showed a vast improvement, especially in the AMA Nationals. For the 2016 season, Alex Martin signed to race with the Star Racing Yamaha team alongside his brother. While his 2016 Supercross season was spotty, Alex broke through in the AMA Nationals. Week to week his speed was only matched by the top riders in his class. He even was able to earn the red plate at Glen Helen. While small crashes eroded away his points lead, Martin is still a serious contender for the title.
ALEX MARTIN 2015 STATS
Starts: 24
Moto wins: 1
Moto Podiums: 3
Overall Wins: 0
Overall Win Percentage: 4.1%
Overall Podium Percentage: 12.5%
Overall Points Earned: 288
ALEX MARTIN 2016 STATS
Starts: 16
AMA Series points: 270 (He is fourth in points)
Season Bests: Overall win at Glen Helen.
WEEKEND WINNERS
Ken Roczen had a point to prove at Spring Creek. Photo: Brian Converse
AMA Nationals 450 Class: Ken Roczen.
AMA Nationals 250 Class: Cooper Webb.
MXGP 450 Grand Prix: No race until July 24th in the Czech Republic.
MX2 250 Grand Prix: No race until July 24th in the Czech Republic.
Australian National 450: Dean Ferris.
Australian National 250: Jed Beaton.
Canadian 450 National: Matt Goerke.
Canadian 250 National: Dylan Wright.
Maxxis British 450 National: Tommy Searle.
Maxxis British 250 National: Adam Sterry.
SOUTHWICK RACE DAY CONDENSED NEWS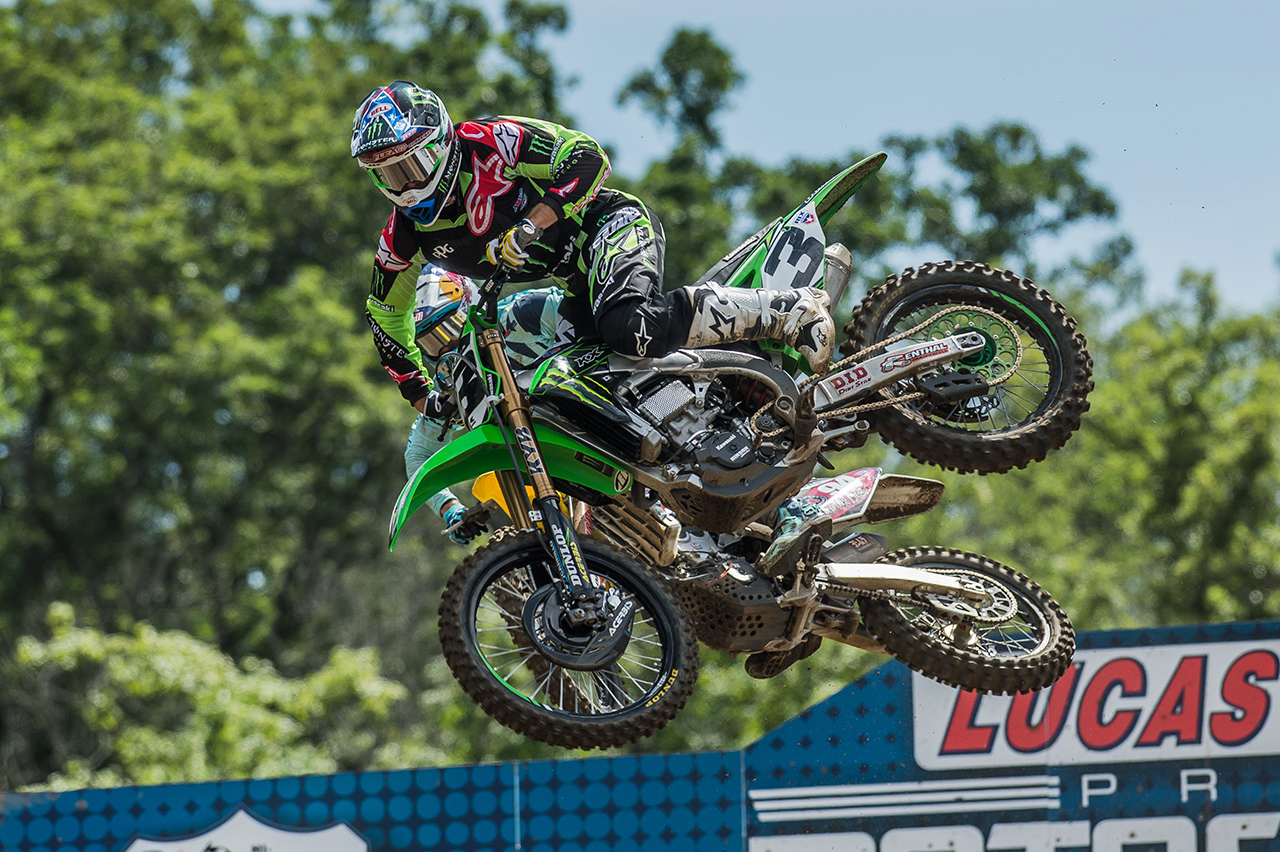 Eli Tomac tries to fend off Ken Roczen. Photo: Brian Converse
WINS AND FAILS
Ken Roczen didn't just win 1-1 at Spring Creek, he slaughtered the field.
Ken Roczen also won the second moto with a bent shifter.
Trey Canard, Dean Wilson and James Stewart were among the riders to return to the series.
Weston Peick and Broc Tickle collided in one of the ugliest crashes of the season. Miraculously, Peick sustained no serious injuries.
Marvin Musquin got a 450 career best finishing second overall.
Jeremy Martin earned his first season overall win.
Star Racing Yamaha swept the podium for the second time this season. Additionally, teammate Aaron Plessinger made the top five and Mitch Harrison made the top 10.
Zach Osborne earned third in the second moto, hoping to salvage as many points as possible after a DNF in the first moto.
Privateer, Michael Akaydin whiskey-throttled into Spring Creek. Nine hours later, his KTM was flushed and rebuilt.
MXA CLASSIC AD: August 1996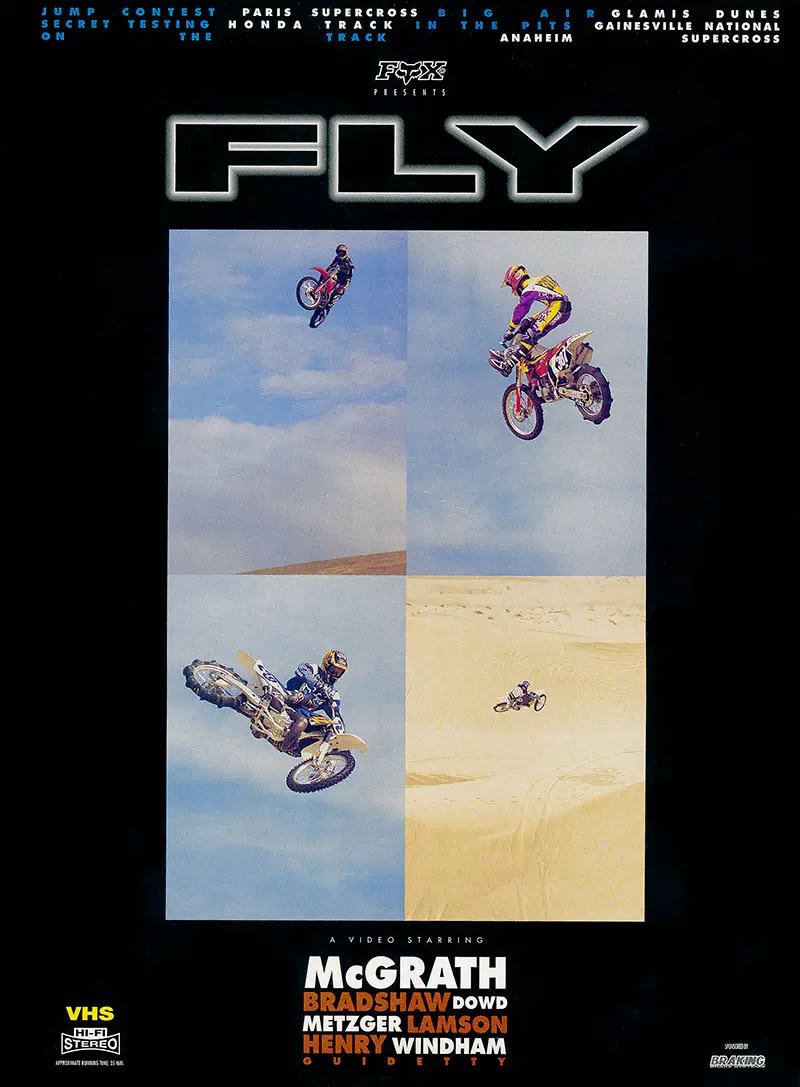 Short films existed before youtube. Anybody remember VHS?

AMATEUR SHOT OF THE WEEK
Mason Lawrence.
The 65cc class is highly competitive. Many riders rising up with factory contracts. It makes it tougher for the little guys who don't get a headstart. Mason Lawrence is one such rider. Currently he frequents many of the local tracks racing often. He has an AMA best of third in Arenacross in the 51cc 7-8 Limited class.
PHOTOGRAPHIC RAMBLINGS
Often you see a photograph before you take it. Once visualized, you go to the location to capture it. After carefully composing your shot, you wait for the action to happen. Although it doesn't turn out anything like you visualized. In the above shot, I didn't take into account the premix smoke or the poorly watered start. Two elements that muddied up the look of the photograph. Is it a bad photo? I'll let you decide. Regardless, I wasn't happy with the result. The lesson. Be more aware of your environment.