KYOSHI'S CORNER: LIFE IN THE MXA TRENCHES
Jody Weisel explains how to activate the traction control on the Husky FC450 before the test riders went out to run it through its paces.
By Kyoshi Becker
Thursdays at Glen Helen could be the name of a local dining spot, set in a gutted-out Pullman railroad car and complete with moto nostalgia. For us, Thursday at Glen Helen is a way of life. Daryl Ecklund was in Utah for Scott USA's new goggle launch and John Basher was riding in North Carolina, but Travis Fant, Jody Weisel, Dennis Stapleton and I scoured the lands of Glen Helen for a new location to shoot. The Fantman has less patience than me, so he cranked out footage while the track was fresh.
By 9:00 a.m. the Pros starting showing up. Quite a few made it out. To see the action, click on our Saturday gallery here. Soon it was my turn to do stills. We left no stone unturned. We have done a lot of shoots at Glen Helen lately. Luckily the track is pretty big. After trying some ideas and getting good shots, I went off to chase interviews. Dennis Stapleton had four more bikes to test and a few riders to train. Stapleton didn't mind the bike time, however. He has been preparing for the Loretta Lynn's Amateur National. With the gates dropping this week, any extra time on the bike was good for him. Before the day was over, I also managed to crash a 2017 Yamaha YZ250F. I have done many stupid things in my life, but grabbing the front brake while the bike wass pinned may top the list. Needless to say, the bike was thrashed and I lay on the ground in a heap of embarrassment. Next time I'll choose a bike better suited for my riding style…like a Honda CR500 two-stroke. Just kidding!
The 2017 Husqvarna FC450 is a good looking machine.
Jody installs sag holes. When testing the sag with the handy Motool Slacker digital scale, having a consistent measurement spot is handy. MXA drills small hole in the exact same spot on every test bike's rear fender to hook the sag scales cable to.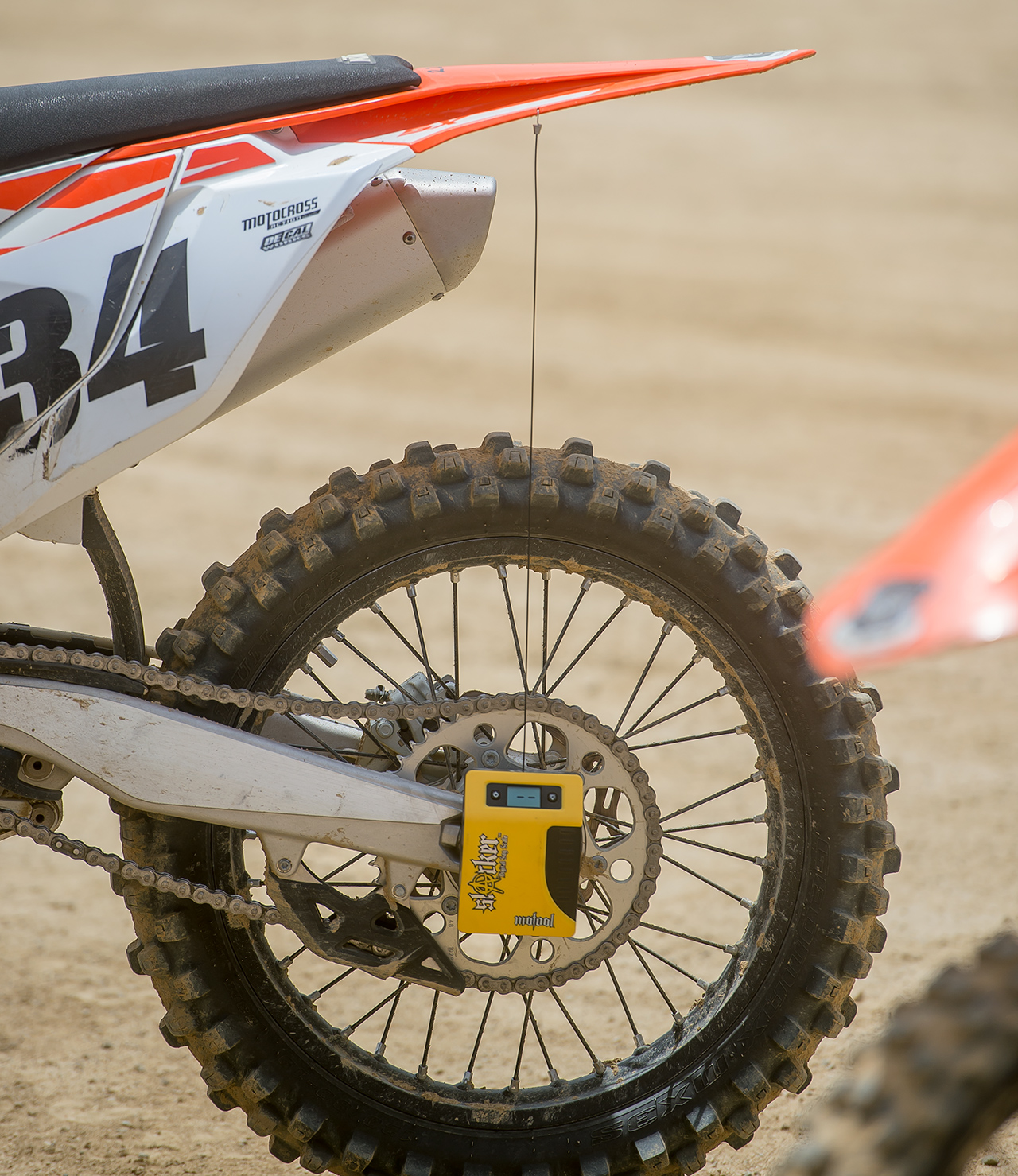 If you were wondering, this is how the Slacker digital scale works.
John Perry stopped by to ride on his way home to Durango. He borrowed the gear, boots, helmet, goggles and bike. Then, he hopped in his car and drove back to Colorado—he got home at midnight.
Travis Fant tells Dennis Stapleton his secrets. Who knew humans could breathe on the Moon?
A SHIFT IN GEAR SEASON
Take a look at all that cool new Shift gear in one place. The gear sets on the black carpet are the crème of the lineup.
Gear brands have been releasing their 2017 threads as of late. On Monday, Dennis Stapleton trekked down to San Diego for the launch of Thor Racing's new gear. You can see the basics here. Last Wednesday Shift released their gear lineup. There is no coincidence it came out a few days after the Fox release. Most of the designs matched the new Fox Helmets and boots. Unless you've been living under a rock, you'll know that Shift is owned by Fox Racing. Quite a few riders race in Shift gear, including Josh Grant, Chad Reed and Josh Hansen. Even some retired riders, like Jeff Emig, wore Shift back in the day. The intro was more like a big party complete with a Hamburger Habit food truck and a holeshot contest. Jeremy "Twitch" Stenberg and Ivan Tedesco went at the contest for a few rounds, as did Josh Hansen. Josh Grant had only been on his feet three days prior to the event, thanks to a double ankle surgery.
Holeshot hunting at the Shift intro.
A closer look.
And an even closer look.
Big logos placed on the chest are hot right now. Shift keeps up with the trend.
Josh Hansen tried his chops at the holeshot contest.
More detail.
That's an interest color combination.

SOMETHING FISHY HERE
Look at the poster above. Do you notice anything strange? The bike you could win is not even in the same class as the bike Jason Anderson is riding. While not a household name, Jason Anderson (450 class) is more known than Zach Osborne or Martin Davalos (both 250 riders), but the mashup looks weird to the moto-savvy. You can win a Husqvarna FC250, but don't expect it to look like the bike Jason Anderson is riding (a FC450).
JESSY NELSON'S 2015 NATIONAL SEASON STATS
Jessy attacking the hills of Glen Helen in the 2016 National. 
The 250 class this year is stacked. Even so, Jessy Nelson is a podium capable rider. Had his year started differently, he may have even been a challenger for the title. Nelson was injured less than a week after Anaheim 1 and suffered a concussion. When he finally got back on the bike (late in the Supercross season), his absence from the starting gate resulted in a slow comeback.
While inconsistency marked his 2015 season, health would be the issue in 2016. At Hangtown, Nelson got the holeshot in the second moto and repeated the holeshot after a red flag was flown. While he hung onto the lead for a while, halfway through the moto he faded off and was passed by a freight train of riders. A week later, Nelson seemed to have more trouble in the first moto, only to come back with a third in the second moto. While a crash ended his chances of contesting a top five in the series, his return at Washougal put him back on the podium in the second moto.
JESSY NELSON'S 2015 STATS
Starts: 24
Moto wins: 0
Moto Podiums: 4
Overall Wins: 0
Overall Win Percentage: 0%
Overall Podium Percentage: 25% (three of 12 races, he had four moto podiums)
Overall Points Earned: 323
JESSY NELSON'S 2016 STATS
Starts: 8 (He missed High Point through Spring Creek)
Moto wins: 0
Moto Podiums: 2
Overall Win Percentage: 0%
Overall Podium Percentage: 11.1% (two of 18 motos)
Overall Points Earned: 90
MXA'S WEEKEND WINNERS
Kevin Strijbos finished 3-3, but won the overall in Lommel. It rained early in the day in Belgium making the Lommel sand heavier than usual.
AMA Nationals 450 Class: No Race. Series picks up at Unadilla Aug 13th.
AMA Nationals 250 Class: No Race. Series picks up at Unadilla Aug 13th.
MXGP 450 Grand Prix: Kevin Strijbos.
MX2 250 Grand Prix: Max Anstie.
Australian National 450: Kirk Gibbs.
Australian National 250: Jed Beaton.
Canadian 450 National: Davi Millsaps.
Canadian 250 National: Dakota Alix.
Maxxis British 450 National: No race. Next race August 21st at Preston Docks.
Maxxis British 250 National: No race. Next race August 21st at Preston Docks.
MXA CLASSIC AD: JULY 1982

The Defender was a old school try at non-stick "plastics." This ad features 500 World Champion André Malherbe.
AMATEUR SHOT OF THE WEEK
Deegan Von Lossberg sticking out with the Pro's.
Deegan Von Lossberg isn't the most well known amateur. Hailing from Palmdale, California, Deegan's best Loretta Lynn finish was a ninth in 2012. He is a regular to Glen Helen and has been putting a hard charge in. Hopefully the work will pay off this year and he can start focusing on a career.
PHOTOGRAPHIC RAMBLINGS
This teenage (in Mantis years) has discovered a life-sized Husky FC450.
As the saying goes, "Stop and smell the roses." Maybe for us, it is more like stop and smell the premix, but "stop" is a word most racers have yet to learn. In the photo world, stopping is a more vital activity. If you don't stop, you don't get photographs. Sometimes stopping makes you notice things you would miss otherwise.